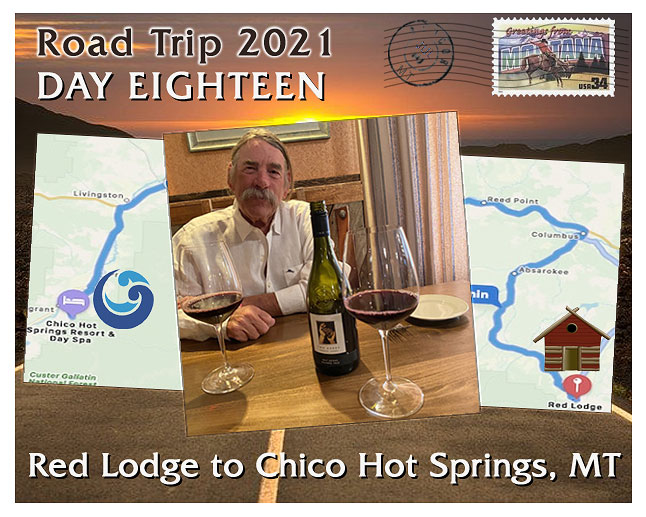 Monday Day 18 July 12, 2021
The Inn on the Beartooth B&B is a great place to stay. I went down for the coffee at about 6:30 and did some catch-up on my writing. A little after seven, Bub and I both ambled downstairs. Owner, Debbie, serves a big breakfast of eggs, sausage, waffles, yogurt, and fruit. A couple from Las Vegas and a man from Connecticut were already eating. We chatted a bit about the area and their plans for the day. It was a good, nourishing way to start the day. I went back to the room and had a coaching call with one of my clients. The internet and phone service were both really good here. It's been quite patchy (AWFUL!) with T-Mobile across Montana.
Our next stop is one of our very favorite hot springs in Montana, Chico Hot Springs. This will be our fifth visit (I think).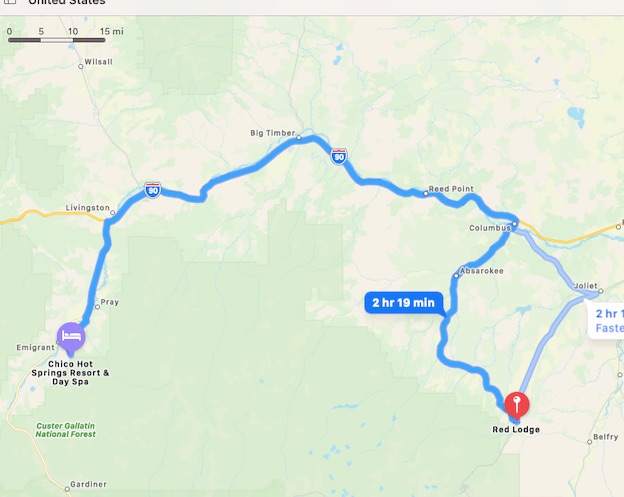 We had our choice of two routes: Back up to Interstate 40 and then south at Livingston would take about two and a half hours. Or we could go over the Beartooth Highway, through Cooke City and part of Yellowstone National Park and then up to Chico in six hours or so. Our last experience going through Yellowstone was horrendous. People were parking on the side of the two lane roads to get buffalo pictures, resulting in a single lane being drivable. Mostly, we had to drive 5-10 MPH for a couple of hours. Since we'd seen the road and Beartooth Pass, we opted to just quickly get to Chico.
So we packed up so we could spend as much time as possible there today.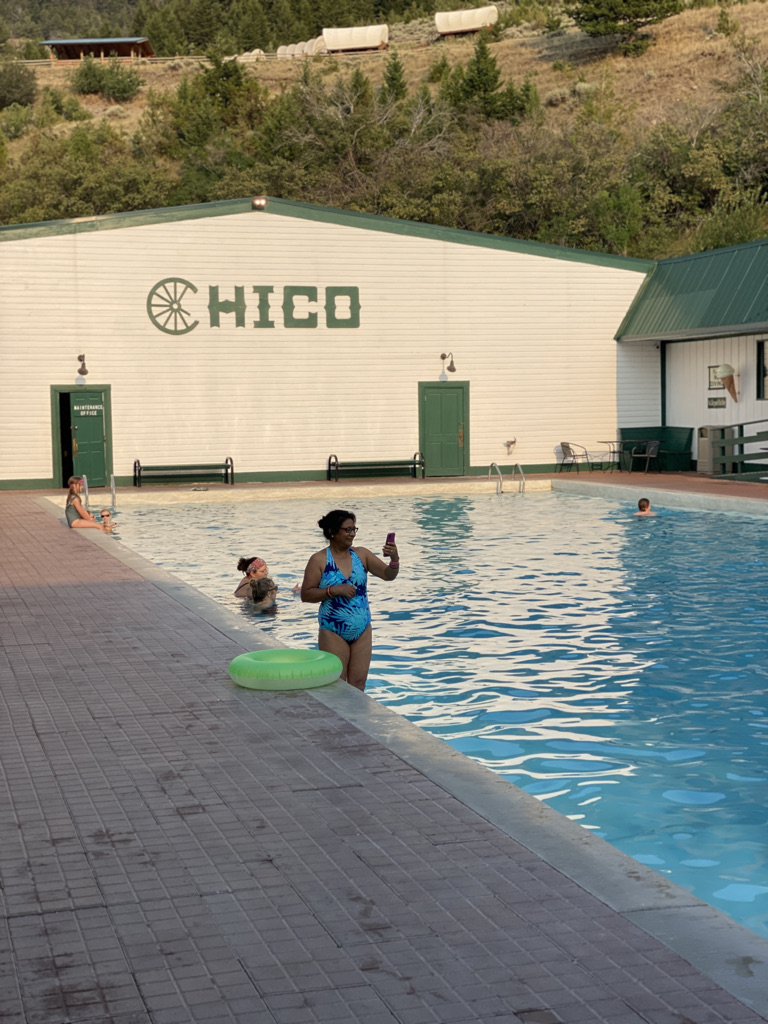 We knew we were early and probably couldn't check in, but we also knew we would be able to soak. So that's what we did. They said they would text us when the room was ready. It felt so magnificent to soak in hot pool after time in the car. It wasn't very crowded and we relaxed in the hot water.
After a while, we decided to take advantage of the bar that is beside the pool. They have dozens of kinds of tequila, so I had a margarita while Bub chose an Australian Shiraz.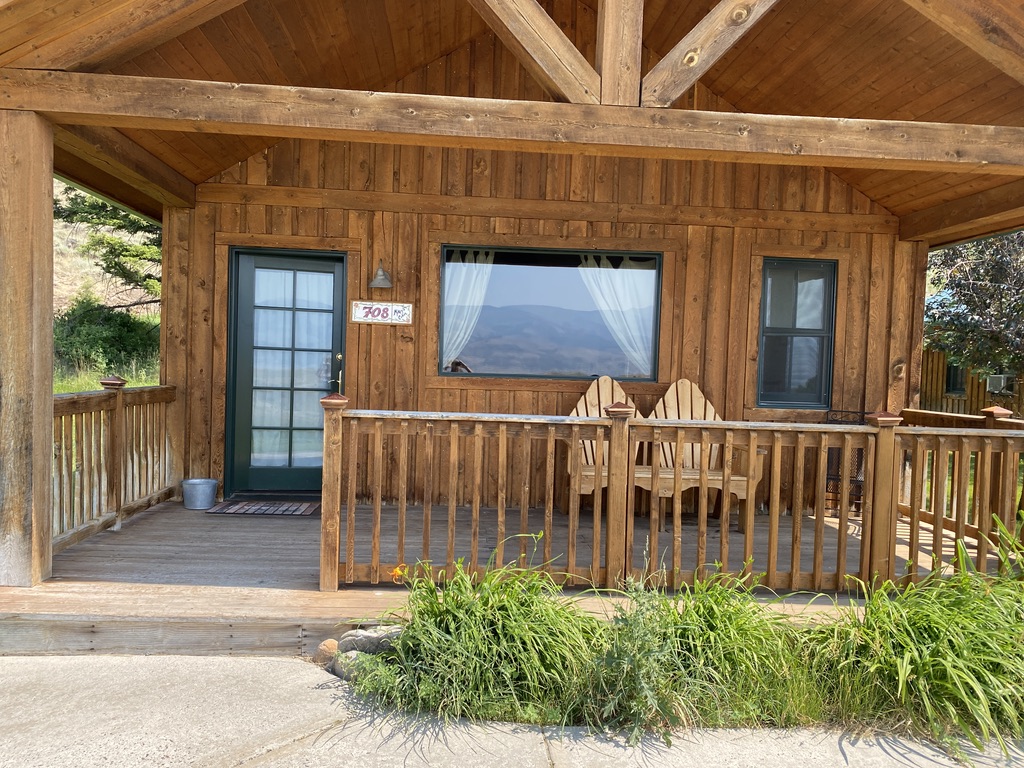 Buzz went my iWatch with a message our cabin was ready. When I started planning the trip, there were no vacancies. I continued to check back every three days for cancellations and was rewarded with the availability of one of the back forty cabins, Cabin 708, at the top of the hill with amazing views of Paradise Valley.
(Note to self: Reserve VERY early next year).
We had a dinner reservation at 5. The restaurant here is renowned. In 2019, we had, perhaps, the best dinner of our lives! Unfortunately, this dinner wasn't as good.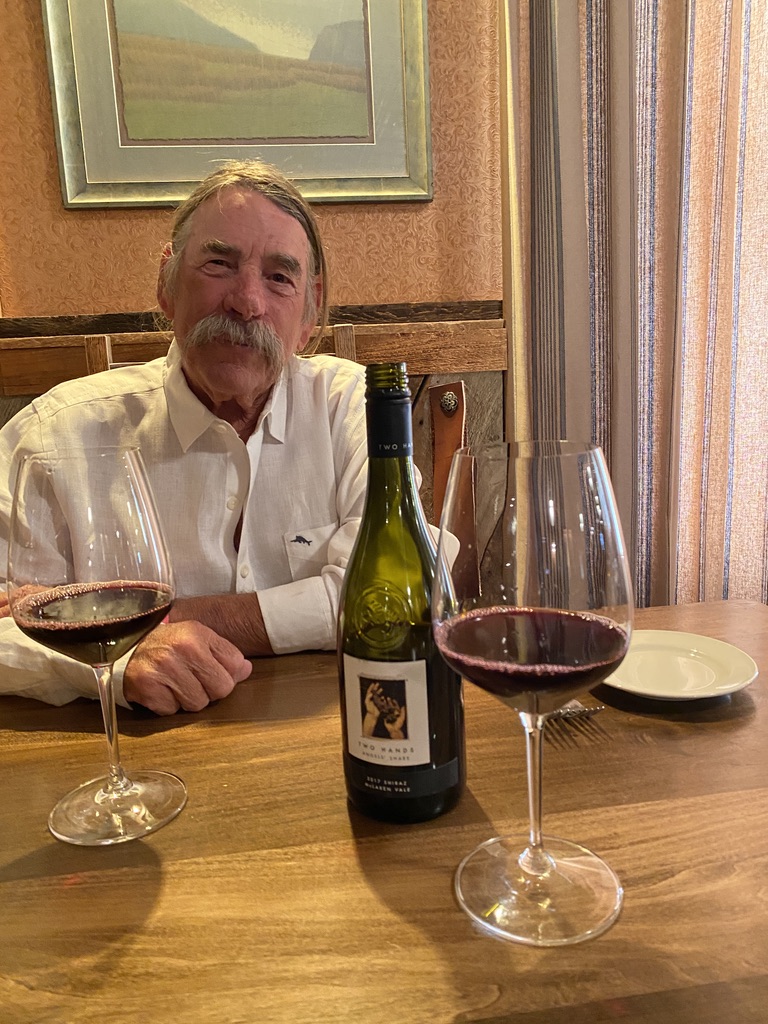 This is another birthday dinner celebration, so we splurged on a $75 bottle of Australian Shiraz, Two Hands. I had a happy husband!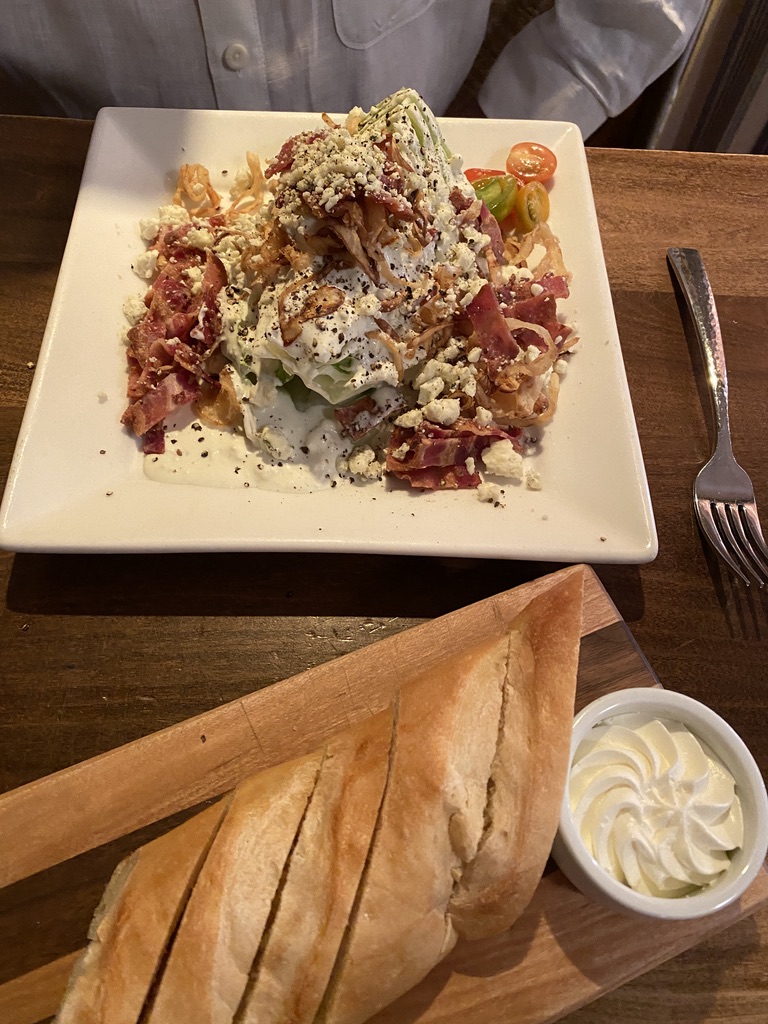 We started with huge salads that were big enough to be the whole meal. Bub loves Wedge Salads and this one was loaded with lots of bleu cheese, fried onions, tomatoes, and bacon, smothered in house-made bleu cheese dressing. No calories here!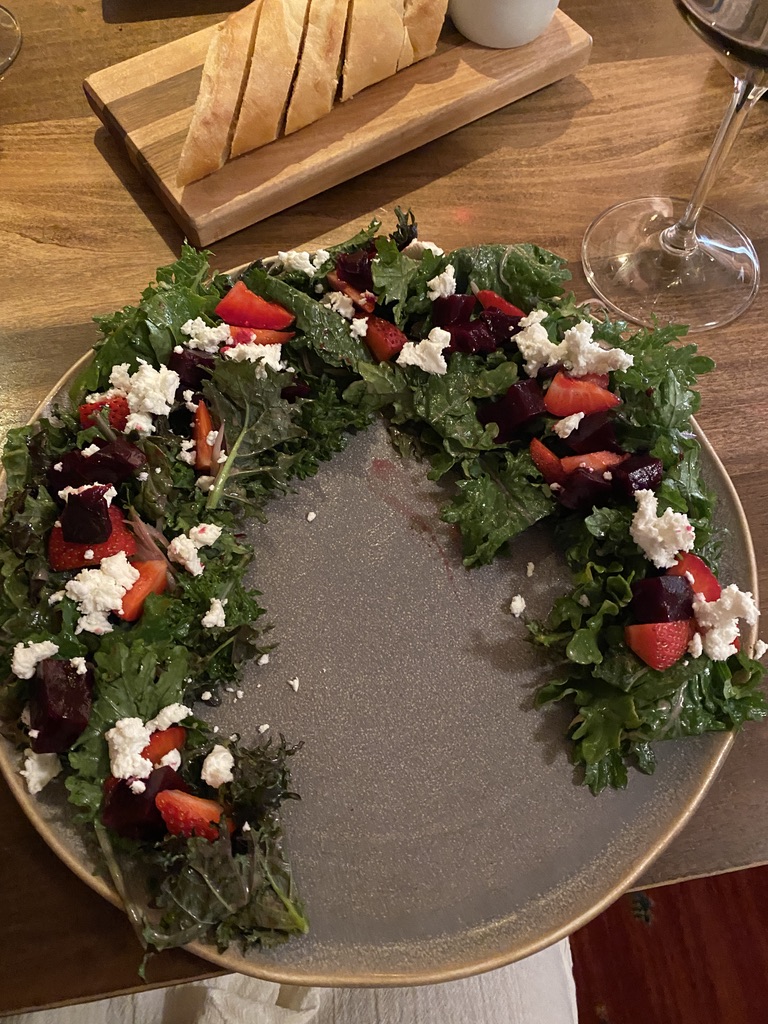 My salad was Beet and Strawberry, artfully arranged in a horseshoe on the platter. Roasted beets, fresh strawberries, Yarra Valley Feta, baby kale and marinated shallots were accompanied by a strawberry vinaigrette.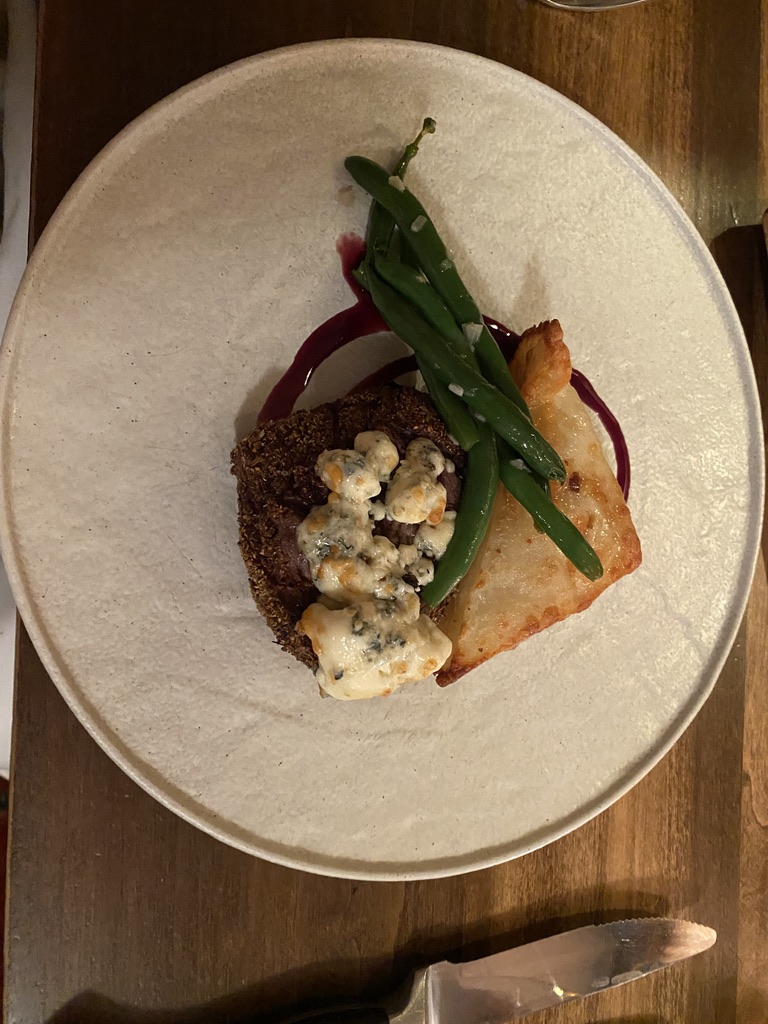 I couldn't finish my steak and took some for tomorrow.
My eight-ounce Gorgonzola Filet Mignon was rubbed with toasted fennel, sea salt, pepper and coriander. Presented on a port reduction and topped with Gorgonzola crumbles. It was pretty good, but not as tender as I remembered from last time. On the side was a gratin of local potatoes with gruyère and gorgonzola, which I think would have been good, if they had been warmer and undercooked green beans.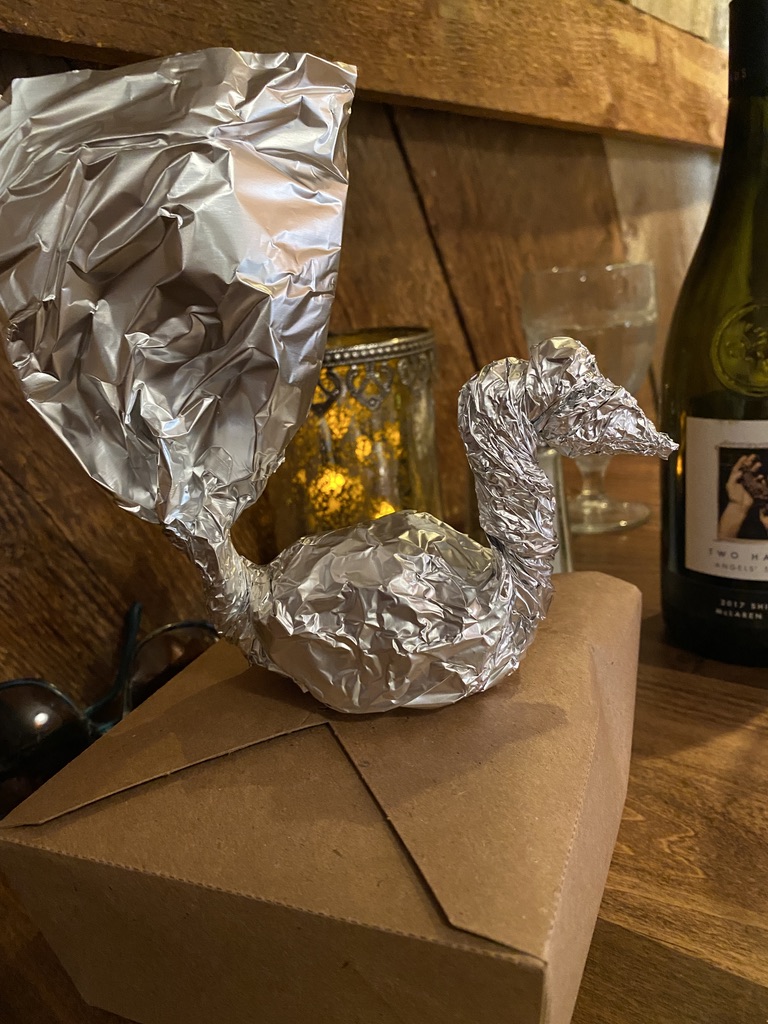 Bub was looking forward to the herb-crusted Prime Rib with horseradish sauce and garlic and herb mashed potatoes. He said it was the toughest Prime Rib he'd ever had, sadly.
Lizzie, our waitress, gave us spectacular service and brought a wonderful birthday Lava Cake with a candle for a wish.
Happy Birthday(Again!) Bub!