July 18, 2021 Kalispell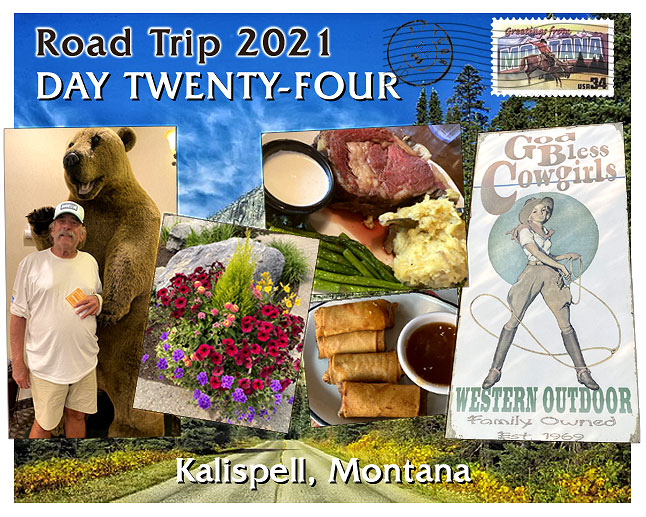 The Grand Kalispell Hotel serves a magnificent breakfast. There's a quiche I always love along with fruit and yogurt and pastries, muffins and bread. Alice joined us for a leisurely breakfast.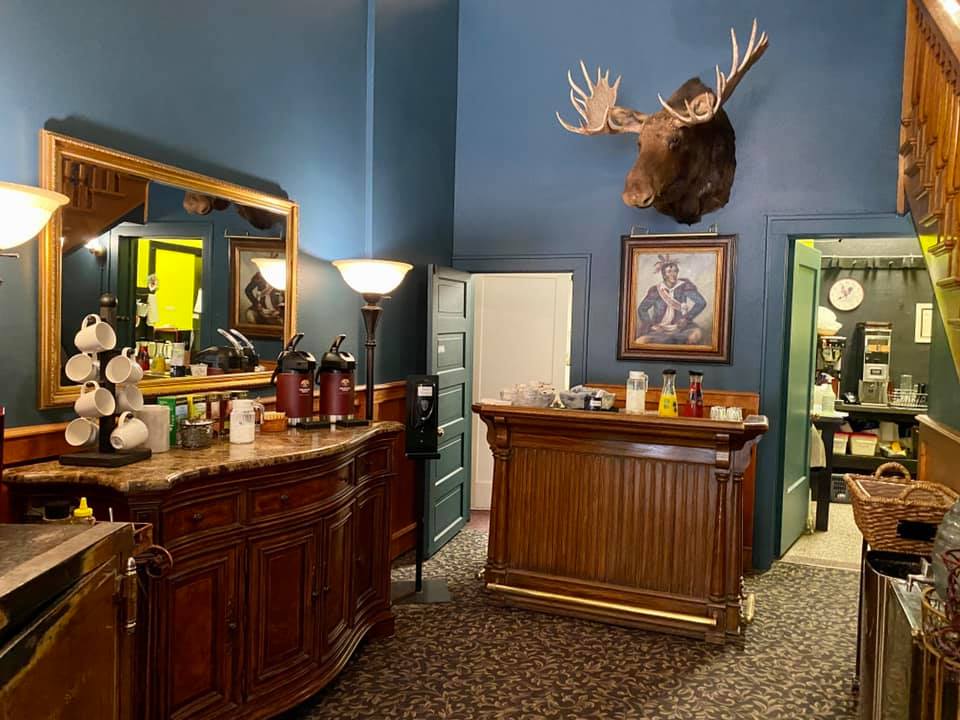 Then we all went to the tennis courts. Alice took our pictures and was a good cheering section for me but I still lost 6-3. I got good exercise, though.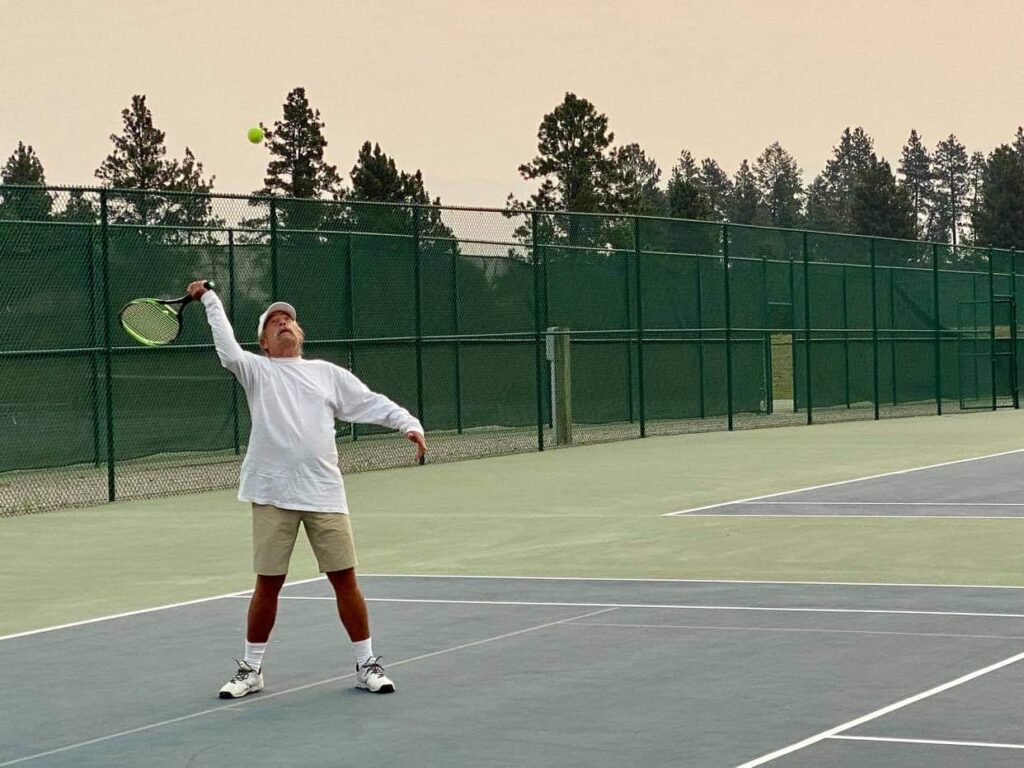 The skies again are grey and smoky. There was a blood red sun.
Alice took Truffles for a walk through town.
Our wristbands were still good, so I went back to a booth called Montana Stone Candles where Alice and I both liked these cool stones that had a little reservoir for oil and looked like the stone was burning. There were two red one, which the artist, Rick Williams, said for due diligence her needed to tell us they were NOT Montana stones. I liked them the best, so I got both, one for Alice and one for me.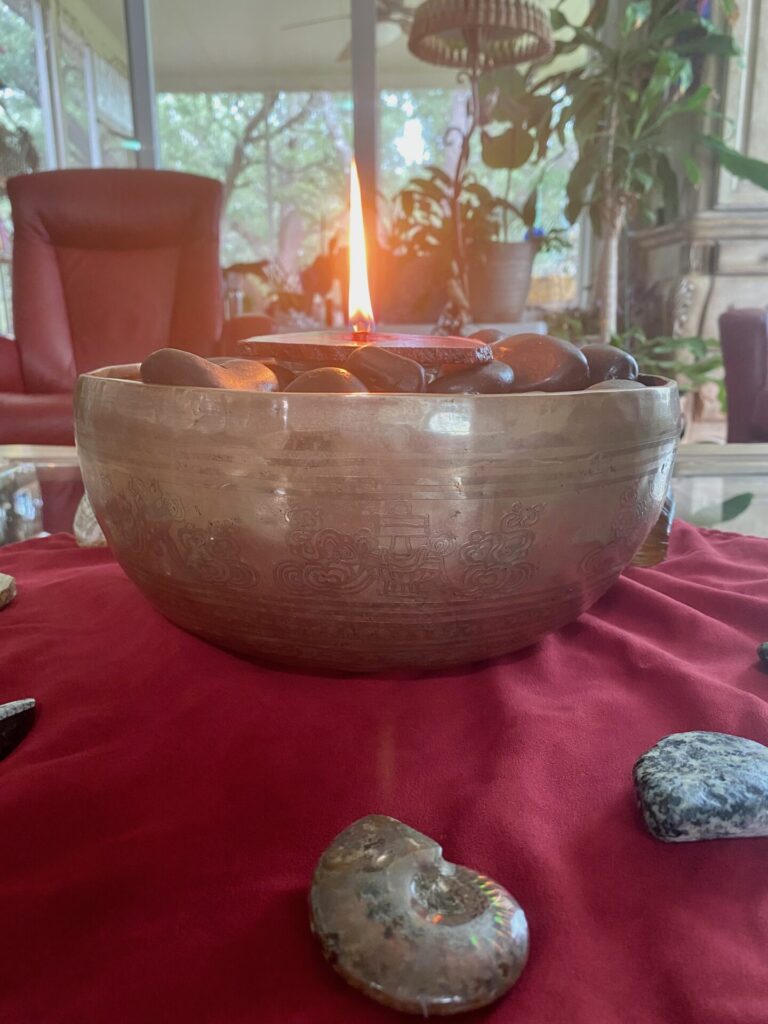 After our walks, I had Alice come back to the room so I could give her my present. We ate some light snacks and started to make plans for the next day. I realized I had not gotten a confirmation for the Bear Country Inn in Salmon, ID. Alice was going to get there before we did because she was going to head out early and we were going to get a tennis game in before we hit the road. I looked and couldn't find a confirmation, so I called the Inn.
The man who answered said we didn't have a reservation and they didn't have another room.
Oh my, what a week of confused reservations. I tried online for about an hour to find us something pet-friendly to no avail. We finally just decided to go our separate ways tomorrow. Alice can find a place for the camper almost anywhere. We decided to drive towards or to Pocatello, seeing how it goes and finding a room depending on where we are.
Sidenote: I got an email on Tuesday from the Bear Country Inn, saying we were a no show and charging us $262 for the room. After about 10 calls, the run-around: booking.com saying we had to talk to the Inn because they were disputing it, the Inn saying we had to get the refund from Booking.com, and back and forth. It took hours and hours to straighten out. The Inn continued to dispute it, even after I sent my phone log, showing I had called them on Sunday. Finally booking.com agreed to send me a refund and work things out someway with the Inn.
By this time, we were ready for a Happy Hour! The Montana Club Restaurant was just about a mile away and I suggested walking (to counterbalance all this food we had been and were going to eat!) We didn't really take into consideration how very hot it was that time of day. Brutal, actually. When we arrived, it was packed and they said a thirty-minute wait, so we went to the bar. Their Happy Hour was "buy one get one free" and Alice and I started with Huckleberry drinks and Bub had wine.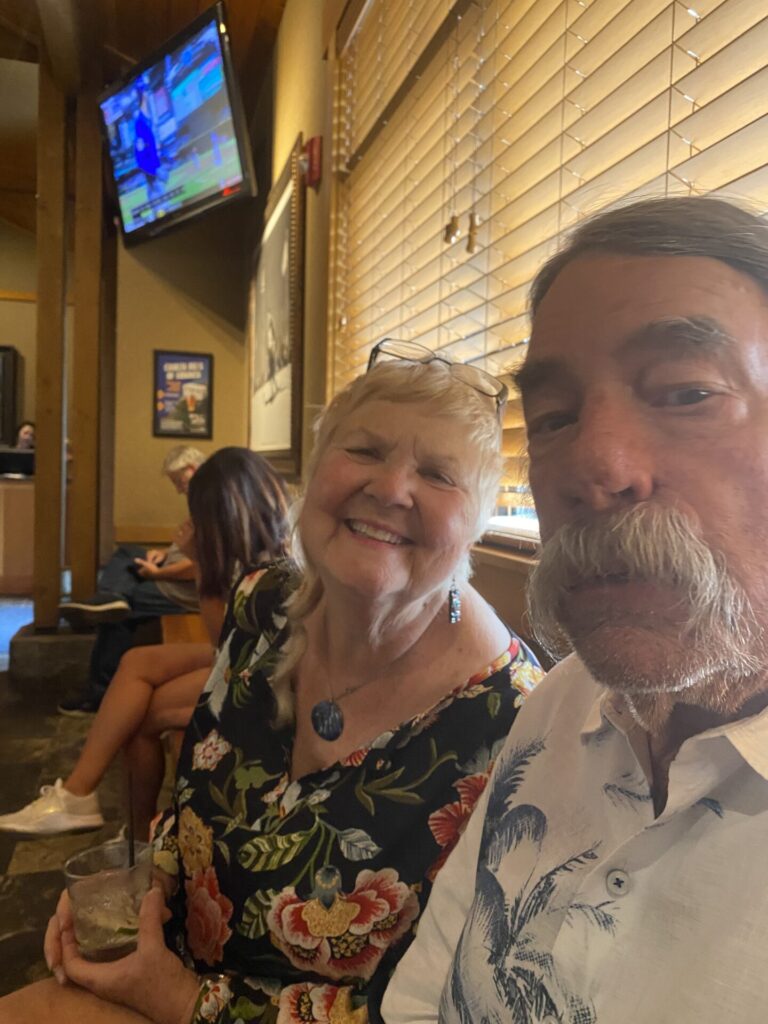 The wait was due to short staffing. Half of the tables were empty, but they clearly didn't have the staff to serve more than they had seated. It was slow at that.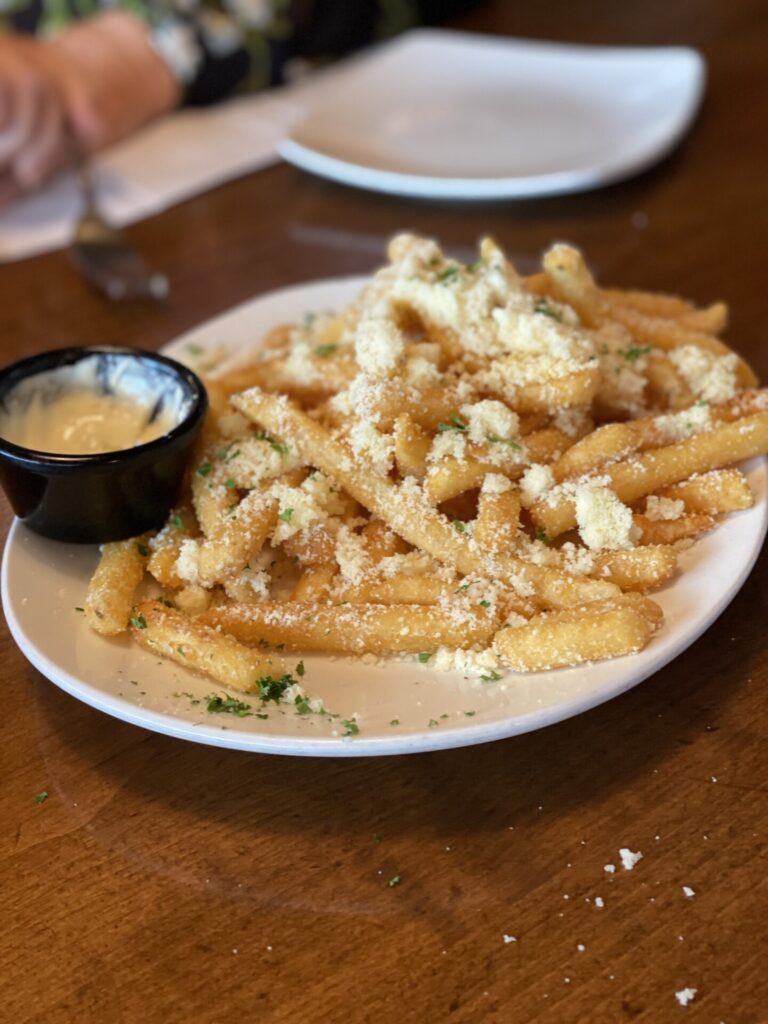 The good thing was the company and visit were just as important as the food, so we just enjoyed our two for one drinks and had fun and ordered some decadent fries: Hoagieville Cheese Fries: Secretly spiced and they called it a "world famous indulgence."(And that it was).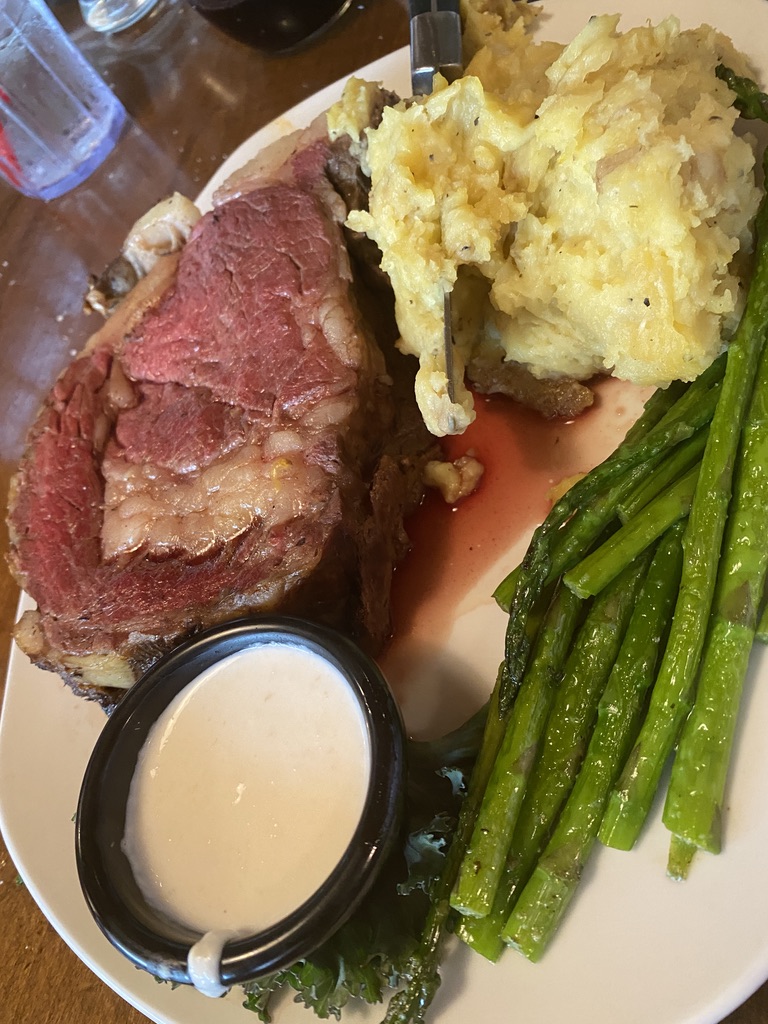 Bub ordered their Prime Rib (surprise)! Alice joined him.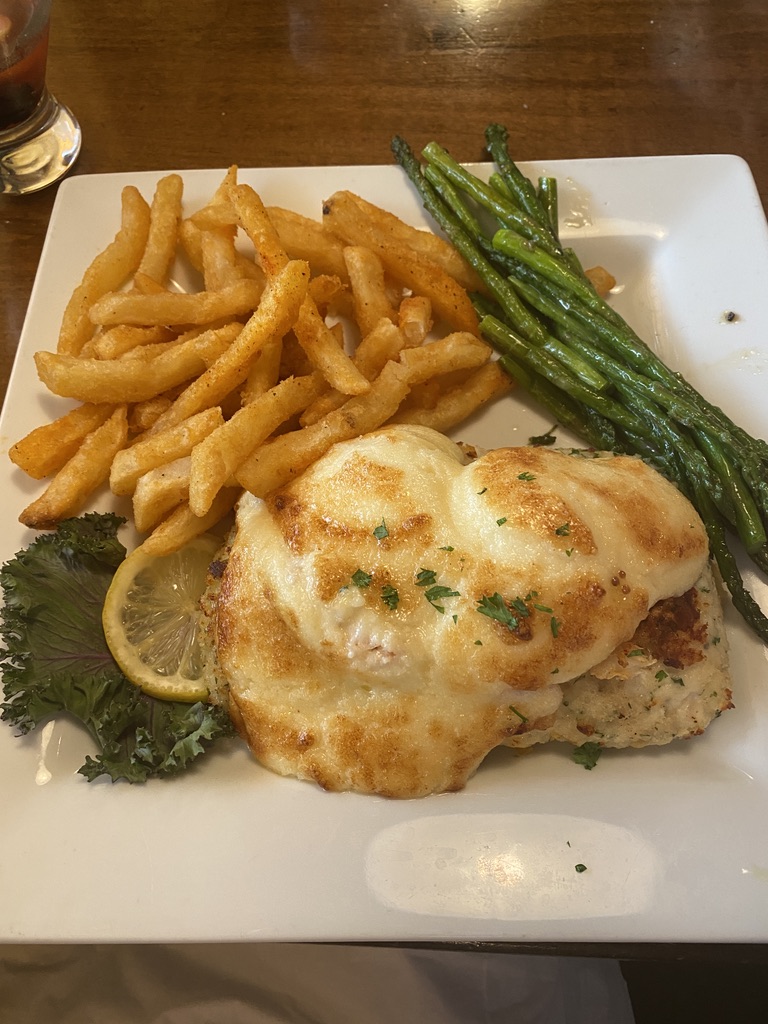 On the other hand, I had Halibut Hemingway: This was a parmesan-crusted halibut topped with Dungeness crab and smothered in a creamy parmesan sauce. More Decadence? Oh my!
When they found out it was Bub's Birthday, they said they did a birthday discount, based on age rather than a free dessert. Because he was 77, he got $50 off dinner! And none of us were hungry for dessert anyway! What a deal and sweet Alice treated us.
The walk back to the hotel was a bit cooler or we were relaxed enough we didn't notice.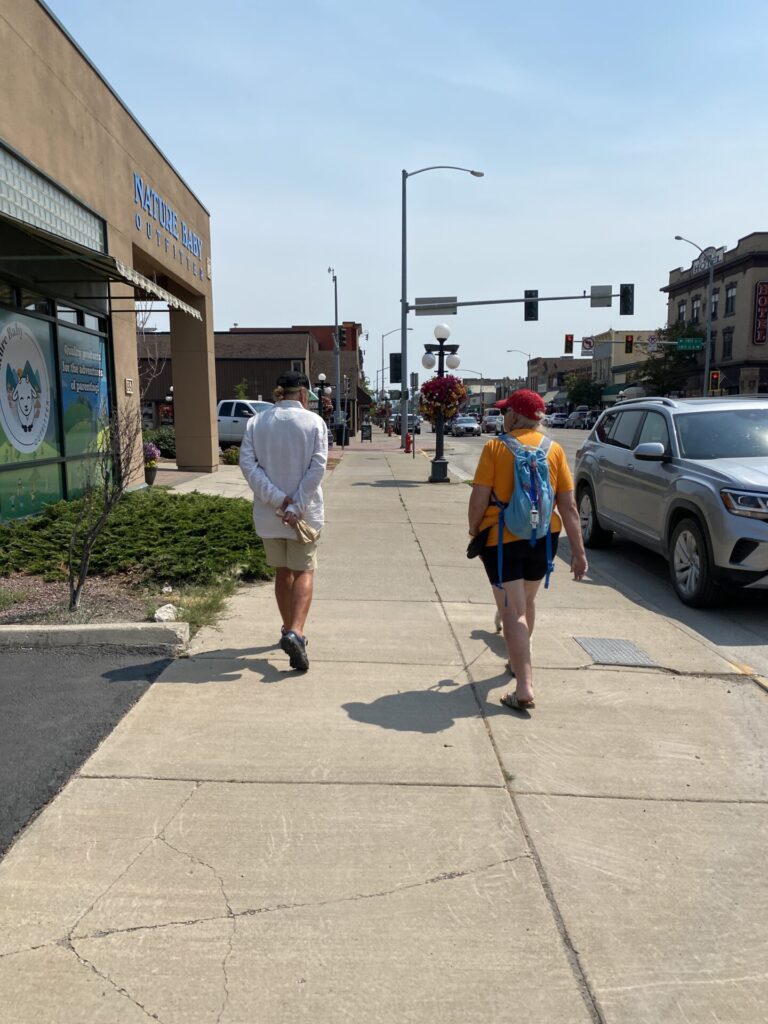 We ended the evening with some farewell wine in the room with Truffles, who had stayed behind.
We all slept well.
Life is Good.