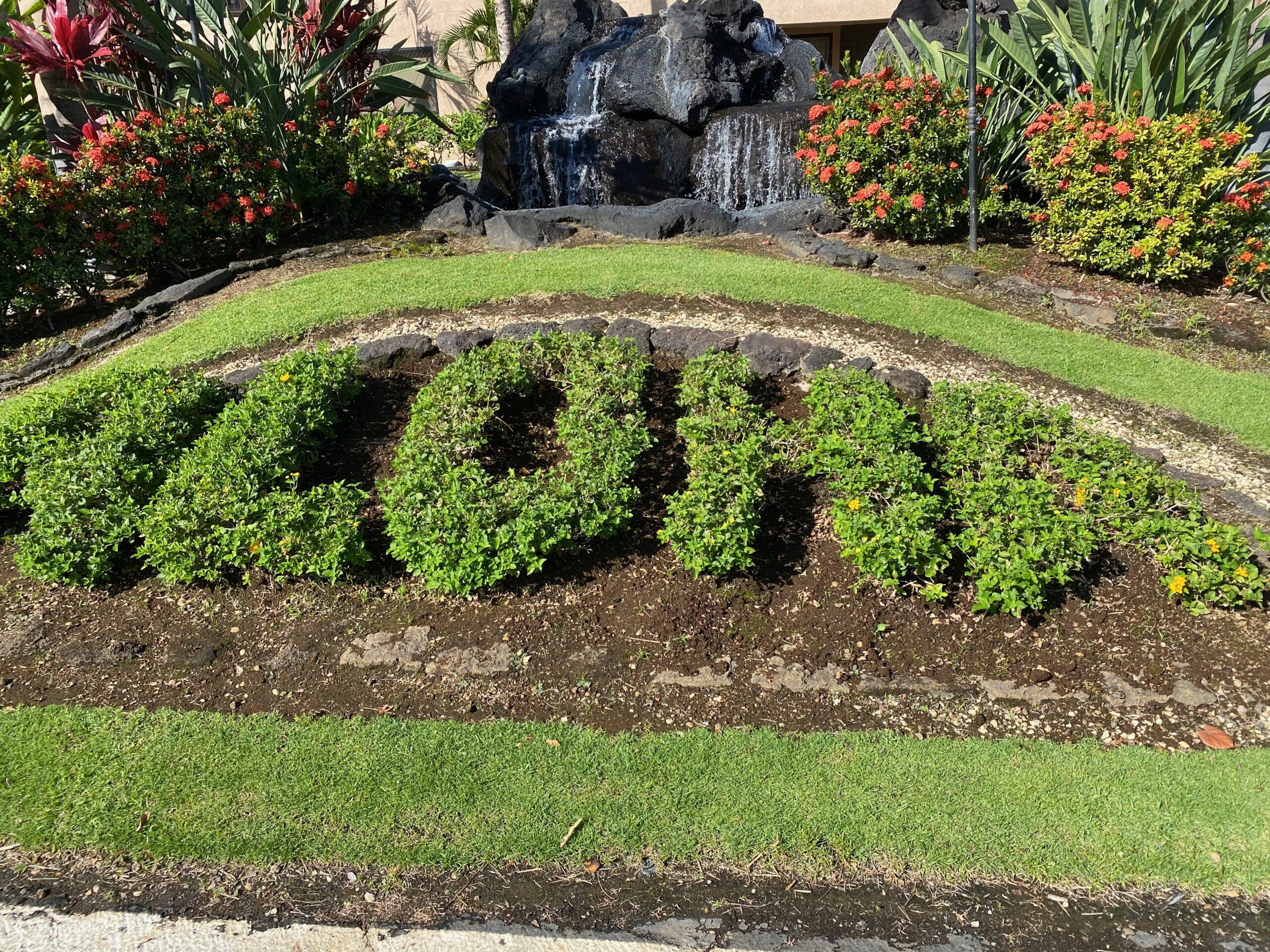 After jumping through all the pre-travel hoops and traveling for seven hours, Bub and I landed at The Kona International Airport about 2:30 on a beautiful, sunny afternoon. Post-flight, there was one more screening queue where we had to show our negative test, picture ID and our vaccination cards. Because we had all three, we could be set free to get luggage and our car. Those who hadn't been vaccinated were required to get another rapid COVID test.
The rental car office was jammed with a line going all the way around the building. It took about 45 minutes just to get up to the desk. Being a member of the frequent renting club would have moved us in the line. I highly recommend joining before you go. Rental car prices have skyrocketed. Fortunately, we had a car for $100 for the first 7 days with our package with Hilton Grand Vacations.
Bub had retrieved the luggage and I went back to the terminal to pick him up. 
WHEW!!!!!! WE DID IT!!!!!
Provisions
From the airport, a quick stop at Costco provisioned us: wine, pineapple, Ono, eggs, croissants, and, (did I say) wine. It was a good start to relaxation.
The drive to Waikoloa is about a half an hour, mostly through fields of black lava. Goats nibble on the slim pickings on the side of the road.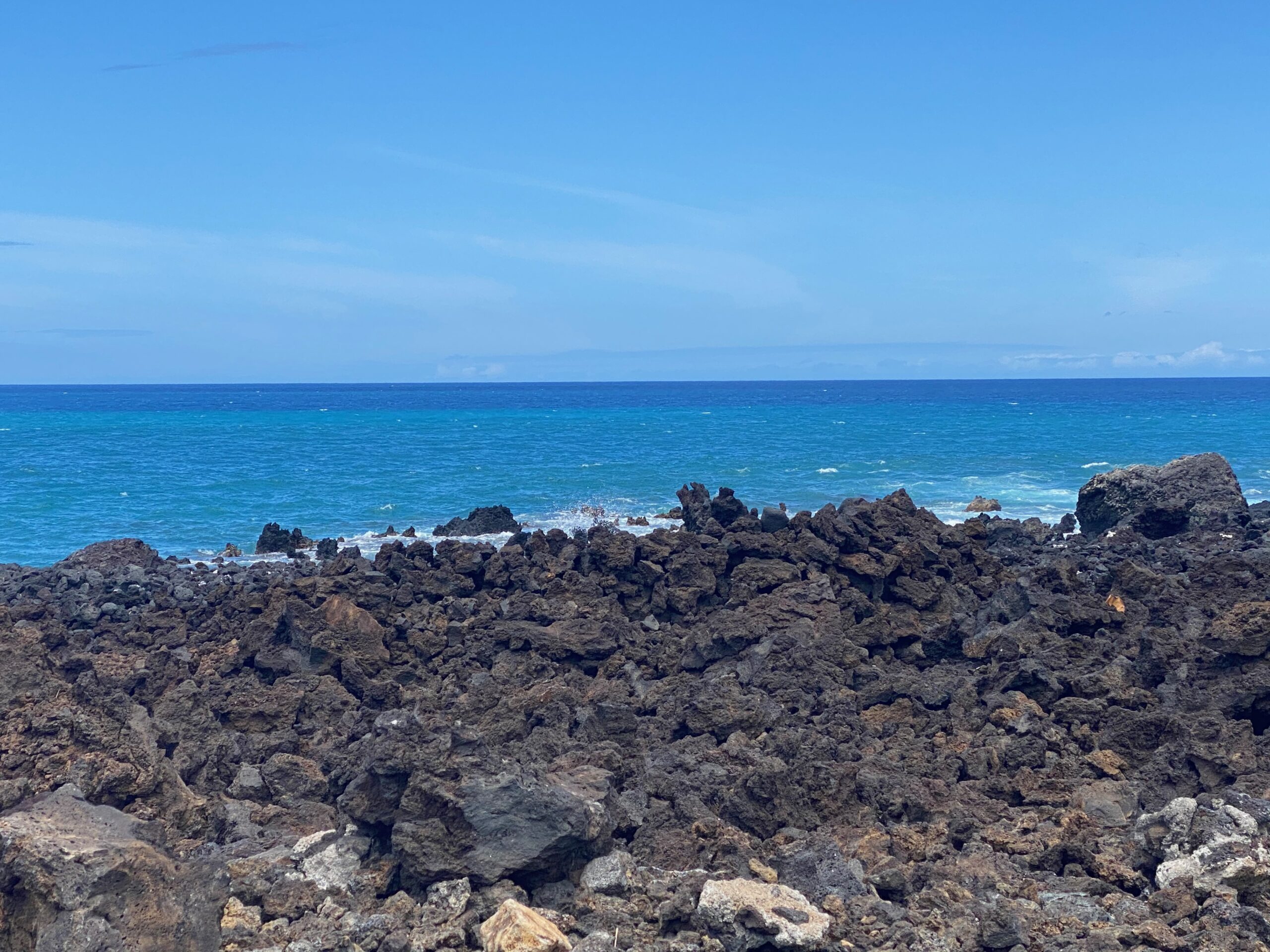 The first time we brought my granddaughter, Lily, with us, she cracked us up by asking about 10 minutes into the ride,"When are we getting to HAWAII?" The black lava certainly didn't fit her idea of the paradise we'd been telling her about!
The Hilton Ocean Tower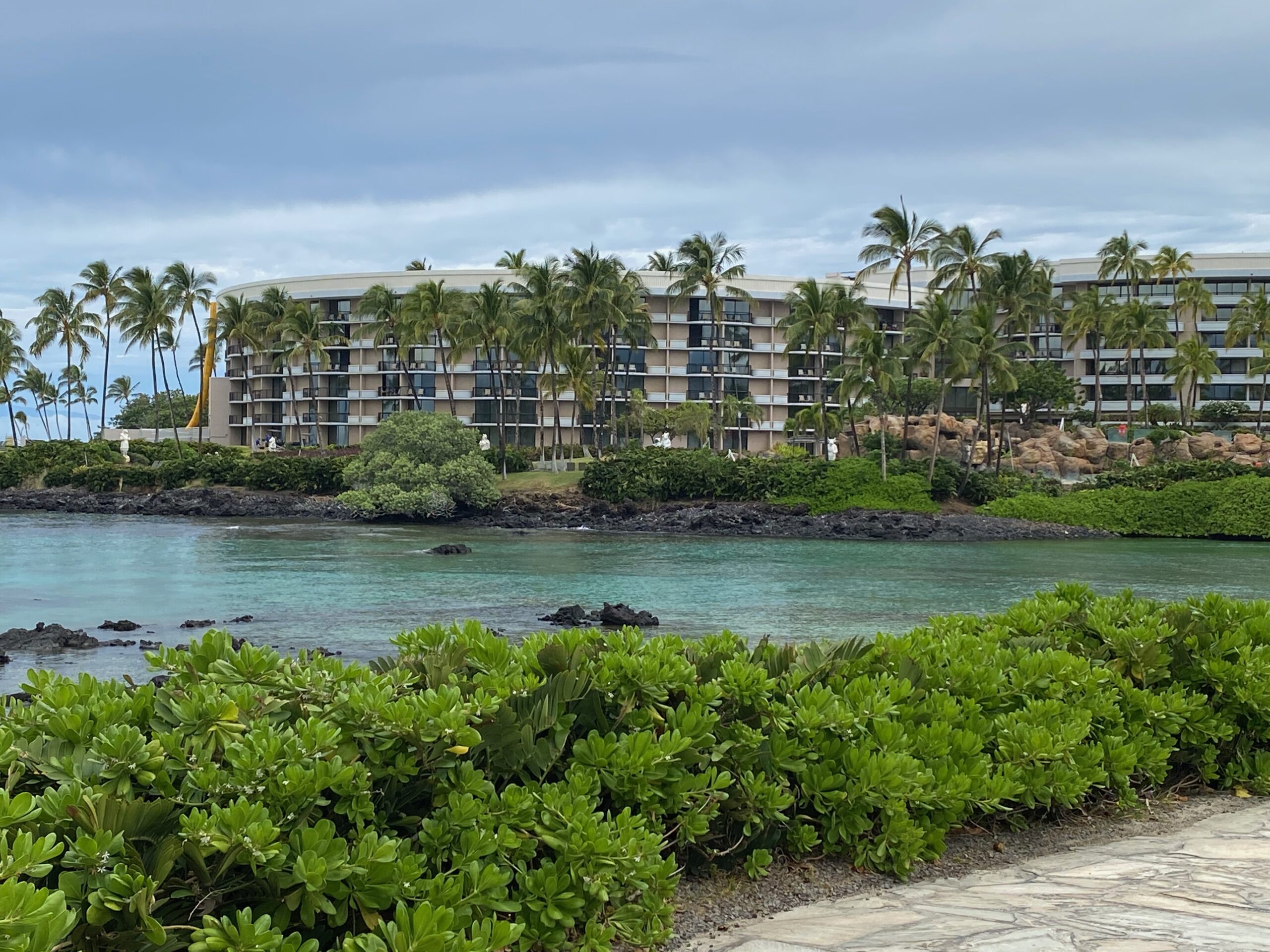 The first week, we stayed in The Ocean Tower by Hilton Grand Vacations. On the edge of Waiulua Bay, connected to the main hotel lobby via tram, it features a  daily resort activity program, dolphin quest, waterslides, hot tubs, a winding pool river, and shopping area.
On the grounds of the Hilton Waikoloa Village, The Ocean Tower has recently been turned into time share units. We had purchased a five night, six day package to be introduced to these units. Ours was a luxurious one bedroom unit with a full kitchen, laundry and two bathrooms. Everything was brand new and top quality. We even had a Toto Toilet with a Bidet and a seat that opened when you got near it!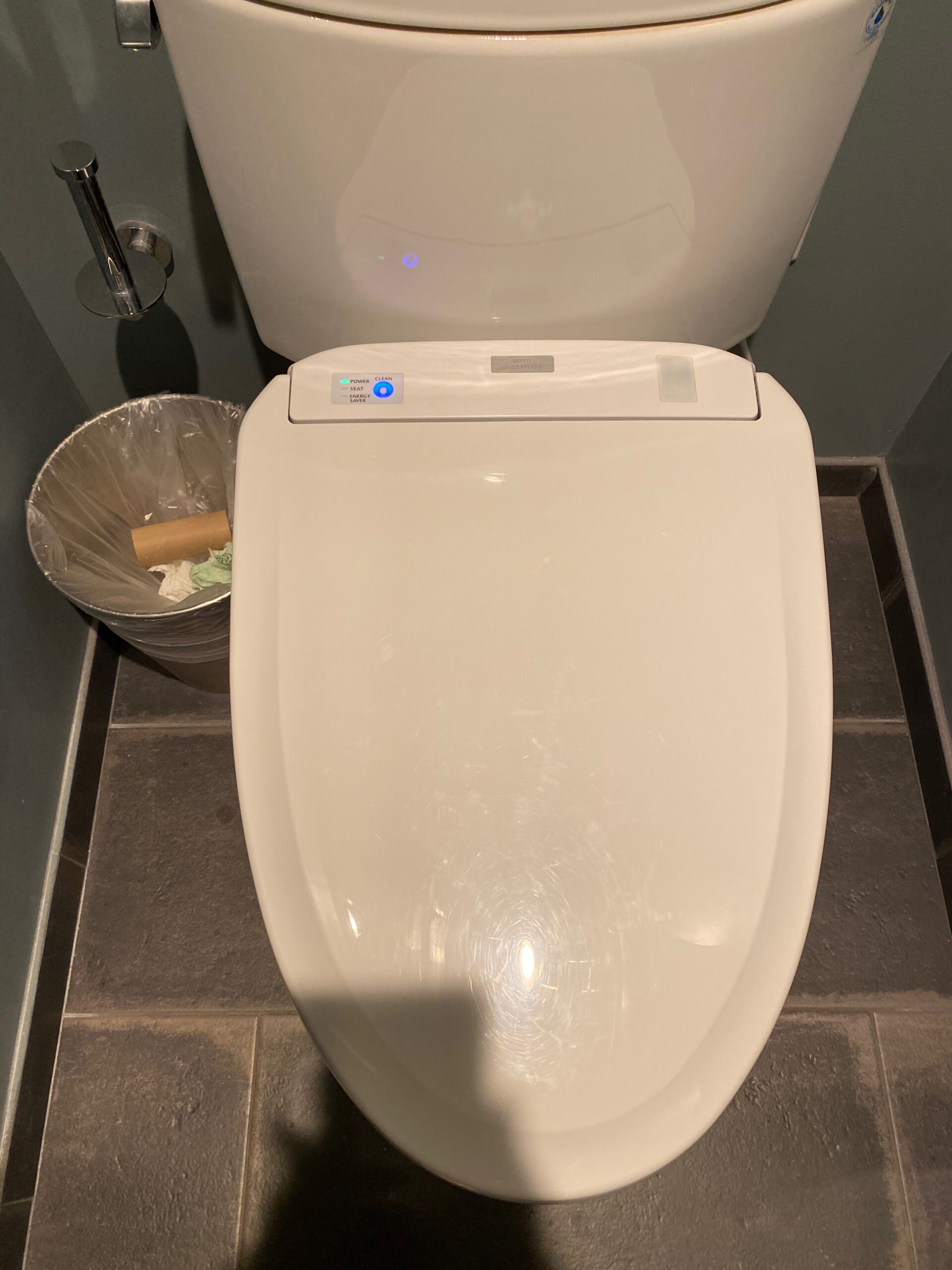 I had three wishes for this stay:
I wanted an ocean view (Over half of the units had garden views)
I wanted free parking (when we confirmed our reservation they said parking was $37 per night)
I wanted free tennis (Last time we were here, the tennis was $25 per hour)
Check in was quick and easy with just two couples ahead of us. As Hilton Honors members, we got two free bottles of water! After greeting us, the woman who checked us in said, "We have upgraded you to a unit with an ocean view." YIPPEE!!! She mentioned parking was $37 a night. I asked if it could be waived and she said no. I then asked if she could give us some passes for the tennis courts and she said we'd have to check with the staff at the spa because they managed the tennis. So I'm 1 for 3, getting very tired and decide I'll take #2 and #3 tomorrow. It's time to relax.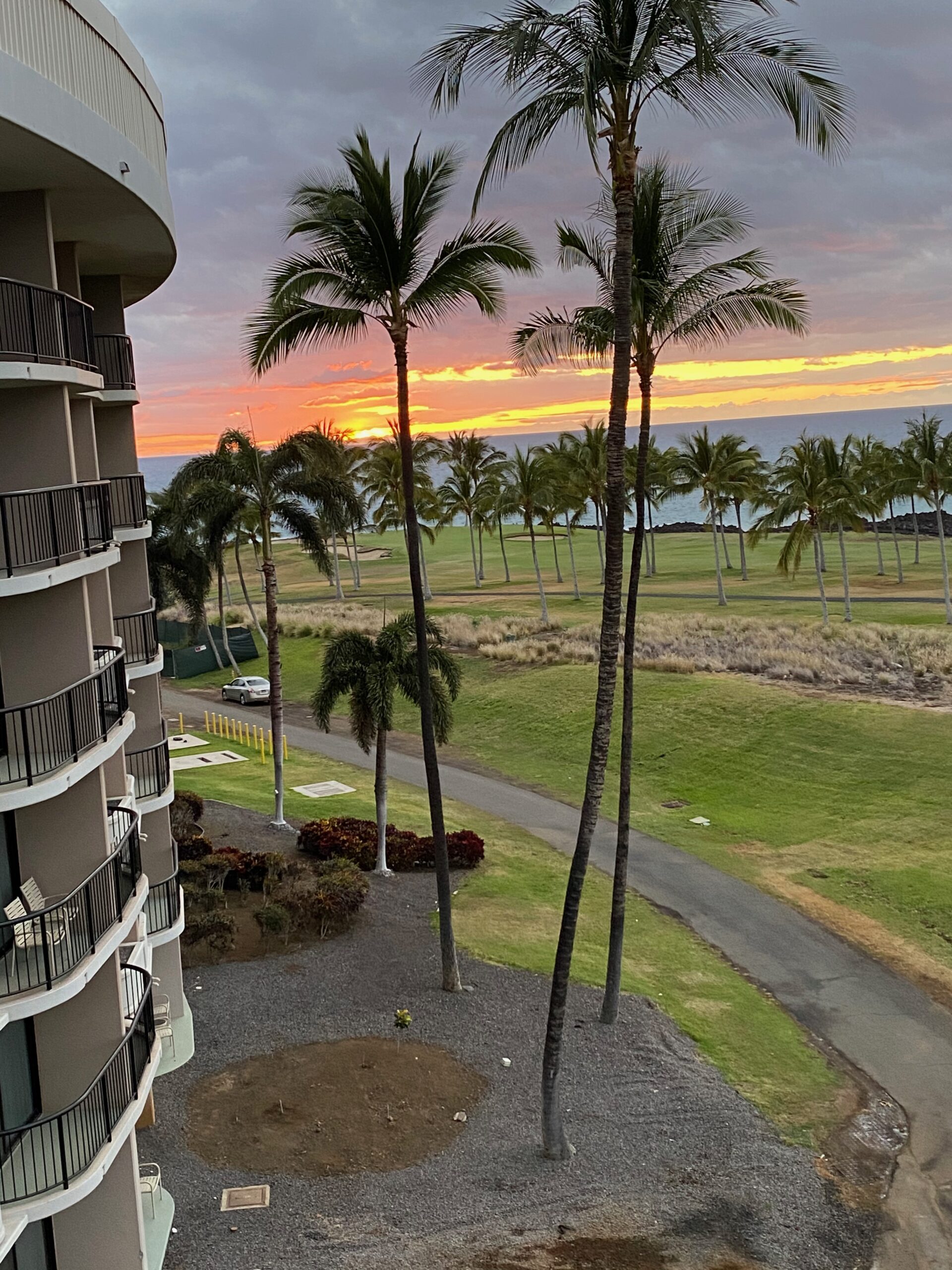 So, we head up to the sixth floor to a gorgeous suite for the next six days.
Sliding glass doors opened to a lanai (patio) overlooking the golf course and the the ocean for both the living room and another from the bedroom. My miracle number one made me very happy.
Definitely time to celebrate! We made it, after 16 months of being sequestered at home. We opened some wine and sat on the patio, taking in the Pacific Ocean, watching the waves splash against the rocks, hearing the sounds of birds chirping and the ocean, smelling that salt air!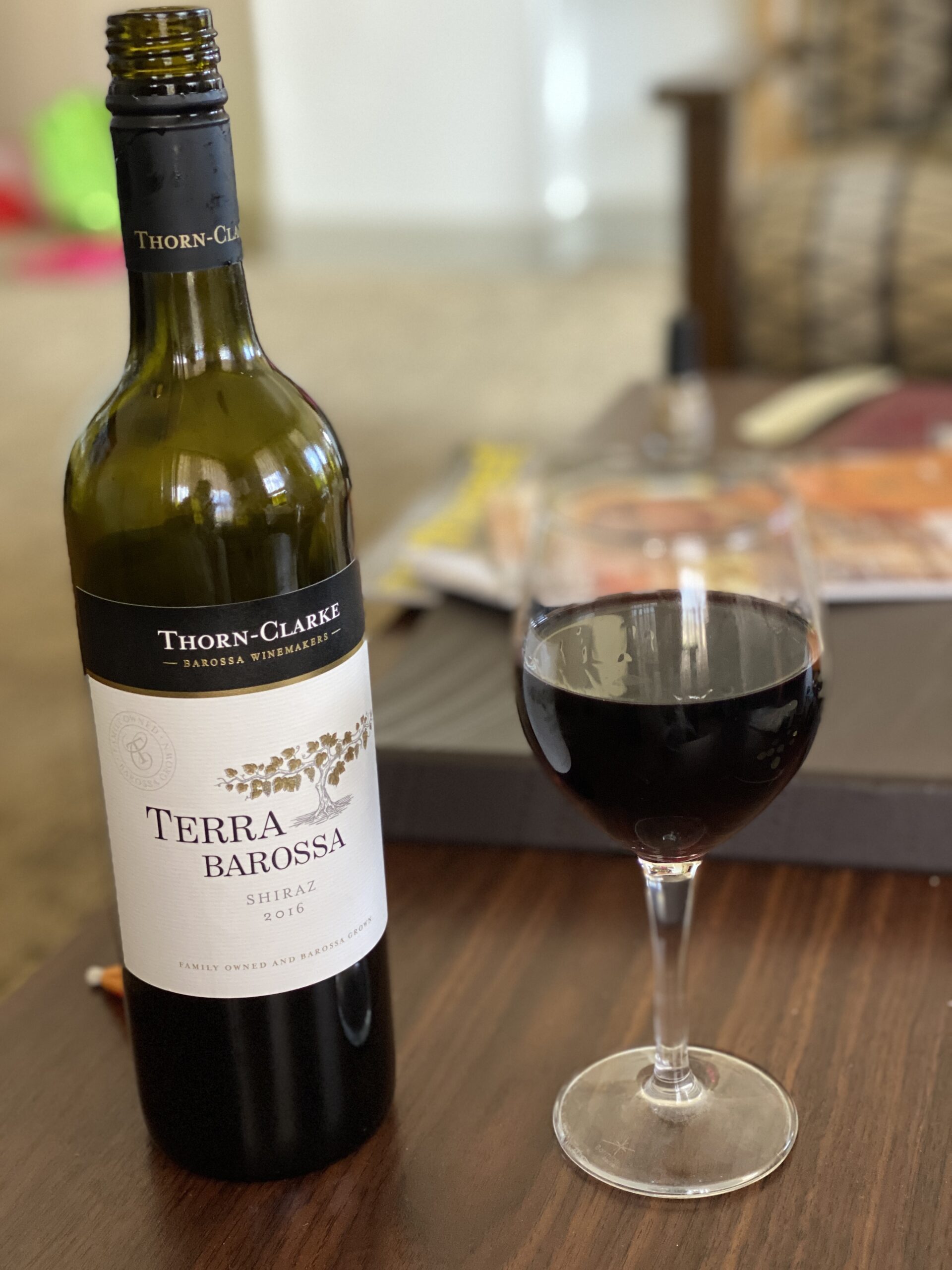 Sunday morning, It was time to create more miracles
Miracle number two: Free parking
We will be staying at the Bay Club for most of the rest of the vacation. The main entrance is open during the day and there were plenty of parking spots! It is directly across the street. My free parking! I let the front desk we wouldn't be needing their $37 a day self-parking and moved my car.
The first full day begins early !
We were up early given the three hour time difference. Bub actually got up at 1 AM and made coffee before he saw it was the middle of the night. Haha!
About 6 AM, we'd had some of that great Hawaiian coffee and decided to walk the fifteen minutes down to the hot tub to melt the tightness in our muscles from sitting on that plane for seven hours yesterday. The hot water was divine and my giddiness about actually taking a vacation hadn't worn off yet.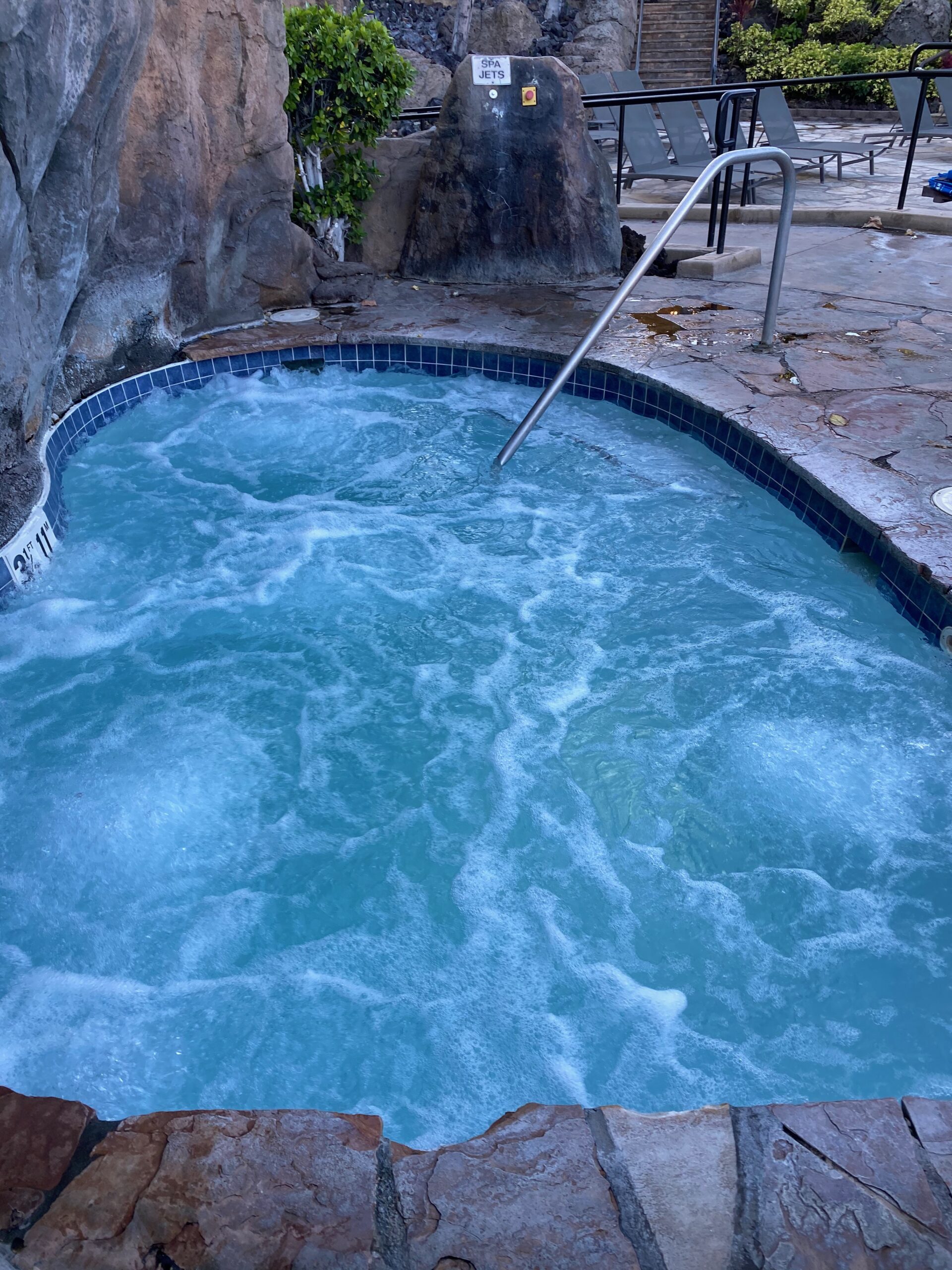 On the way back, we walked through the Spa to look at the tennis courts. The Spa didn't open for a few hours, so there was no one there to talk to. When we were here in 2019, there was a stadium court, surrounded by about ten other courts. There was a staffed desk and they charged $25 an hour. We were horrified to see those ten courts had become parking. I guess at $37 a night it was more profitable ("They paved paradise and turned it into a parking lot" came to mind).
We walked back to our new home and enjoyed breakfast on the patio. Bub cooked up the Ono, I sliced the pineapple and we scrambled some eggs. We poured a bit of Kaluha into the Kona coffee, feeling truly on vacation. No worries. All relaxation.
A dozen or so nene (Hawaii's state bird) populated the golf course. We could watch them from the patio.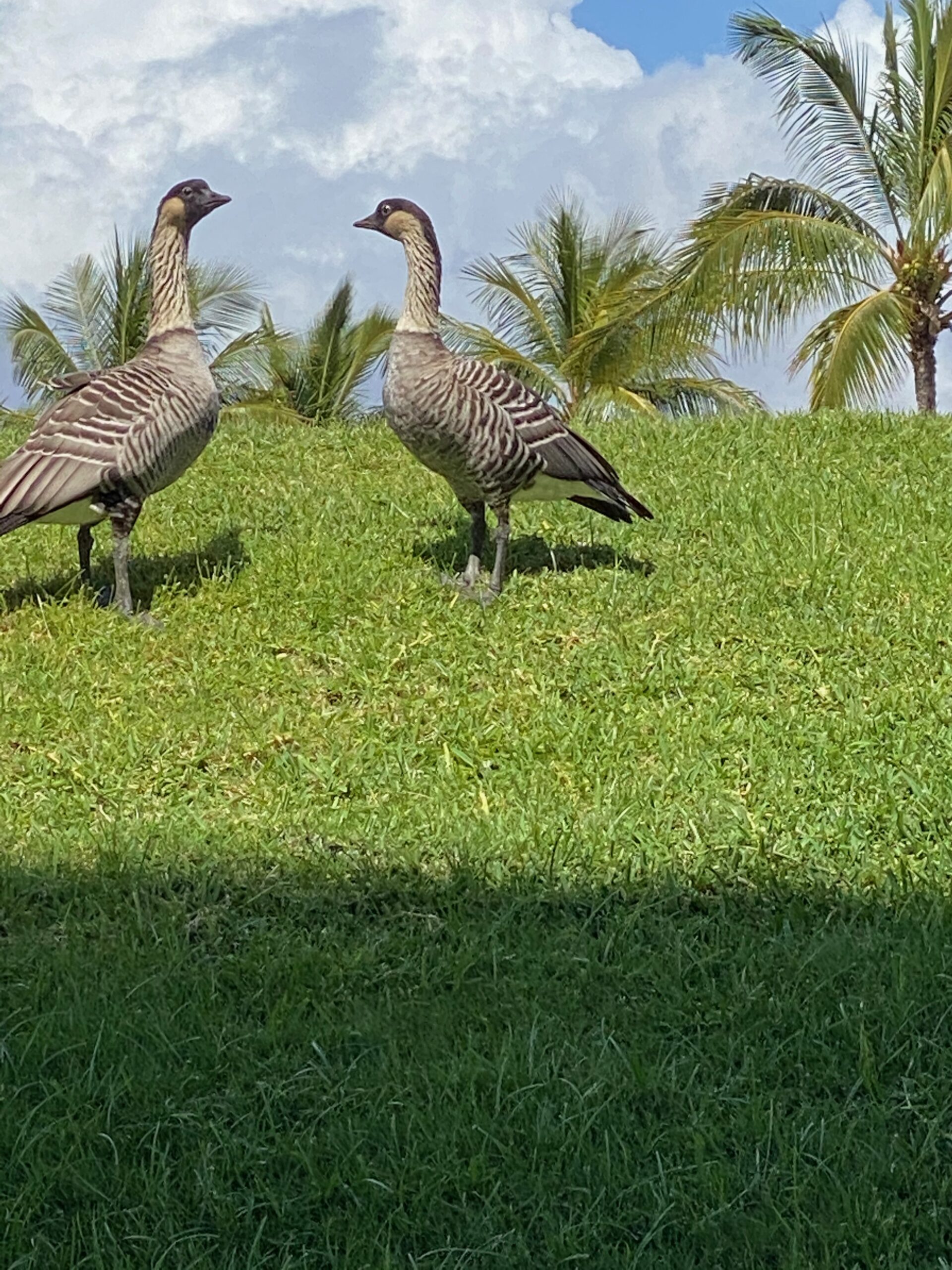 Miracle number three: Free Tennis
I called the Spa to check their hours and ask about the tennis courts. I was told they were closed. I enquired further to learn-not closed like couldn't be used, but closed like no reservations needed and available if we had our own equipment! YES!!!!!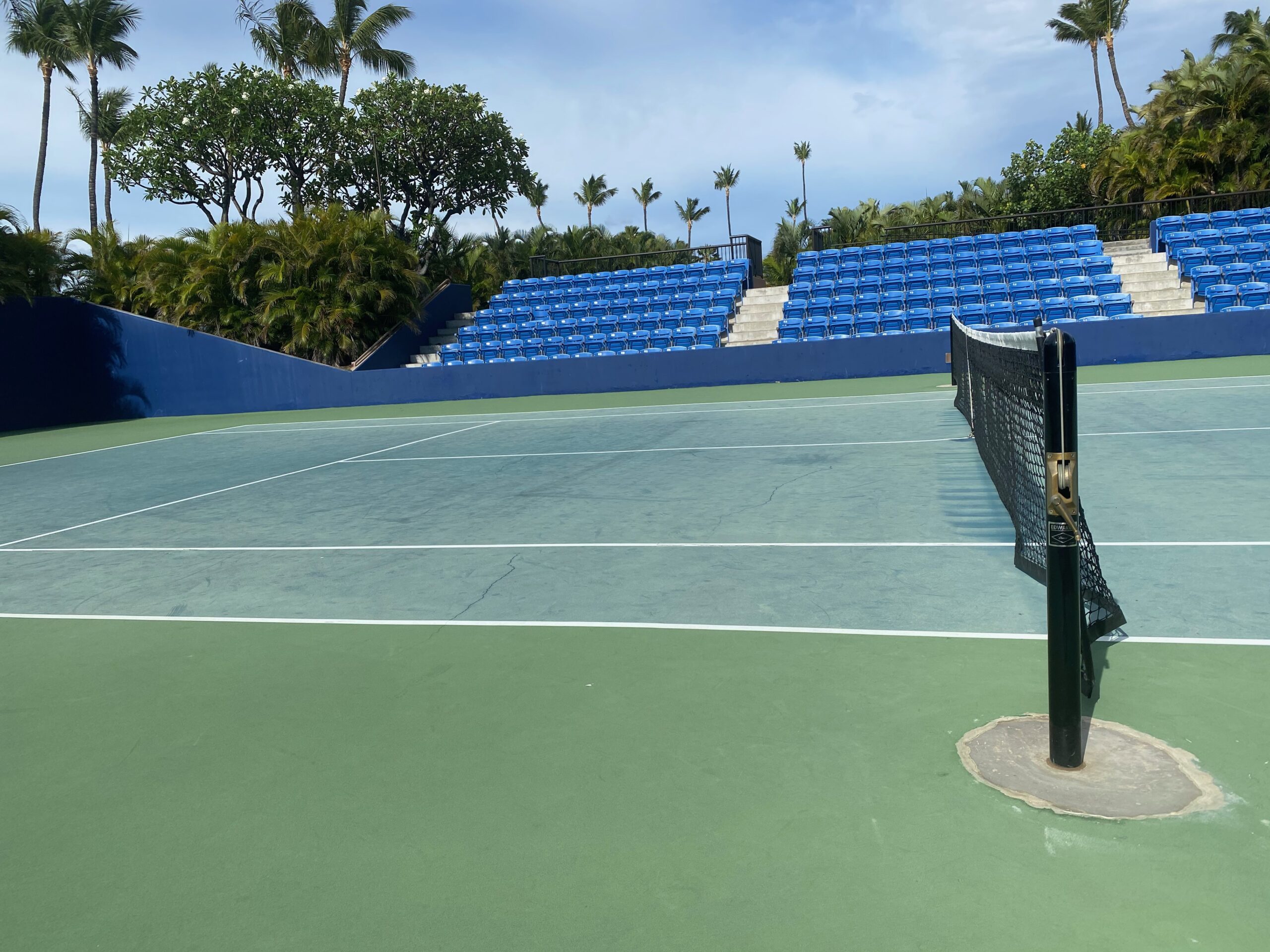 What a great way to begin this three-week vacation.