July 16,2021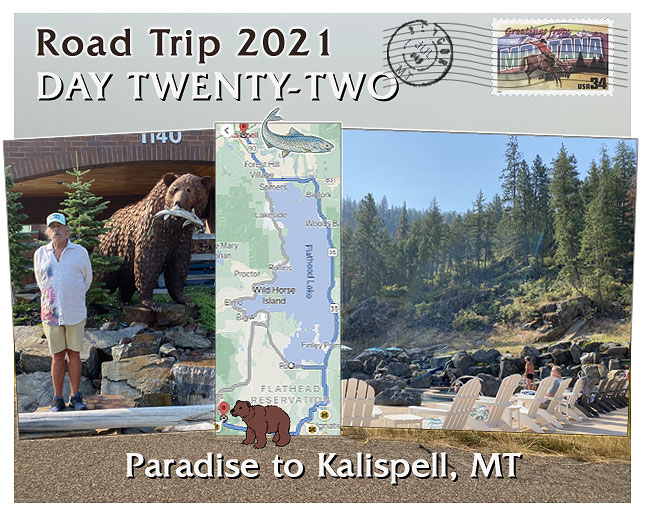 July 16 Quinn's Hot Springs to Kalispell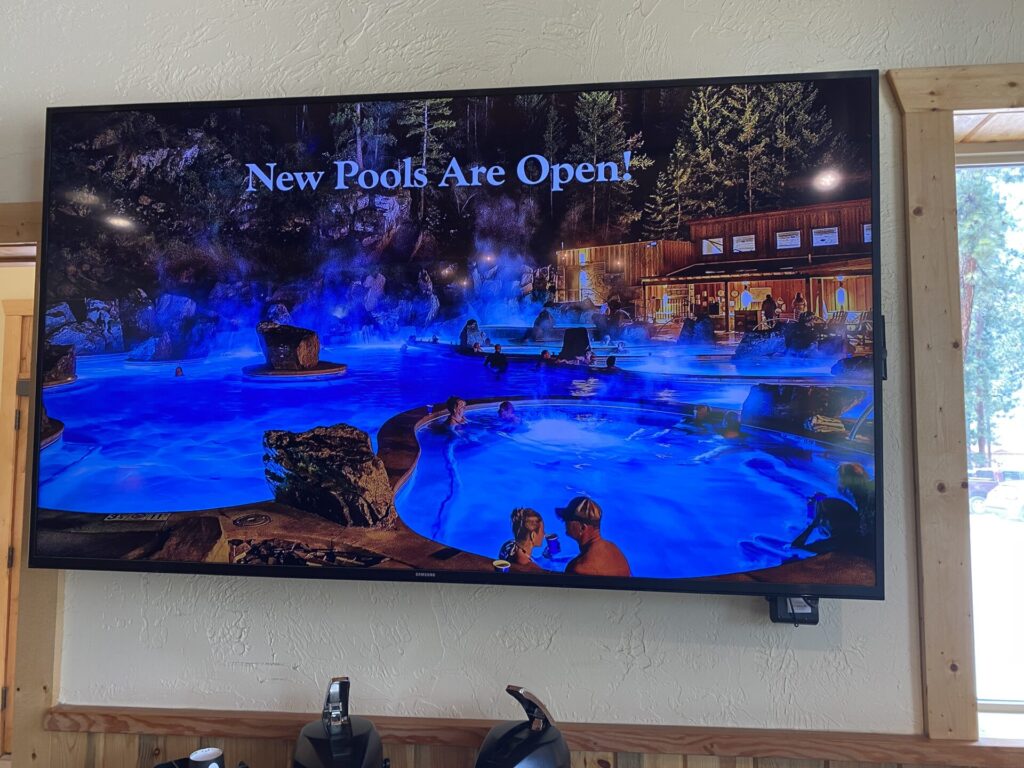 Friday July 16, 2021
We made the most of our time at Quinn's Hot Springs Resort. Although we had to check out in the morning, we were able to hang out at the pools until 1 PM.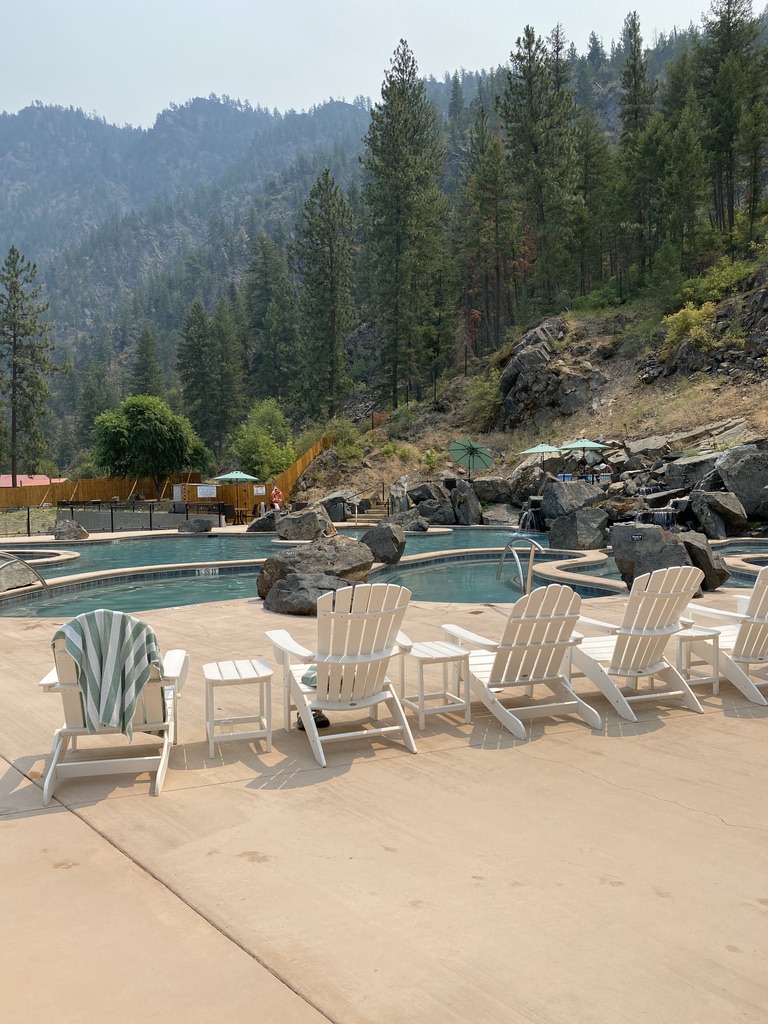 The new pools are built right into the hill. They have a cold plunge, a very hot pool, and several warm and warmer pools. It literally has something for everyone.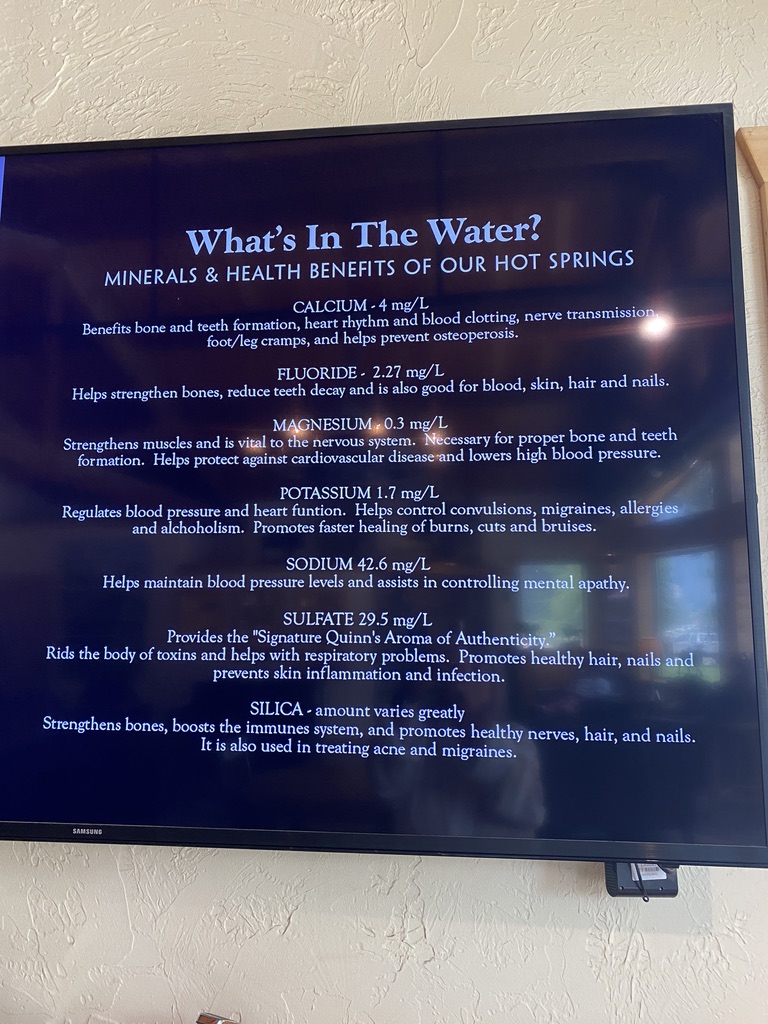 The bathhouse is very spacious with wings for men and women.
Another building promises food and drink coming soon. Quinn's Tavern is adjacent to the gift shop and reception area, serving casual food. When Rachel, the Marketing Manager, mentioned the plans for this, I was perplexed at the need for it. She reminded me how cold it is in the winter and people don't want to walk all the way over to the Tavern, soaking wet in the cold. Okay, that convinced me.
The pools are protected by tall fences, putting to rest any worries of bears visiting. There'd been several reports of people being killed this summer by bear attacks.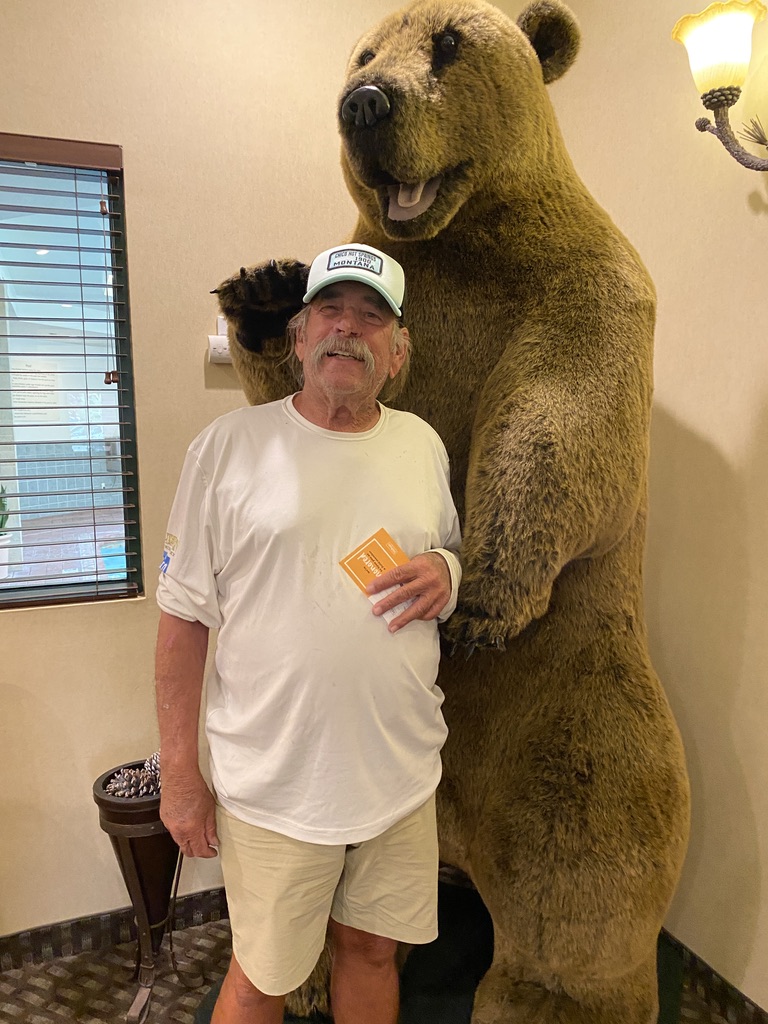 Too soon, it was time to leave. We had so much fun, we are going to book a room now for next summer and spend a couple more days.
On the road again… (You can hear the song in your head, right?)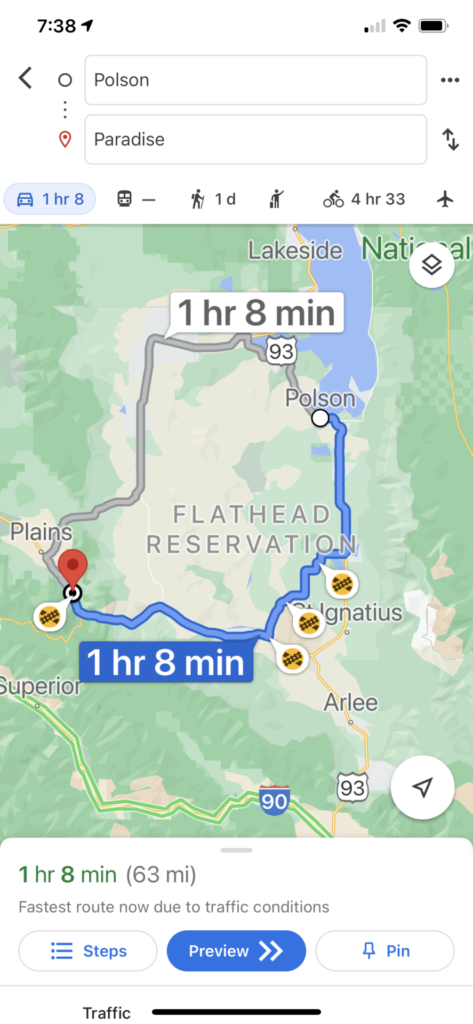 We choose to drive to Kalispell by going first to Polson and then up the the east side of Flatstone Lake so we could stop in Bigfork to shop.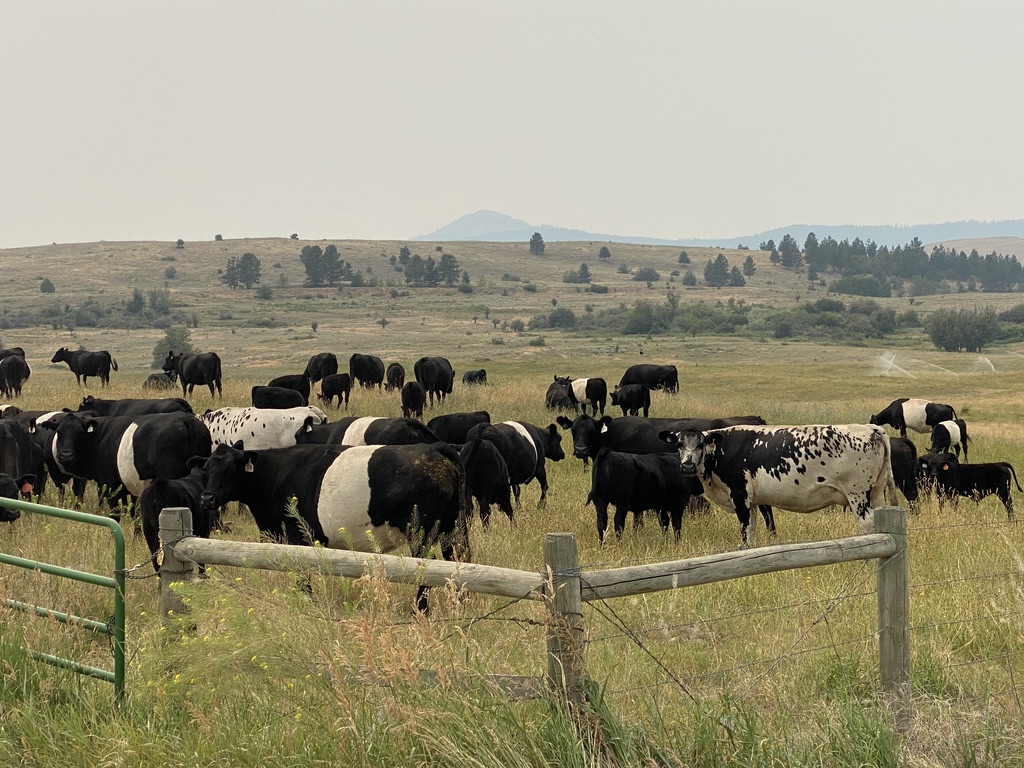 On the way to Polson, we passed a field filled with the Oreo Cows. More properly called Belted Galloways, these Scottish beef cows are black in the front and back and white in the middle.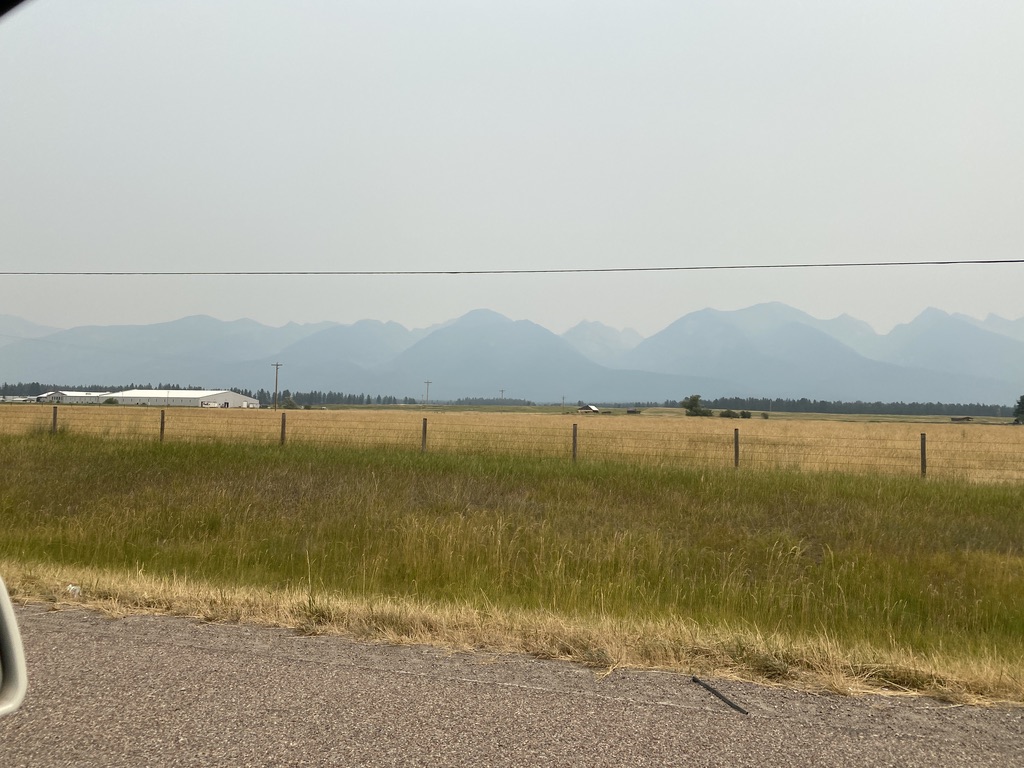 The skies were filled with smoke from the fires all over the northwest. The sun, when you could see it was a bright red.
As we approached Polson, traffic almost stopped. For over an hour, we inched along a 10 MPH. Eventually, we got to the site of the accident, and things opened back up. It was frustrating with no alternative route.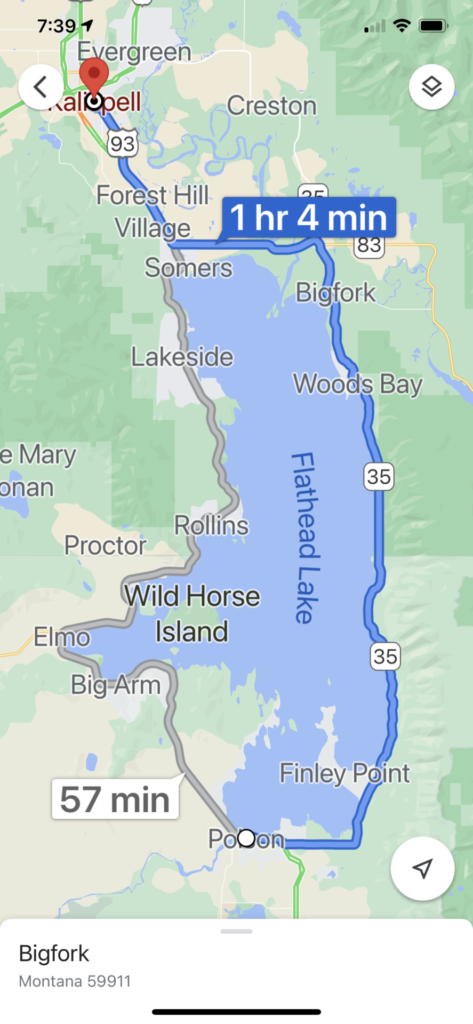 After Polson, driving up the east side of Flathead Lake, there were hundreds of cherry trees filled with red fruit. I don't think I have ever seen cherry trees in season. They are beautiful. Stands selling cherries proliferated. We got behind two big motorhomes on this two lane road and the slow driving continued for another half an hour or so.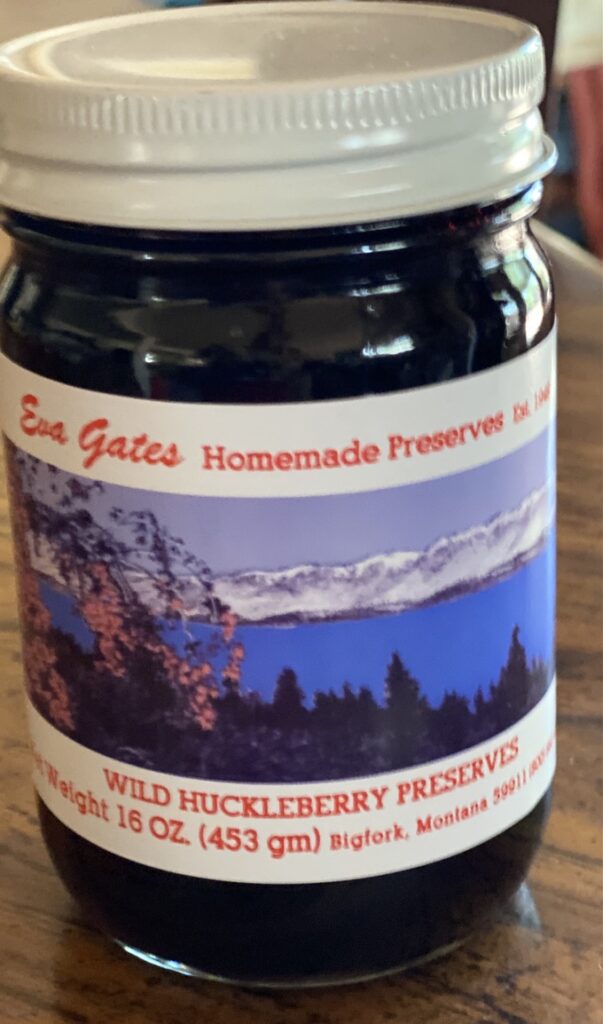 We finally got to Bigfork. Bub always buys Huckleberry Jam here at Eva Gates.
The Electric Buffalo Gallery is a wonderful shop with lots of gifts, silver and turquoise jewelry.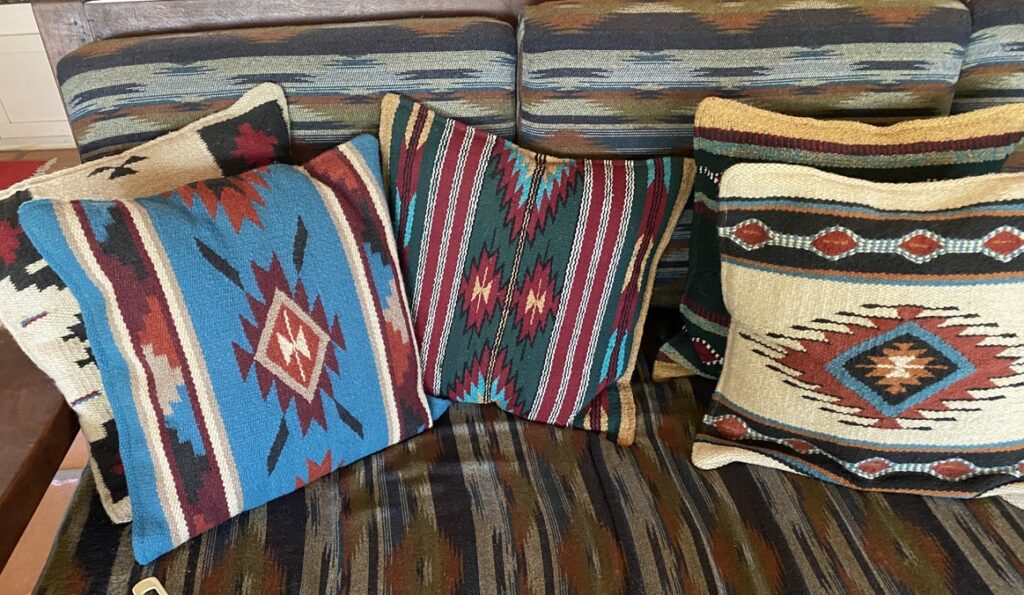 We've bought Indian woven pillowcases here several times in the past, but they are no longer selling them. I saw them for sale at the Winslow, AZ in the La Posada Hotel gift shop when we were there in 2019. I'll have to see if they still carry them.
Bigfork is a very touristy and overpriced town on the edge of the lake. Not needing or wanting anything else, it was back in the car to Kalispell. There was heavy traffic the whole way. Road trips are in full swing.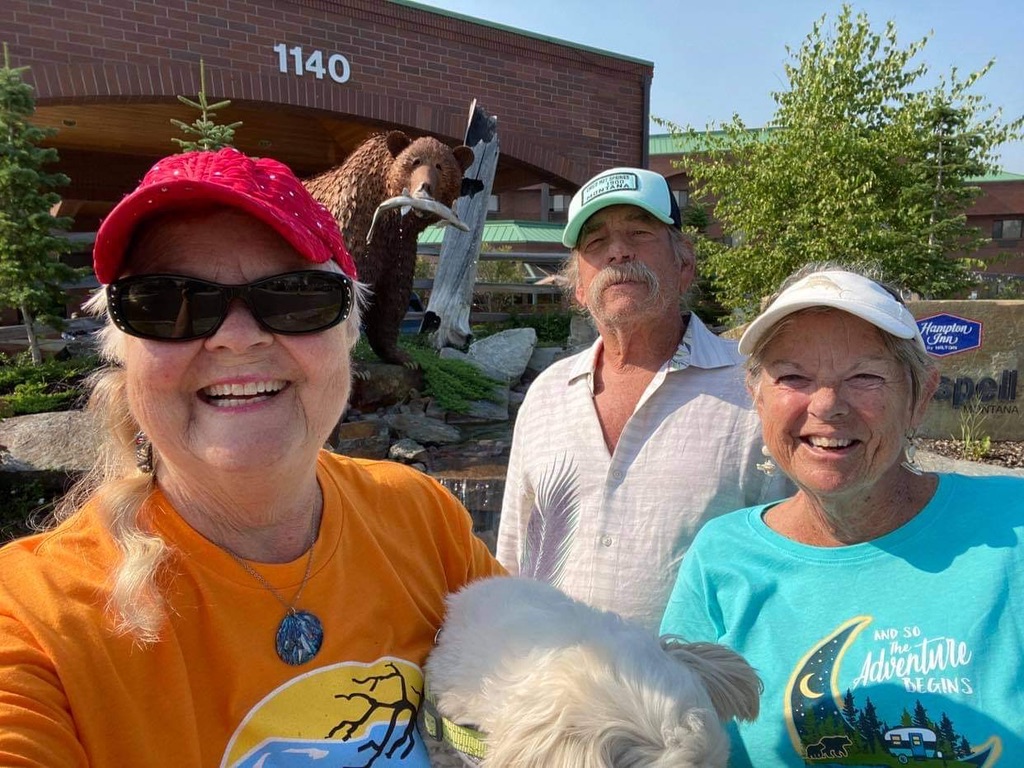 Late afternoon, we got to the Hampton Inn in Kalispell. We were lucky to be able to use my Hilton miles and get a room for $200 off the $400+ they were charging. Everything in the area was sold out and some other ordinary hotels were charging $999 if they did have a room.
After all the slow driving, it was a relief to get into a nice cool room. Montana temperatures have mostly been in the 90ºs as part of the heatwave sweeping the Northwest. It's been a very strange summer, weatherwise. Usually, it is about 20º cooler here. Ah well, our thin AZ blood leads us to believe is anything under 100º is not bad.
We had to cancel the reservation for Monday at Lolo Hot Springs. It's another one we hadn't been to, but the town had been evacuated because of a large wildfire. Priceline was understanding and refunded us, even though it was a non-cancellable reservation.
We snacked on the road snacks we'd brought: oysters, cheese, crackers and fruit. After all the big meals, it felt good to just lightly snack.