Kalispell, Montana July 17, 2021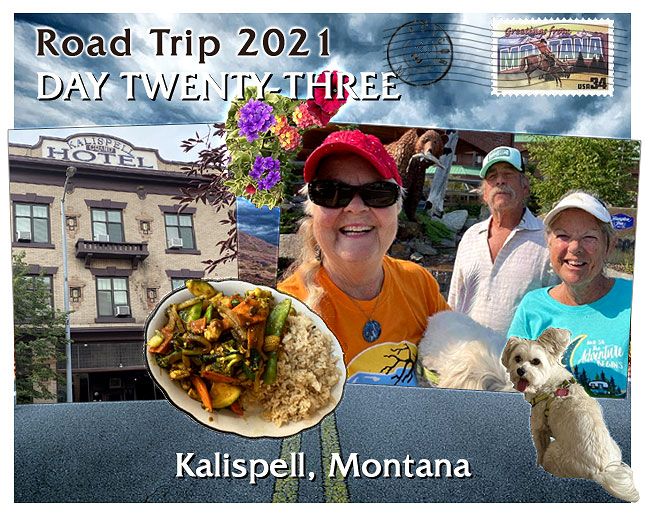 Day 23 Saturday in Kalispell, MT
The morning at The Kalispell Hampton Inn brought another day of very smokey skies.
It's nice to revisit places from years past and know where things are. We've been lucky to find nice, free tennis courts at the Flathead Valley Community College. On this particular morning, there were no other people on the eight courts. Playing at this altitude is a little different, giving me an excuse to lose to Bub, 6-2.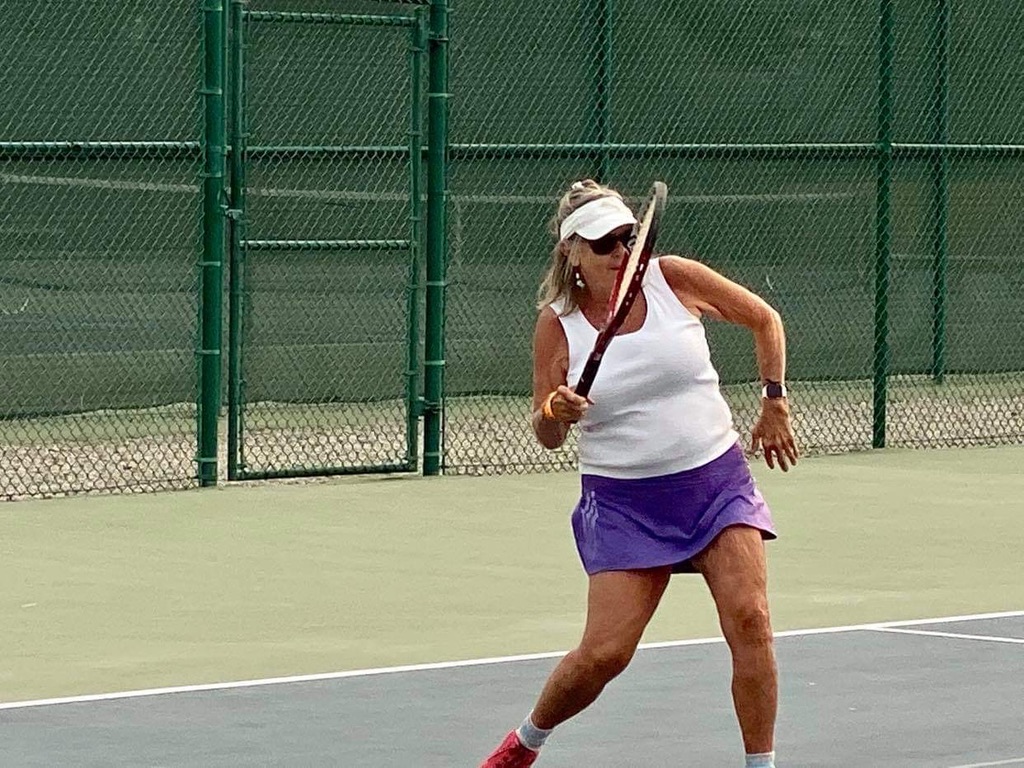 We made plans to meet up with my very good friend, Alice Gardiner from Texas. She's been on the road with her dog, Truffles, camping all over the Northwest for about three months. I am so excited to have a few days to catch up.
Every Saturday, there's a great Farmer's Market at the Community College. I suggest to Alice we meet here to look at all the craft booths and Montana treats (more jam and honeys and fresh produce). After we finish tennis, we walk over and meet her. Unfortunately, only service dogs are allowed in, so her dog, Truffles has to wait in the van with the air-conditioning on.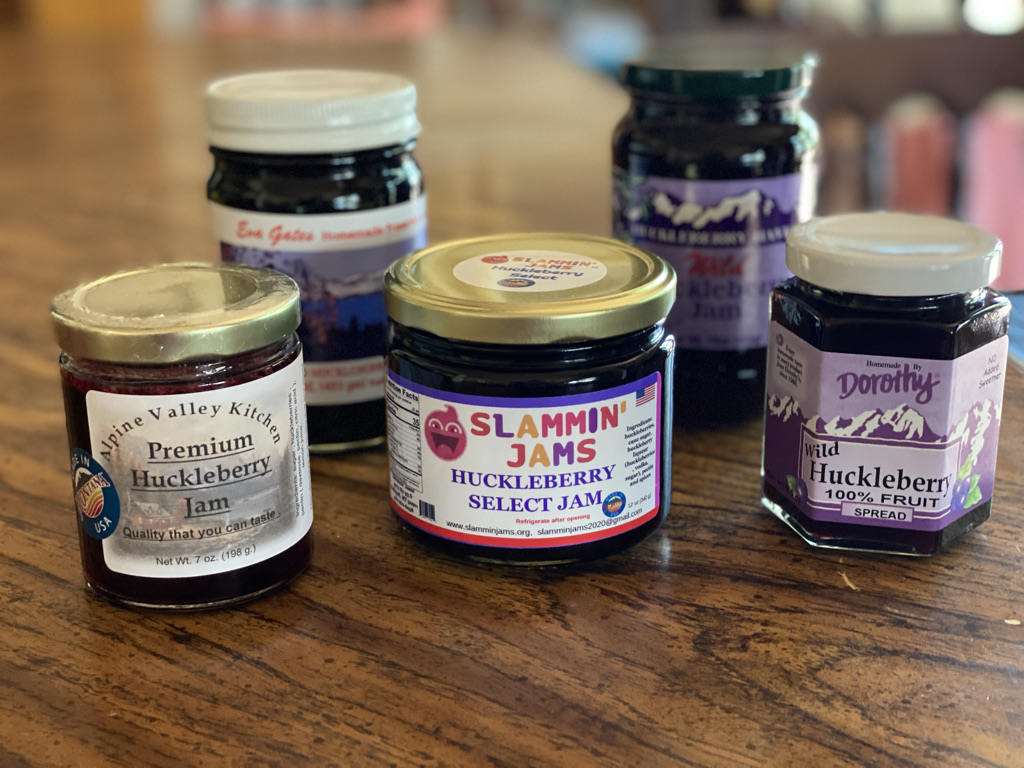 Bub buys more Huckleberry Jam here and in the gift shop at the Hampton Inn. His supply from our trip in 2019 has been depleted and he wants to makes sure he has plenty until we traverse here again.
Alice comes back with us to The Hampton Inn, where we relax and chat for a couple of hours before checking out around noon. We got a late check out for being Hilton Gold members. Love perks like that!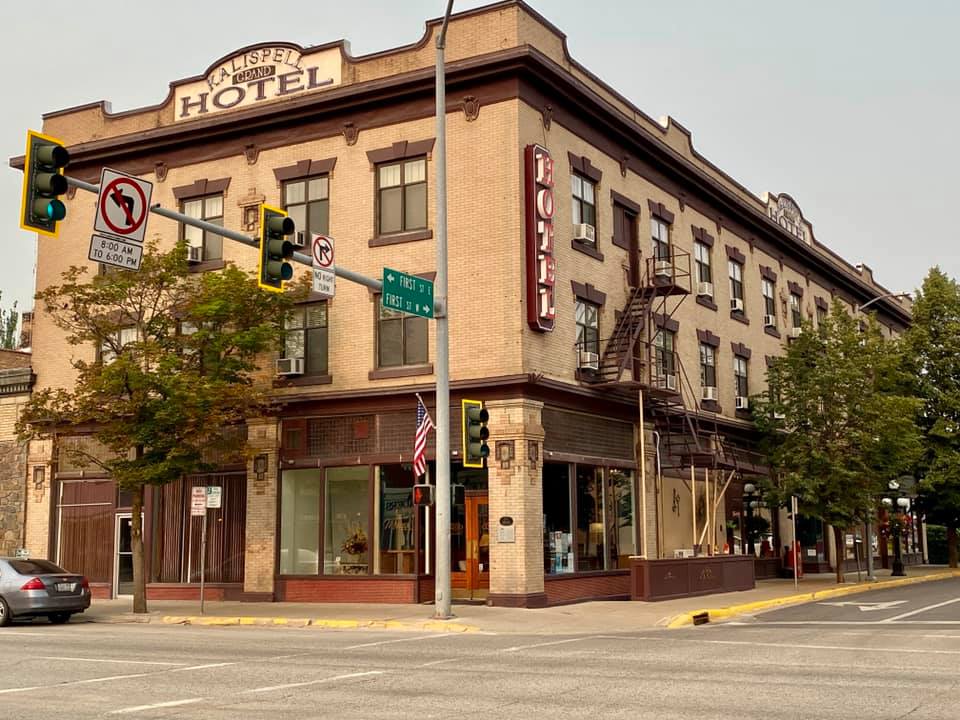 Next is two nights at the wonderful, historic Kalispell Grand Hotel. The music festival in Whitefish and other goings on in Kalispell have filled the hotels and streets. We were unable to book Alice a room but they gave her a parking lot pass for the three days.
We are told we are too early to check in, so we decide to get some lunch.
We'd had a great meal a few blocks from the hotel at Desoto Grill and so we walked down there, only to find they are closed on the weekends, due to labor shortage. We have seen signs about this all over Montana and signs for $500 or $1000 sign on bonuses.
So we walk back to the hotel, where there is a Chinese Restaurant, The Alley Connection, in the same building as the hotel.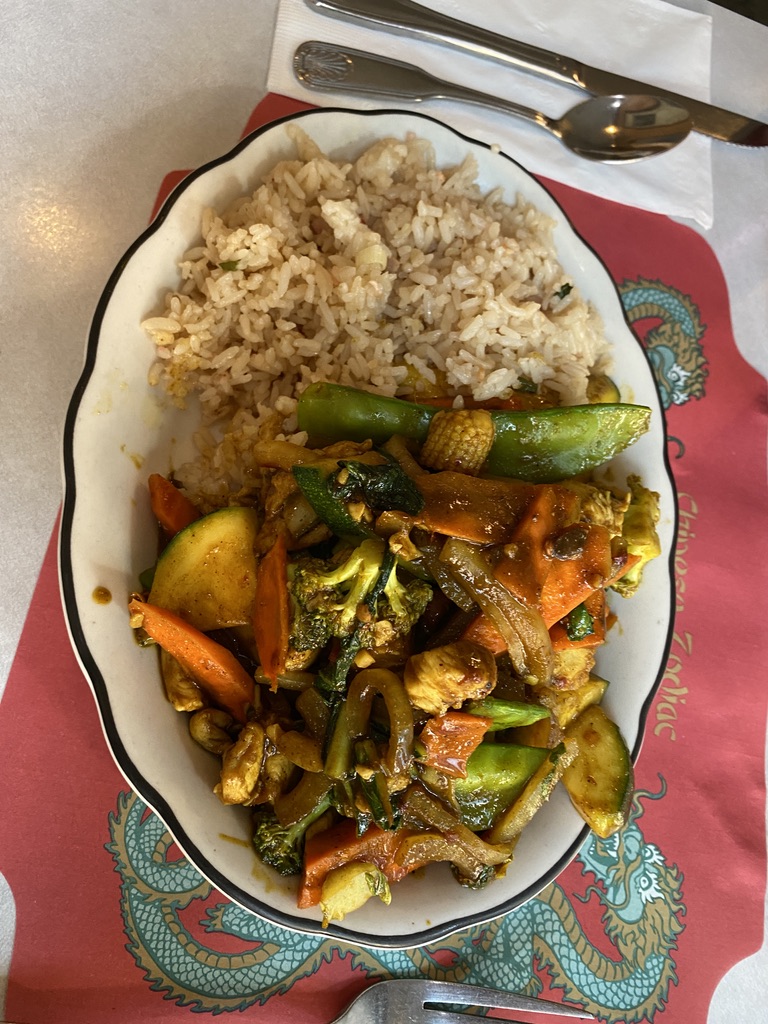 Bub and Alice feast on an exceptional chicken curry. I order shrimp egg rolls and fried rice. It was delicious but, too much food. So I took some for later.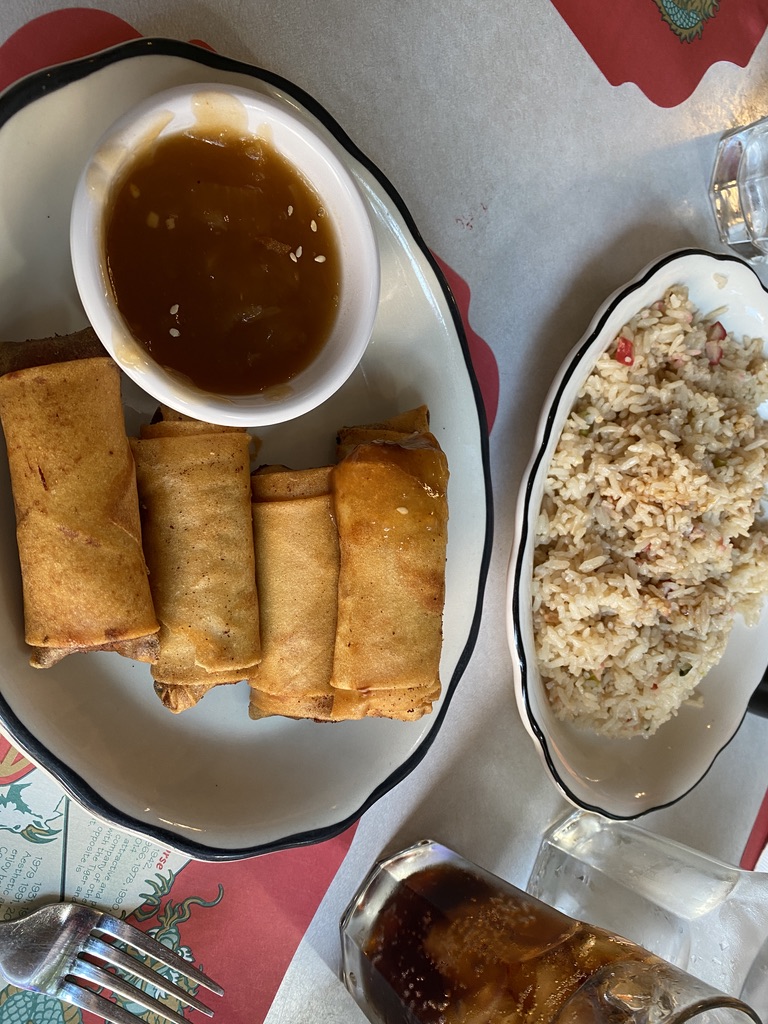 Up the street a few blocks, there is a park on the square. We spotted a large craft fair and music going on, so we paid the $5 admission fee and went in.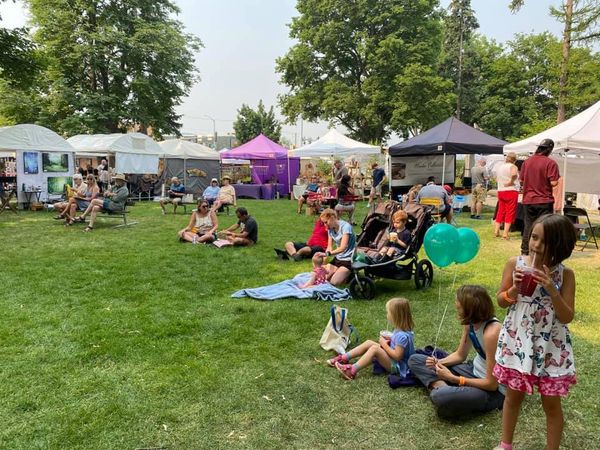 Alice and I looked in every single booth and we lost Bub along the way. There were some beautiful things, like hand-painted silk scarves that I didn't need. So after an hour or so, Bub found us and talked me into buying some antler pieces (the craftsman called dog chews!) for my brother's birthday.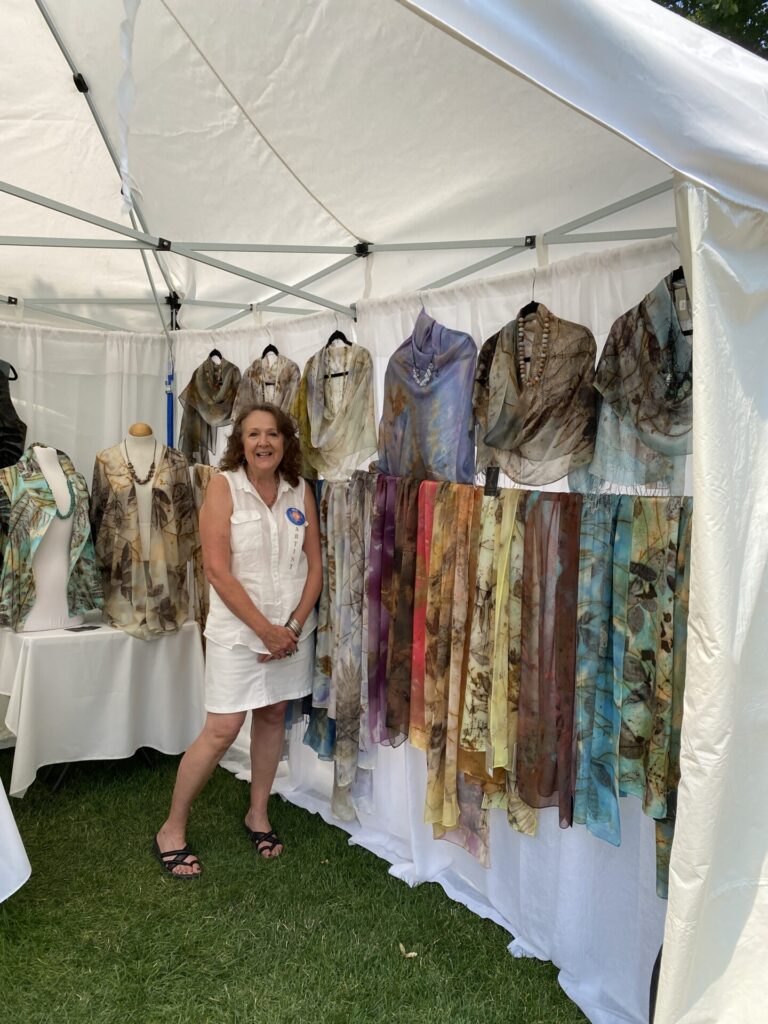 By now, we figured we could get into the room. And, we could…so we loaded up on The Grand's freshly baked cookies and popcorn that they serve every afternoon, and headed up to the room. The hotel is pet friendly, so Truffles got to come with us.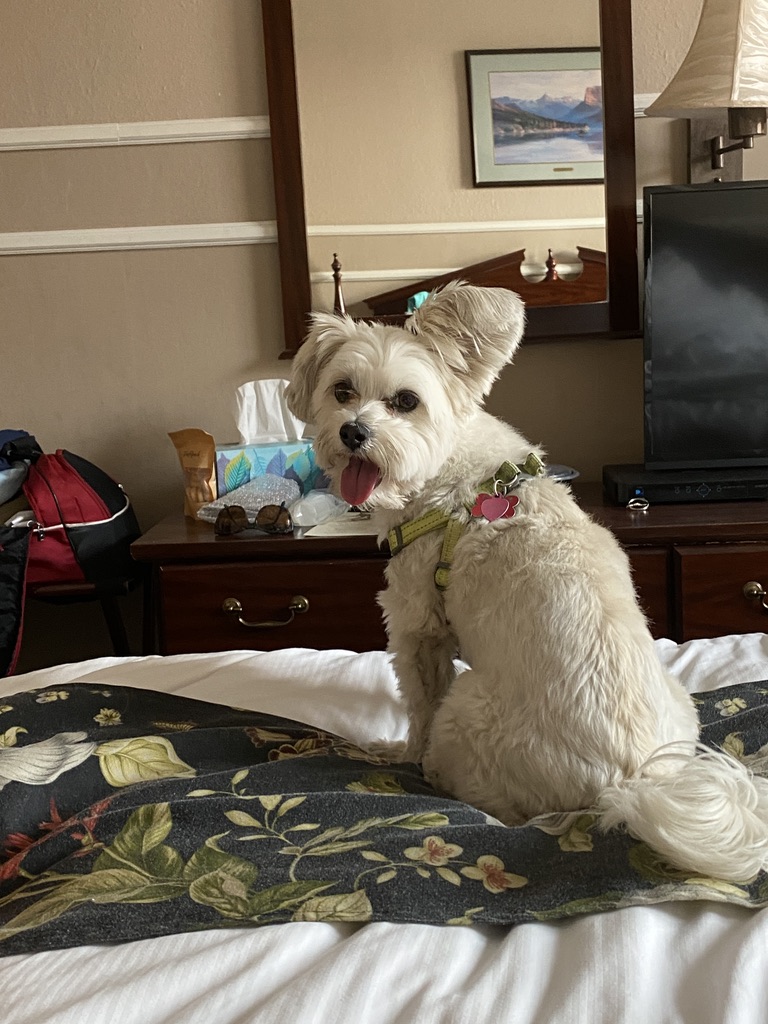 Seeing Alice after a couple of years was so much fun.
We spent the next few hours with a good bottle of wine from Keeling Schafer, cookies, popcorn and snacks in the room.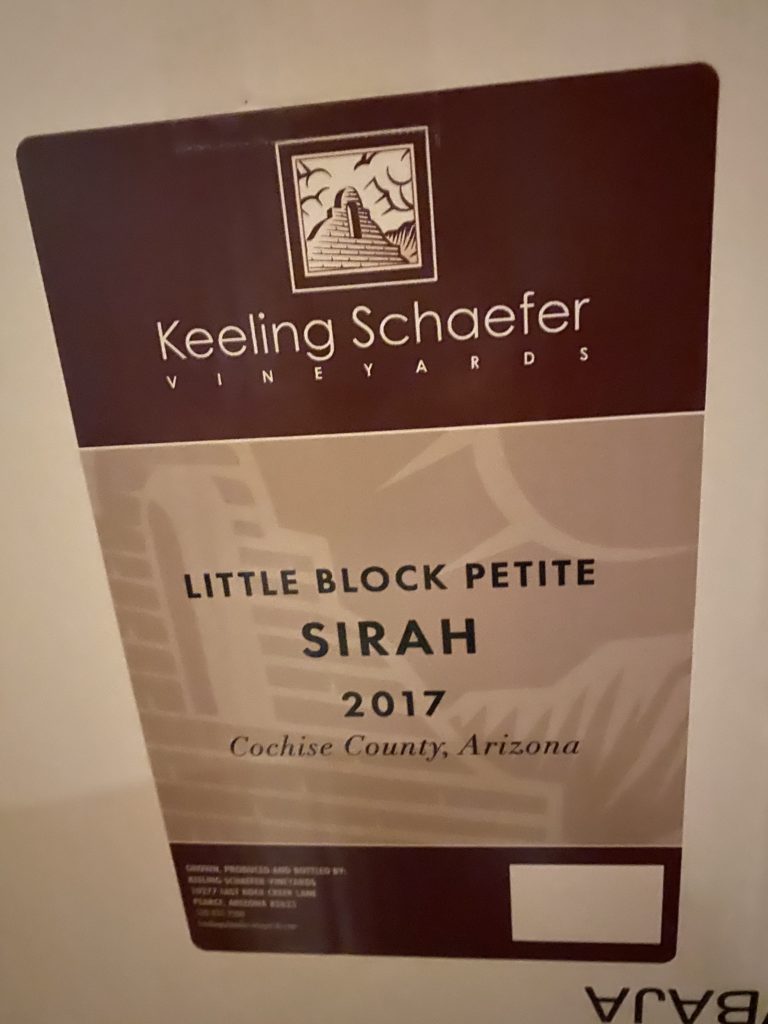 Since we are all heading towards our homes, we made a reservation on Booking.com for a room in Salmon,ID a few hours away, so we could enjoy an additional day together. Alice's van has everything (Air conditioning, refrigerator, generator), so sleeping in the parking lot was cost-effective!
We bid an early good night.