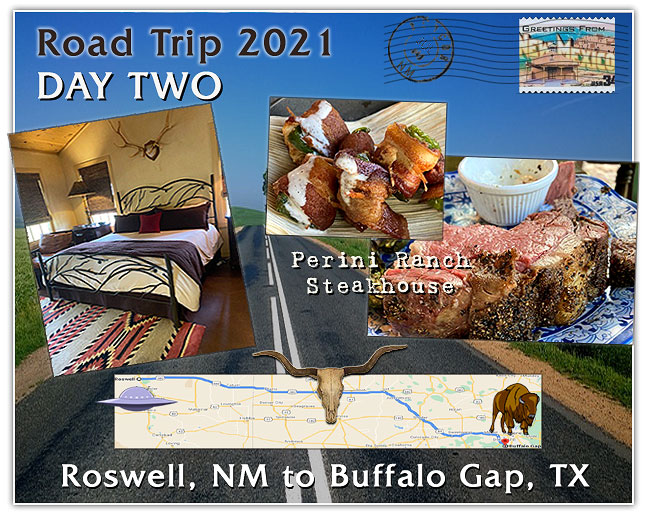 Roswell to Perini's Restaurant at Buffalo Gap, Texas
This road trip will travel some familiar roads and some new roads. It will include family visits. We'll revisit some of our favorite hot springs and discover four new ones. Mostly, it's Bub's 77th birthday trip.
Bright and early on day two, we went downstairs for the free Hampton Inn breakfast. COVID has imposed some changes. Instead of a buffet where we fill our own plates, the entrance was blocked by a table and the room was staffed by a cheerful employee who filled our plates with everything we asked for. Omelets, waffles, oatmeal, pastries, breakfast meats, etc. were all offered.
Today's drive takes us from Roswell over mostly 2 lane roads to our destination at Perini Ranch at Buffalo Gap, Texas. The Texas backroads posted 75 MPH speeds and had frequent passing lanes. There was little traffic and my car likes to go fast. So we did! The landscape was filled with Wind Turbines and Jack Pumps for the oil. I should have stopped and taken some pictures, but at 75 MPH, I was single-minded. But you know what they look like, right? It has been very dry and the fire danger was high, but, thankfully, we didn't encounter any.
Buffalo Gap is about 15 miles outside of Abilene, where the buffalo roamed. Perini's has a couple of guest cabins as well as the restaurant. We pulled in at 3 and were able to check into the Camp House Cabin. Set in the middle of a large grassy area, the cabin was comfortably modern and western themed. The refrigerator and food niche were stocked with soda and waters, English muffins, fresh spice bread, marmalades and more. Everything we needed for breakfast—coffee and teas and even eggs with an egg poacher.
We were here for the meat and had 6:15 dinner reservations.
Our wraparound porch was a tranquil place to sit and we watched a deer meander through.
We celebrated our arrival with a bottle of Brothers Shiraz and I was happy to be out of the car.
Our sweet daughter, Coco had sent us a package of the best Tenderloin we have ever eaten from here for a present and we have come to further indulge. She also sent a gift certificate for Bub's birthday that will pay for most of tonight's dinner.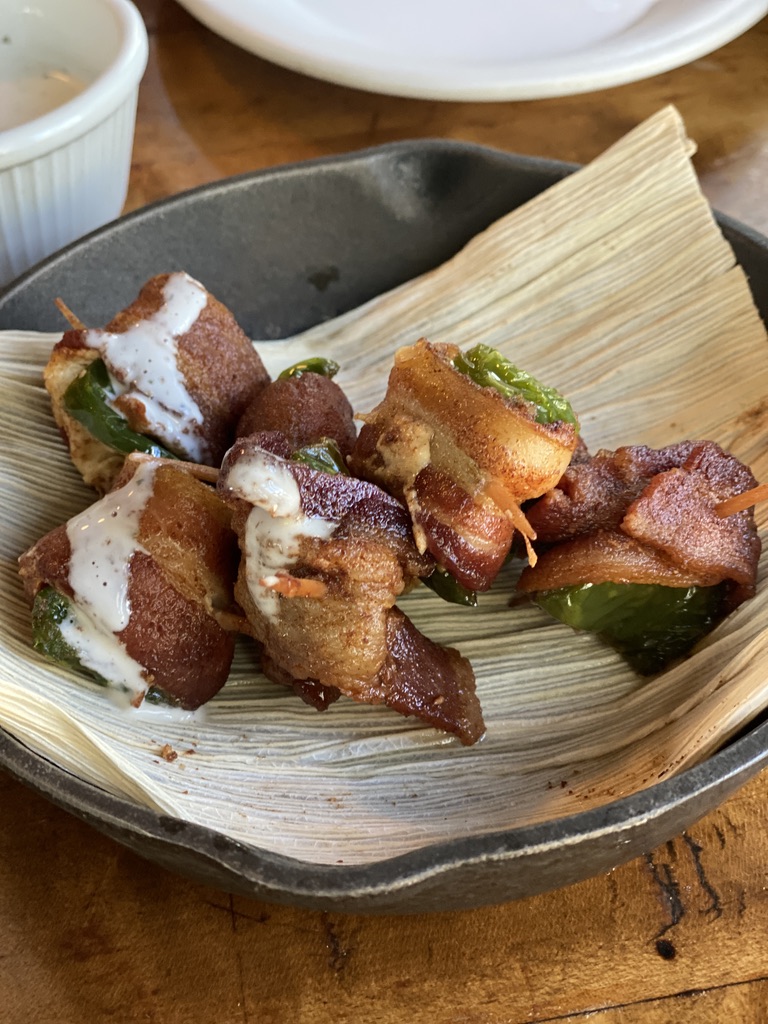 We started with (I'm sorry to those of you that this horrifies-I wouldn't try this at home!) Hearty, delicious, Texas farm-raised quail legs, lighty breaded and fried. And Jalapeño Bites (Fresh jalapeños, stuffed with cream cheese, wrapped in bacon, and cooked to crispy perfection. (Handmade with the help of Disability Resources, Inc.) and more wine.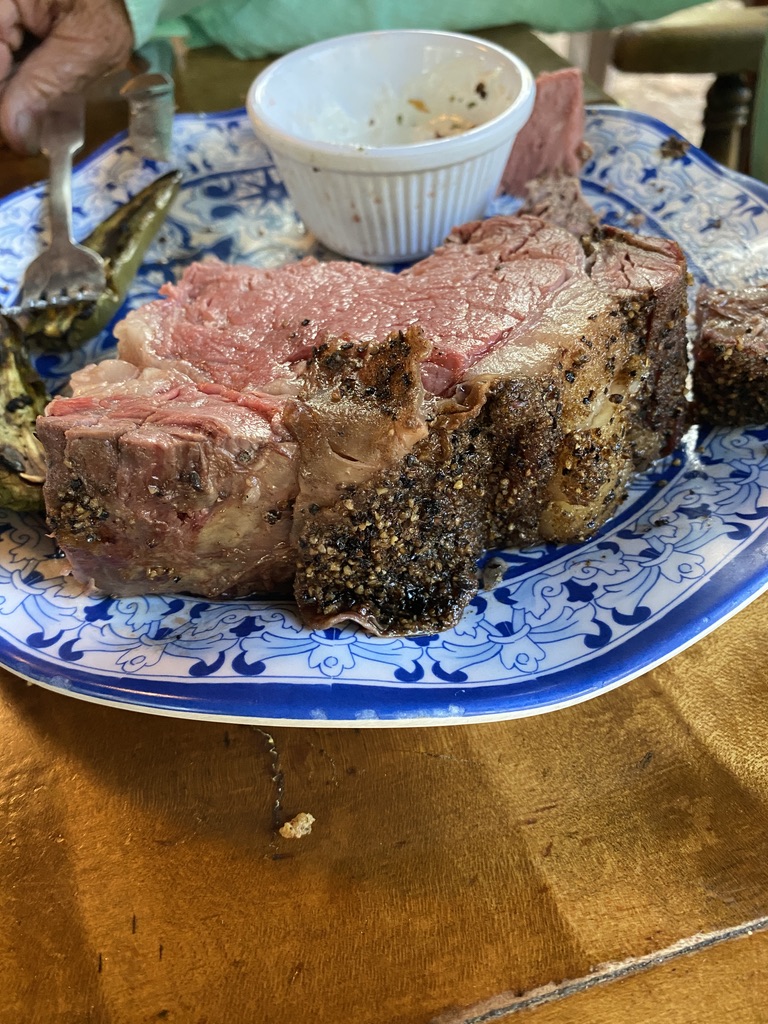 We both ordered the Prime Rib—A whole ribeye roast, rubbed with their special seasoning and slowly pit-roasted over mesquite coals. Sliced and served with Perini's horseradish sauce. I ordered a regular portion and Bub ordered a double portion ( I've never seen a piece so big!). Neither of us was able to finish and we boxed it to eat later. We did finish the meal with an indulgent chocolate mousse dessert.
This is Bub's 77th birthday trip and I am mentioning it with each restaurant meal. They brought a candle and he got a wish.