Thanks for wanting to know more about me.
"If you're not enjoying yourself, you're doing it wrong" my motto.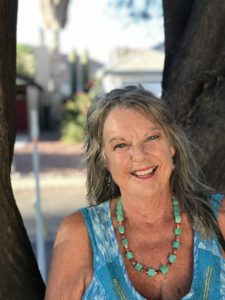 I was bitten by the travel bug in the 70's and spent a year traveling the country with two small children in a blue and purple converted school bus with peace symbols on the front! From there, the adventures have taken me through the next 50 years.
I have lived in a tipi at 8500' with no running water or electricity for 18 months, explored 4 continents, 26 countries and dozens of beaches and islands. I've been pickpocketed in Paris, eaten cocoa leaves in Bolivia, sailed across the Atlantic on The Queen Mary2, and participated in a mini-triathlon in Bocas del Toro, Panama. Fascinated with the cultures and people of the world, I've sought to see less frequently visited sites.
In my first career, I followed an entrepreneurial path, owning three small businesses before the age of 30. As a leather seamstress and craftswoman, my wares were sold to John Denver and Jill St. John and featured in the Tucson Museum of Art.
I gravitated to the real estate industry and became an award-winning agent, writer, blogger, and speaker during the next 35 years. I wrote hundreds of articles and had stories featured in 4 books, including Conversations for Successand Chocolate for A Woman's Heart  
These days, seduced by her love of travel, I have embraced the opportunities available to share with others and re-invented myself. My husband, Bub, and I usually travel together as we laugh and find joy in even the simplest situations.
As a member of the International Travel Writers and Photographers Alliance (ITWPA), I intend to share travel insights and adventures and inside tips to inspire like-minded baby boomers to make their dreams come true.
.