Thank goodness playing tennis with the one other person you live with is not a risky activity! The weather has been delightful Arizona Spring weather and it only got really hot a few days. We played 27 days this month!
We still played on the cement courts at Wilson School for the beginning of the month. Weeds grow through the seams here and a couple of people pointed out the lines and dimensions were too long. We were just grateful that every day we went, one of the three usable courts was available. Bub fixed the nets with shoelaces to close the gaps.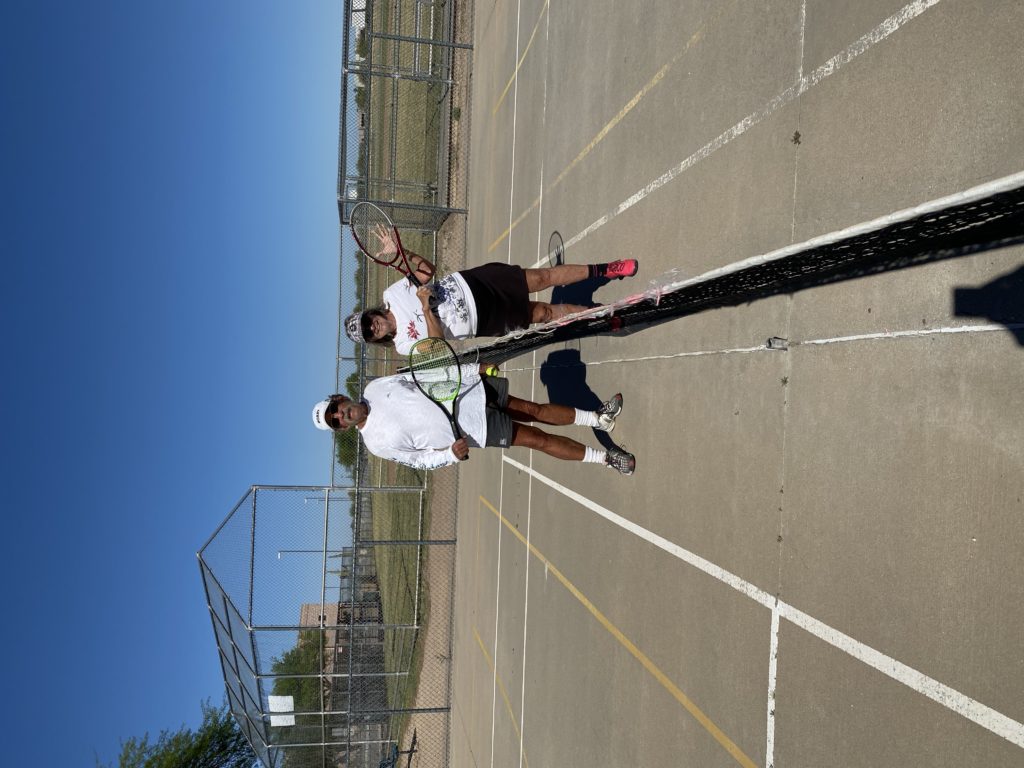 Mid-month, Oro Valley decided to open back up the tennis courts, first come, first served. The office and reservations (and worst-restrooms) weren't open, but it was nice to get back to good courts. We also weren't getting charged our monthly fees, so it was a win.
Speaking of wins…I didn't win a match this month. We had some hard-fought games and got plenty of exercise but I am realizing that as my game is improving, so is Bub's! Don't tell him I said so, but he plays amazingly for an old man! HA!
| | | | | | |
| --- | --- | --- | --- | --- | --- |
| Date | Bub | Joeann | Aces | Time | Location |
| 5/1 | 6 | 2 | 3-B | | Wilson |
| 5/2 | 6 | 1 | 1-B | | Wilson |
| 5/3 | 6 | 3 | 1-B | 35 | Wilson |
| 5/4 | 6 | 3 | | 45 | Wilson |
| 5/6 | 3 | 0 | | | Wilson |
| 5/7 | 6 | 3 | | | Wilson |
| 5/8 | 6 | 3 | 2B | | Wilson |
| 5/9 | 6 | 3 | | | Wilson |
| 5/10 | 6 | 1 | | | Wilson |
| 5/11 | 6 | 3 | | | Wilson |
| 5/13 | 6 | 3 | 1B | 40 | Wilson |
| 5/14 | 6 | 3 | 2B | 45 | Wilson |
| 5/15 | 6 | 3 | 1B | | Wilson |
| 5/16 | 6 | 3 | 1B | | Wilson |
| 5/17 | 6 | 2 | 3B | | Wilson |
| 5/18 | 6 | 3 | 1B | 40 | OVCC |
| 5/20 | 6 | 2 | | 35 | OVCC |
| 5/21 | 6 | 2 | 1B | 35 | OVCC |
| 5/22 | 6 | 3 | | | OVCC |
| 5/23 | 6 | 3 | | 37 | OVCC |
| 5/24 | 6 | 1 | | 35 | OVCC |
| 5/25 | 6 | 3 | | 36 | OVCC |
| 5/27 | 6 | 2 | | 30 | OVCC |
| 5/28 | 6 | 1 | 3B | 32 | OVCC |
| 5/29 | 6 | 1 | 1J | 36 | OVCC |
| 5/30 | 6 | 2 | 2B | 40 | OVCC |
| 5/31 | 6 | 3 | 2B | 40 | OVCC |
| | | | | | |