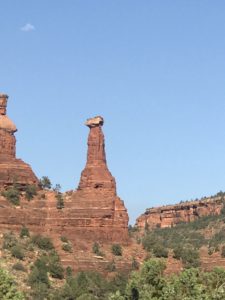 If a luxury spa is your idea of bliss, the destination spa Mii Amo is where you'll find happiness. Surrounded by Sedona's red rock spires and the energy of the Kachina Woman Vortex, this spa couples professional expertise with nurturing, healing treatments.
The Spa
When you are not enjoying a spa treatment, you are free to indulge in all the benefits this property has to offer. Solitary and group classes and experiences round out the choices on the property. You are surrounded by the majestic red rocks and hiking trails that allow you to immerse yourself in the energy of Sedona.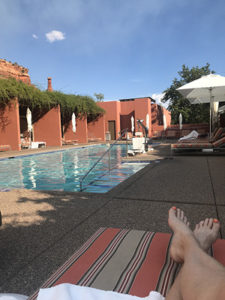 The spa pool and hot tub are nestled outside beneath these tall red rocks in a peaceful setting that leads to total relaxation. Choose a shaded, private nook or towel-covered chairs in the sunshine depending on your taste.
As you enter the men or women's locker rooms, you'll slip out of stress and into an elegant robe, one of the thoughtfully provided personal items. A quiet relaxation area offers snacks, teas and lemon-water stations. In each locker room, you can soak in a private hot tub or sweat in the saunas as you deepen the pampering.
Are you ready to listen to your inner wisdom? Take off your shoes and walk in the sand that covers the floor of the crystal grotto and meditate as you gaze at the lighted crystals surrounding the perimeter. Morning and evening, there are short, guided meditations. The rest of the time, this grotto is your own private meditation room. Outside the entrance, a basket is provided where you can leave a note of what you are letting go of or intending.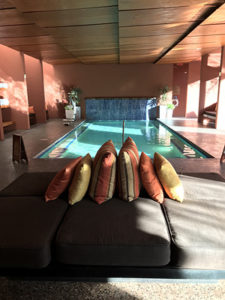 The spa restaurant and juice and wine bar are open all day when you are ready to feed that desire for some healthy, yummy fare. Flute music being played by a Native American musician is your background sound as you sink into the comfy, deep soft couches to read or chat in front of the large stone fireplace.
This room is the site of the indoor pool, if you prefer that to the sunshine.
The Spa Menu and Setting
An extensive, intriguing spa menu with 72 treatments reflects the Native American heritage of the area, as well as traditional treatments such as Swedish massage to less traditional choices such as chanting and past life regression sessions. The spa staff includes experienced healers who have years of experience in multiple therapies.
You'll relax with another water/tea station as you wait for your therapist. Laying on a heated massage table, as soft, soothing music plays in the background, any tension you brought in will start to melt. The large windows facing the rocks pour light into the indulgently appointed treatment rooms and all there is to do is to relax.
Special Spa Treatments
Over a 3 day period, I was pampered with 5 different treatments: an Oxygen Facial, a Pinion Scrub, and three other unusual (and new to me) treatments:
Table Thai Massage 90 Minutes
This is performed on a table in loose clothing, rather than on the traditional Thai floor mat. My therapist guided me into gentle stretches and yoga positions that were challenging but not uncomfortable. Goodbye kinks!
Watsu 60 minutes
Birds chirped and a warm summer breeze surrounded me as I sank into the private, outdoor 93 ° therapy pool. My therapist instructed, "Your job is to breathe and be like seaweed." I closed my eyes while my body was swirled and stretched. I did indeed feel like seaweed. Ah, relaxation!
Chi Nei T'sang 60 minutes
An ancient form of detoxifying, energizing, and massaging just the abdomen, known as "working the energy of the internal organs," is said to be good for releasing emotional and physical blocks. Subtle release!
Lodging
Mii Amo Spa offers 16 suites for an all-inclusive experience.
The Enchantment Resort, located adjacent offers rooms and suites with access to spa activities.
525 Boynton Canyon Road    (928) 203-8500