If you'd like to say goodbye to exorbitant bag fees, waiting time wasted to check or retrieve baggage, and the possibility of lost luggage, simplifying your traveling clothes and accessories into a single, rolling carry-on will give you freedom. On a 14 day trip to the Cook Islands and New Zealand, I challenged myself to give up the big suitcase and pack only a carry-on and a backpack. The suitcase looked so little when I got it out, I almost gave up, but decided to see what was possible.
The Strategy
How was I going to get 14 days worth of outfits in that one bag? A little pre-planning helped. By playing with the pieces and seeing how many different combinations I had resulted in multiple outfits for all events and occasions. I used a limited color scheme of mostly black and white, accented with some bright pieces.
First, I laid out all the potential pieces I wanted to take thinking about the activities we'd be doing.
Next, I eliminated about half or so. If it couldn't do double duty-it was out. You'll find you can get by surprisingly well with just the essentials. I assumed I could do a load of wash along the way for underwear and any clothes that needed it. Both the resort and AirBnb's we stayed in had washers.
I chose clothes that would compress well and were made of wrinkle-free materials. The Traveler's Line from Chico's is a favorite for clothes that can be dressed up or down and travel and pack well.
Lastly, I  divided my clothes, shoes, and toiletries to my suitcase, my backpack and, of course, the clothes I'd be traveling in. 
Contents and Packing: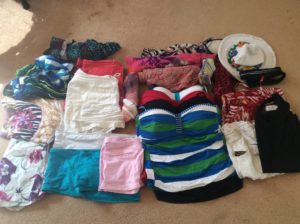 I rolled everything for compression. 
Starting with shoes on the bottom, I tucked small items like panties and socks in the shoes and in the corners of the bag as I stacked the rolled items
I didn't overdo the toiletries, knowing the hotels would have supplies of essentials.
Miraculously, everything fit. Depending on where you are going and the type of activities you will be participating in, your needs may differ. In most situations, following these steps, you will be able to customize it for your trip. 
Here's what I took for a week in the winter (their summer) at a resort on The Cook Islands,
followed by a week's road trip through northern New Zealand.
Carry-on Suitcase Contents
6 pair underwear and bras
2 nightgowns or pajamas
3 dresses: a long reversible silk, a pareu that could double as a skirt, dress or beach coverup, and a short dress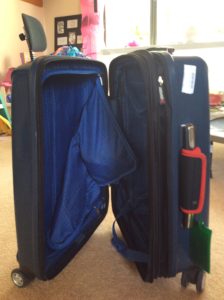 2 pair of pants 
3 tops: two t-shirts and 1 white blouse 
4 bathing suit/ camisole tops 
2 bathing suit bottoms 
2 pair of shorts 
2 pair of shoes: Good shoes to walk in and my favorite OOFOS sandals. 
2 PR socks- one fuzzy pair for cold feet in the hotel room  or airplane
Toiletry bag- buying travel-size items or 3 oz. reusable bottles will get you through TSA
Vitamins and Medications
A foldup beach bag to use at the destinations 
Several Ziploc bags in different sizes always come in handy
2 or 3 large binder clips also can be a lifesaver(to hold curtains closed, for instance)
Carry-on Backpack Contents
Small jewelry bag with items like pearls to go with everything
A makeup bag with essentials in travel sizes such a Stowaway
Small first aid kit with band-aids, antiseptic cream, gauze pads, tape and Advil
My mini iPad and a charger that works for my phone as well
My airplane essentials: Sleeping mask, earbuds, blow up pillow
A small crossbody purse to carry money, passport, tickets, credit cards, phone, and glasses.
Snacks such as beef jerky, sausage, cheese, crackers and whatever you crave
Reading material. Mostly I have books loaded on my iPad.
Layered Traveling Clothes:  
Pashima shawl to double as a blanket
Multi-use jacket with pockets
Sleeveless T-shirt from CleverTravel with passport pocket 
Long-sleeved cotton shirt
Comfortable pants with pockets
Good walking shoes that slip on easily 
Compression hose (if you don't currently use these, you NEED them)
There you go……..lighten your load and enjoy your trip.