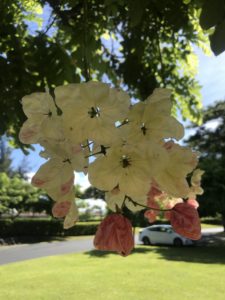 Over the 30 years we've been visiting The Big Island, we've seen most of the well-known landmarks and then some. This trip we're dropping in on places we love but not jumping in the car for daylong treks. It is feeling like a taste of what living here could be like. Interestingly, the perfect home just went on the market in Kohala Ranch. Lottery dreams for now, or maybe 30 of us could invest!
Each morning, the day starts with a cup of fresh Kona coffee, sweet local pineapple and Hawaiian chocolate smeared on a flaky fresh croissant. Certainly, a bit of decadence but, then, the tennis court is a short walk from our suite and it's our 8 o'clock date for the next 10 days we are here. A competitive singles set will burn those calories. Afterward, a morning dip to melt those tight muscles is just the ticket in one of the three hot tubs on the Hilton Grand Vacations property. And, by now, it isn't even 10 AM. I grab my book and head over to the pool to soak in the vitamin D and read some.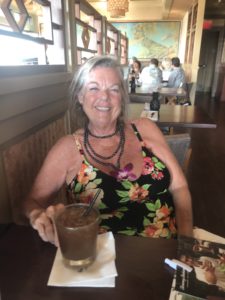 Time to figure out where to go to lunch…..This is usually the big meal of the day.
Another local burger or should we find some fish?
Of course, we can always just use our full kitchen here in our 2 bedroom suite at The Bay Club where we have every amenity we would want. This afternoon we'll maybe watch a movie from all the free ones provided as part of our stay. A leisurely walk across the street over to the Hilton Waikoloa burns some more calories and opens the view to the ocean.
Happy hour is the time at Tommy Bahama or the Seafood Bar and Grill for Mai Tai's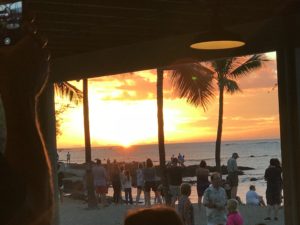 The Lava Lava Beach Club is a good walk or short shuttle ride and is the place to look for the green flash at sunset.
Then back to at our suite for dinner on the patio looking out at the golf course and the Mauna Kea Volcano
All day long it's a joy to drink in the warmth and enjoy the fragrant smell as we feel the Aloha energy.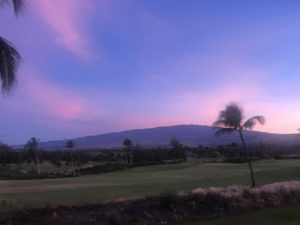 Ah…..living the good life.