The view from Hawaii's Big Island…
It was pitch black outside as I rolled out of bed at 4 AM, victim of the 3 hour time difference from home. A canopy of twinkling stars filled the night sky and a quiet, peacefulness surrounded me as I brewed some Hawaiian coffee. We are staying at The Bay Club which is part of the Hilton Grand Vacation Club group of properties in Waikoloa Resort, 20 miles north of Kona. Even when there are clouds and vog further south, this bay seems to always have sunshine.
The sun has to climb over the two tall volcanos, Mauna Kea and Mauna Loa, to the east before touching the ground on this side. So we see the morning light and pink clouds of sunrise for quite a while as the birds and cats and golfers wake up and make their presence known.
This morning, we play our first Hawaii tennis game and my good shots only won me three games as Bub triumphed 6-3. The Bay Club offers two courts for guests and we've reserved an 8 o'clock court for the 10 mornings we'll be here. The courts are a major consideration in staying at this property. We have access to most of the amenities at the adjacent Hilton Waikoloa Village. There are 8 courts and even a stadium viewing court, but there is an additional charge of $25 an hour for guests of the timeshares for these courts.
After tennis, we walk The King's Trail, or The Mamalahoa Trail (Hawaiian name) for over a mile on our hike to Tommy Bahamas for lunch. The whole trek is 2.5 miles according to Google and it did take us the 55 minutes predicted.
A big glass of water, followed by a Mai Tai as an appetizer and warm bread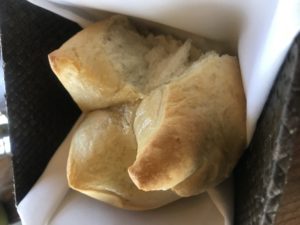 with maple butter tide us over until lunch and sets the tone for a relaxed meal.
The quest for the best burger on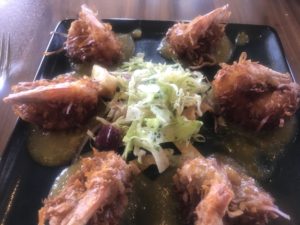 the Island is one of the searches we will pursue. Two years ago, the burger here was maybe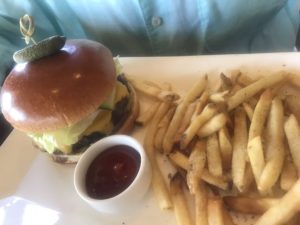 the biggest and juiciest, but today, it disappoints. I have the crab bisque and coconut shrimp. The bisque was tasty with sherry and cream but could have had more lumps of crab. Eight coconut shrimp were on top of a really yummy Papaya-Mango Chutney.Another Mai Tai for dessert and we opted for
cab for the return trip. Bub wanted to walk the road on the return, but it was over 5 miles and, after two Mai Tais, I wasn't interested!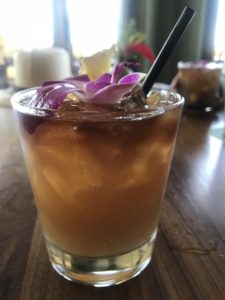 We got back in time for the Monday afternoon ice cream social at the pool. Macadamia ice cream and a Rocky Road double dip are our second dessert of the day. The spa is nice and hot, so we sit in the bubbling water and preventatively soak our worked out muscles-.
My phone says we have walked over 6 miles!
Yes, I did take a nap! I woke for sunset and an hour-long walk to watch the stunning colors. A perfect first day in paradise.