November 14, 2019 Day 8 38 Miles
Begin in Santa Fe To. Chimayo, NM
Roads Traveled
The day begins with more decadent French Pastries from La Fonda's Bakery. Good thing I am not traveling with a scale.
Ten Thousand Waves is just 10 minutes from the Santa Fe Plaza up in the trees and hills outside of town. A spa and boutique hotel featuring private and communal bathing pools. I've reserved an hour in one of their private pools. The outdoor hot tub fills with 104° water bubbling over a waterfall and shallow trough, then spilling into a tiled pool, lined with benches and a concrete lounge. A separate 56°cold plunge pool is right next to the hot pool. A tall wood wall surrounds this outdoor bathing oasis.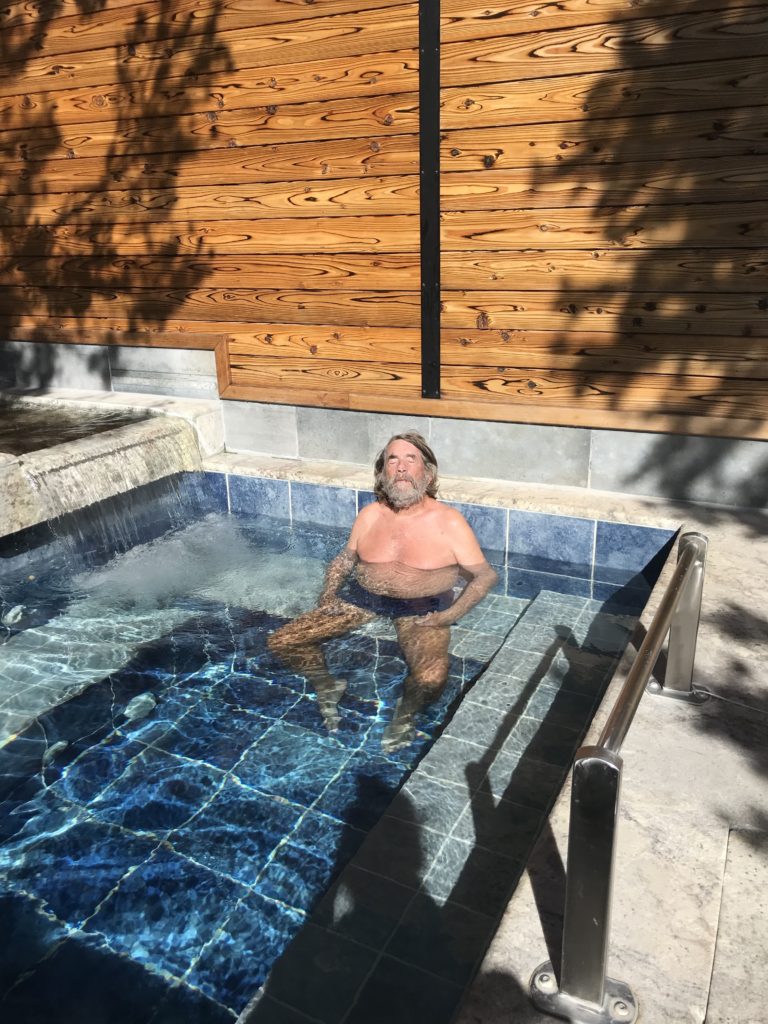 There's a short hall which leads indoors to the large sauna. The wall thermometer reads a toasty 160°. Two long benches for reclining or sitting were against one wall. In the corner, the hot rocks steamed. The button on the wall dropped more water onto the rocks causing crackles and steam.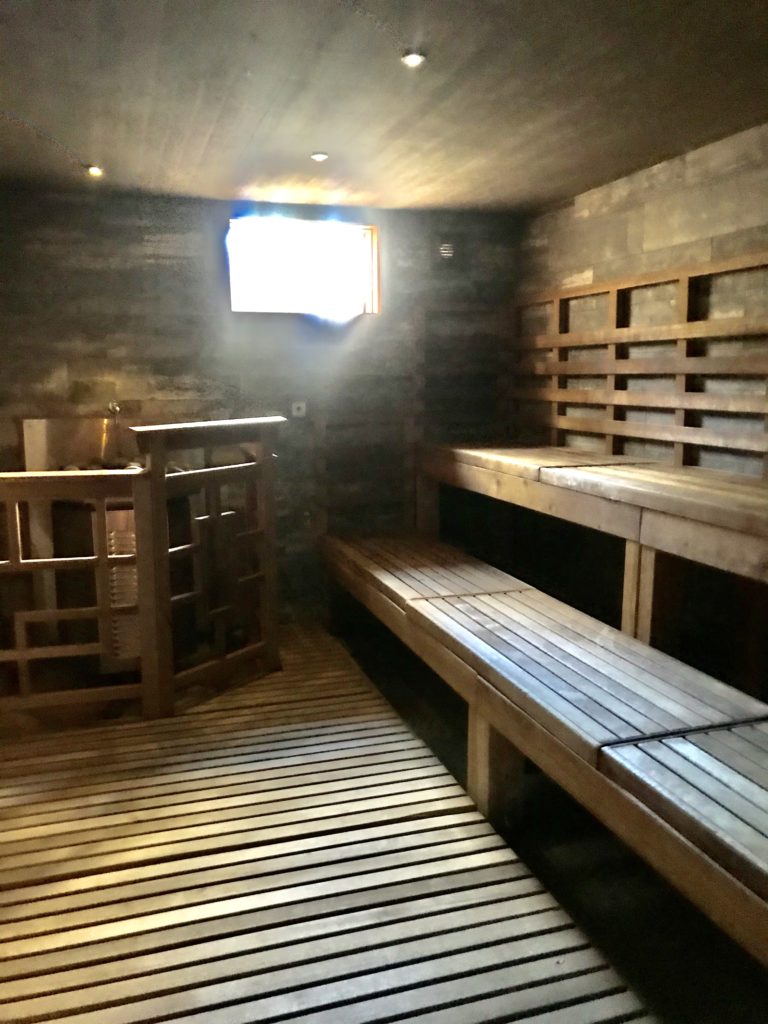 I alternated between the outdoor tub, the sauna and even did a very fast dip into the cold plunge, just so I could tell you I did it. Not sure I'd do it again, but it is supposed to be good for you!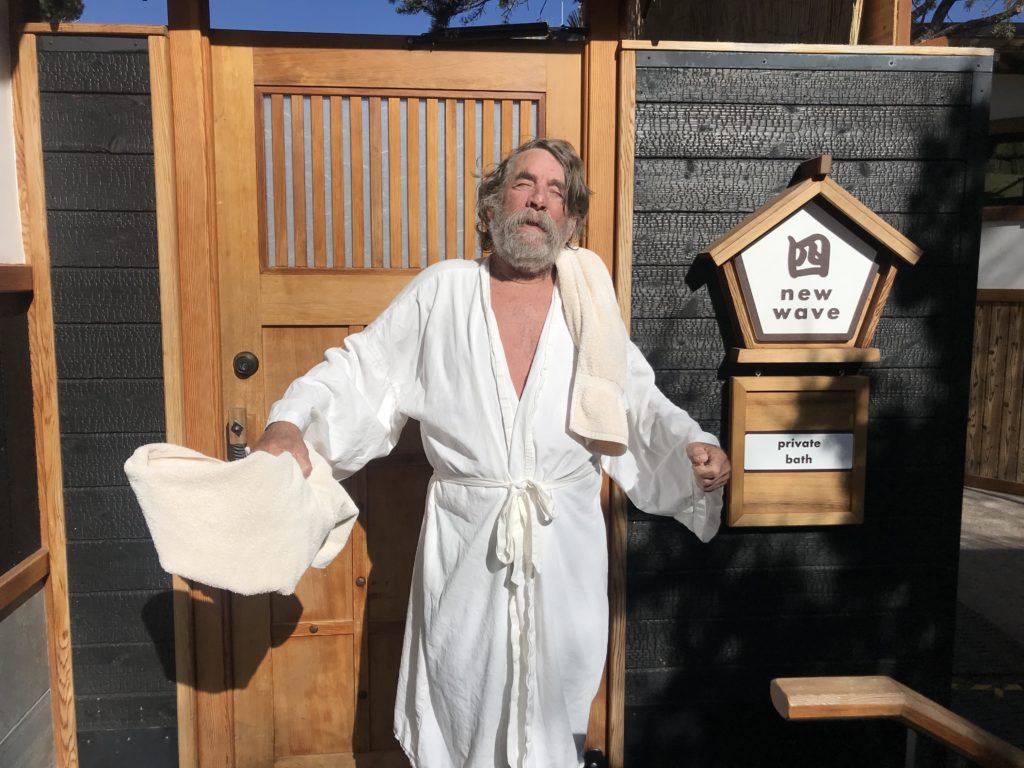 Our hour passed quickly but I probably would have wanted a nap if I had indulged much longer and we had things to do yet!
So, then it was…ON THE ROAD AGAIN to Chimayo.
Halfway between Santa Fe and Taos is the historic little town of Chimayo surrounded by rolling hills, tall eucalyptus trees and farmland with adobe houses or trailers lining the two-lane road.
We discovered Chimayo many years ago and always stop and get dirt and chiles. We will usually stay if we can.
This fertile village is nestled in the Sangre de Cristo foothills of New Mexico's Rocky Mountains. Known not only for it's miraculous Santuario, it is also where a sought-after variety of red chile is harvested.
Several, well-known New Mexican weavers have workshops and studios here. Over the years, we've bought rugs, a vest and placemats at Ortega's. Today, I find a pretty turquoise runner for our dining table.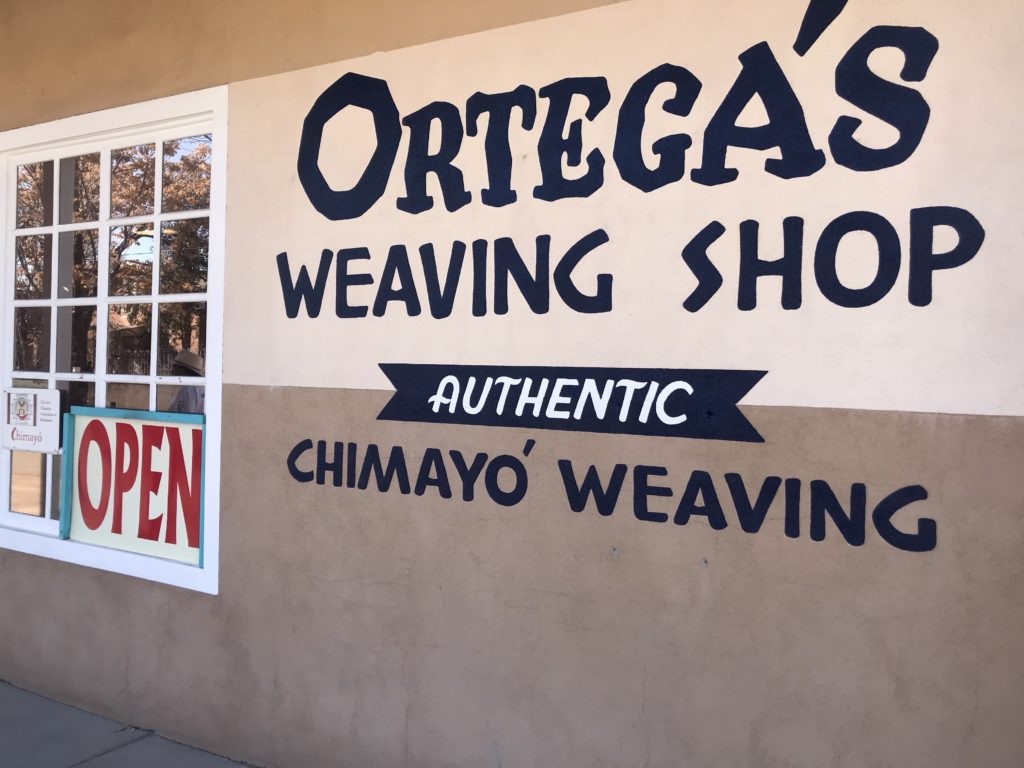 Even more fun—Bub buys me a beautiful pair of White Buffalo Turquoise earrings for an early anniversary present! Wow! That was unexpected!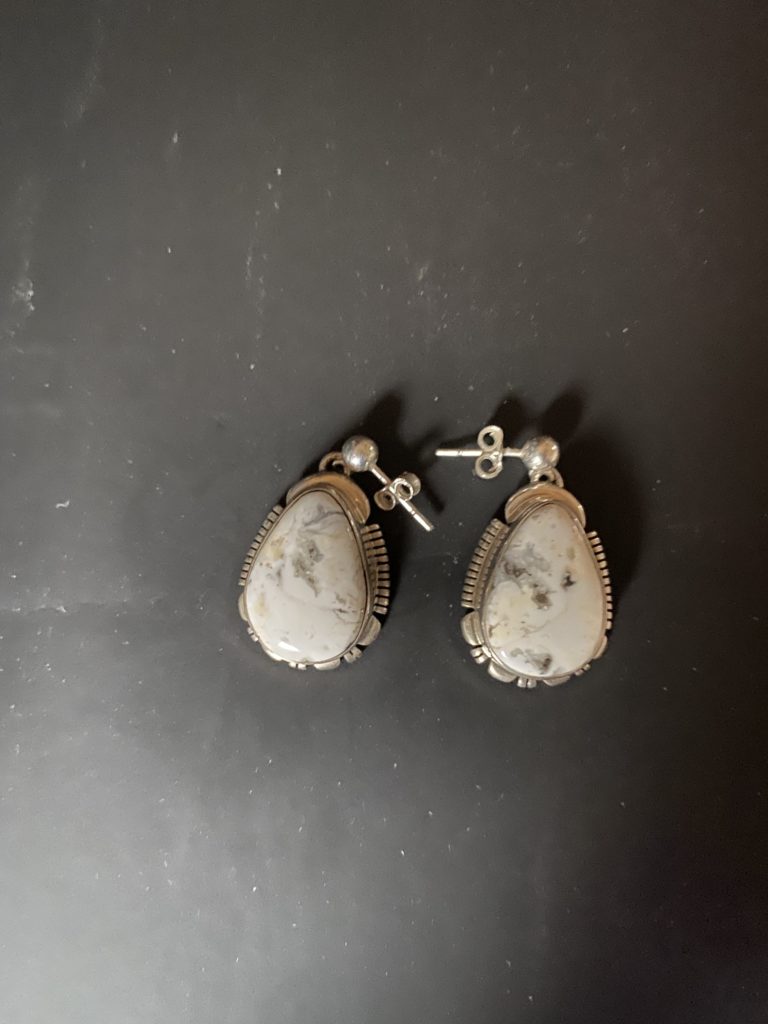 I don't really need a Concho Belt, after all. At least, not this year—maybe in my matronly years!
Time for lunch! The food at Rancho de Chimayo Restaurant is worth driving to if you are staying in Santa Fe or Taos. For 50 years, the menu for Rancho de Chimayó has liberally incorporated New Mexico's state vegetables of pinto beans and red chile. Signature dishes of spicy guacamole, hand rolled tamales, blue corn enchiladas, carne adovada, and chile rellenos all tempt.
We finally choose: Pork Tamales for Bub with beans and salad in red chile sauce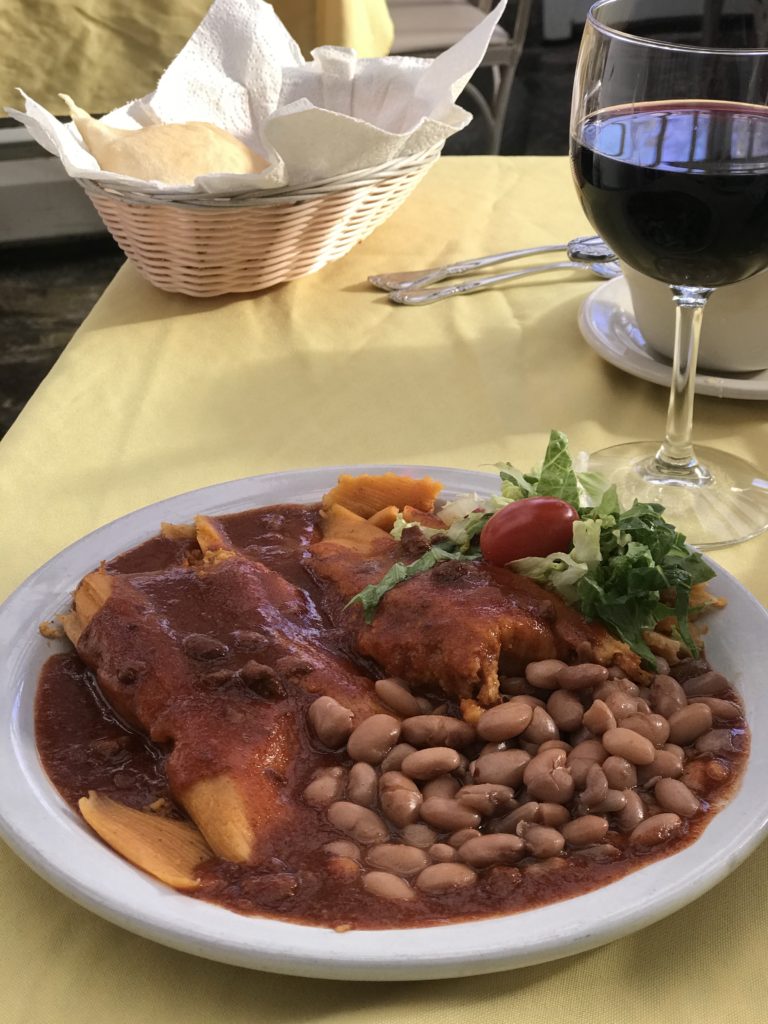 And Shrimp Enchiladas with blue corn tortillas, white cheddar cheese, pesto green chili and black beans for me.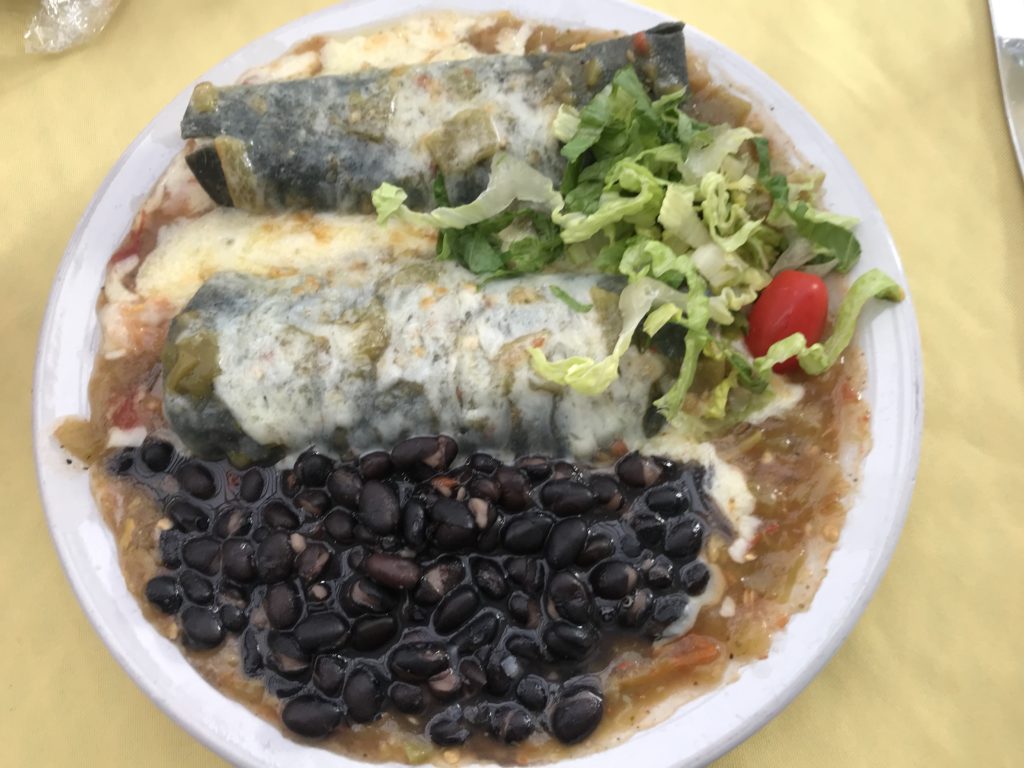 It wouldn't be a New Mexican meal without a fluffy sopapilla dipped in fresh local honey.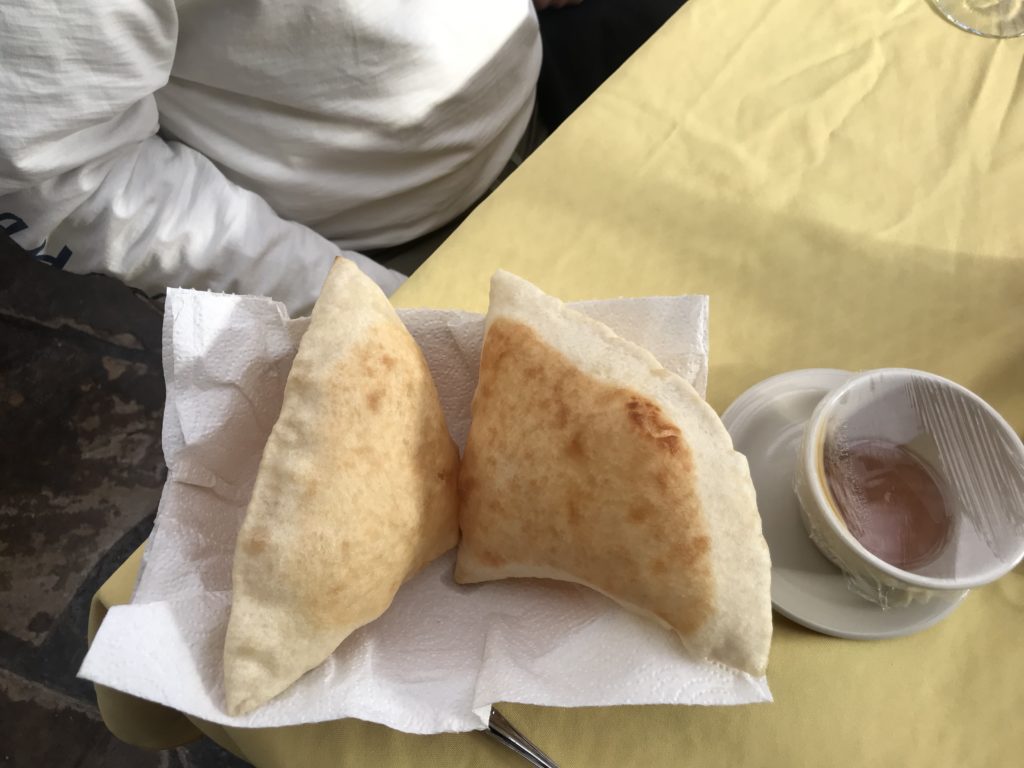 For me, a prickly pear margarita is the perfect compliment since we have no more traveling for the day and are sleeping across the street. Bub enjoys his wine.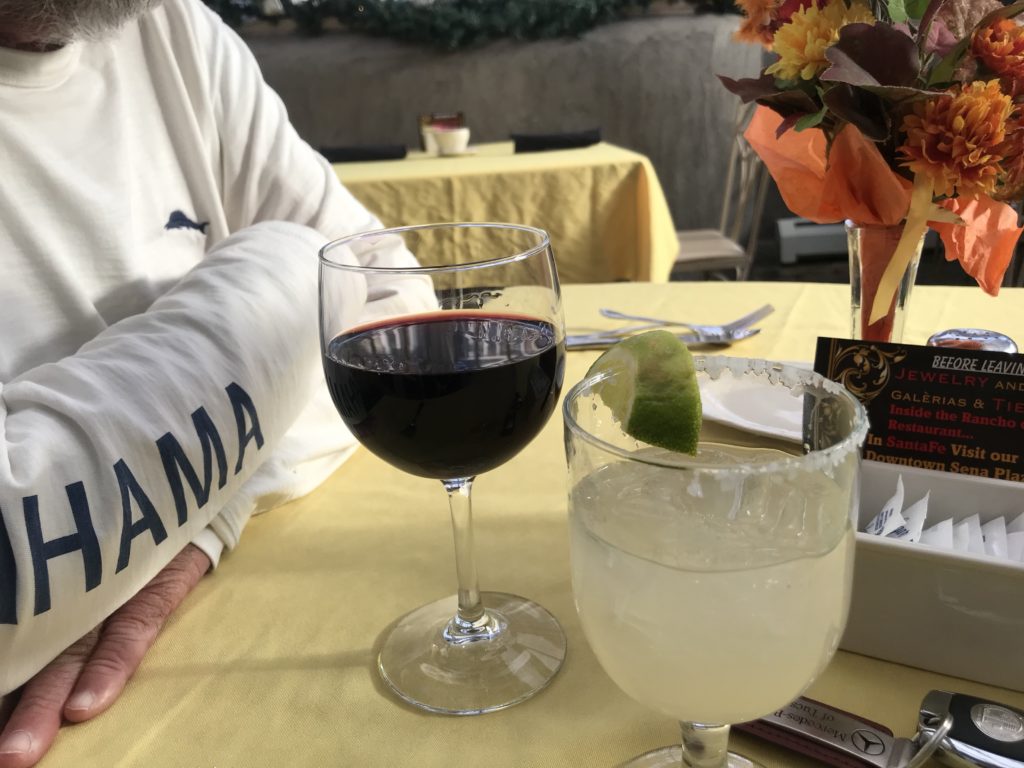 The Rancho de Chimayo Hacienda is a beautiful bed and breakfast. From the courtyard, step into old world charm in one of the seven bedrooms complete with fireplaces, wood floors and tall ceilings. Peak relaxation— no wifi or TV to distract you. Room Uno is our favorite.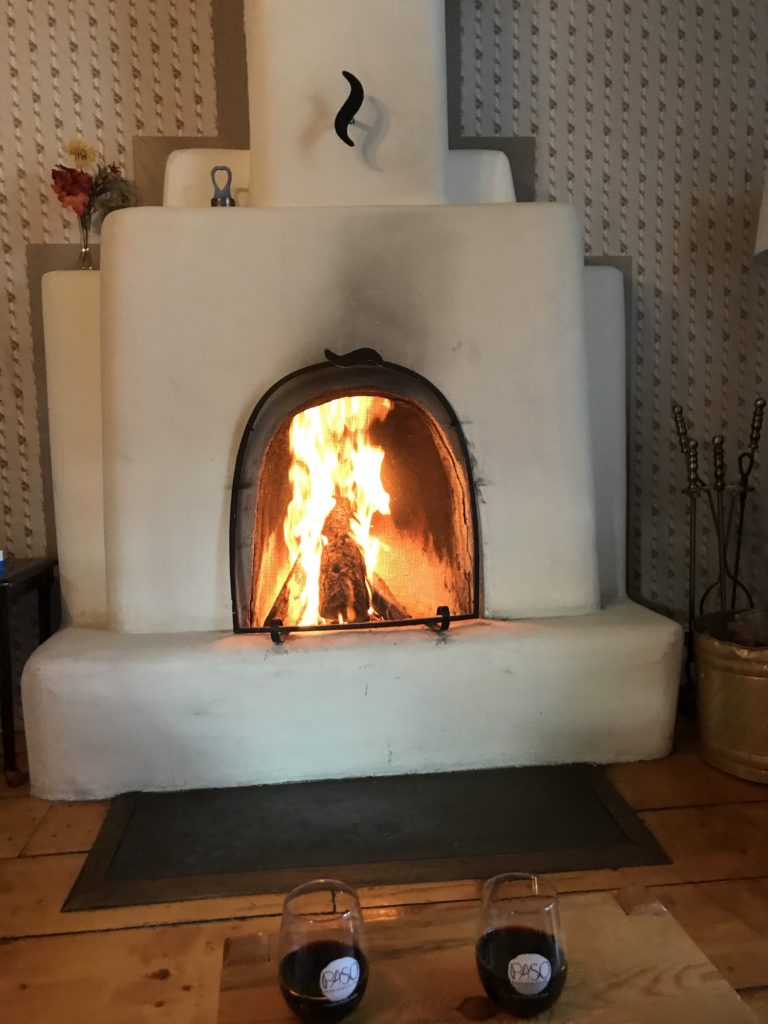 We wrapped up another fun day on the couch in front of the fireplace, watching the flames jump, smelling the pine and sipping some good red wine and then sank into the comfy bed.