November 12 & 13
I'm in Santa Fe at La Fonda on the Plaza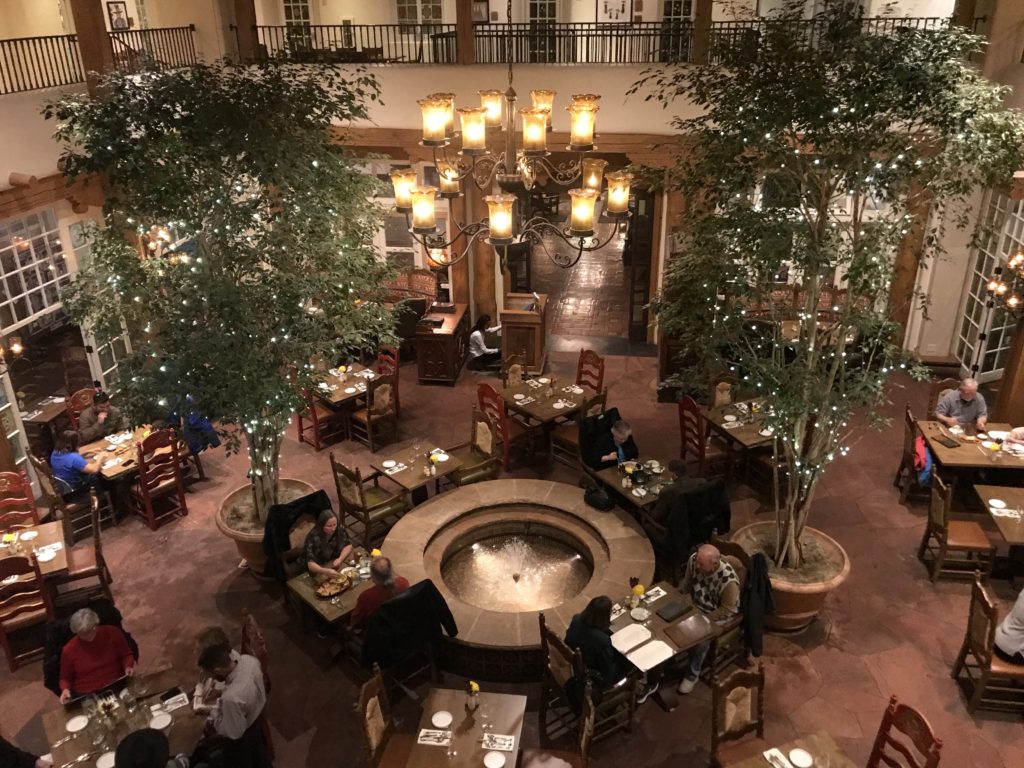 Tuesday: The International Food Wine and Travel Association's (IFWTWA) Professional Development Conference at La Fonda on the Square is being held in Santa Fe. What a full couple of day! Imagine being with a large group who are all interested in eating, drinking, and writing—so fun. I wished I'd know about this ten years ago, but I am enjoying it completely and learning so much.
The day started bright and early with pink skies out our window that faces the Santa Fe shops below.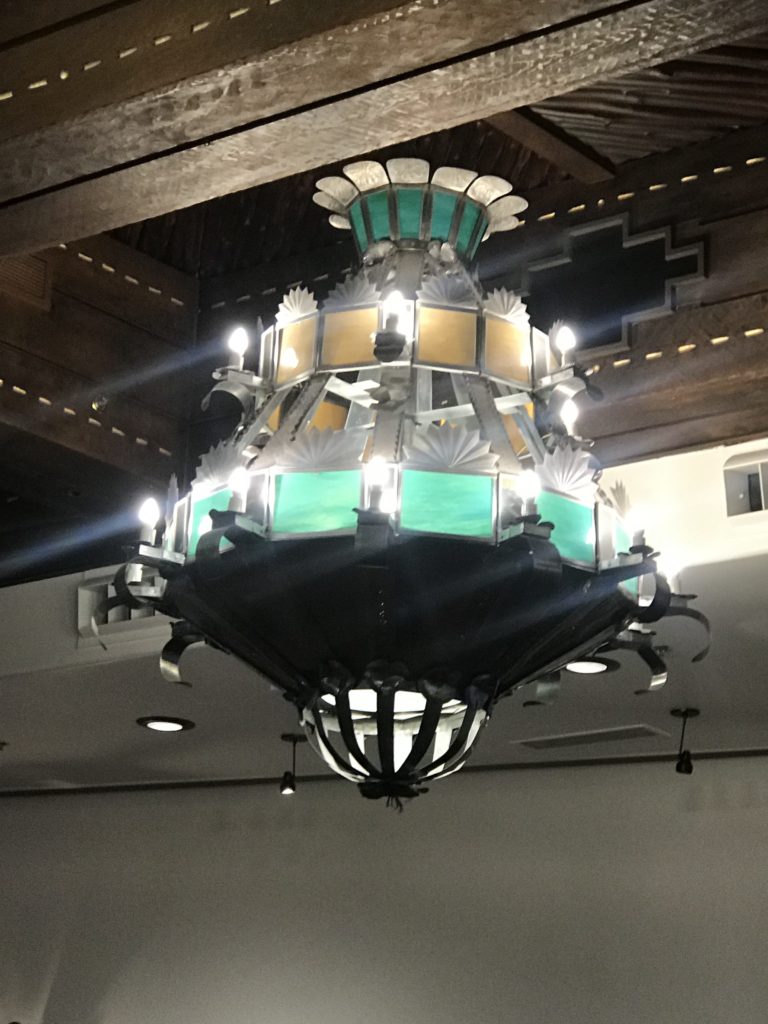 Bub took my friend Bobbi's advice and checked out La Fonda's French Pastry Shop and Creperie. His favorite breakfast is a chocolate croissant and a banana. I brewed coffee in the room while he went down for the freshly baked croissants. We could pretend we were in Paris for breakfast. A great way to start the morning.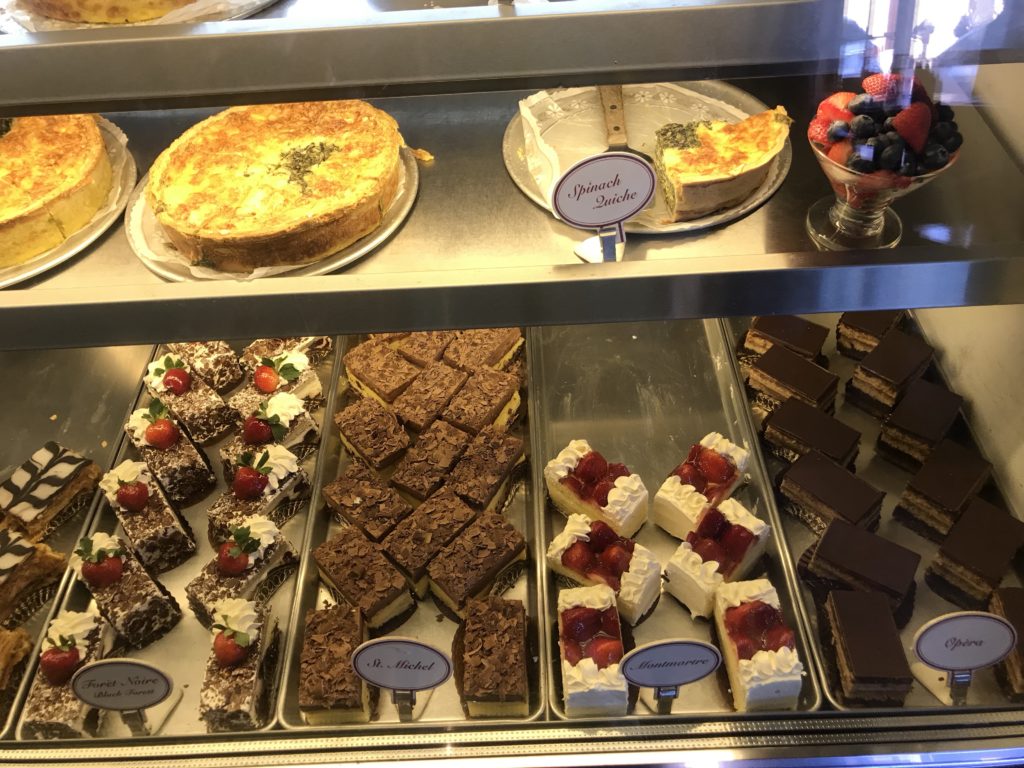 The conference sessions and breakouts at La Fonda lasted from 8-12:30. I attended a social media session. As a travel writer, using Instagram is a necessity. I'm pretty much a Facebook girl, so expanding and learning about Instagram is something I plan to master.
An engaging keynote was presented by TedX speaker and author, Judith Fein and her partner, Paul Ross I regret I didn't get one of her books while she was signing them.
A culinary panel, including 2 local chefs, a rancher, and local food distributor, educated us on New Mexico foods and the trials and payoffs of growing and raising livestock in the high, dry desert.
Then we were off to a yummy BBQ buffet lunch in one of La Fonda's Meeting rooms.
After lunch, we headed to the Georgia O'Keefe Museum. A wonderful docent took us through the museum for an hour, giving us background on O'Keefe's life. While there were some of her famous flower paintings,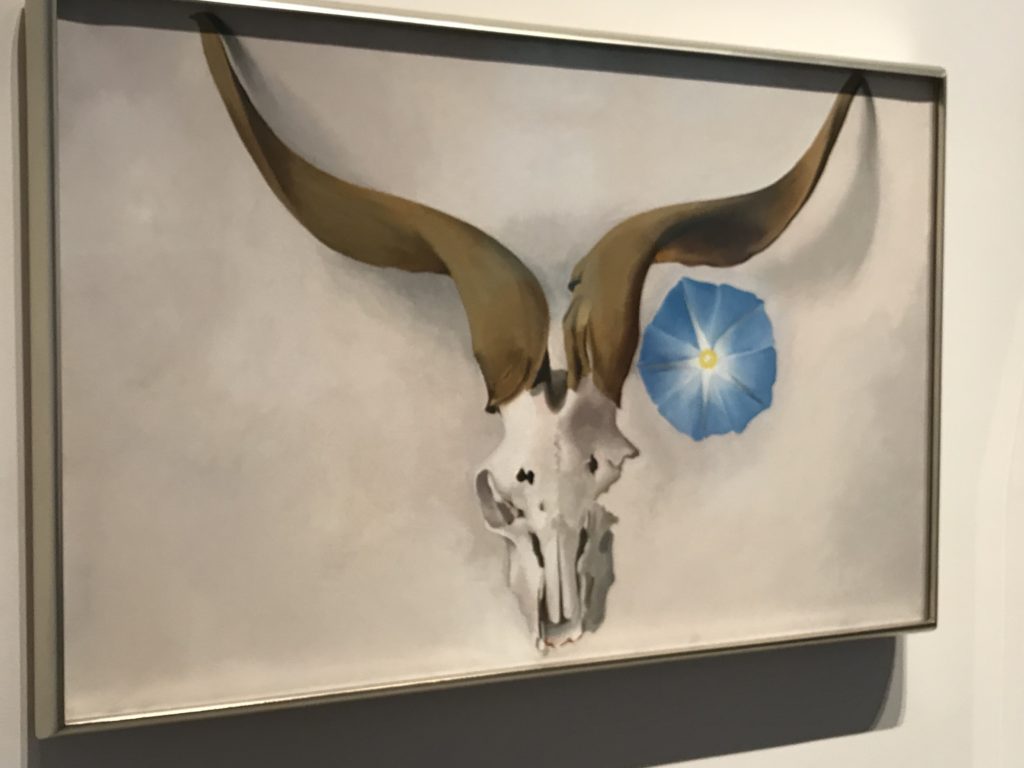 there was so much more. I didn't realize she didn't move to New Mexico until after Stieglitz died in the late '40's, living much of every year in New York. What a fascinating, talented lady.
It was 3 PM and we had free time to shop, see Santa Fe and eat. The past few days have been full of people, food, and wine and I saw this as an opportunity to spend a little private downtime with Bub. We've been to Santa Fe many times and I wasn't needing any more food. When I got to the room, he told me he found the perfect Concho belt for me but it was $3500, so it'll have to wait for another day.
Wednesday: Pastries began the day again and then I headed down to the Conference sessions.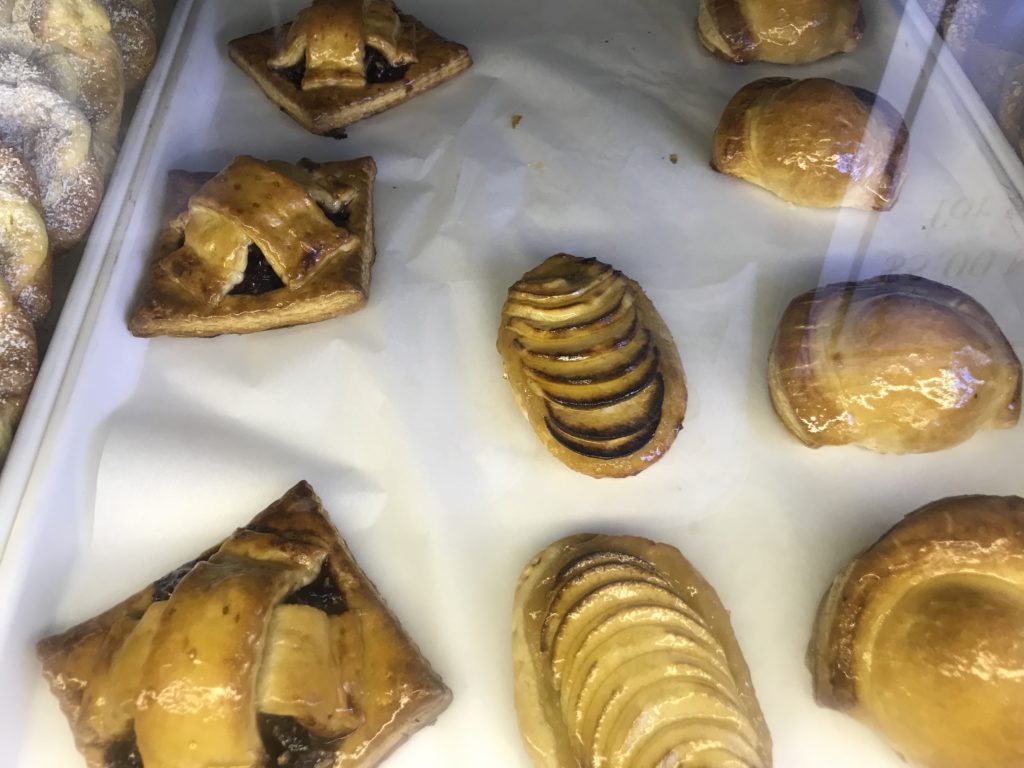 I attended a workshop on how to pitch articles and more by Susan Lanier-Graham with lots of good information. Then one on photography using your phone. I clearly need to upgrade my iPhone7 to an iPhone11 when I get back home.
The next couple of hours were spent speed-dating (15 minutes per visit) with the sponsors from 9 different cities to learn what they had available for writers. Most visitor's bureaus or Chamber of Commerces have a budget to promote their city. A press trip like the one I attended in Albuquerque on Day 3 and Day 4 of this trip is an example of the activities.
I spoke with representatives from Paso Robles, Park City, Flagstaff, Whidbey & Camano Islands, Medford, and Memphis with thoughts of spending some time on next year's summer road trip in some of those towns.
For lunch, we walked about 6 blocks to the Santa Fe Convention Center for a "Taste of Santa Fe" event for the next two hours.
Tables were set up around the perimeter of the room. 
Wine and spirit tastings,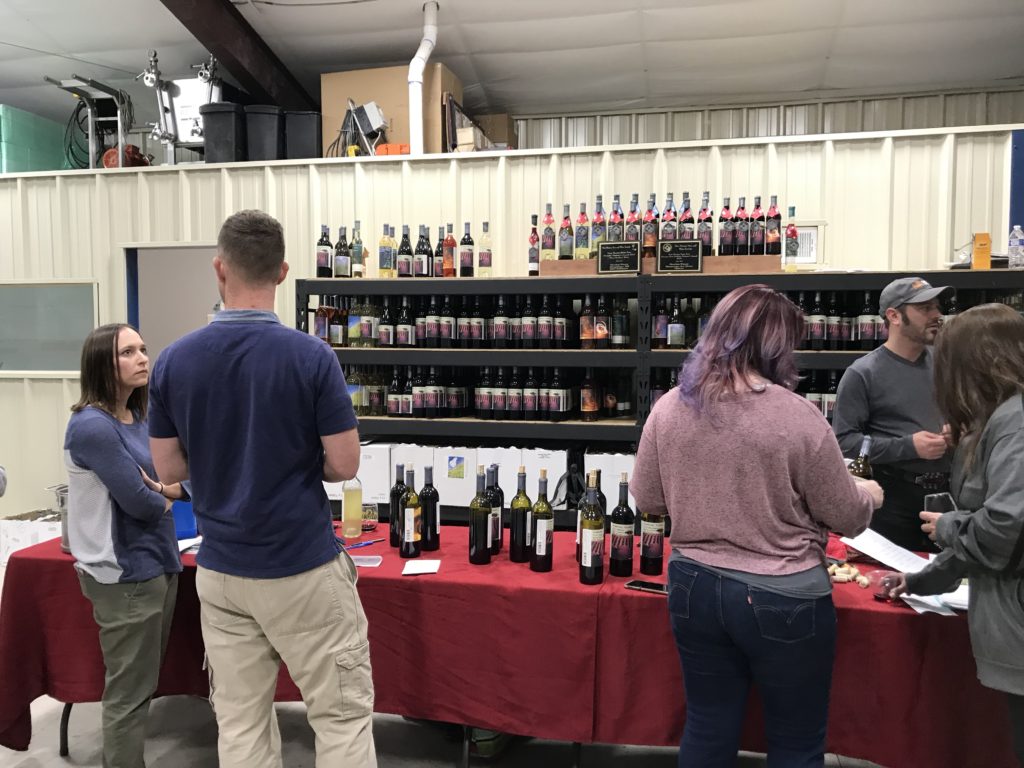 small plates from local chefs,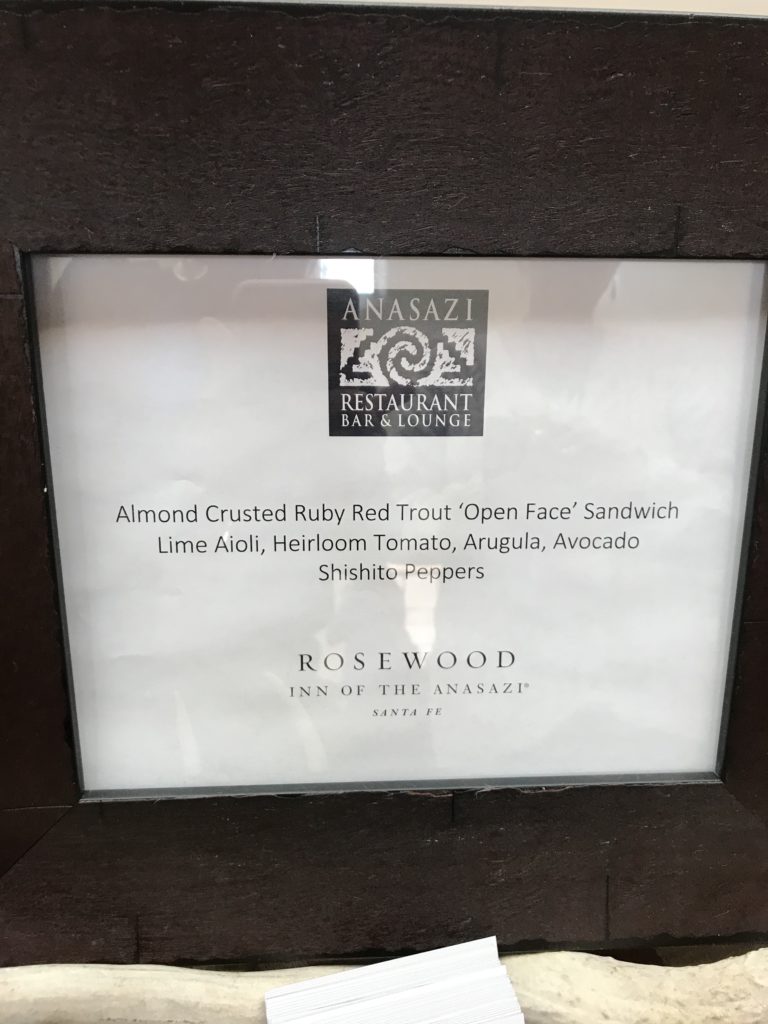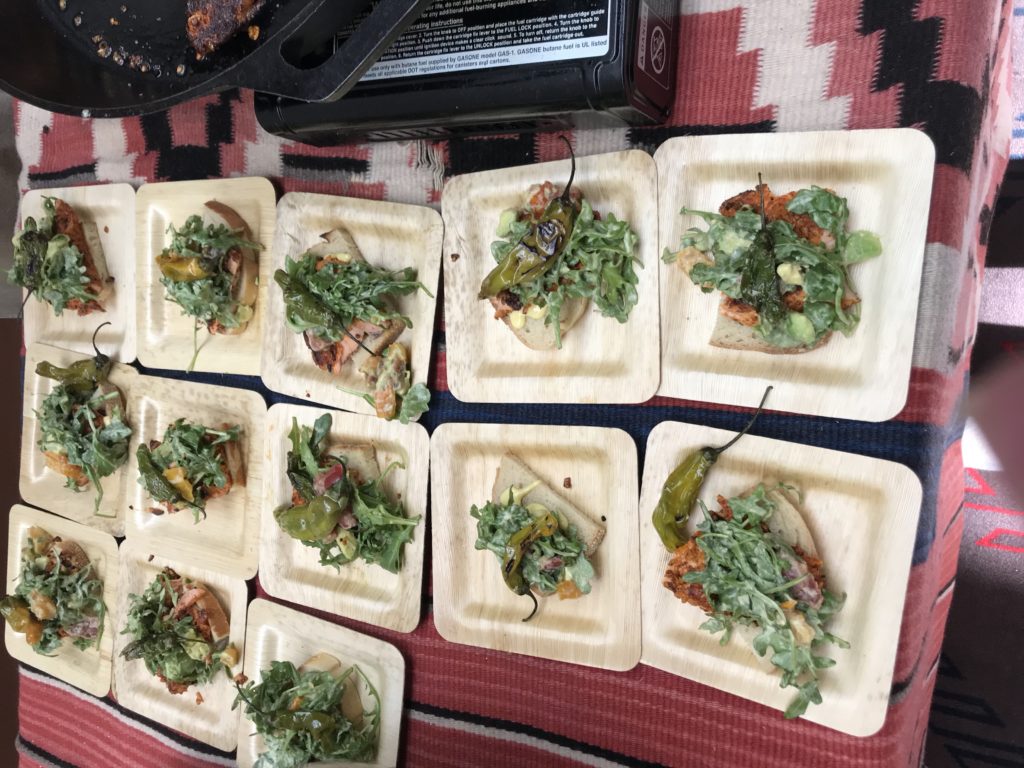 and a couple of chocolatiers made us fat and happy.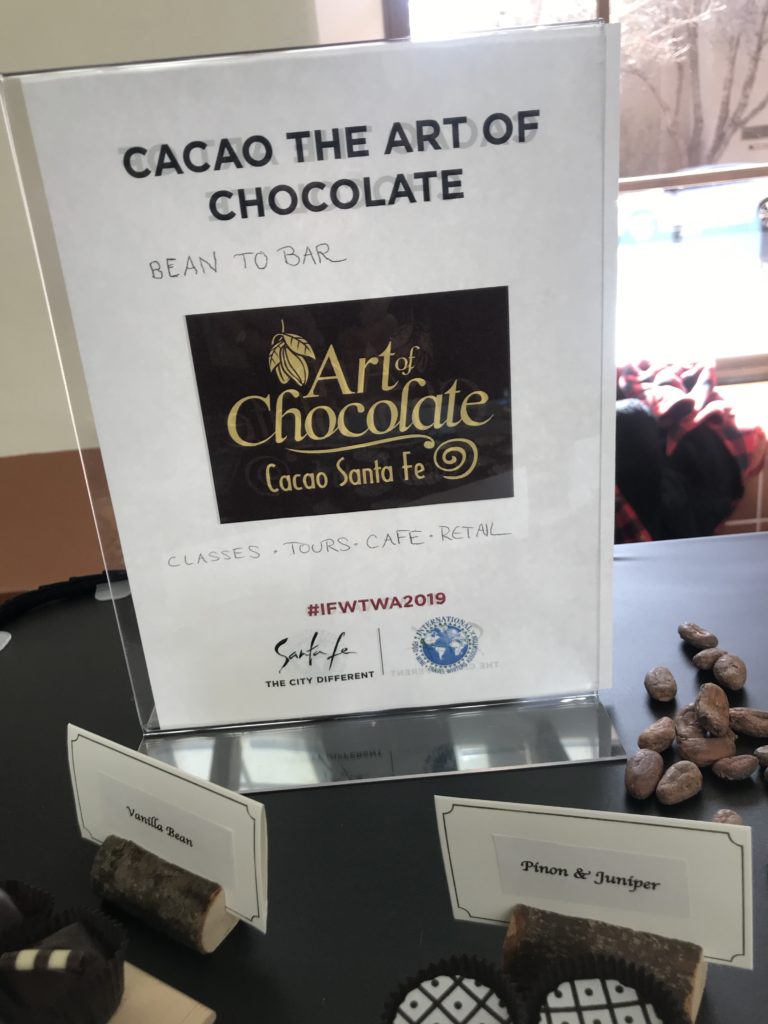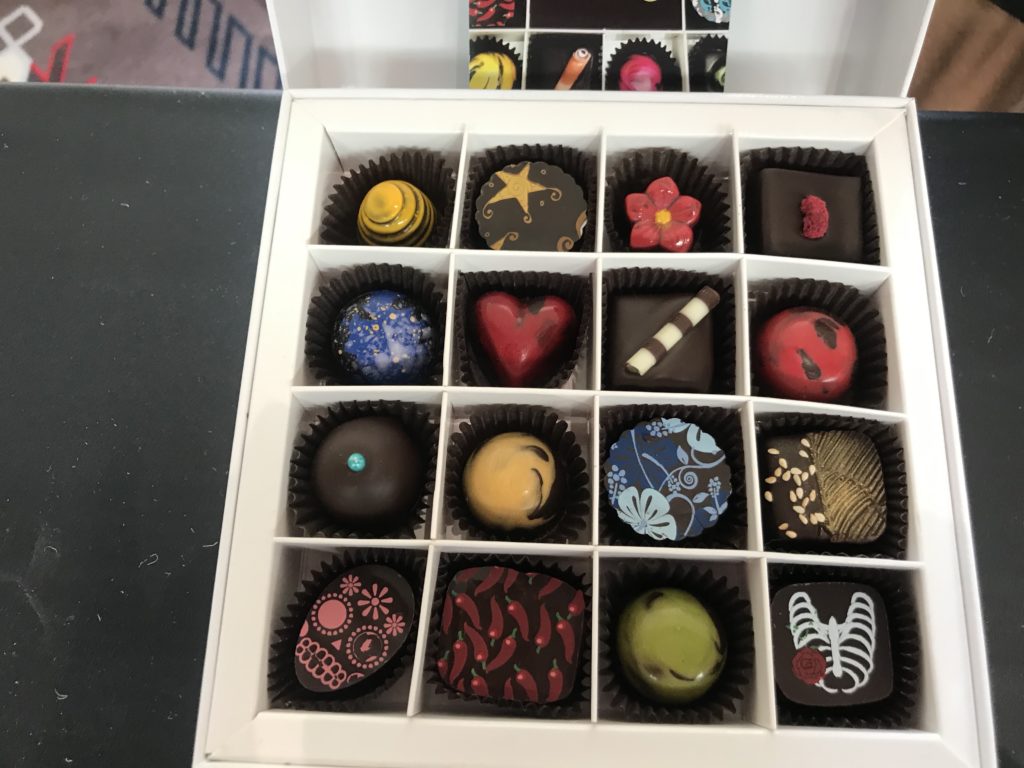 We had our choice of two Santa Fe museum locations for the rest of the afternoon: Meow Wolf Art Complex or Museum Hill for the next few hours. Santa Fe has so much to see.
At six, it was time to go to the Santa Fe School of Cooking for a cooking demonstration and dinner. A short bus ride away, I was happy not to walk as it had gotten very cold. We were welcomed and started with wine. 
Their chefs shared background and history on what sets New Mexican Food apart. They demonstrated how to make tacos. Showed us so many different chiles. We learned about stacked enchiladas (I've always rolled mine, so this was a new way to do it. And then they fed us!
I was grateful to get a handout with all the recipes that were served for dinner.
What a valuable two days. Now I need to get home and write in more depth about these experiences.