Bub got a new WINO shirt, but it hasn't hurt his game at all!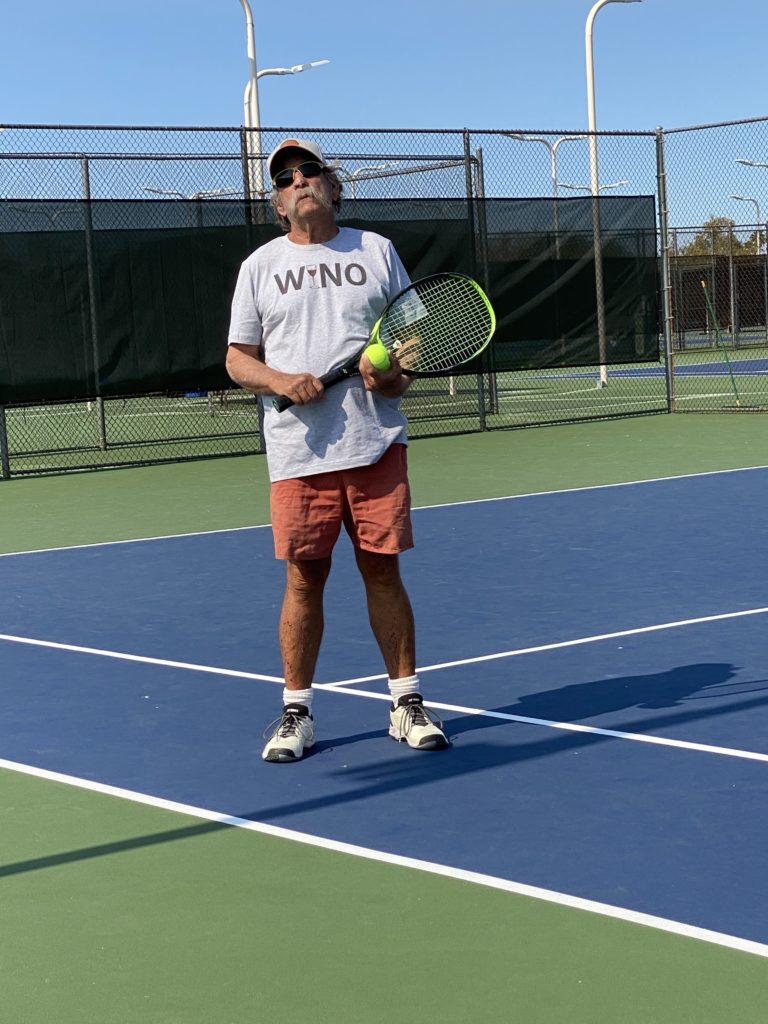 Summer has come to Arizona. This morning, when we left for an 8 AM game, it was already 92 degrees! So we are playing as early as we can get a court or get out. Bub seems to be less bothered by it. Must be his 40+ years of surveying outside every day. He says we are lucky to be alive…no complaining!
And, of course, he's right! ( I hate it when that happens!)
I had acute labyrinthitis (a middle ear infection-when I moved my head, the room spun!) for the first two weeks of the month. I certainly would have fallen over if we'd tried to play. So, we laid low and took days off, and thankfully, it went away.
| | | | | | |
| --- | --- | --- | --- | --- | --- |
| Date | Bub | Joeann | Aces | Time | Where? |
| 6/6 | 6 | 1 | B-4 | 50 | OVCC |
| 6/7 | 6 | 0 | B-3 | 32 | OVCC |
| 6/8 | 6 | 1 | | 40 | OVCC |
| 6/14 | 6 | 2 | | 33 | OVCC |
| 6/16 | 6 | 2 | B-4 | 42 | OVCC |
| 6/17 | 6 | 2 | B-3 | 37 | OVCC |
| 6/18 | 6 | 4 | B-2 | 35 | OVCC |
| 6/19 | 6 | 3 | | 39 | OVCC |
| 6/20 | 6 | 2 | | 41 | OVCC |
| 6/21 | 6 | 1 | B-2 | 32 | OVCC |
| 6/22 | 6 | 2 | B-1 | 31 | OVCC |
| 6/24 | 6 | 2 | B-1 | 37 | OVCC |
| 6/25 | 6 | 2 | | 29 | OVCC |
| 6/26 | 6 | 3 | | 43 | OVCC |
| 6/27 | 6 | 4 | B-4 | 45 | OVCC |
| 6/28 | 6 | 3 | 1 | 46 | OVCC |
| 6/29 | 6 | 5 | | 46 | OVCC |
| 6/30 | 6 | 1 | | 37 | OVCC |
| | | | | | |