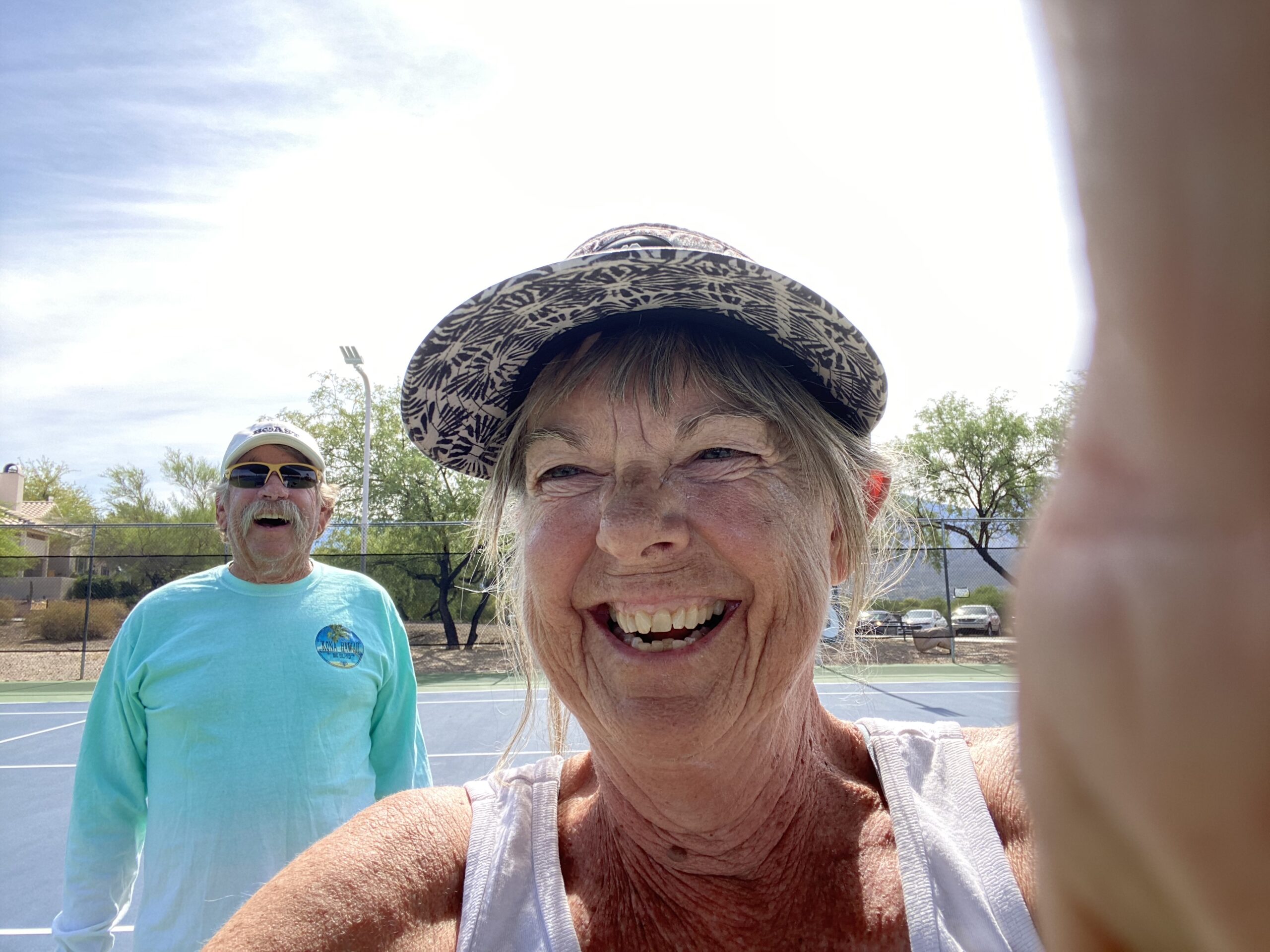 July was a hot, dry month, but we managed to get out almost every single day. I feel so blessed that this exercise is safe, available, and close by.
The Community Center is currently closed with gyms being closed as our numbers of infections here in Arizona are up. This means we aren't having to pay monthly dues and the courts are available, first-come, first served.
Unfortunately, as you can see by the scores, Bub is having much better luck than I am, but if you look at the times, I am really grateful for a partner to run me around!
Life is good.
| | | | | | |
| --- | --- | --- | --- | --- | --- |
| Date | Bub | Joeann | Aces | Time | Where |
| 7/1 | 6 | 1 | J-1 | 32 | OVCC |
| 7/2 | 6 | 2 | B-1 | 38 | OVCC |
| 7/3 | 6 | 2 | B-4 | 47 | OVCC |
| 7/4 | 6 | 5 | B-2 | 38 | OVCC |
| 7/5 | 6 | 4 | B-3 | 44 | OVCC |
| 7/6 | 6 | 2 | B-4 | 35 | OVCC |
| 7/8 | 6 | 4 | B-2 | 43 | OVCC |
| 7/9 | 6 | 0 | B-2 | 25 | OVCC |
| 7/10 | 6 | 2 | B-2 | 45 | OVCC |
| 7/11 | 6 | 3 | B-3 | 43 | OVCC |
| 7/12 | 6 | 5 | B-1 | 54 | OVCC |
| 7/13 | 6 | 3 | B-1 | 52 | OVCC |
| 7/15 | 6 | 1 | B-2 | 33 | OVCC |
| 7/16 | 6 | 2 | B-1 | 42 | OVCC |
| 7/17 | 6 | 3 | | 44 | OVCC |
| 7/18 | 6 | 2 | B-3 | 46 | OVCC |
| 7/19 | 6 | 2 | B-2 | 37 | OVCC |
| 7/21 | 6 | 0 | B-1 | 42 | OVCC |
| 7/22 | 6 | 3 | B-3 | 33 | OVCC |
| 7/23 | 6 | 1 | B-2 | 29 | OVCC |
| 7/25 | 6 | 2 | B-3 | 37 | OVCC |
| 7/26 | 6 | 4 | J-1 | 59 | OVCC |
| 7/27 | 6 | 2 | B-1 | 28 | OVCC |
| 7/28 | 6 | 2 | B-3 | 28 | OVCC |
| 7/29 | 6 | 3 | | 42 | OVCC |
| 7/30 | 6 | 2 | B-2 | 39 | OVCC |
| 7/31 | 6 | 1 | B-1 | 38 | OVCC |