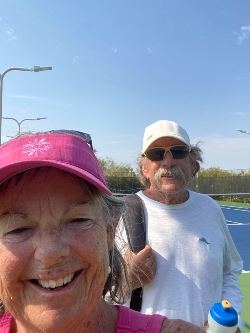 August was hot and dry. The COVID-19 situation in Arizona is getting better but health clubs are still shut down. Luckily the tennis courts are safe and open and the Oro Valley Community Center is not charging their monthly fee.
One of the biggest downsides has been the lack of indoor plumbing while we are there. Surprisingly, after I had been thinking of suggesting they get a PortaPotty, one showed up last week! I love it when that sort of thing happens.
I won once this month! We are getting some good exercise and only missed three days in August. I am grateful for the health that Bub and I have to be able to run around every morning. Hopefully, we'll get some rain and cooling for September.
In the column on the chart below, all aces are Bub's unless they have a "J" next to them (I do get a few!).
| | | | | | |
| --- | --- | --- | --- | --- | --- |
| 8/1 | 6 | 3 | | 45 | OVCC |
| 8/2 | 6 | 2 | 1 | 38 | OVCC |
| 8/3 | 6 | 1 | 1 | 34 | OVCC |
| 8/4 | 6 | 2 | 3 | 47 | OVCC |
| 8/5 | 6 | 1 | 2 | 49 | OVCC |
| 8/6 | 6 | 3 | 1 | 54 | OVCC |
| 8/7 | 6 | 2 | | 44 | OVCC |
| 8/8 | 6 | 3 | | 44 | OVCC |
| 8/9 | 6 | 2 | 2 | 34 | OVCC |
| 8/11 | 6 | 4 | | 42 | OVCC |
| 8/12 | 6 | 2 | | 34 | OVCC |
| 8/14 | 6 | 4 | 1 | 51 | OVCC |
| 8/15 | 6 | 0 | 3 | 44 | OVCC |
| 8/16 | 6 | 3 | 1 | 47 | OVCC |
| 8/17 | 6 | 2 | 1 | 32 | OVCC |
| 8/19 | 4 | 6 | | 53 | OVCC |
| 8/20 | 6 | 1 | J-1 | 37 | OVCC |
| 8/21 | 6 | 1 | 1 | 32 | OVCC |
| 8/22 | 6 | 3 | 2 | 40 | OVCC |
| 8/23 | 6 | 2 | 1 | 50 | OVCC |
| 8/24 | 6 | 2 | 3 | 39 | OVCC |
| 8/25 | 6 | 1 | 2 | 24 | OVCC |
| 8/26 | 6 | 2 | | 32 | OVCC |
| 8/27 | 6 | 3 | 2 | 33 | OVCC |
| 8/28 | 6 | 0 | | 28 | OVCC |
| 8/29 | 6 | 3 | 2 | 46 | OVCC |
| 8/30 | 6 | 2 | 3 | 36 | OVCC |
| 8/31 | 6 | 3 | | 30 | OVCC |
| | | | | | |