June 12, 2019 Day 4
Miles 396 Begin Death Valley To Sparks, NV
Roads Traveled CA 190, NV 394, NV 95, NV 50, NV Alt 50, I-80
Slept at Hampton Inn, Sparks, NV
The view at Death Valley began with another pink mountain sunrise. We leisurely enjoyed our coffee and some datenut bread as we woke to the day. I'm mediating every morning and reminding myself to relax, enjoy, appreciate and soak in every moment.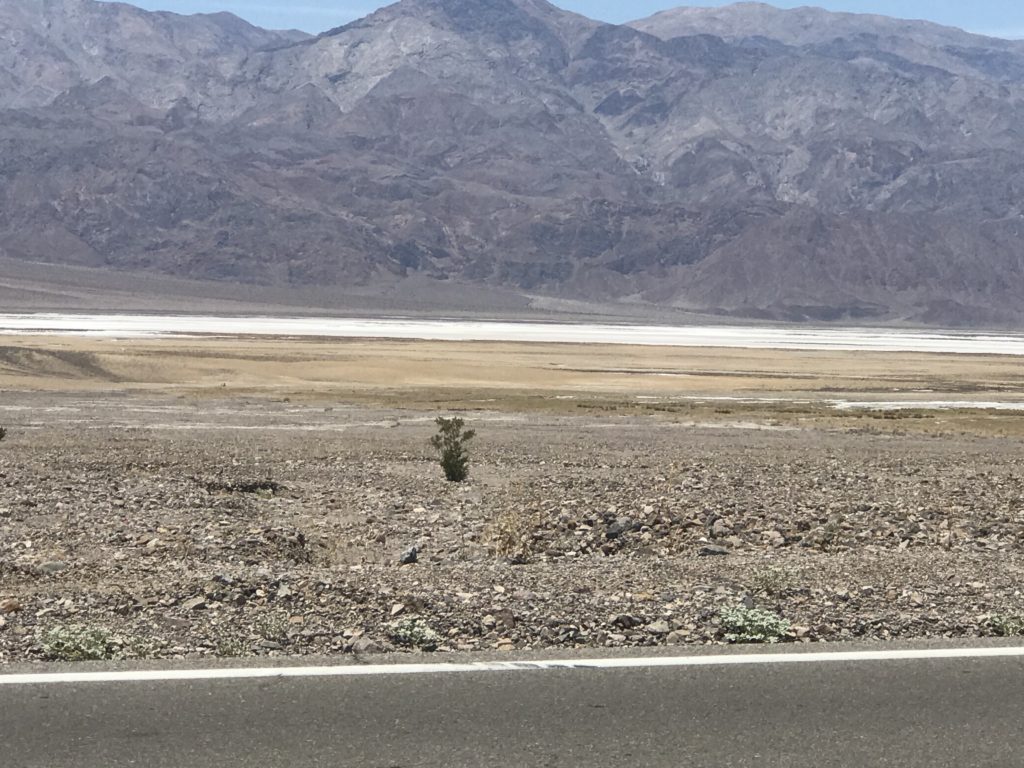 The desert cooled significantly overnight and the temperature was 86°. The tennis courts were calling our name. So we dressed at started around 7:15 as the sun was lighting up the date groves. Bub has regained his agility and our games are fierce. He was the winner again at 6-1 with 2 aces.
We enjoyed a southwestern breakfast at the Inn Dining Room. June in Death Valley is off-season and we were the only people in the dining room! I understand, though, July gets busy with many European visitors who want to cross this off their bucket lists. Trey told me yesterday that they really get excited about the 115+ temperatures. Of course, they are only there for a few days whereas the staff is living through 3 months of intense heat.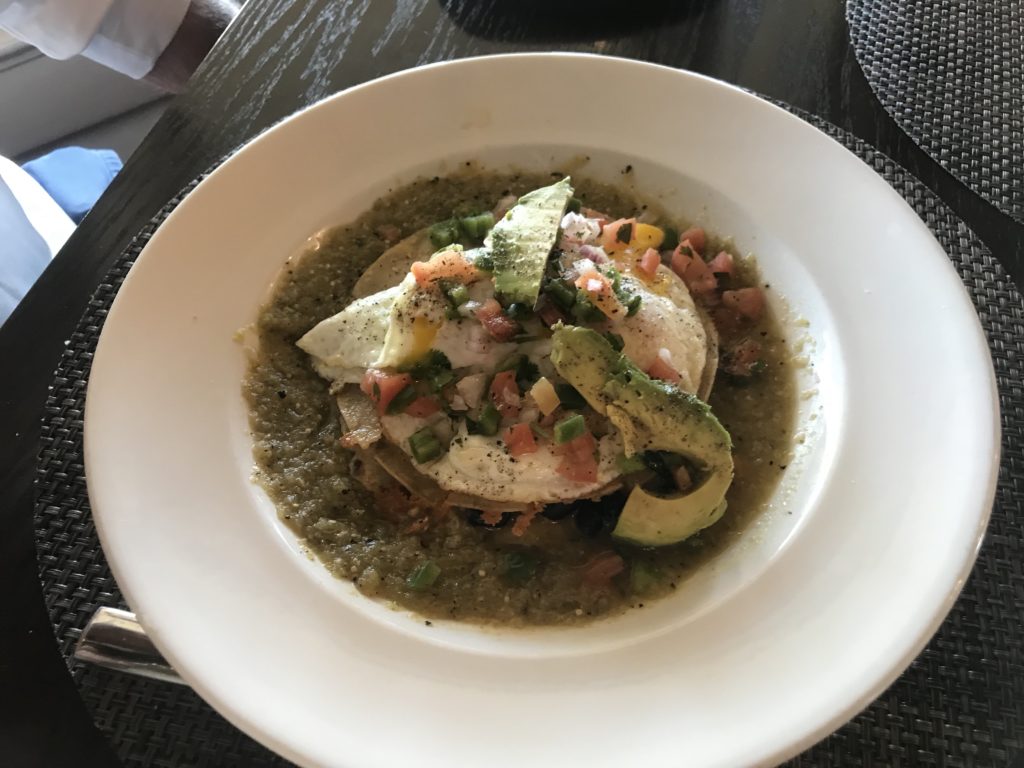 One last long pool dip before we hit the road. The water was so nice and the pool was just ours except for 1 other family. I could have stayed another day or at least a few more hours.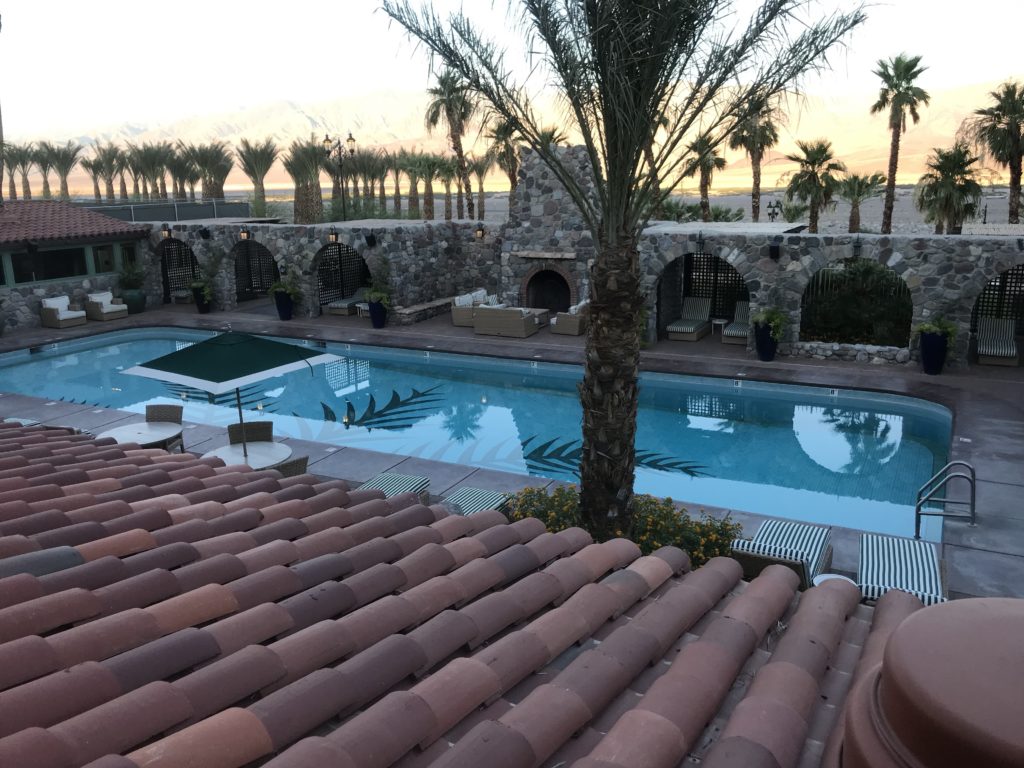 From the Oasis at Death Valley, a well maintained 2 lane road took us through the National Park back into Nevada at Beatty. Traffic was light and my car boogies along. I used cruise control most of the time so I wasn't edging towards 100, which is easy to do out there on the open road.
But it was time to hit the road again. We rolled out about 11:30 back towards Nevada.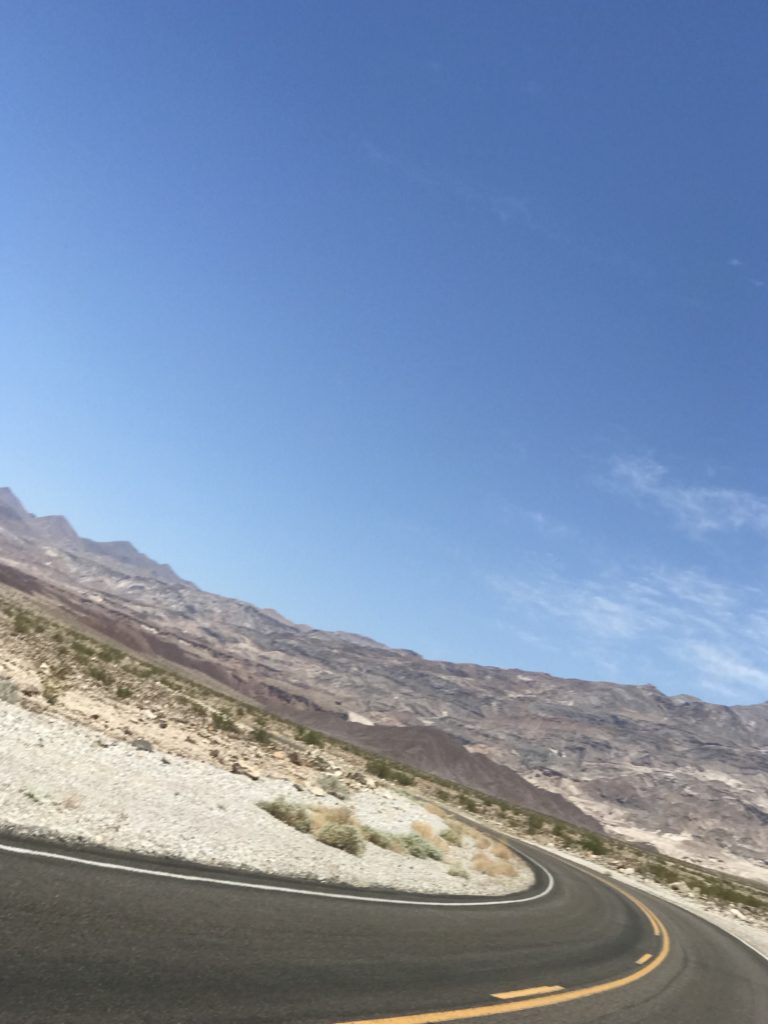 You know you are in Nevada when you see Brothel signs!
The Shady Lady Brothel was just outside of Beatty.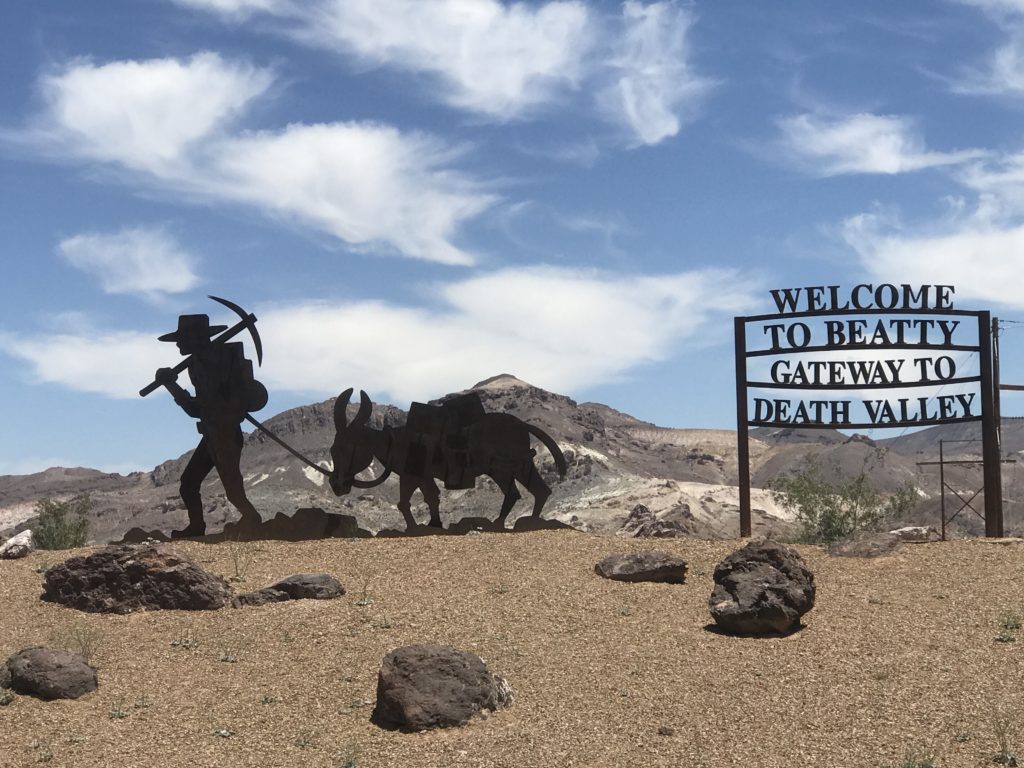 We stayed on Route 95 for hours, hugging the western border of Nevada. As we went through Hawthorne, we saw hundreds of bunkers that Bub said were storage for missiles. North of Hawthorne, Walker Lake was big and blue. The temperatures out here were in the 90's and just a few wispy clouds broke up the bright blue sky.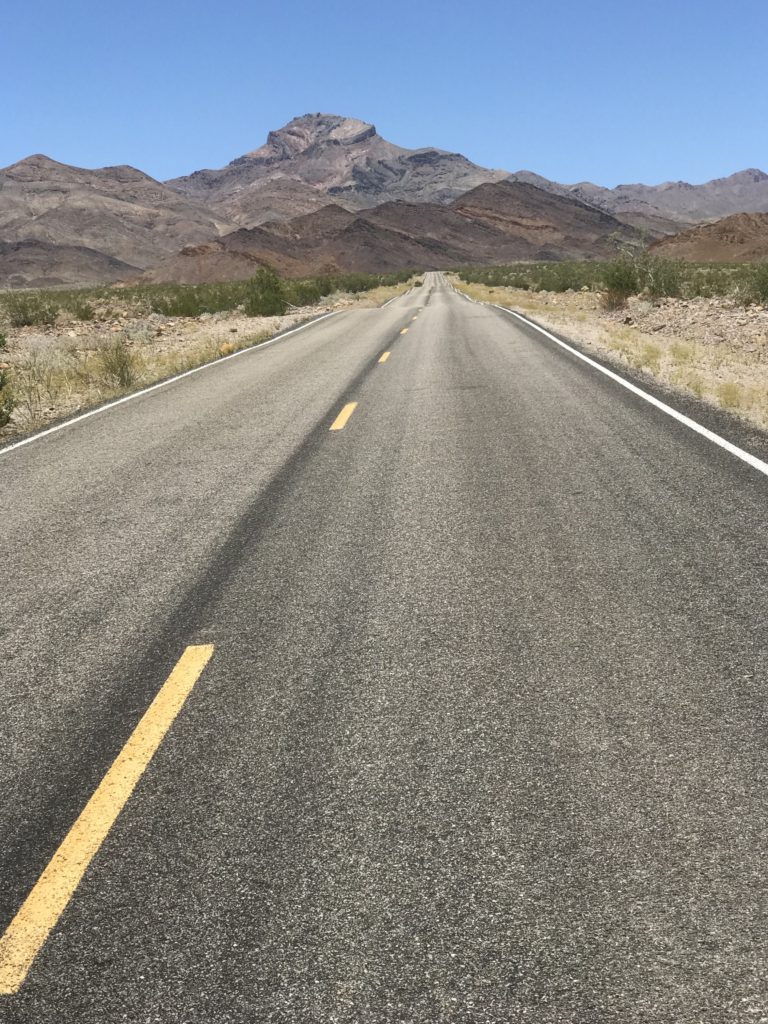 For miles, there were Joshua Trees as far as the eye could see for miles and miles along Route 95.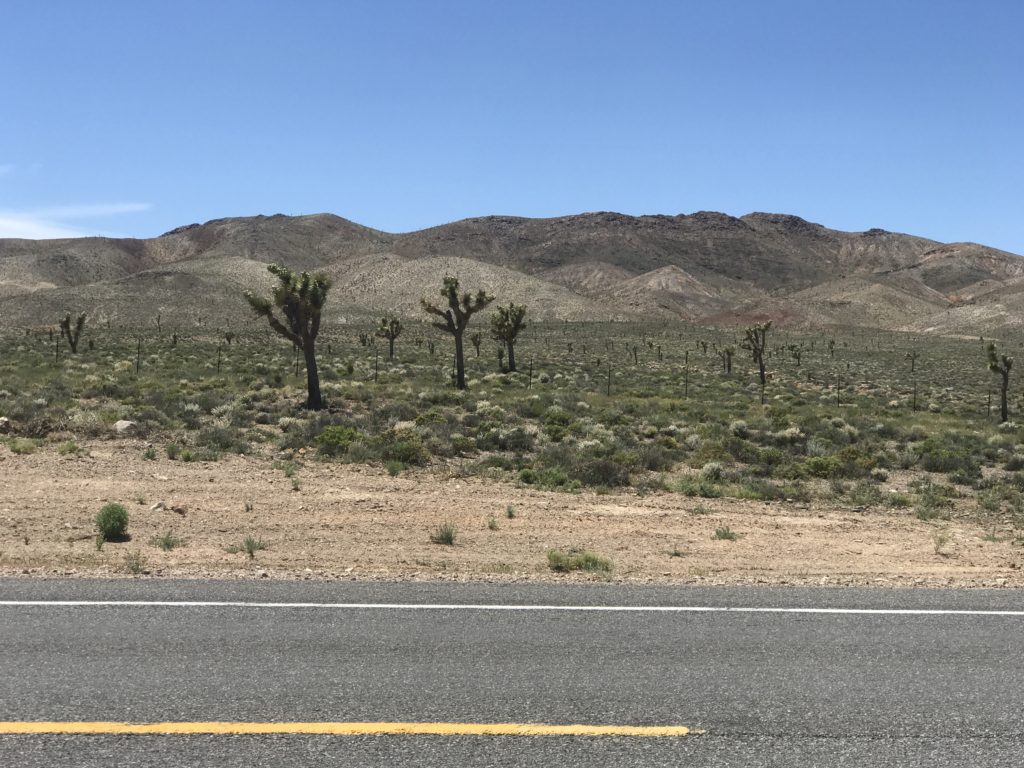 The snow covered peaks looked like mirages in the distaance. Every little town along the way had a casino and many had brothels as well.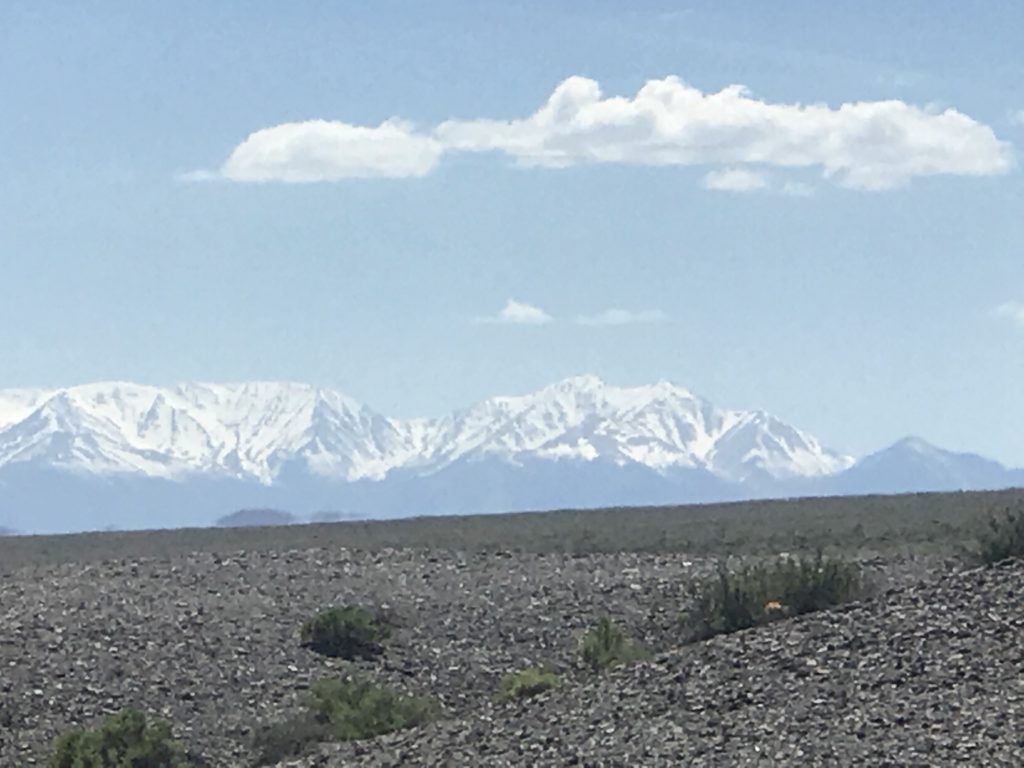 Around 6 PM, we finally arrived at our night's lodging, a Hampton Inn. This one was right on the edge of a lake. I am using my Hilton points (of which I had 200,000) to stay several night on this trip when we don't have a historic old hotel to enjoy.
With the Hilton app and many venues, it is easy to book. The amenities on check-in offer water and treats and the breakfasts save money and are appreciated. We like their beds and pillows. On this trip, we have both brought pillows from home for other situations. One of the advantages of a road trip is having everything you might want or need along the way.
Bub loves oysters. They are one of the reasons we will spend 2 days in Portand. He read in the AAA guidebook that the Nugget Casino in Sparks had a highly rated Oyster Bar. This was tonight's dinner. We made it all the way through the casino without being lured by a table or slot machine—we really aren't into gambling.
The Oyster Bar menu had a dozen oysters for $15. What a price! So, we each got a dozen. In retrospect (note to self-remember this in Portland, Joeann), 6 would have been enough because they were big and yummy.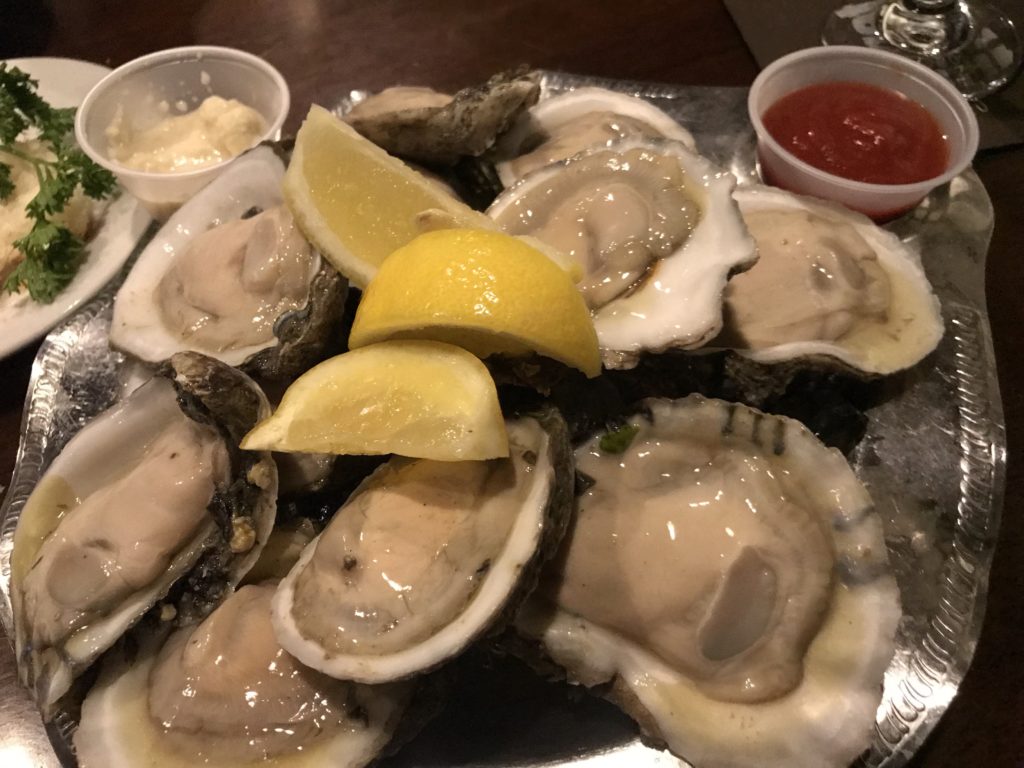 Bub also got fried oysters and I got a bowl of lobster bisque. The waitress tried to get us to have dessert, but there was no room!
We scouted tennis courts for in the morning, but didn't see anything that tempted us and we sure weren't playing tennis after that meal.
Daylight Savings Time means the sun is staying up later here than we were used to at home. Being farther west and getting closer to the first day of summer makes for a long day.
Life is good…