My brand new
Tommy Bahama mug
broke as it fell to the concrete as we loaded bags into the car at the airport coming home from Hawaii.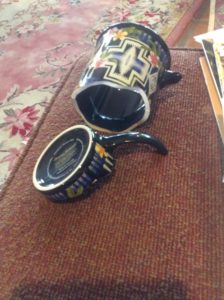 Luckily, it was purchased with a credit card that covered purchases damaged or stolen within the first 120 days. Bub didn't believe that Citi would actually reimburse us, but after filling out a pretty simple form and sending a description of what happened and a photo, within a week, they credited his account.
And I just ordered a brand new fancy coffee mug.
What Do The Cards You Have Now Offer?
Do you know? The benefits give you a good reason to choose or keep a particular card. Since I travel a lot, the cards I have chosen often include lucrative sign-up bonuses and no foreign transaction fees.
For the cards you have right now, read that little booklet with all the fine print or, if you don't know where it is, go online to their site and read the disclosures there. Familiarize yourself with the benefits of each so you know when to use which card. For instance, I am careful when I make a purchase like a new computer to use a card with a double warranty. I have put a little round sticky on most of my cards with notes like 5%rest(5% back for restaurants) or no-ftf (no foreign transaction fee) so I can make sure I am using the right card because I can't remember which has what or the social 3 month promotion they are doing, such as the quarterly rebates from Discover. You could even do an Excel spreadsheet with the comparisons to make it easy to doublecheck.
What to Consider
If you want to expand the number of cards you currently have, here are three important criteria:
Sign Up Bonuses: There are a lot of cards offering very big bonuses right now. They seem to be trying to outdo each other. Usually, you will have to spend a certain amount in the first 2-3 months you have the card. This is a good reason to sign up for one card at a time and maximize your spending there until you reach the threshold before signing up for the next one. Choose cards that are affiliated with the brands you use most often. For instance, most of the hotels we stay in are either Hilton or Marriott. I am a Million Miler on American Airlines. So I have cards that will give me rewards with those brands.

In other words, getting a Southwest card, even if it had a big sign up bonus, wouldn't help me out much. View From The Wing is one of the sites I use to track current offers. I've subscribed to his newsletter, as well, to stay current as offers change.
Worth of Your Points: Pay close attention to what the "points" are worth. Do they rebate you 1% in cash for each purchase or do they give you points?  Many cards are tiered with rewards. For instance, Costco Citi Card pays 4% for gasoline, 3% for travel and restaurants, 2% for Costco purchases and 1% for all other purchases and they send a check every spring for the total. You can track this on their website as well.

With other cards, you can usually withdraw your rewards whenever you want to or have enough for the room or flight you want to use them for. My American Express Hilton card gives me points for my Hilton Honors account. However, these points do not have a 1 point=$1 redemption. They are generally valued between .4-.6 cents. The Points Guy gives you a breakdown and comparison of what a point is worth on various cards.
Benefits: Replacement of my mug was but one of the many benefits Bub's Costco Citi Offered. Each credit card has a different list and you'll save heartache by knowing what you are covered for. I got into an accident with a rental car a few years ago and had assumed the American Express card I used had rental car coverage. When I called to report the accident, they said that was an optional $12 that I hadn't paid, so I was stuck with a $1000 deductible!

You can bet I haven't made that mistake again. Before traveling overseas, determine which cards charge foreign transaction fees, as those can mount up. The list below details some card benefits that you may not know about or that might be important to you. As they say…terms and conditions apply! Read carefully what is and isn't covered for the ones you will use and care about.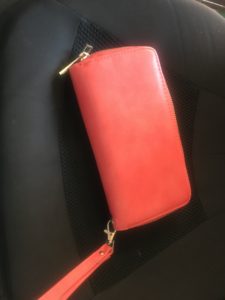 Extended Warranty
Damaged or Stolen Replacement
Price Rewind
Car Rental Insurance
Trip Cancellation & Interruption Protection
Roadside Assistance
Travel and Emergency Assistance
Worldwide Travel Accident Insurance
I love pocketing hundreds of dollars just for spending what I normally would, or getting to stay in a luxury hotel with my accumulated points! It's taken some work, but it is worth it.