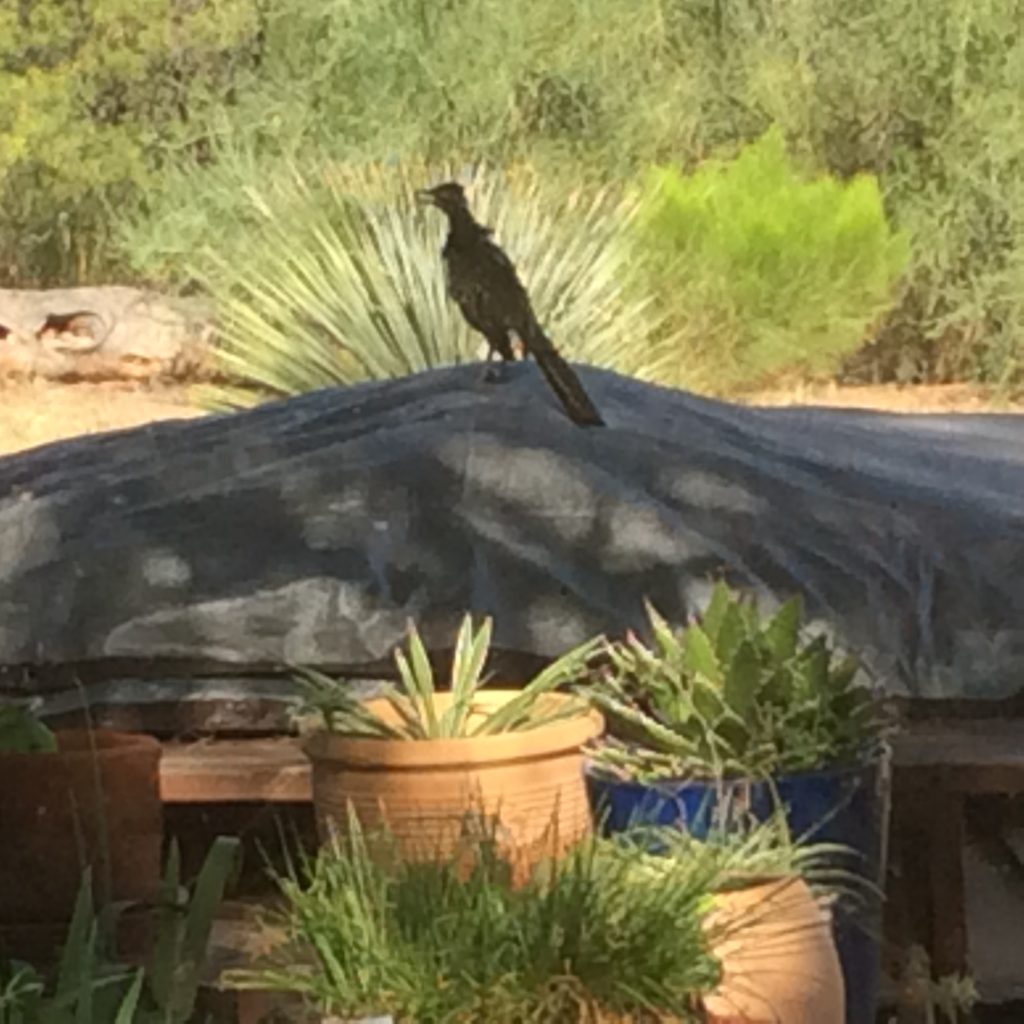 Let me count the ways! I'm what's called a "semi-native" Tucsonan. Not born and raised here, I've spent the last 43 years in love with the Sonoran Desert and all Tucson offers. I can't imagine living anywhere else. If you aren't from here, this article will help you with the lingo!
Unlike Arizona's sprawling Phoenix/Scottsdale area, Tucson's small-town feel is warm and infectious. People smile at you and say, "hello." They rarely honk their horns. There is a laid-back, relaxed feeling that permeates.
The population has over doubled from under 50,000 in 1976 when I moved here to over a million these days. However, the friendly, casual vibe is still strong. Tucson lures baby-boomers retiring from the North who realize how nice it would be to live in a place where they could be outdoors almost every day of the year and shoveling snow is rarely necessary.
Here are few of my favorite things: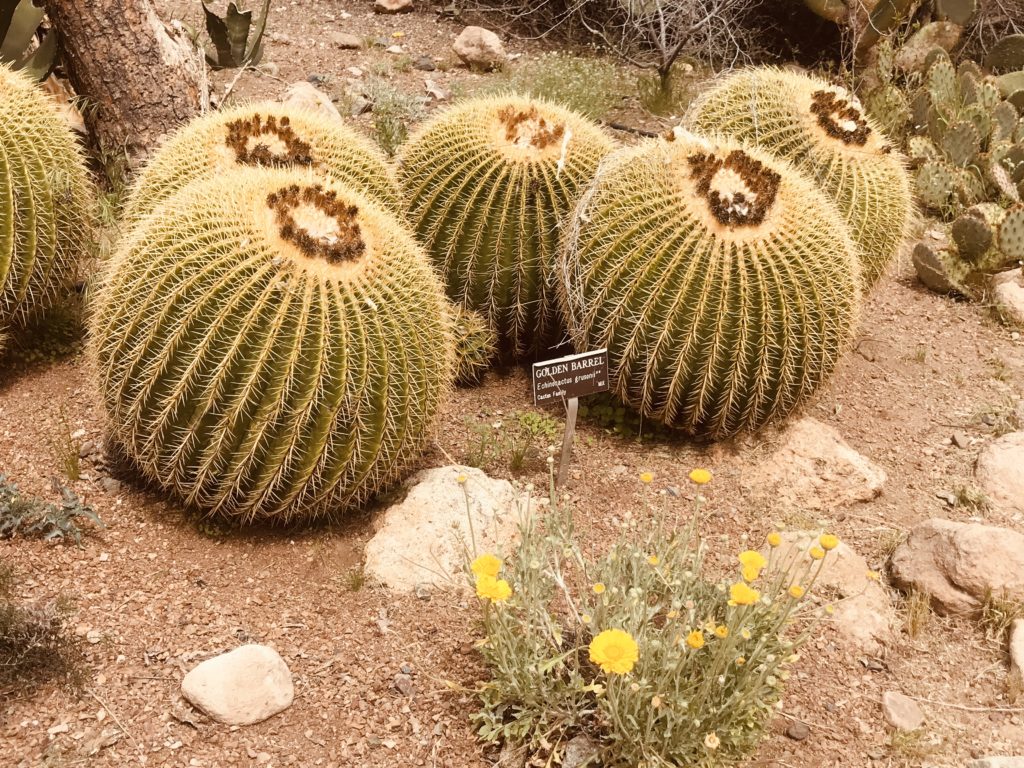 The Sonoran-Desert Museums sprawls over 98 acres. It's a zoo, botanical garden, art gallery, natural history museum, and aquarium all wrapped into one.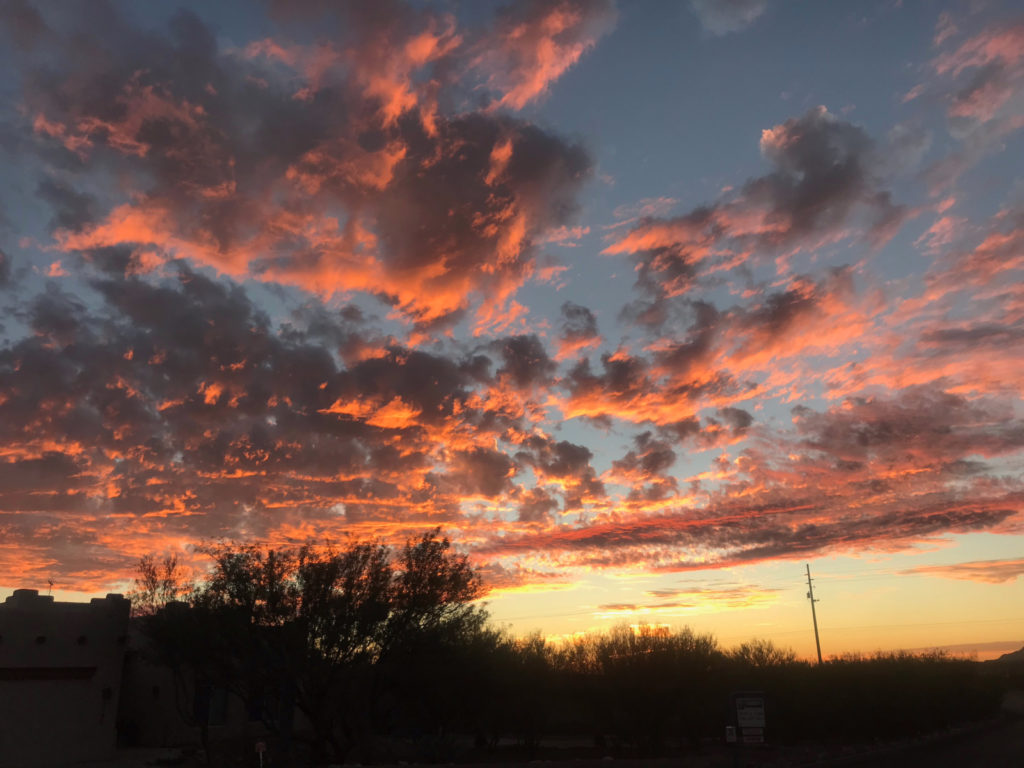 The wide open skies provide spectacular sunsets. Get outside and watch as the Catalina Mountains turn pink as the sun sets in the west.
EAT!!!!!!! UNESCO has designated Tucson as a "capital of gastronomy." Sample desert foods such as amaranth, cactus pads, tepary beans, cholla buds, dried cactus flowers, and escabeche at many local restaurants and food trucks.
For views and bottomless mimosas, indulge in the Sunday Brunch at my favorite at Hacienda Del Sol.
You'll find hiking for every skill level. There are 5 mountain ranges ringing Tucson's Valley Floor that provide 216 hiking trails in and around town.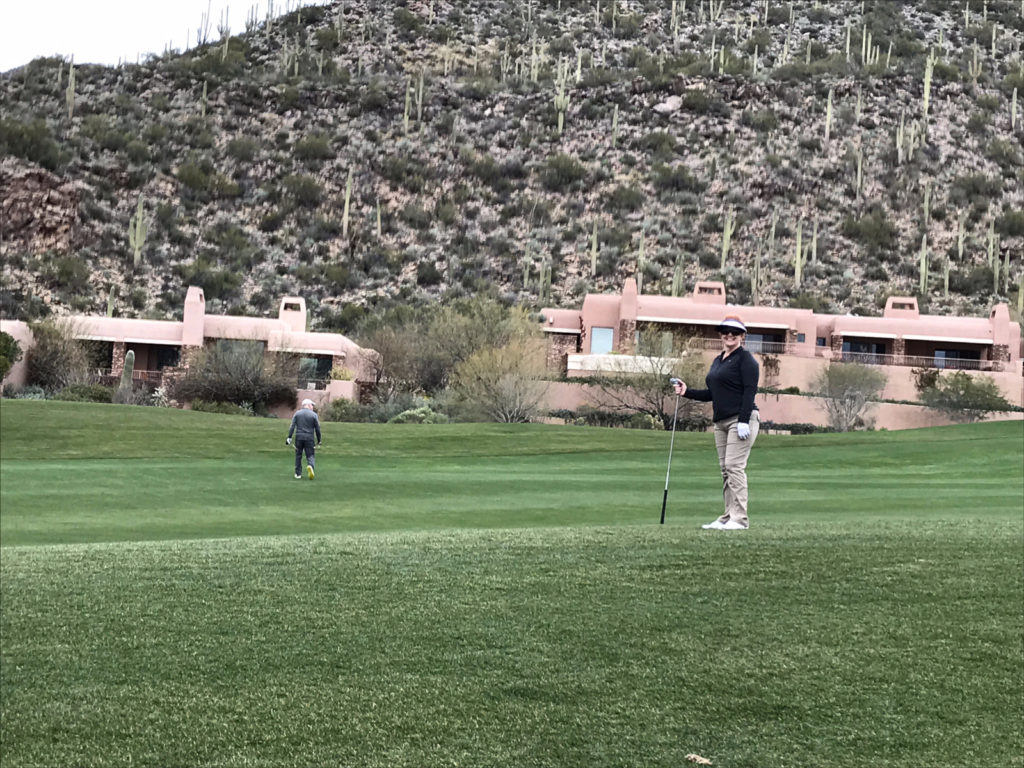 Play golf at one Tucson's 36 golf courses. From exclusive courses like those at Dove Mountain to the highly rated 8 public courses, there is something for every golfer. This is not my passion, but Bub gets out almost weekly.
Tucson is bike-friendly twelve months of the year. The Chuck Huckleberry Loop is a 120 Mile long bike trail that winds through the entire town. Each November, The 100 Mile Tour de Tucson race attracts 7000-10,000 riders.
Downtown you'll find the Historic Hotel Congress ,built in 1919. In 1934, bank robber, John Dillinger was captured here. Today, it is the hub of the chic downtown scene. Concerts, events, and great food are some of the reasons to go downtown to hang out at the Hotel Congress.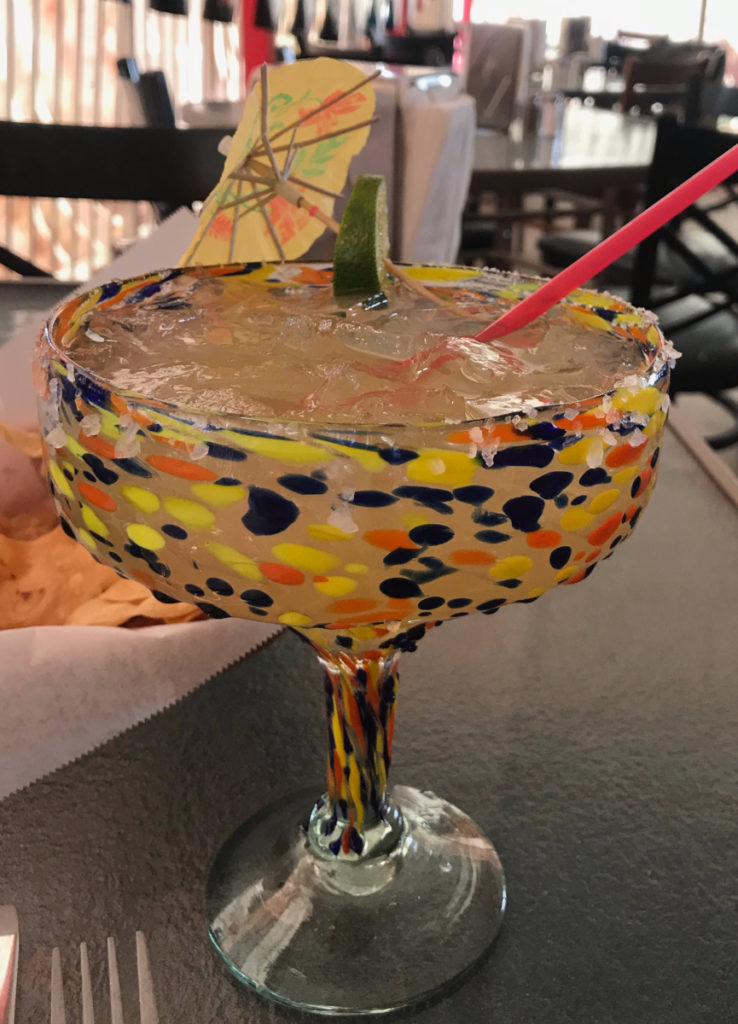 Oh, do I love Margaritas! This is the traditional Tucson cocktail. On the rocks with a salted rim is standard. Or try a frozen one!
Visit the graveyard of old aircraft at The Pima Air and Space Museum. Spanning 80 acres, the dry atmosphere of the Sonoran Desert provides the perfect storage for 4,400 old airplanes.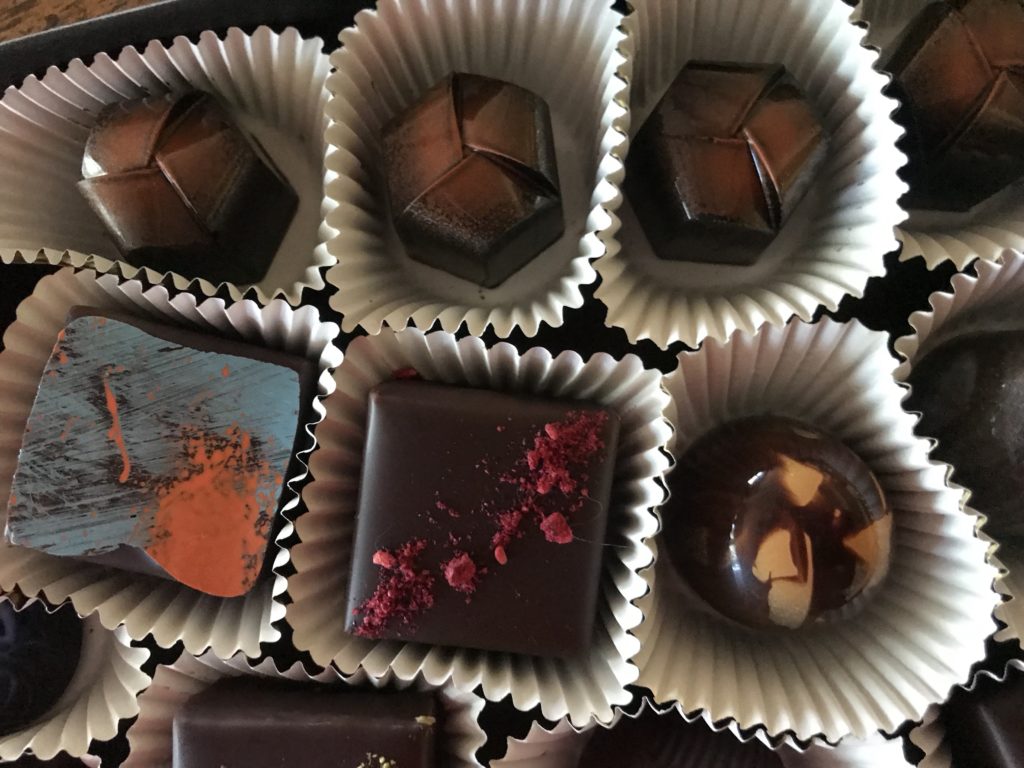 Enjoy out of this world, handmade Chocolate at Monsoon Chocolate. There is also have a cafe with yummy offerings.
In Oracle, about 13 miles north of Tucson, Biosphere2 is a tightly sealed glass and steel structure on 3.15 acres that is the largest laboratory for global Ecology ever built.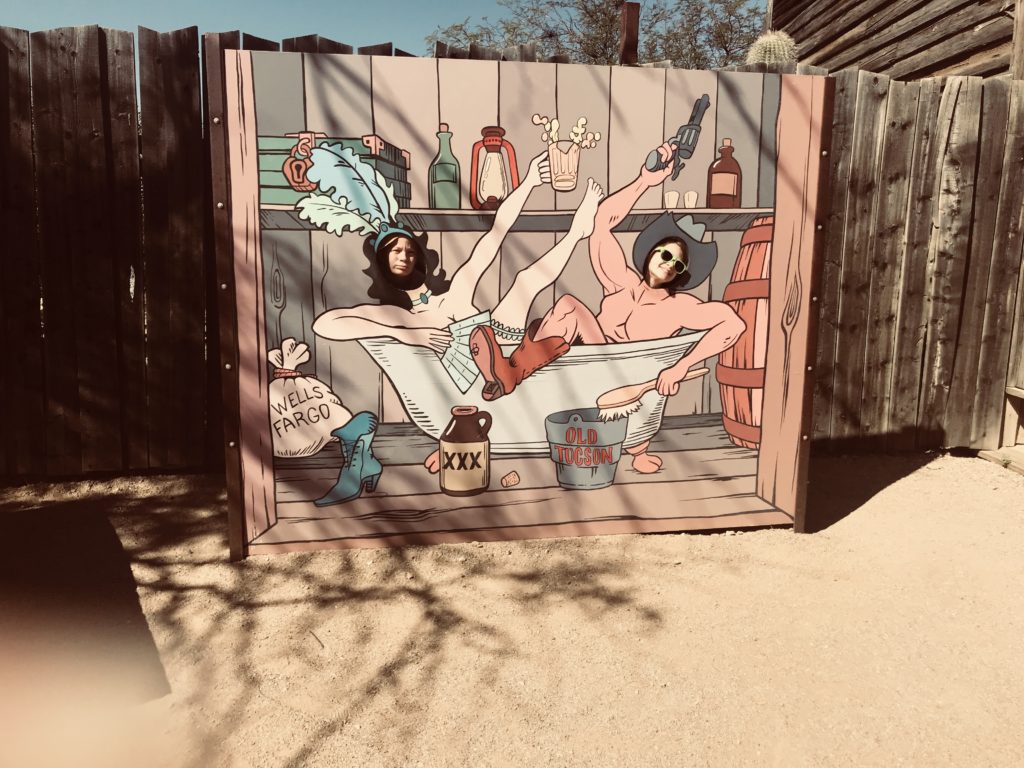 Step back to the Wild West with a visit to Old Tucson. The site of over 400 films and Western movies, Old Tucson has daily shootouts, entertainment, and rides for the kids.
Famous Tucson artist, Ted Degrazia designed and built his Degrazia Gallery of the Sun to showcase his paintings and honor the desert setting.
Ride the streetcar ! Roundtrip from the University of Arizona, up Fourth Avenue to Downtown Tucson.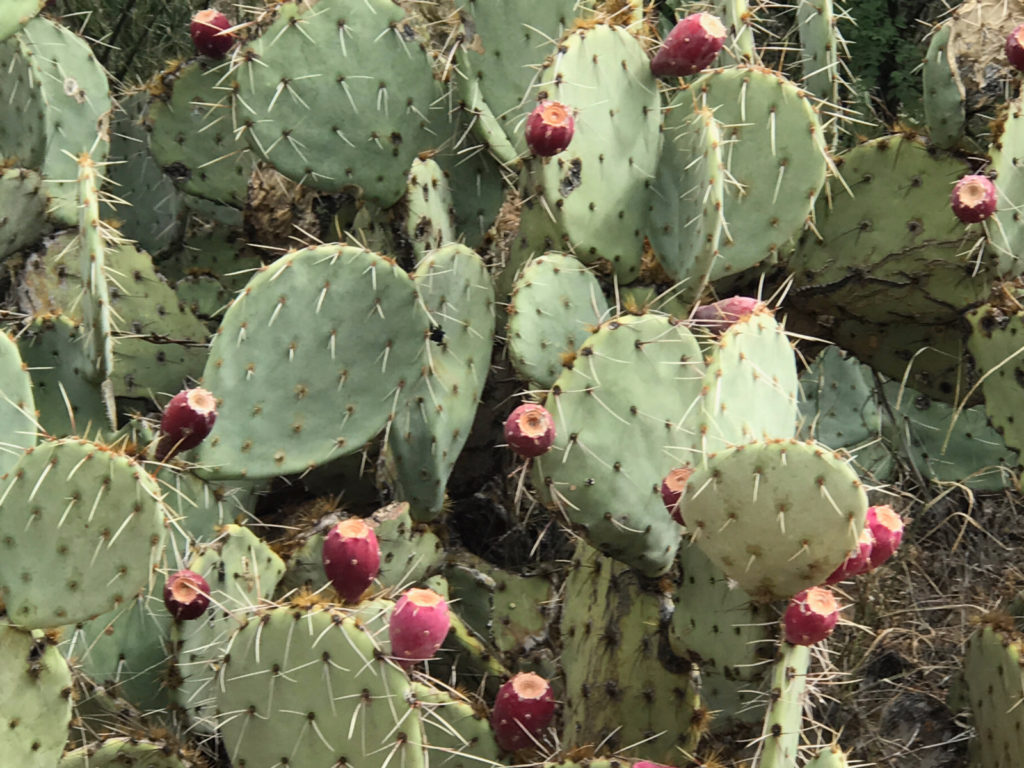 In the summer if we've had good winter rains, the 15 species of prickly pear cactus yield copious amounts of purple fruits. Think Prickly Pear Margaritas or Prickly Pear Lemonade! 
I love to eat a Chimichangawhere they were invented at the historic El Charro Cafe. A chimichanga is a crispy, wonderful burrito-invented by accidentally tossing into a vat of oil.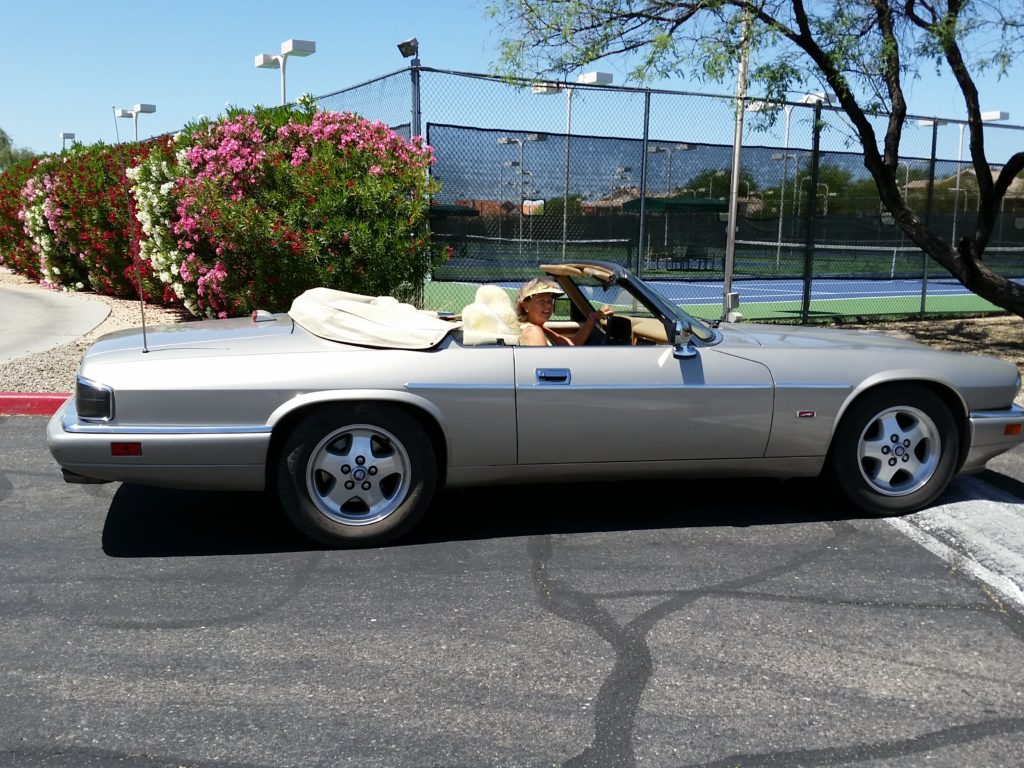 Ride with the top down in January! Climate is one of the 5 C's Arizona is renowned for. Cotton, cattle, citrus, and copper are the other four.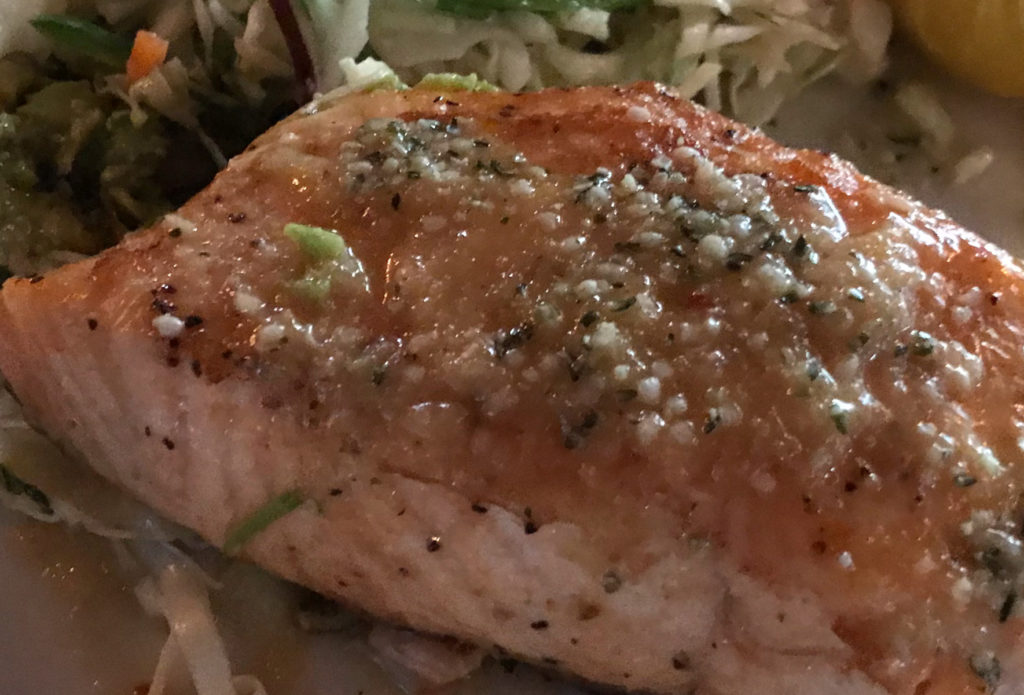 Eat fresh Seafood from the Gulf of Mexico and the Pacific Ocean. Charro del Rey has just opened in downtown Tucson and our experience here was devine!
The Catholic built some beautiful Missions. The dove of the desert, San Xavier established by Father Kino in 1692. It's interior is filled with marvelous original statuary and mural paintings and it is the oldest intact European structure in Arizona.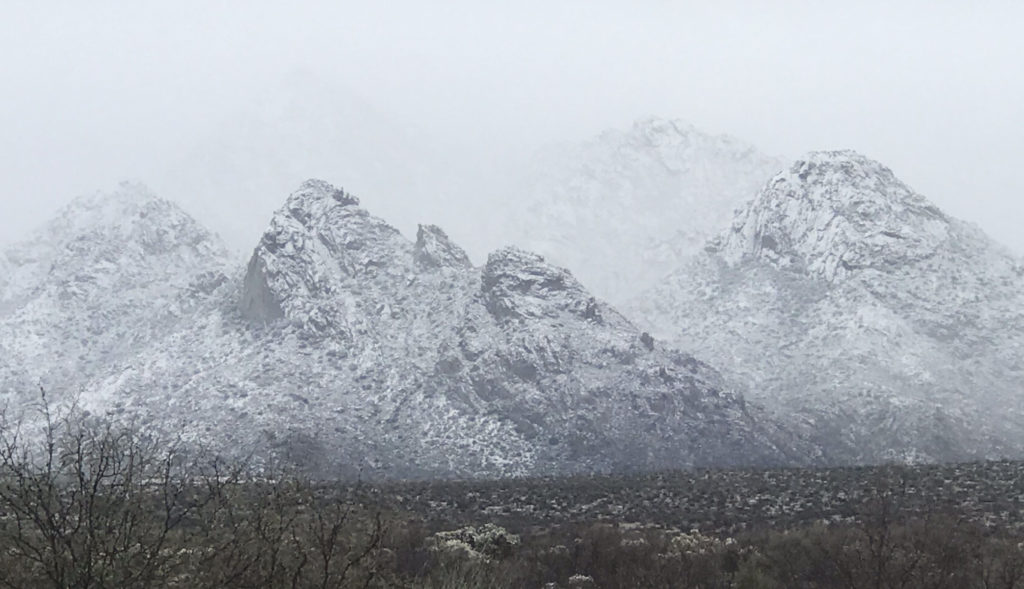 Yes, we have snow and skiing! Take a drive to Mt Lemmon. It is home to the most southern ski area in the USA. Thankfully, this beautiful scene is rare down in town.
The Indian reservations around Tucson boast 4 Casinos with gambling, concerts, and events.
Catalina State Park on 5500 acres northwest of town offers, hiking, camping, horseback riding and home to over 5000 saguaro cactus.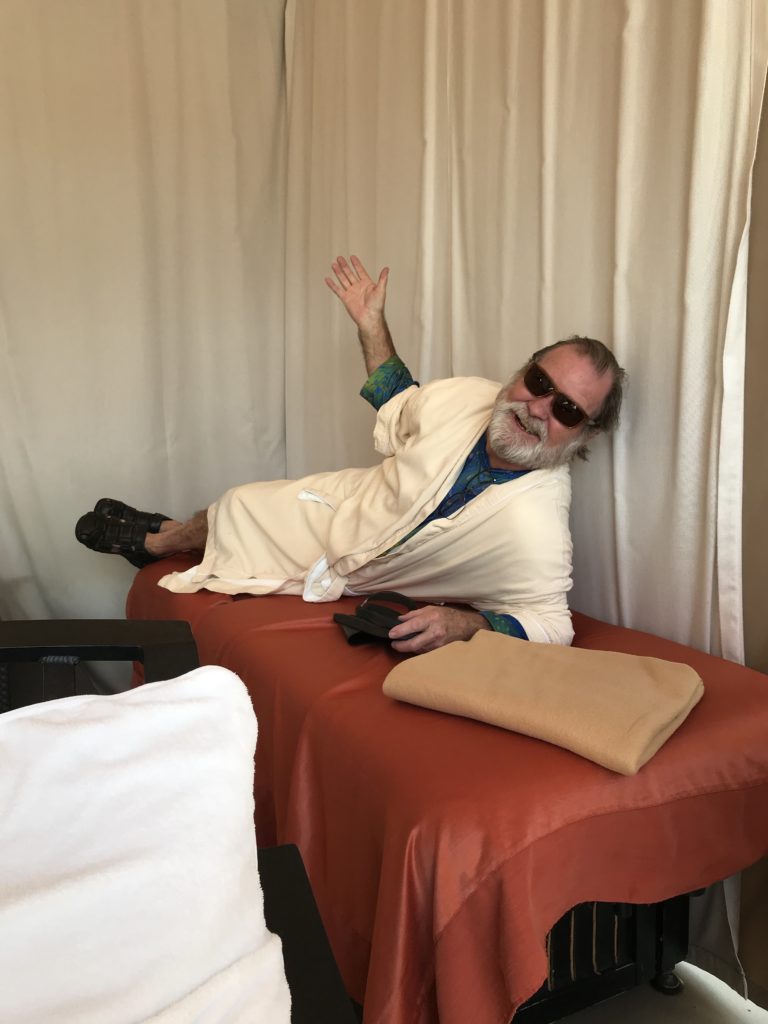 Tucson is home to world-renown destination spas, such as Miraval Arizona Resort and Spa and Canyon Ranch. Relax and get a massage.
Cowboys are part of Tucson's heritage. Go horseback ridingfor an afternoon or play cowboy by staying at a dude ranch like Tanque Verde Guest Ranch.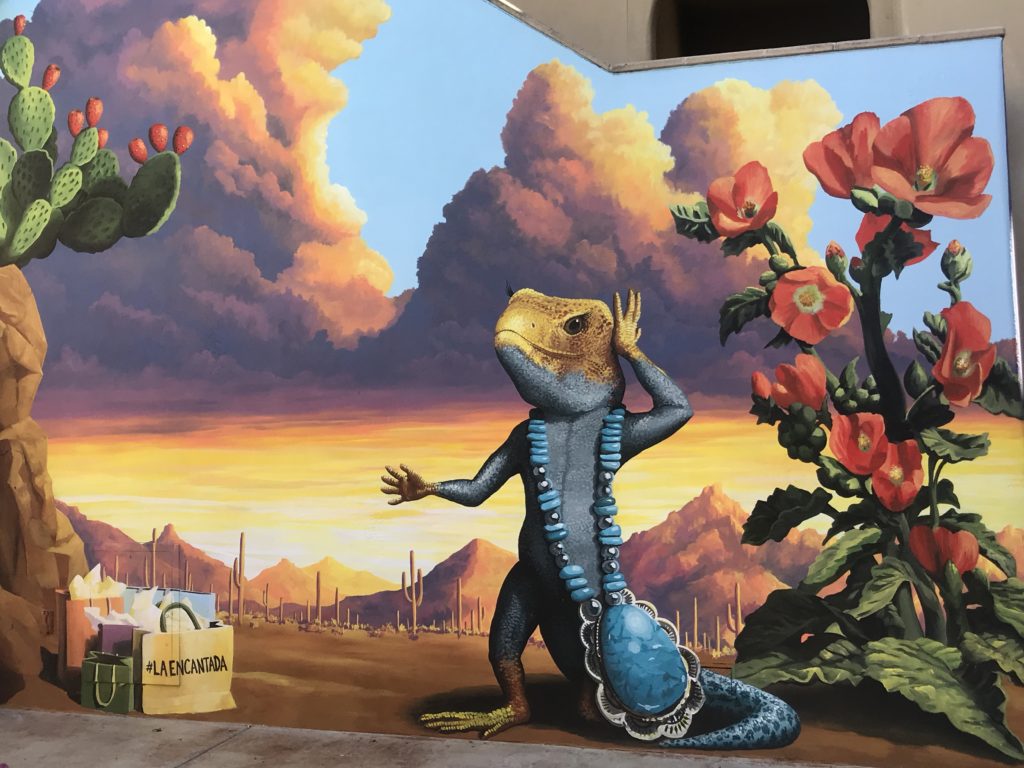 La Encantada is the place for Upscale Shopping and Fine Dining. Take your hundred dollar bills or credit cards. This isn't budget friendly!
With 2 locations, one downtown and one in Oro Valley, Children's Museum Tucson is the place kids under 5 can play in the hands-on exhibits and have fun.
Quirky and eclectic shops and restaurants line Fourth Avenue. Twice a year, in December and March, hundreds of vendors set up in the middle of the streets for The Fourth Avenue Street Fair. I have fond memories of the many years my Backporch Feather and Leather wares were sold here. The streetcar runs through it!
"A" Mountain (or Sentinel Peak) looms just west of downtown with a large red, white and blue A, a tribute to the winning U Of A teams. There's a short drive to the top with a view.
Water is so uncommon in this desert. So, the hike to Romero Pools is a treat. The Romero Canyon Trail to Romero Pools is a 5.5 mile back trail rated as moderate. Horses are also able to use the trails.
Located on the U of A campus, you'll delight in the exhibits at the Flandreau Science Center and Planetarium
Rock climbing indoors or outdoors is popular year-round .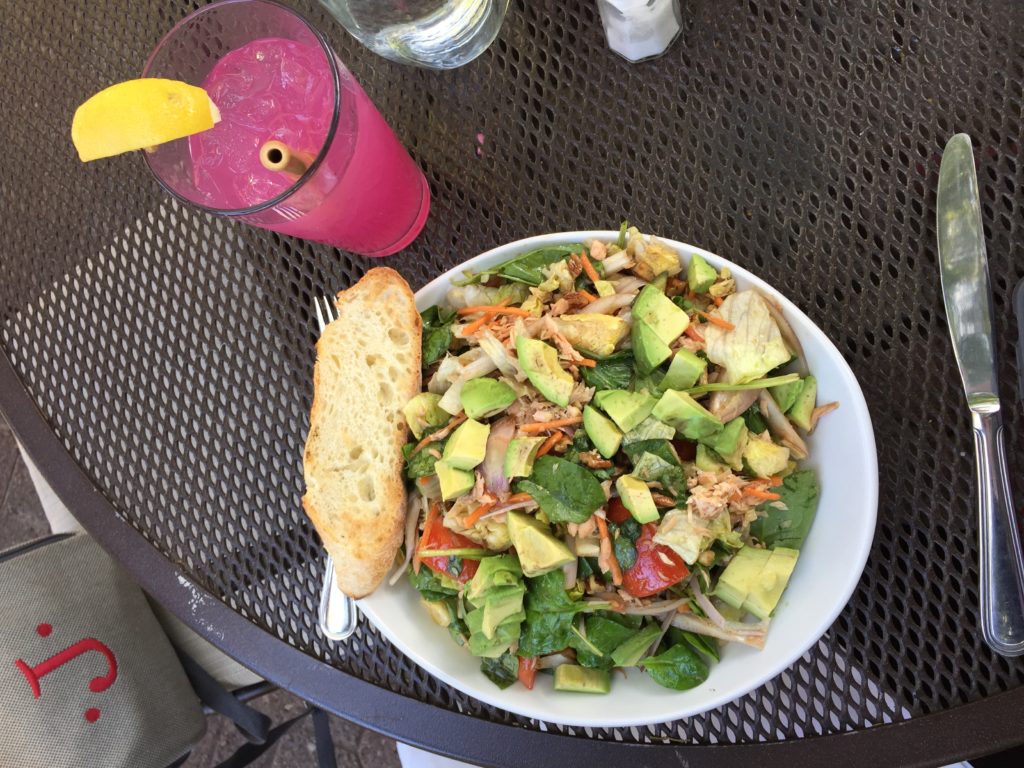 On 37 acres, Tohono Chul Park has been called one of the world's great botanical gardens. Have lunch in their Bistro after wandering the many trails.
Shop Tucson's Farmers Markets for organic veggies and meats, local honey and salsas, and crafts.
For music, food, libations, and crafts, Monterrey Court is an old motel repurposed into a Tucson Hotspot.
Take the tram or walk up the 3.8 miles of paved road to the top of Sabino Canyon crossing over 9 stone bridges on your way. Running creek water and stunning views will convince you the desert is beautiful.
The horses run in the Spring at the historic Rillito Race Track. Quarter horses have been racing there for over 50 years. It's always quite a party.
The Valley of the Moon is an enchanted mecca tucked away in mid-Tucson that presents a variety of events to delight all ages. It was built by George Phar Legler in the 1920s to promote kindness, imagination and mental health. Take the kids or your inner child. I love taking my grandkids here.
The beautifully restored Fox Theater the site of approximately 150 musical performances each year. Built as a dual vaudeville/movie house in 1930, it was reopened in 2006. I love going here and reserving a balcony couch to cuddle with Bub.
Craft Beer has come to Tucson. There are currently 20 local breweries.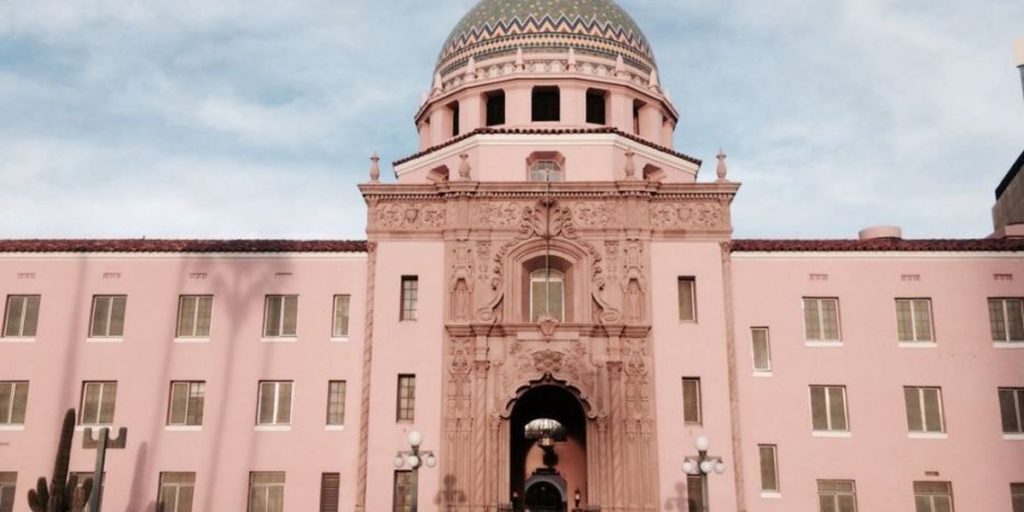 Tucson's historic, pink Spanish Colonial Courthouse was built in 1929. Its mosaic dome is one of the Old Pueblo's most recognizable structures. A portion of the east wall of the original Presidio of Tucson runs through the courtyard and is marked with a strip of granite.
A perfect place to make your wishes come true is the El Tiradito Shrine tucked away downtown. This Historic Site is the only shrine in the United States dedicated to the soul of a sinner buried in unconsecrated ground.
At the Tucson Botanical Gardens you'll meander trails through specialty gardens devoted to plants of our Sonoran Desert. The annual butterfly exhibit is a chance to be immersed with hundreds of butterflies inside a greenhouse pavilion.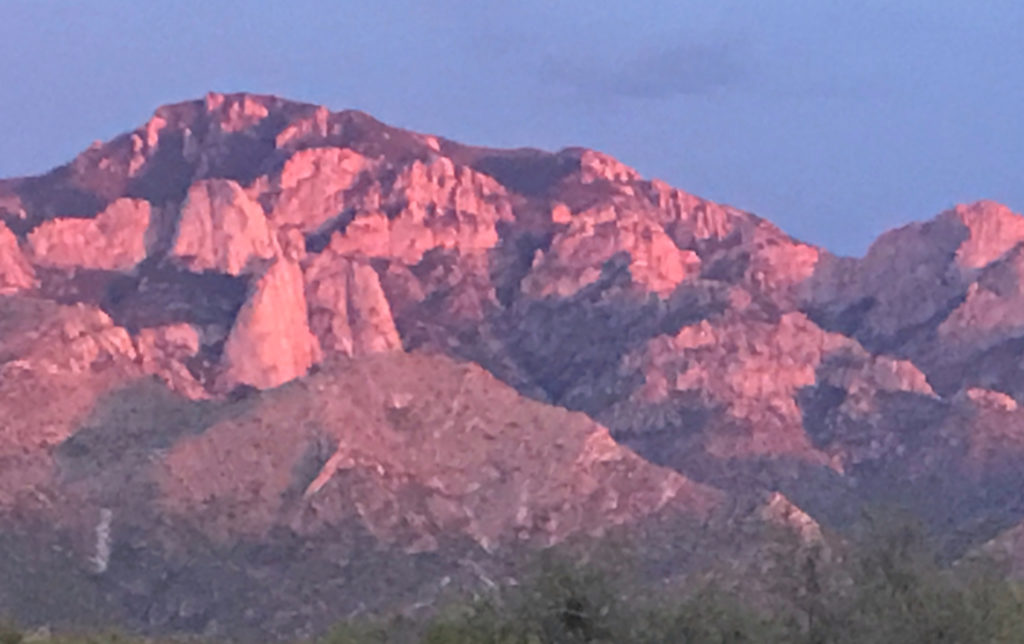 When the mountains turn pink, it's time for a drink…Enjoy one of the great Happy Hours. A favorite of mine is Maynard's Kitchen at the train depot.
Have you ever petted a porcupine or a capybara? You can do that and more at the Funny Foot Farm and Tucson Petting Zoo.
Colossal Cave is the place to go when it is 110º outside. There is a 2400 acres park with a crystal-filled cave. The temperature is always 70 º.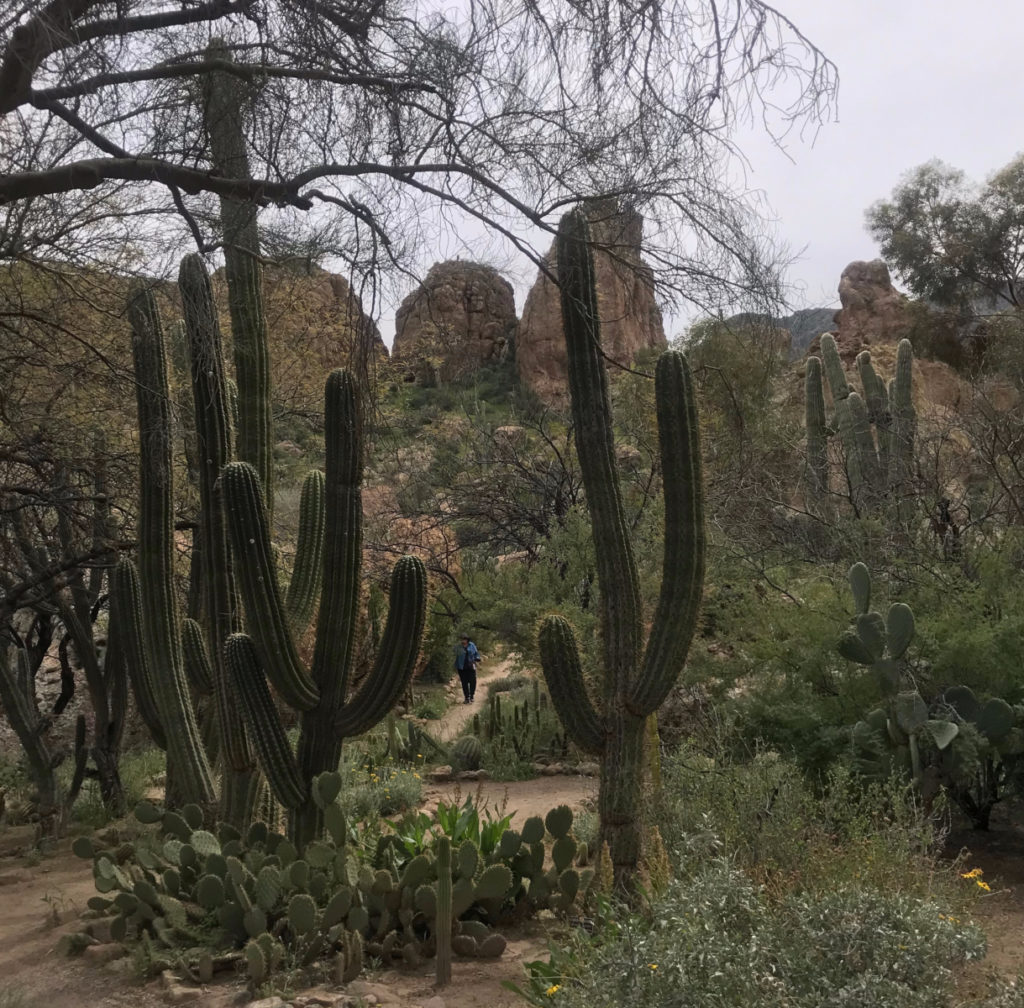 Instead of trees, the Saguaro National Park features tall saguaro cactus and ancient Hoboken petroglyphs Over 93,000 acres, its 2 sections are on either side of the city of Tucson.
A wonderful place to stay mid-town is the historic Arizona Inn. It has been family owned and operated since its creation in 1930 by Isabella Greenway, Arizona's first congresswoman. I love their clay tennis courts.
Look up! Stargazing in Tucson-the astronomy capital of the world-is spectacular due to the dark sky ordinances and the dry climate. You'll find lots of telescopes available from a bar, libraries, Kitt Peak and Mt. Lemmon .
As I said….I LOVE Tucson. Do you have other favorites?