Sunday, November 10 Day 4 Albuquerque
The day begins at 5:20 AM in the hotel lobby catching our transportation to the hot air balloon ride! I am so excited, as this is my first hot air balloon ride. And a little apprehensive too since I am not all that fond of heights.
Rainbow Ryders
We travel to the headquarters of Rainbow Ryders. Besides our group, there are lots of other sleepy people who are ascending to the skies today. It's pretty chilly out and I am glad I have brought layers of clothes and my gloves and hoodie.
After signing our waivers, we are divided into groups to go with our pilot out to the launching area. Twelve of us are going with Troy. Brenna says he is the best and she hasn't steered us wrong yet.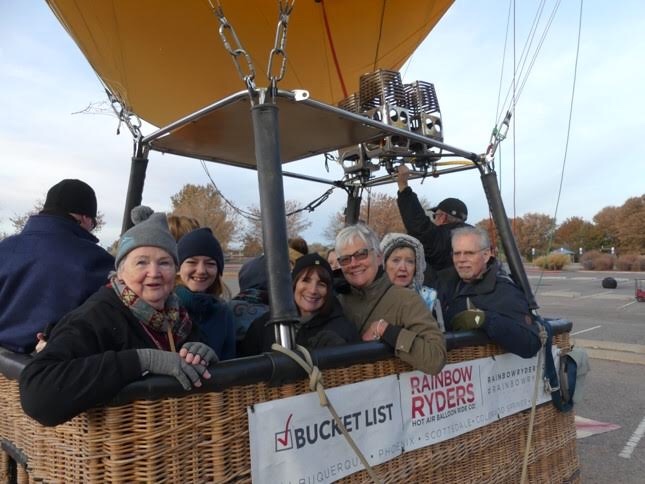 It takes about half an hour for the trailer to be unloaded and the fans turned on to blow up the balloon, but finally, it is upright and we can climb in. We are closely packed in with six of us on each side of the basket. Troy gives us some instructions and information on how it all works-the balloon can be maneuvered up and down with blasts from the gas, but it is at the mercy of the winds to go in other directions.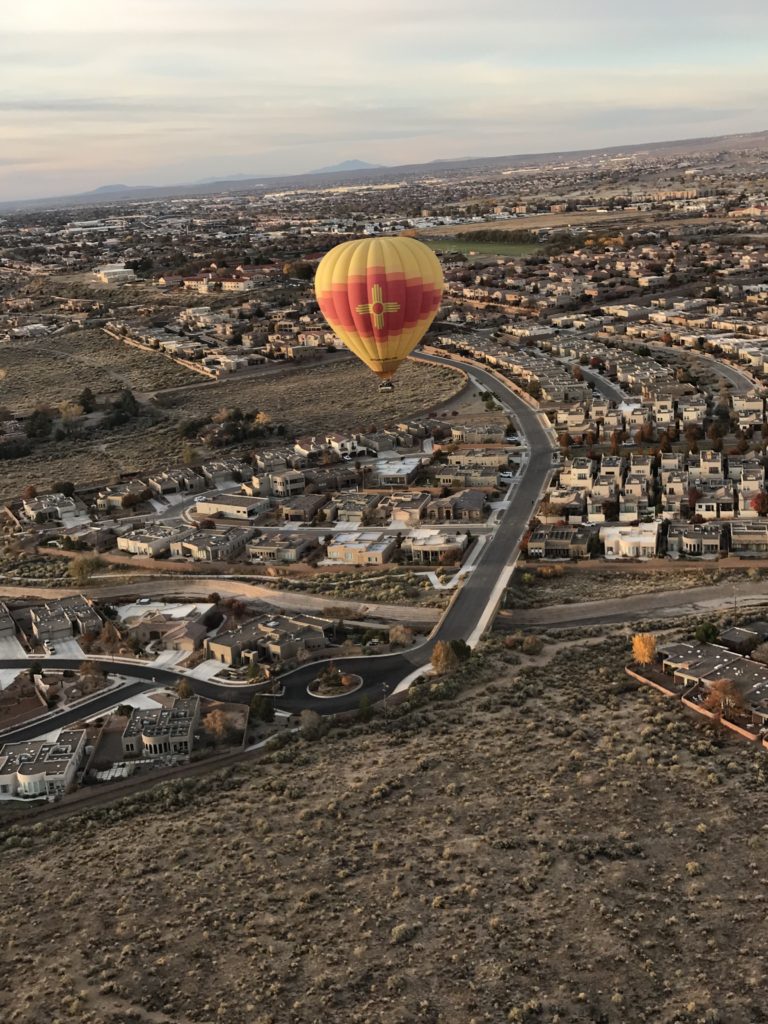 We gently lift off. About 6 other balloons are taking off from this launching area as well. Troy explains we will see other balloons at all altitudes and even if they look quite low, it is intentional. As we get higher, we can see the Rio Grande River and houses and fields stretch out below us.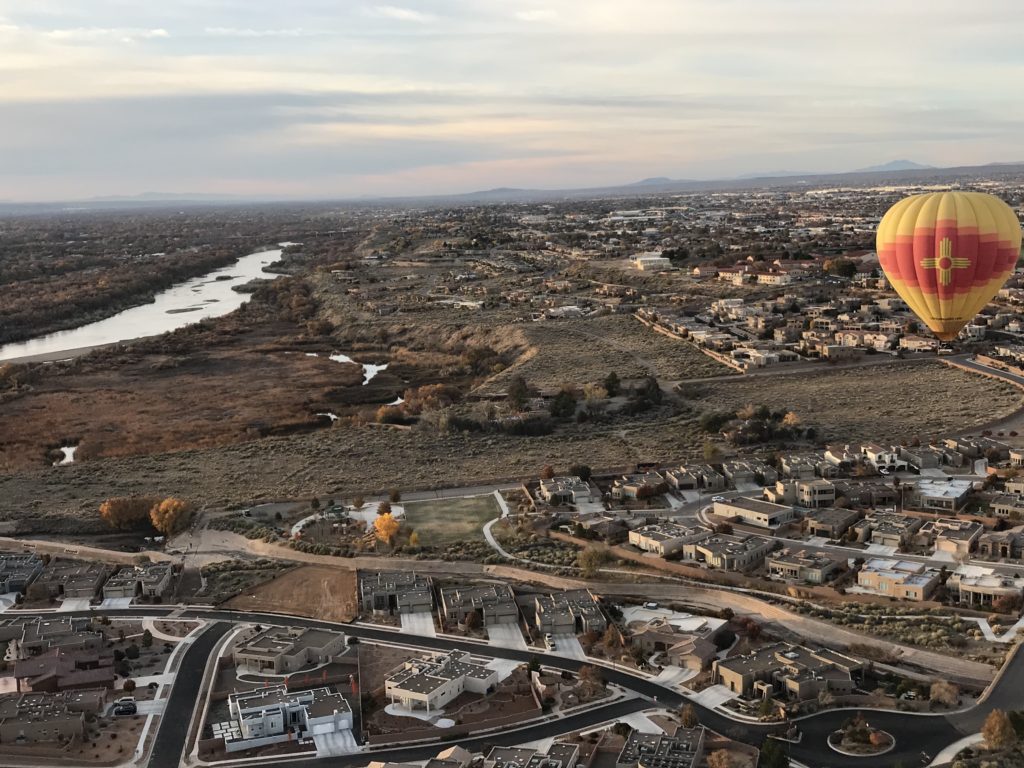 For an hour, we go this way and that. Troy said we don't feel the wind because we are traveling with it. It's peaceful and quiet except for the bursts when the gas is turned on. Constant communication with the ground yields information about wind direction and speed.
We land on a golf course, all leaning to one side so the basket stays upright and doesn't tip over.
As the chase crew take over and deflate the balloon. We have the celebratory champagne.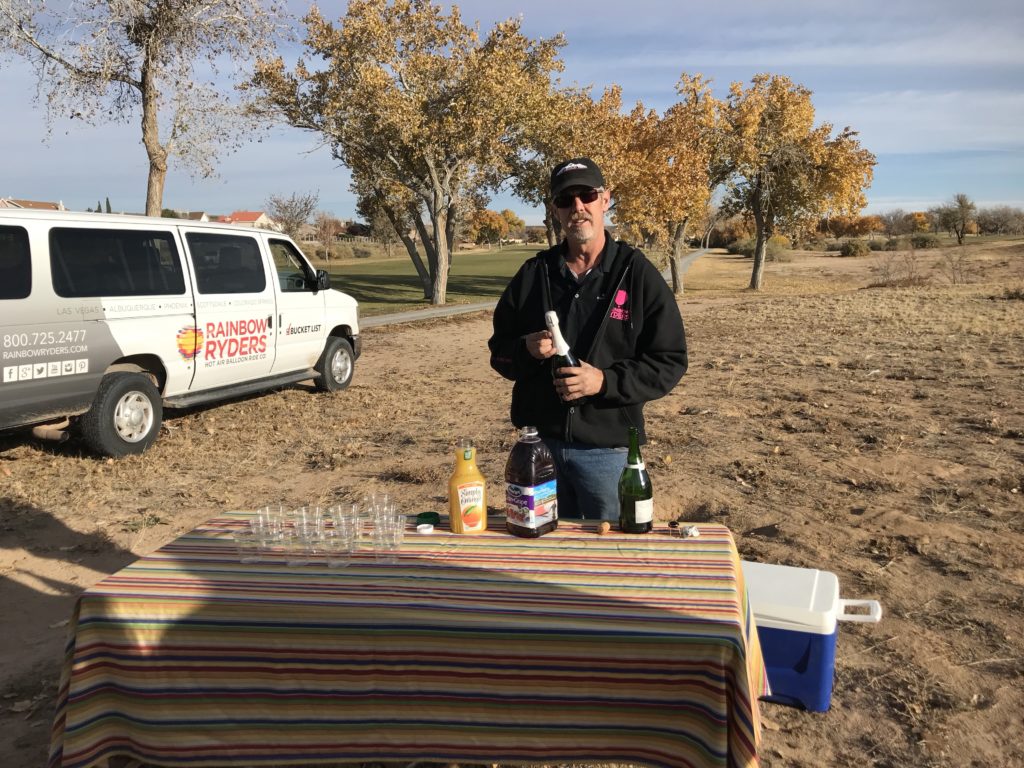 Brunch at CAMPO
Fortified with Champagne, we head to brunch at CAMPO at Los Poblanos Historic Inn & Organic Farm. Yes, I know I told you about this restaurant in Day 2. How lucky I was to get to eat here twice!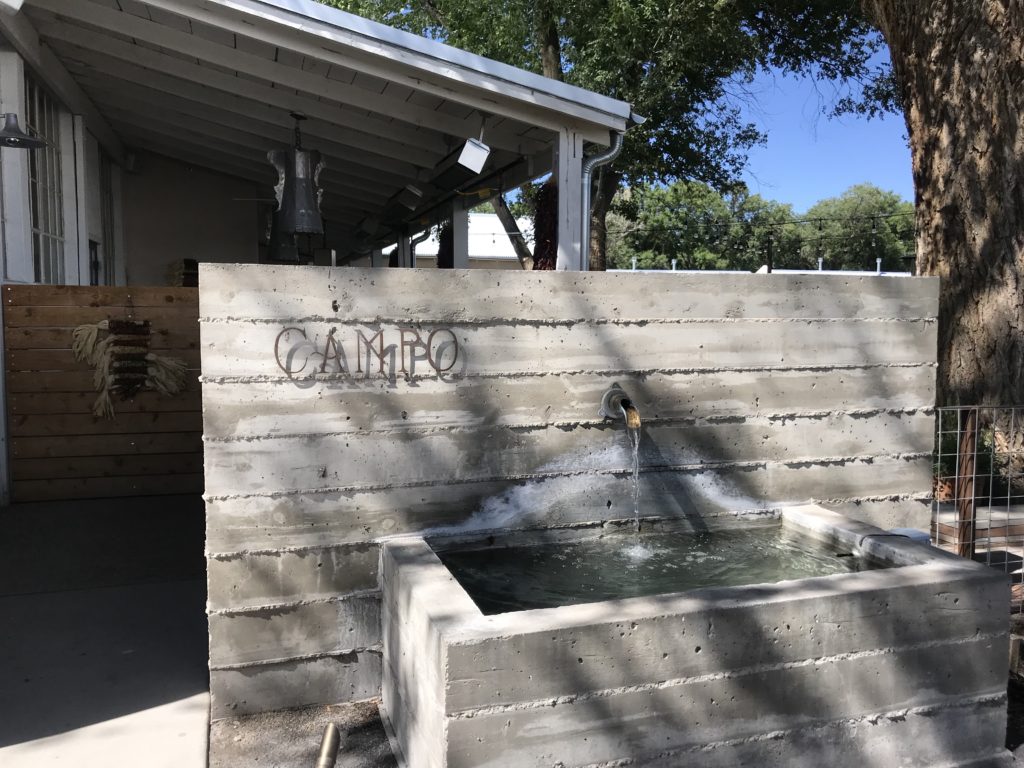 I was unaware of the smaller dining room off to the side of the kitchen. Our large group had a table down the length of the room and enjoyed delicious hot chocolate and coffee and pastries.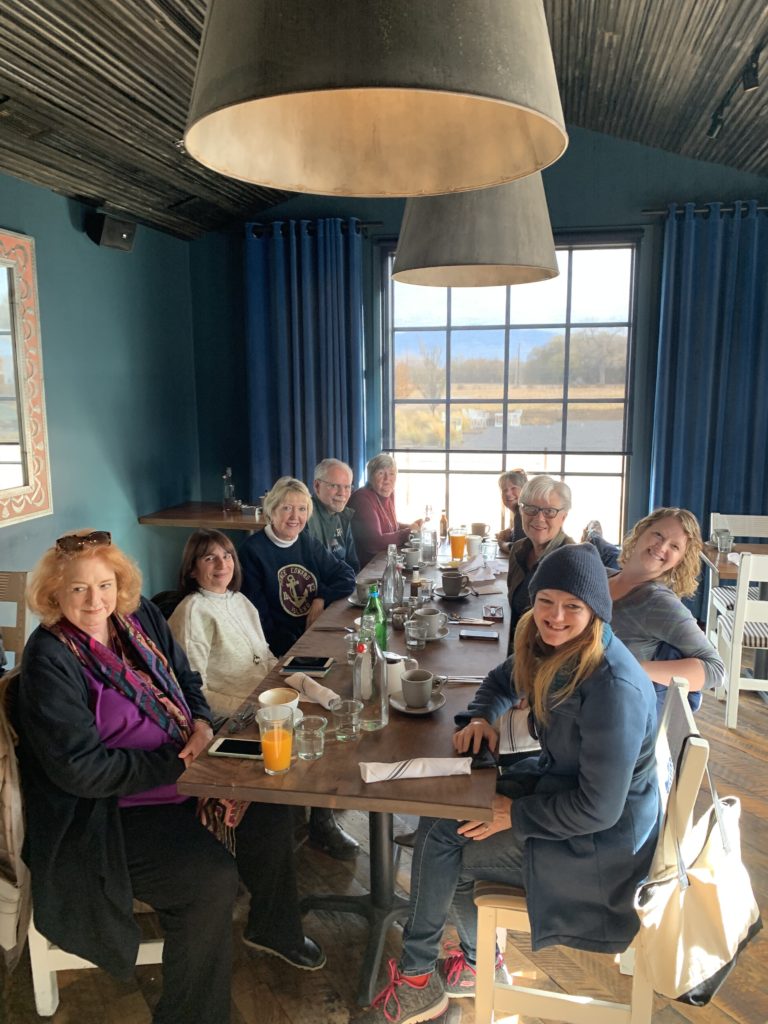 I began to get smart about how much I could eat and opted for a half serving Eggs Benedict.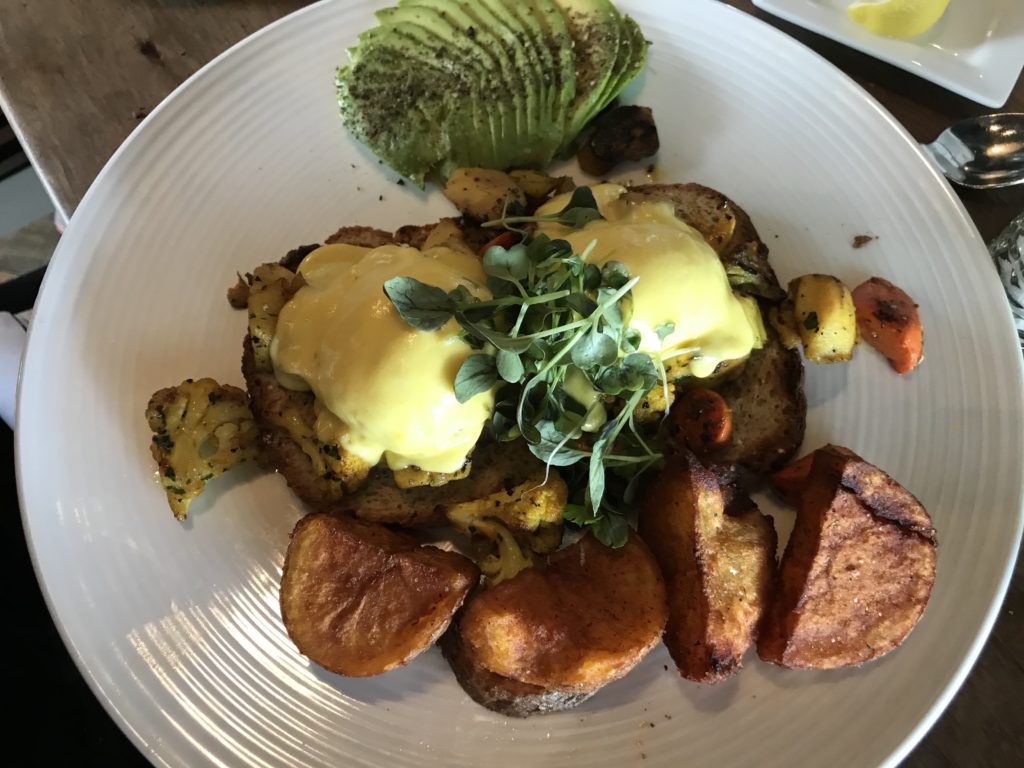 The hearty herb crusted potatoes were seasoned with a blend from the farm shop. I bought some of this last summer and love using it. It even has lavender in it!
Indian Pueblo Cultural Center and Pueblo Harvest
Having survived the morning and eaten well, it's time to go get some culture! Yesterday, we passed by the Indian Pueblo Cultural Center on our city tour and today we get to visit. There are 19 Indian Pueblos in New Mexico. The Center showcases the history, culture, and art with a permanent collection housing thousands of rare artifacts and works of art. Exhibits of historic and contemporary Pueblo pottery, as well as baskets, weaving, painting, murals, jewelry, and photographs, are on display.
My favorite performance was the Zuni Olla Maidens who balance large ceramic bowls while dancing. This tradition has long been part of the Zuni culture.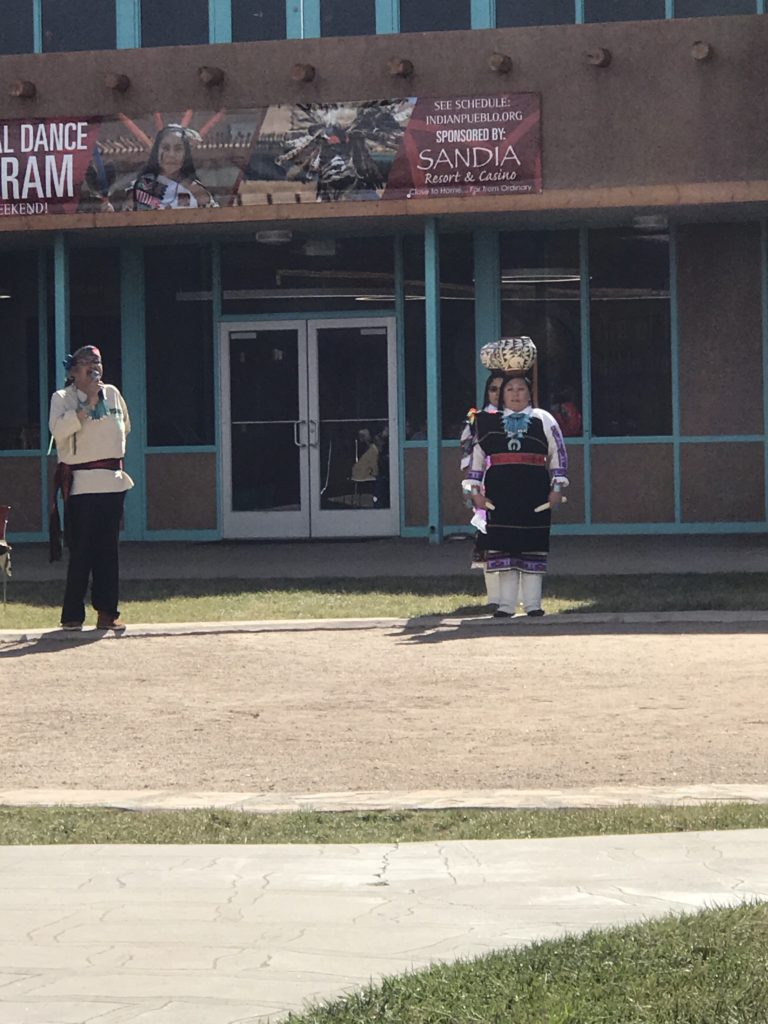 The sun has warmed the day. As we arrive, in the courtyard there is a Cachini Dance Group featuring Zuni Indians at the Indian Pueblo Cultural Center. Music and singing accompany the dancers.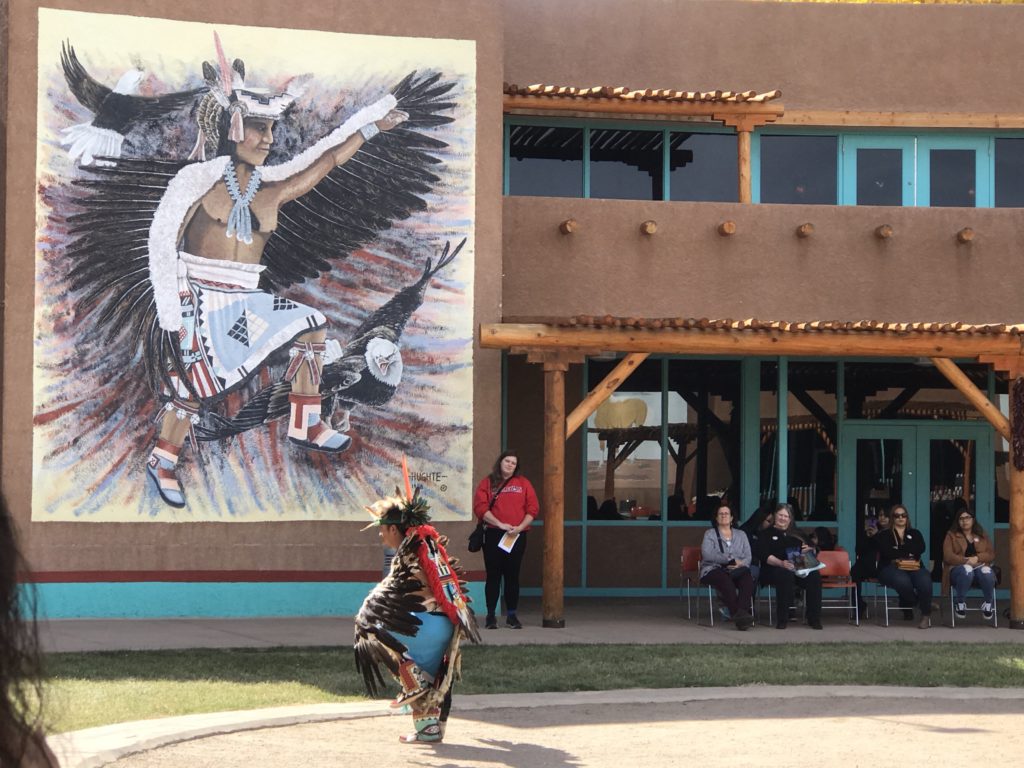 After the performances, we spent time in the exhibits. Touching stories of Indian women and the challenges and the contributions they've made were chronicled with pictures.
Then we sampled Pre-Contact menu items from Pueblo Harvest. This is a full-service restaurant, open all day with Native foods from times of pre-European-contact through contemporary favorites. Most ingredients are sourced from the Pueblos of New Mexico. Most of us were still full from brunch, but we sampled the Blue Corn Onion Rings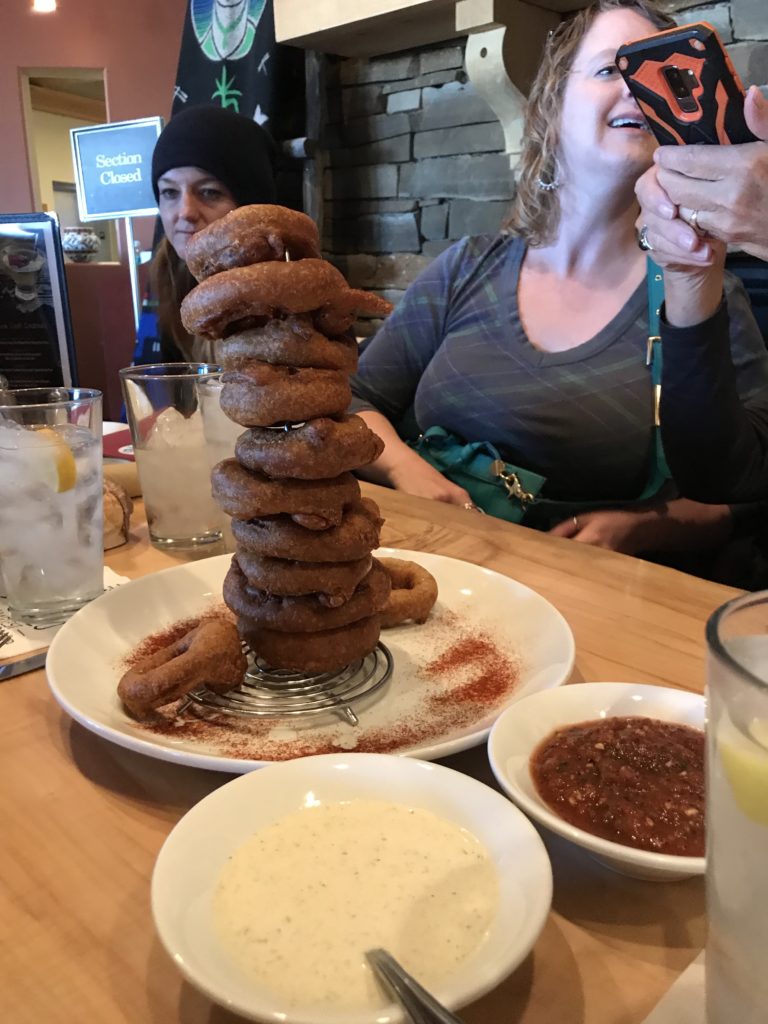 And the Golden Fried Amaranth and Corn Fritters.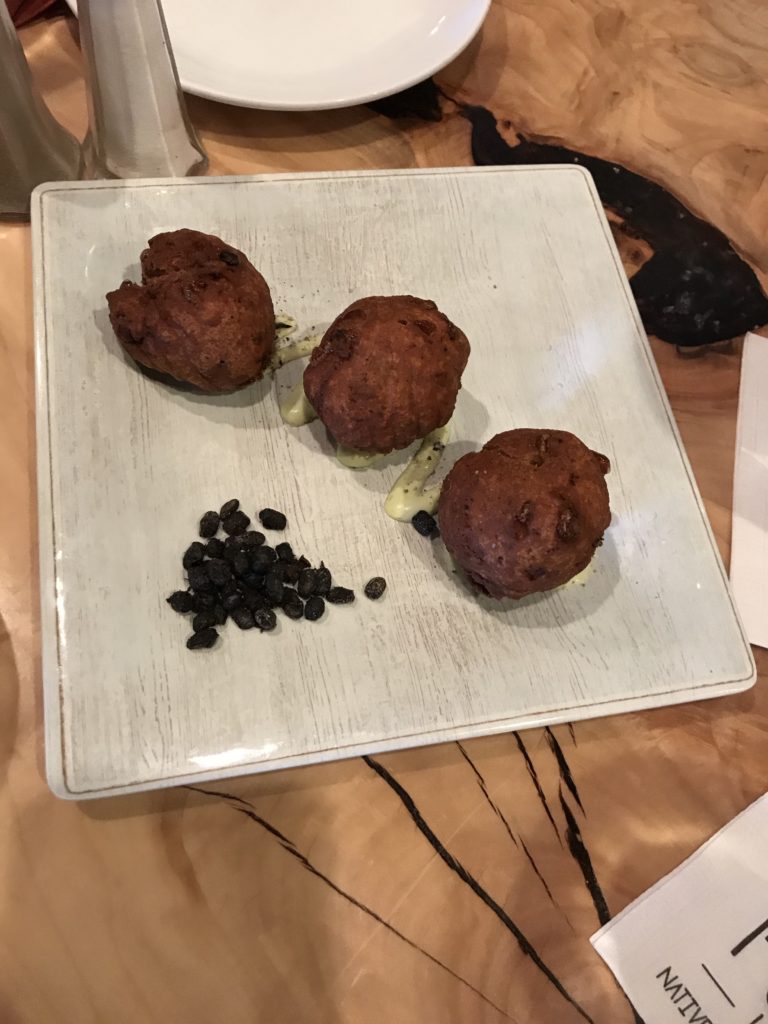 Back to the hotel for a short break from activities. I used this opportunity to take a nice dip in the Chaco spa outside by the pool. The hot bubbly water was just perfect. I think my muscles were a little sore from yesterday's bike ride. Ahhhhh……
Hotel Chaco's Craf+ed Tasting Room
Late afternoon, we visited to the brand-new Craf+ed tasting room within Hotel Chaco. Open every afternoon for wine tastings, it is a great way to sample the wines and spirits being made in New Mexico.
Our bartender served a nice flight white and red New Mexico wines, giving us more appreciation for the varieties grown here.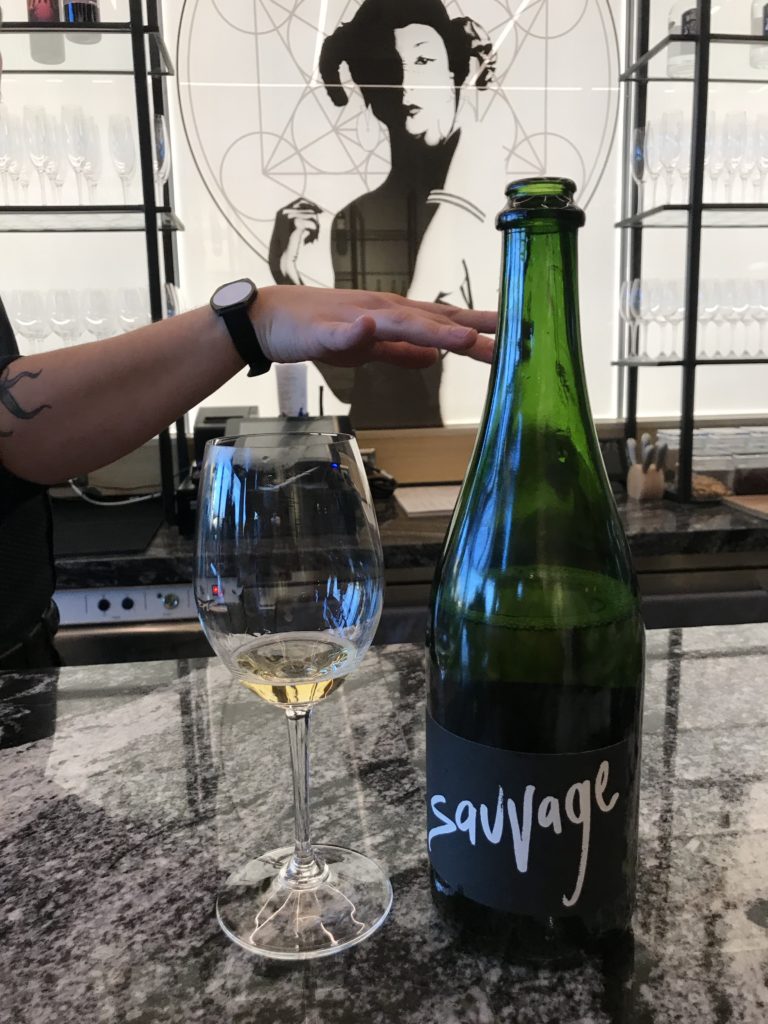 The sun was getting ready to set, so we made our way up to the 5th floor, where the wrap-around roof-top patio that offered stunning views of the city and the Sandia Mountains. The Spanish word for watermelon, Sandia, describes the bright pink that the mountains turn at sunset. The full moon was rising over the mountains as the sunset, making for a glorious backdrop to enjoy our happy hour!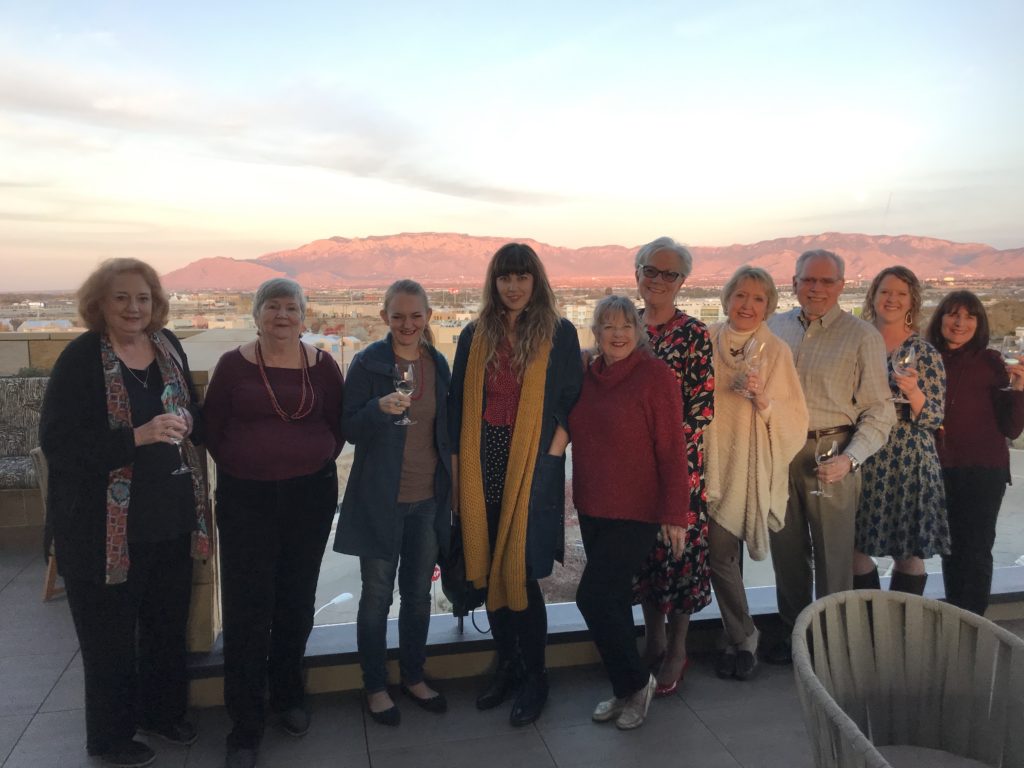 We went back downstairs to finish our tasting. After the wines, we were poured a spirit—Wheelers Gin—to finish with. The gin is infused with juniper and sage. It was quite tasty
Tablao Flamenco Albuquerque
Did you know that Albuquerque is the Flamenco capital of the US? We walked next door to Hotel Albuquerque, directly west of Hotel Chaco. Here, the Tablao Flamenco Albuquerque performances are held on weekends. Traditional Spanish tapas and more fine wine were passed around. The lights went out and the stage lit up with the beauty and excitement of the music, songs and Flamenco dancing.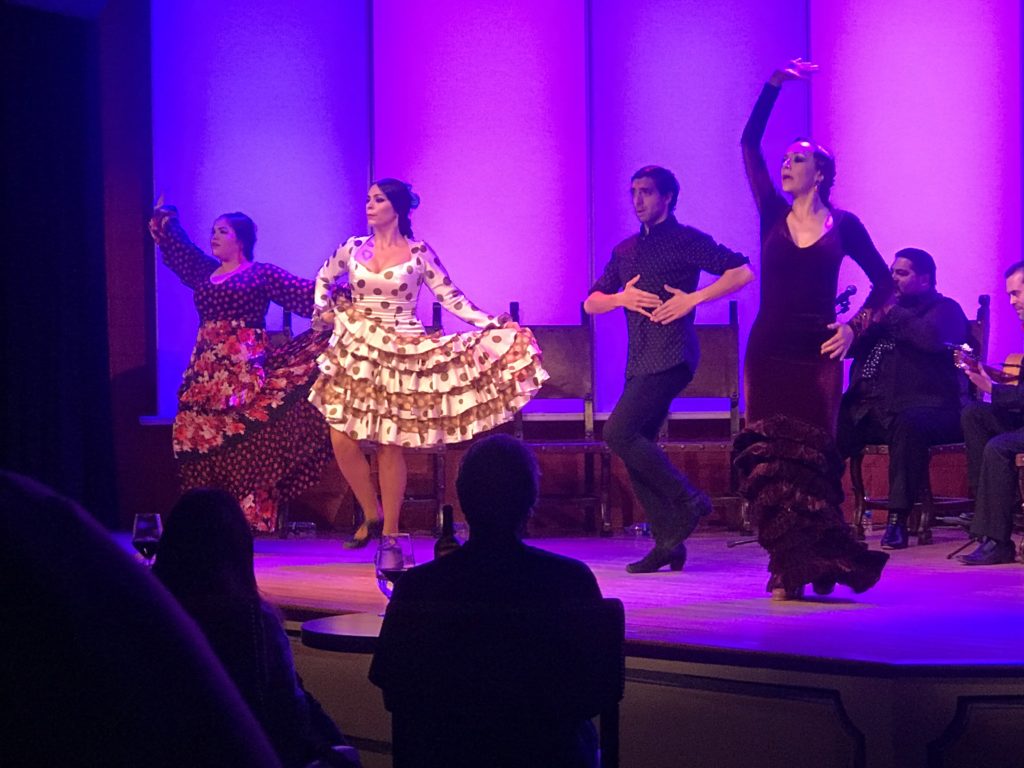 MÁS Tapas y Vino
Now it was time for dinner!
We were hosted at MÁS Tapas y Vino within Hotel Andaluz.
I was a party-pooper and just could not eat or drink anymore, so I offered my apologies but went back to my comfy room.