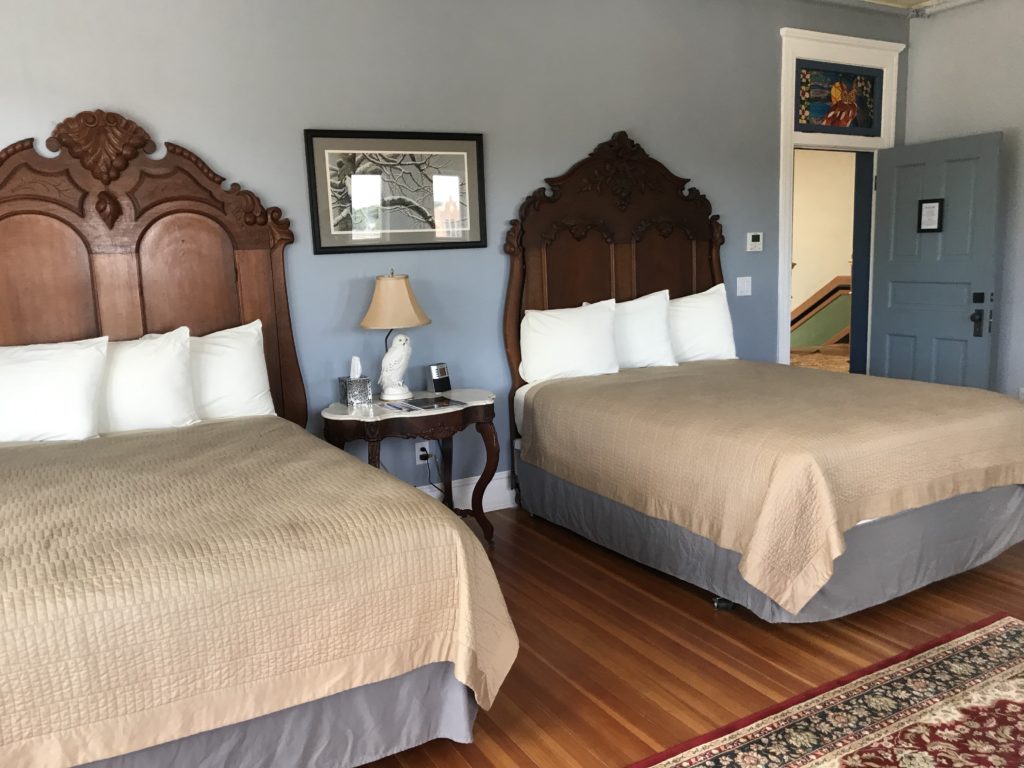 July 8, 2019 Day 30
Miles 160 Begin Las Vegas, NM To. Albuquerque, NM
Roads Traveled. Interstate 25
Slept at Los Poblanos Historic Inn and Organic Farm, Albuquerque, NM
The view this morning is an empty square below our third story Plaza Hotel windows with every trace of yesterday's frivolity gone.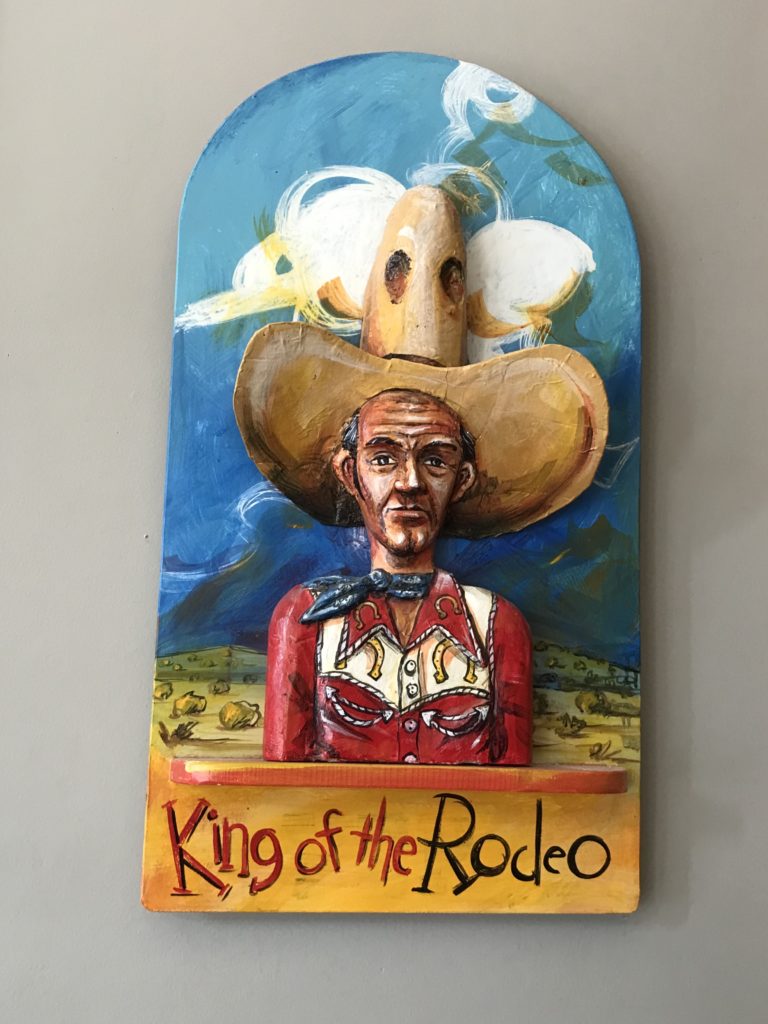 Bub watches early morning Wimbledon: The amazing 15 year old upcoming superstar, Coco Gauff lost to Simona Halep but made history in getting that far; Roger Federer won his match definitively.
I go downstairs to meet with Diane Kasha, manager of both the Plaza Hotel and the Castañeda Hotel. Wow—what a job. Obviously well suited to working while chaos swirls around, she has been here since before Allan bought it and brought it back to life. She said there were nights in the beginning when they only had one guest in the hotel. It's now a joyful place to stay. Each room is named after a famous person who has stayed here.
The rooms and hallways are filled with books.
The lobby has a coffee shop with delectable treats that is strategically placed so you have to walk right by on your way in or out!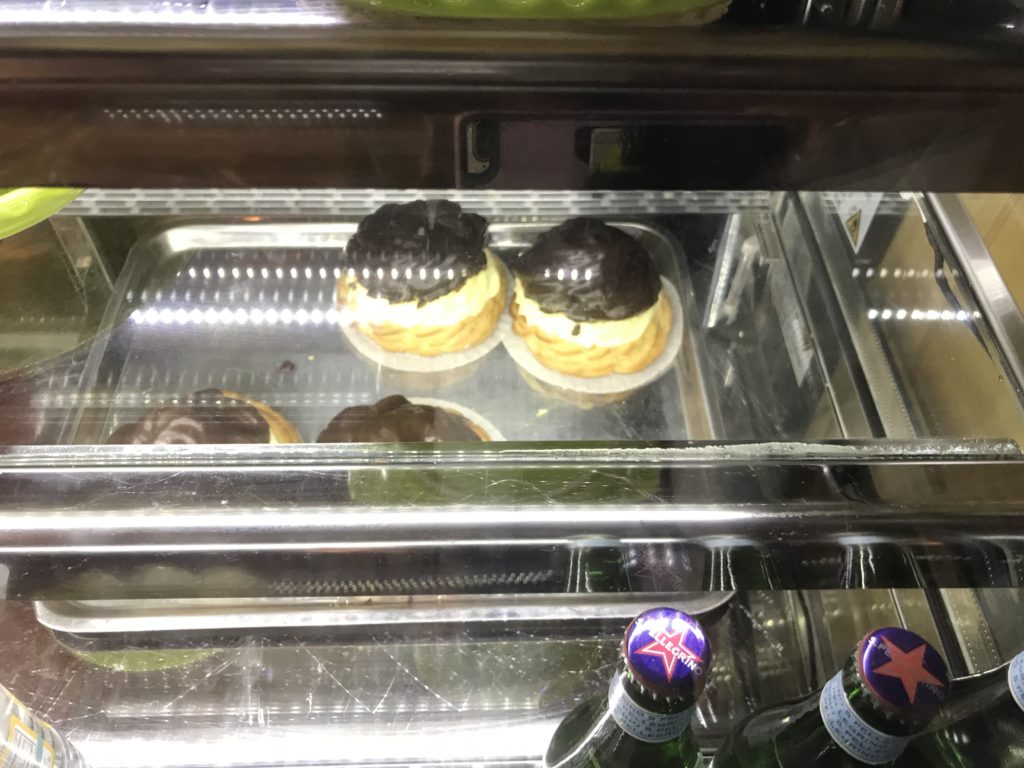 I wrote a long article on Las Vegas and our stay last year. It's a fun, off the beaten track little town with lots of history.
Diane arranged for Yvonne, at the Castañeda to give us a tour after we check out of the Plaza.
The Castañeda lobby and bar area have been restored as close as possible to the original. The restored tin ceiling looks like new. Fifty local craftsmen have been involved in every phase.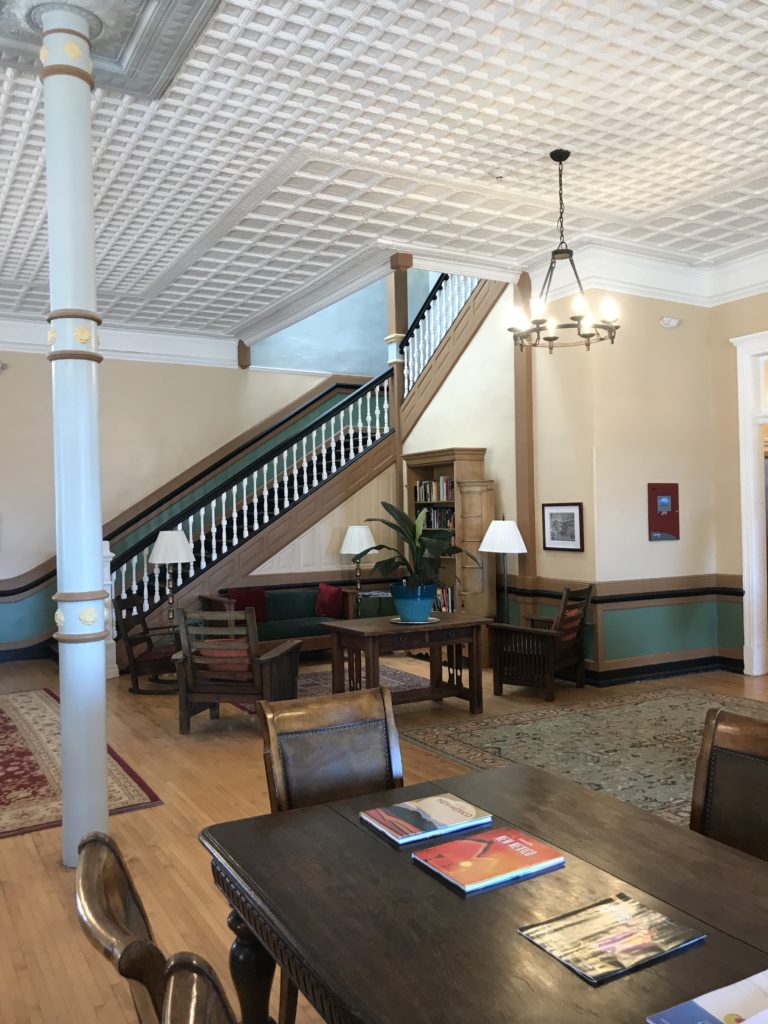 The hotel opened a few months ago with 13 sleeping rooms and suites. The original steps take us up to the rooms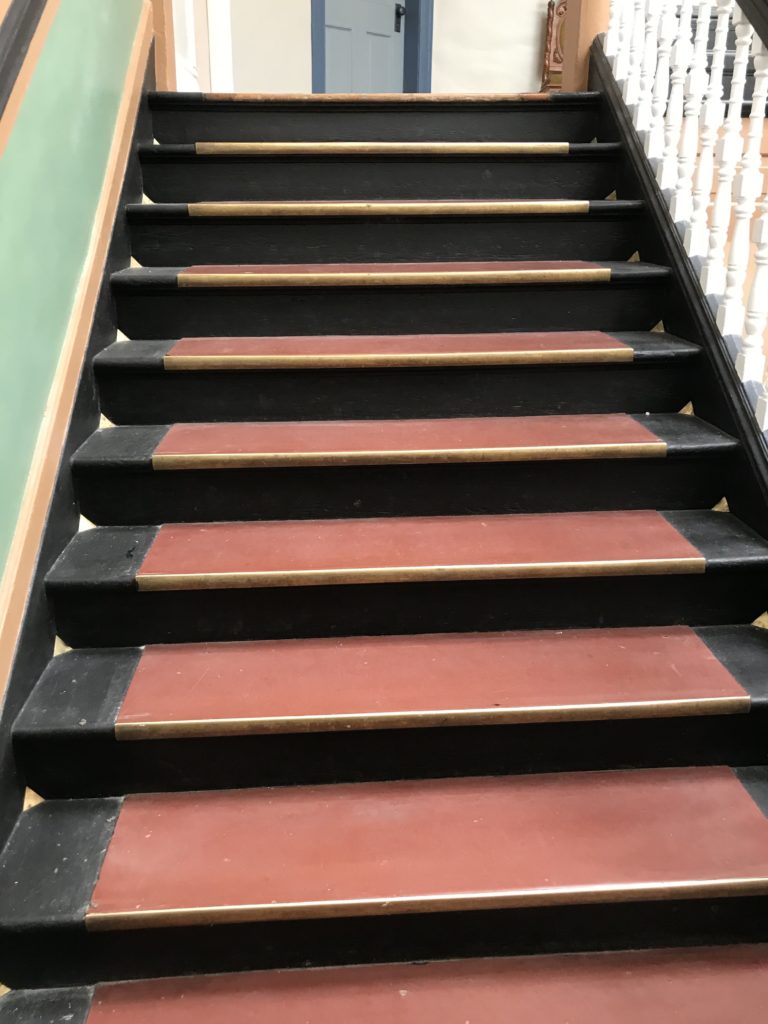 The beds and furniture are all beautiful antiques, some from the recently remodeled La Fonda Hotel in Sata Fe. Seven more rooms will be available soon.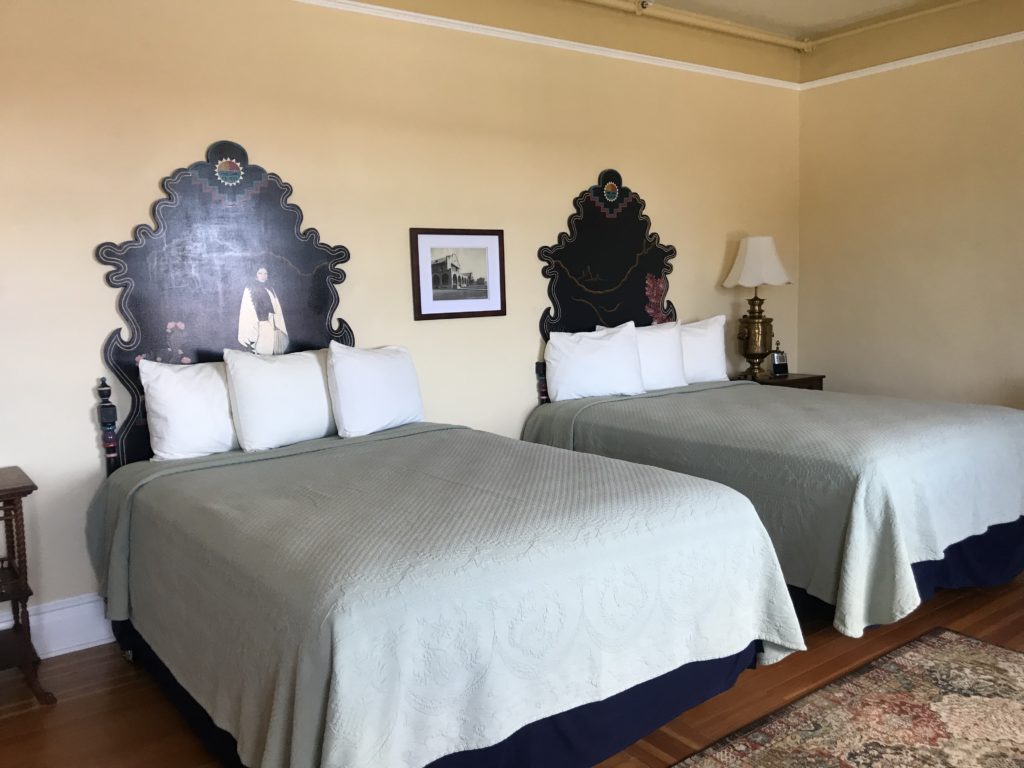 Each room is themed and named after a Fred Harvey Hotel with the history posted on the door.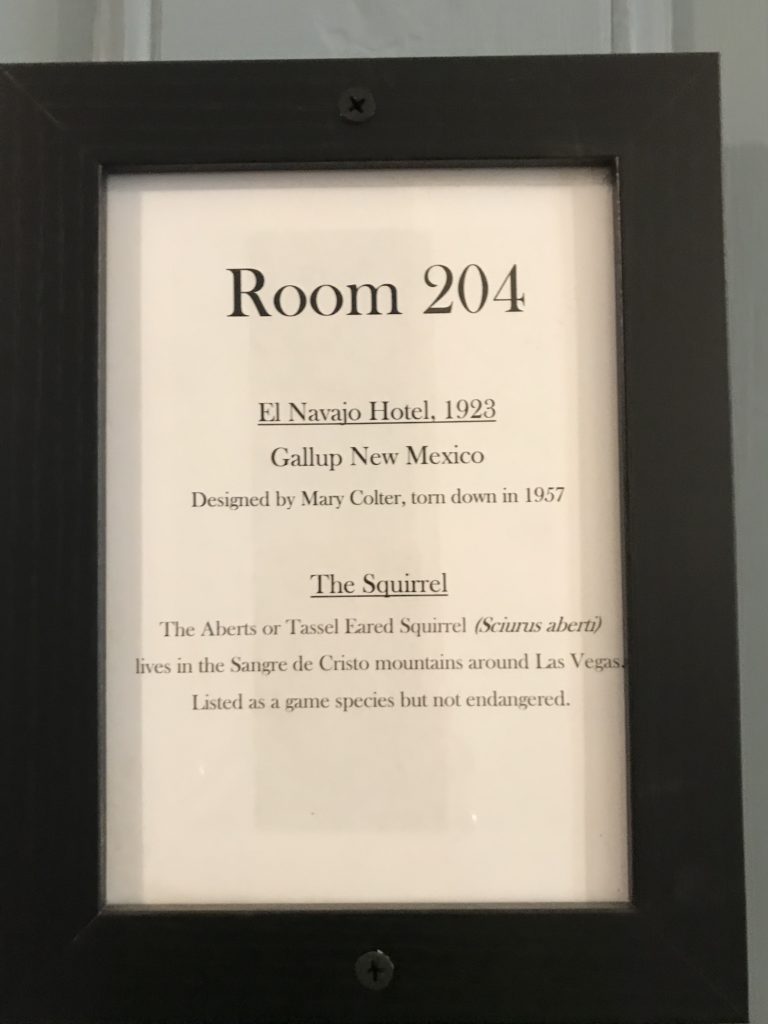 Allan Affeldt's talented artist wife, Tina Mion is creating paintings above each entry door.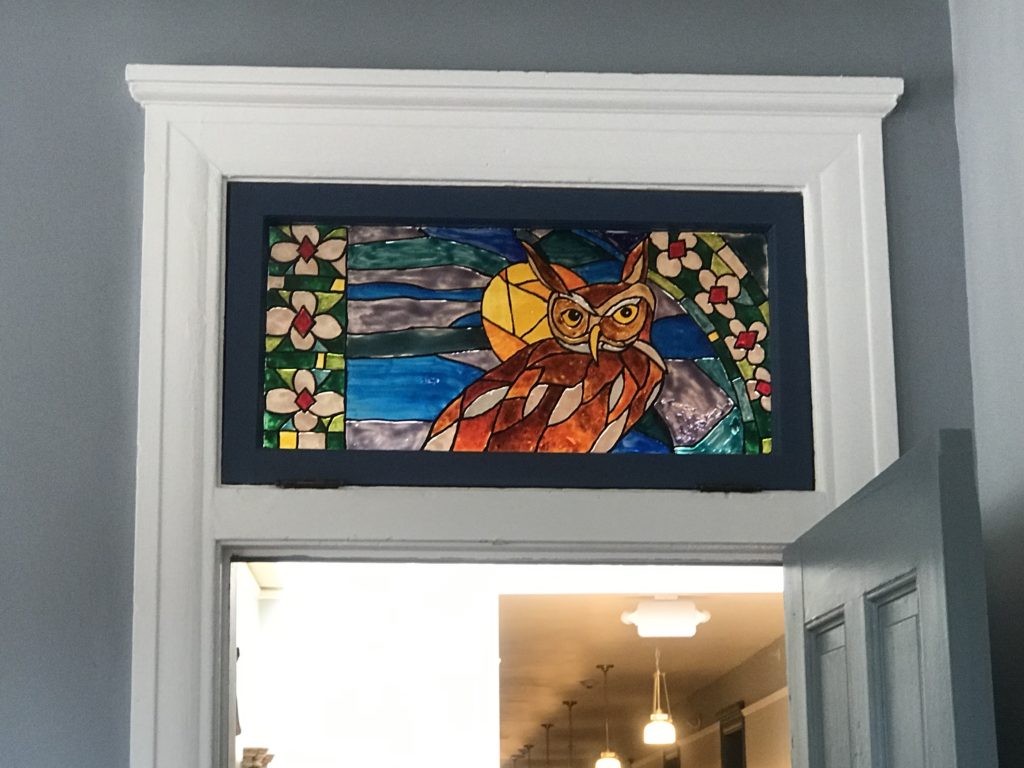 I'll be writing and posting much more about this hotel in the coming weeks.
On the road again for a short, two hour drive to Albuquerque through Santa Fe. I drove my hippie schoolbus on this route in 1971 and the drive from Santa Fe to Albuquerque hasn't changed much at all. Little bushes punctuating the rolling high desert sands.
Northwest of Albuquerque, Los Poblanos Historic Inn and Organic Farm occupies 25 acres mostly planted lavender fields.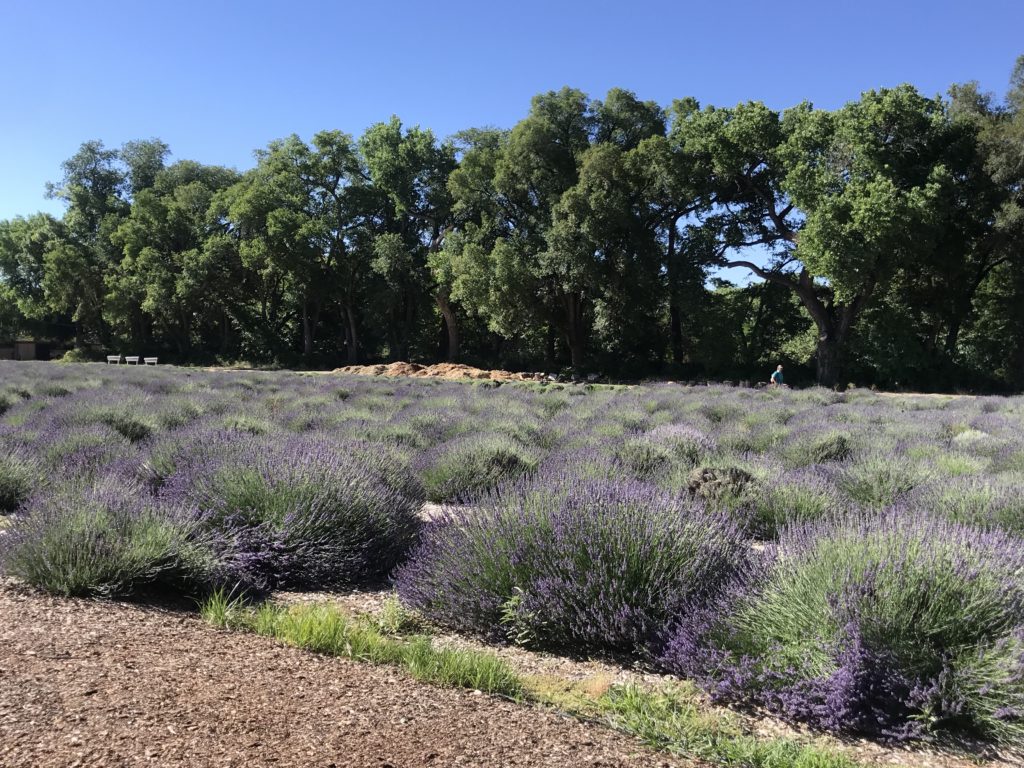 Designed in 1932, by renowned architect, John Gaw Meems, this property has 50 beautiful rooms, all opening out to view the working farm. We are here because Allan Affeldt recommended it when I interviewed him at La Posada. It is a special way to celebrate our last night on the road.
Part of their check-in is a welcome cocktail in the Bar CAMPO. I'm disappointed to discover the CAMPO restaurant is not open for dinner on Monday or Tuesdays.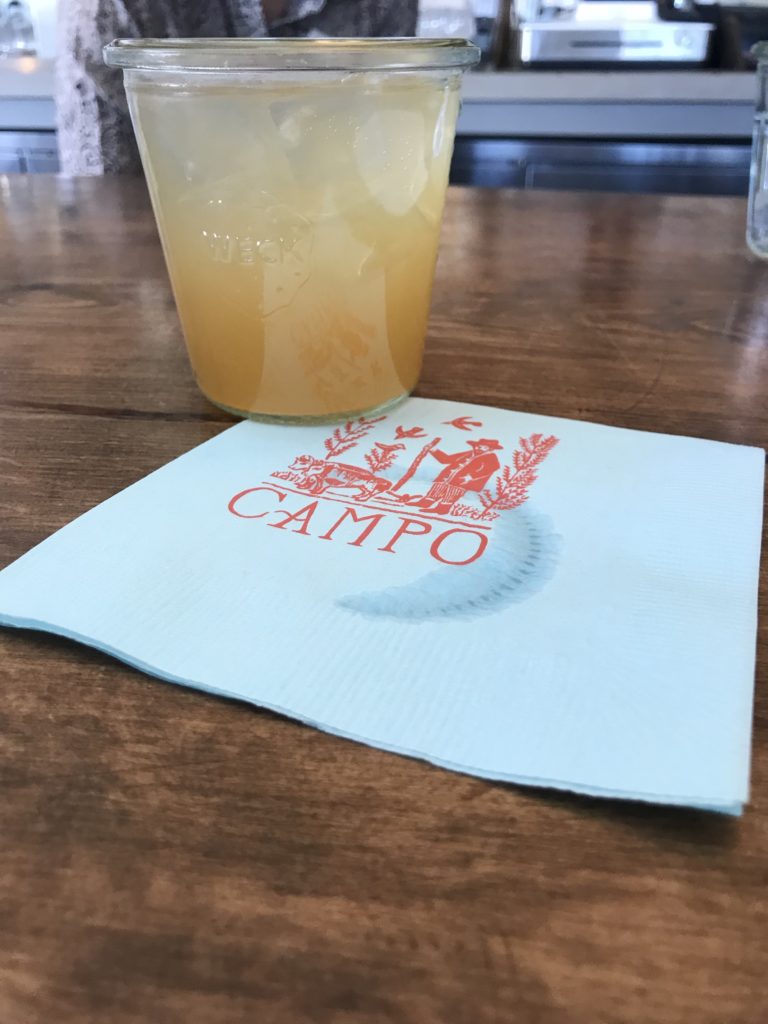 So we set off to a delightful New Mexican Restaurant, El Patron, to have an early dinner with my dear, dear friend and former Homes Illustrated colleague, Bobbi Rivera.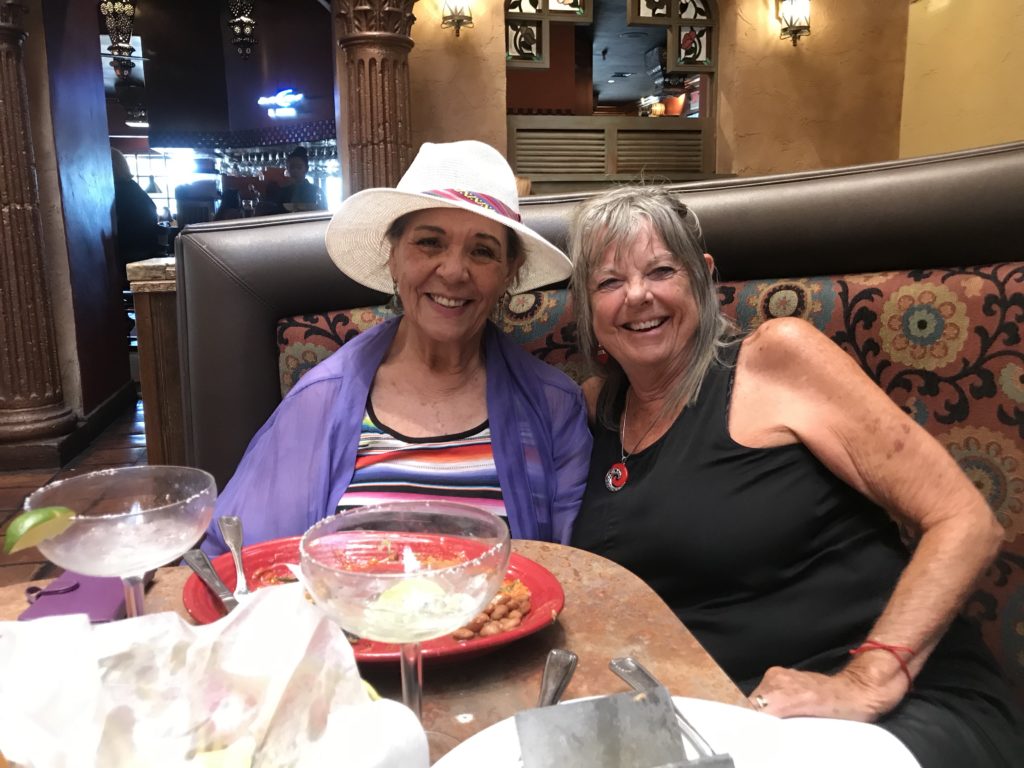 Bobbi thought we should add some Grand Marnier to our Margaritas…so we do!
We laugh and catch up on the happenings in our families in the last year.
The fabulous thin, warm tortilla chips with salsa are welcome while we look over the menu.
I can't resist the special, lamb tacos. The plentiful chunks of lamb had a tasty rub and were topped with avocado.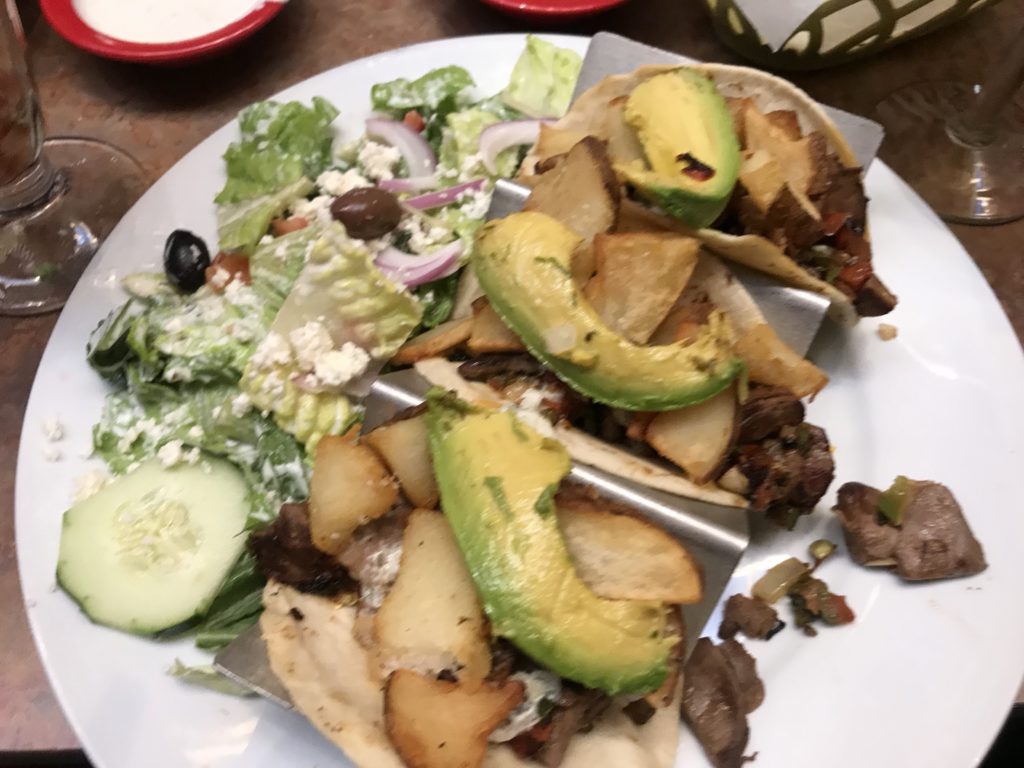 Bobbi and Bub eat more traditional plates.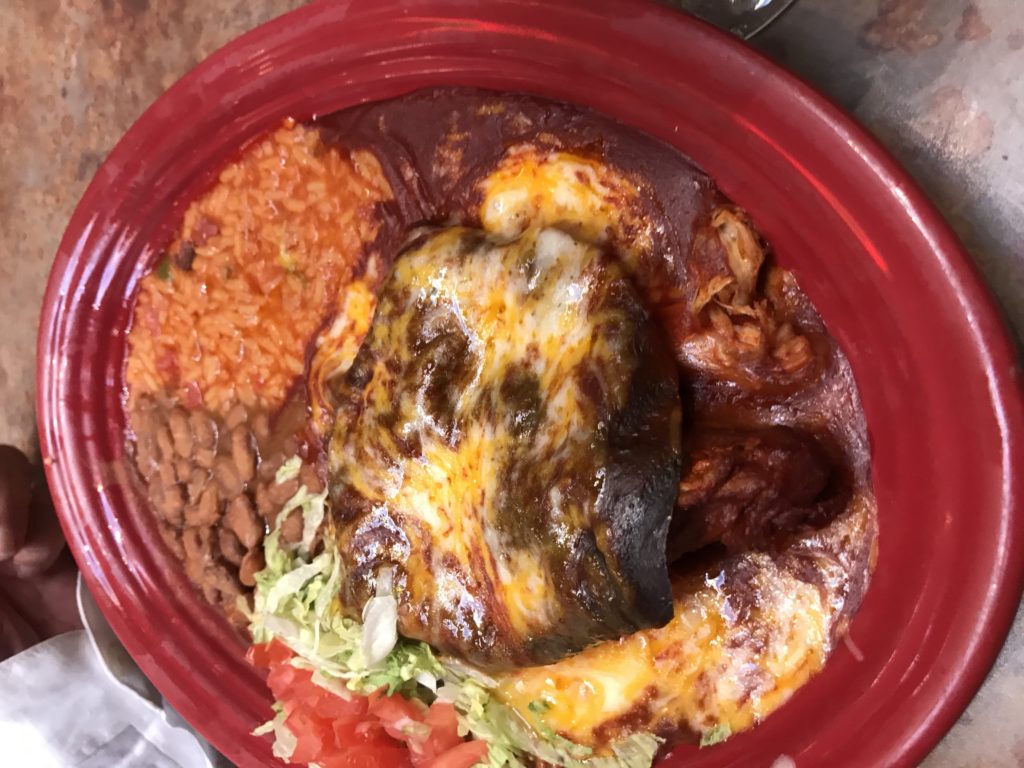 And, my favorite treat at a New Mexican restaurant are the sopapillas! We all enjoy the atmosphere, service and food. There is no room left for desert.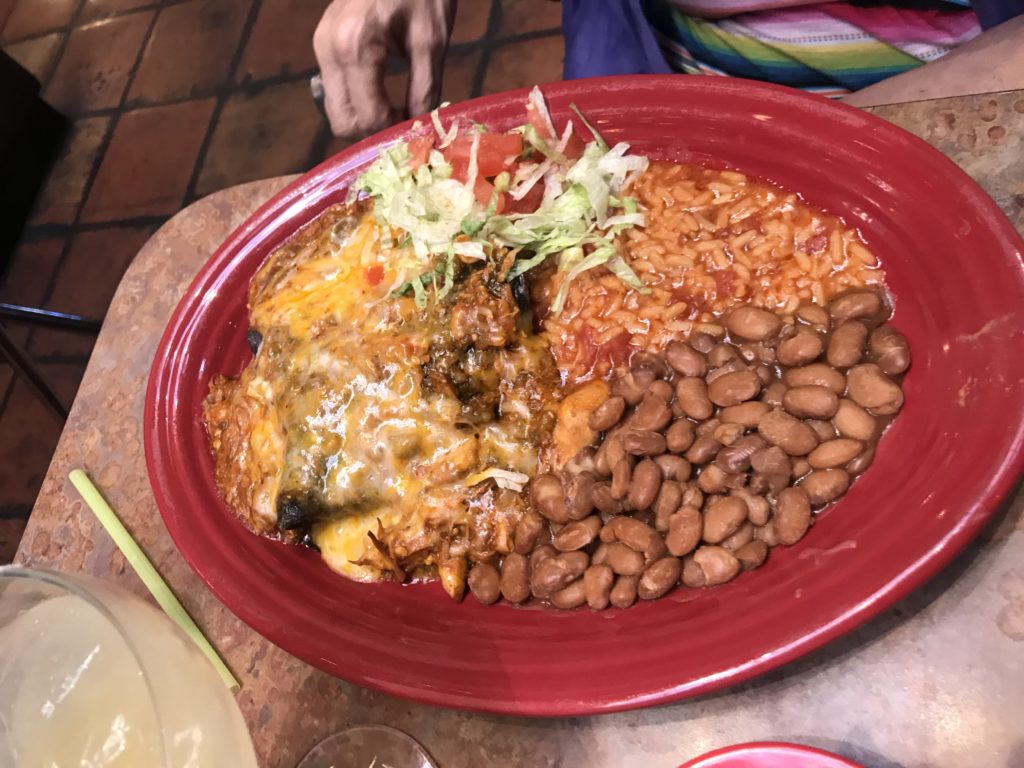 It's a good thing it's still light, or I doubt we would have found our way back home. GPS sent us over the River and tried to make us turn where there was no road.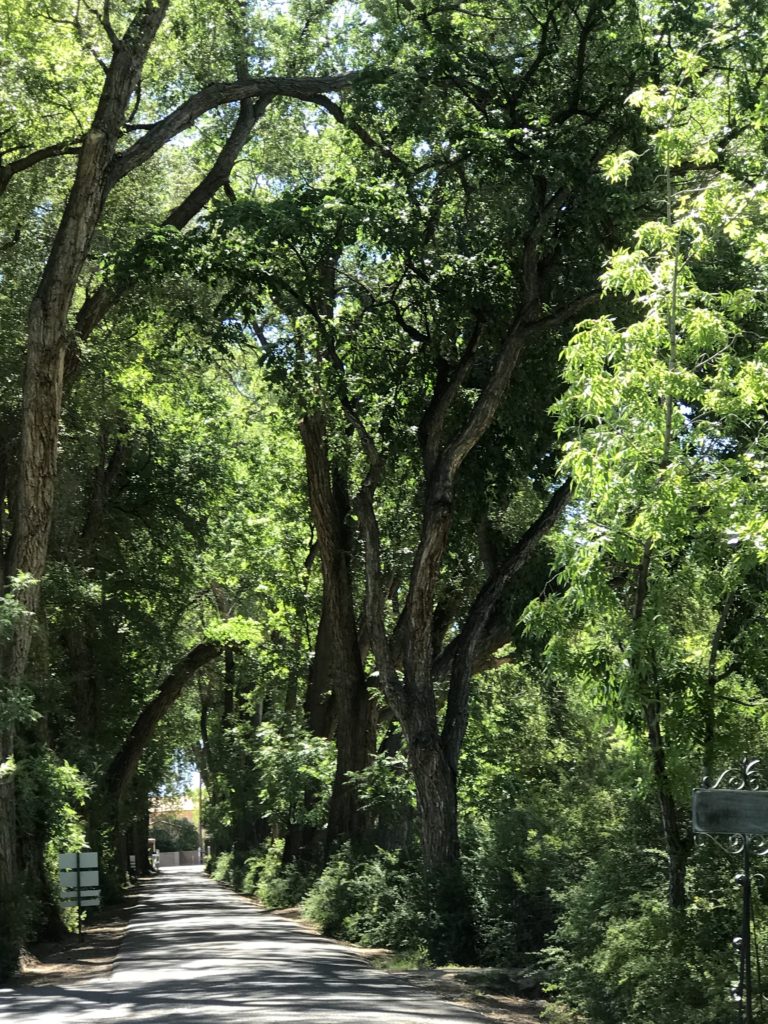 We finally turn around and find Rio Grande Blvd, and head north to find the hidden entrance back to Los Poblanos to the quiet of our room. The luxurious bedding by Coyuchi Organic feels like being inside a soft, silky cocoon.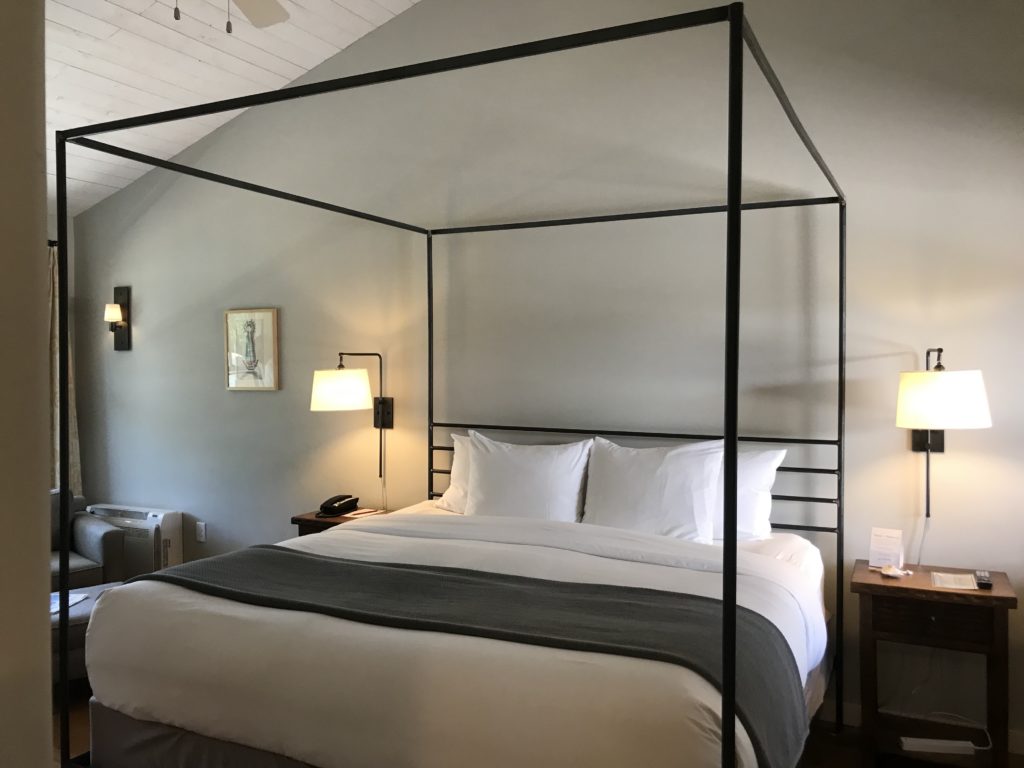 I know I'll be having sweet dreams….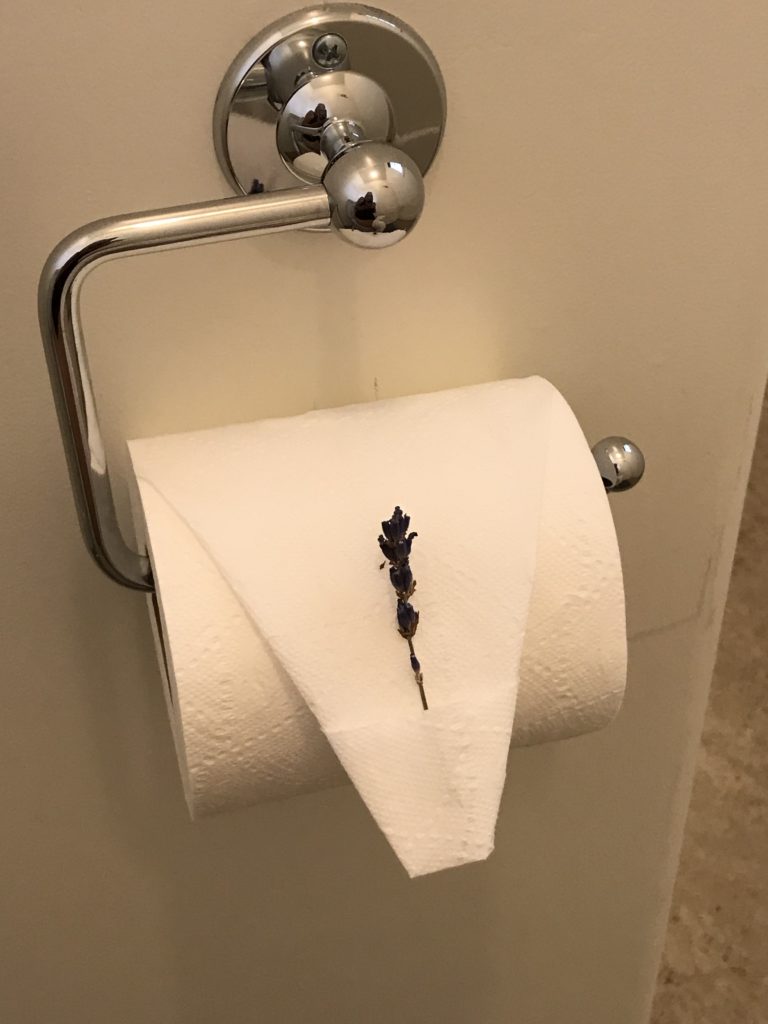 What a full day! Life is good!