June 16, 2019. Day 8
Miles 47 Begin Salem, OR To Portland, OR
Roads Traveled. I-5
Slept at Hilton's Hampton Inn, Portland Pearl District
Tennis Score 6-1
The view is another blue sky sunny day. After some coffee, we head back to Bush's Pasture Park for an early morning tennis game. Besides the squirrels, we are the only ones there. Bub wins again. We only played for 35 minutes and I only got one game.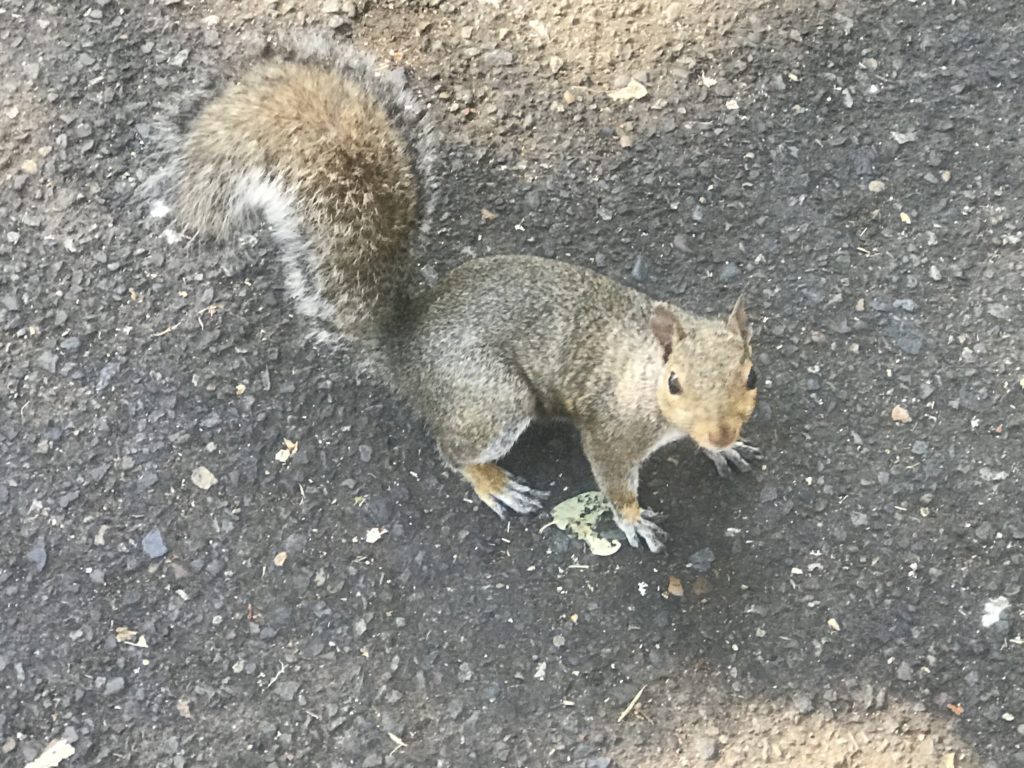 We ate breakfast and then packed up to go visit Jacqueline and Tom for the morning. The guys went off to see the WW2 planes. Jacqueline and I shared pictures and stories from the good 'ole days. I got some laundry done for the next week. What a special experience…We will definitely connect again sooner than 40 years. Hoping they will come visit Fossland's Paradise.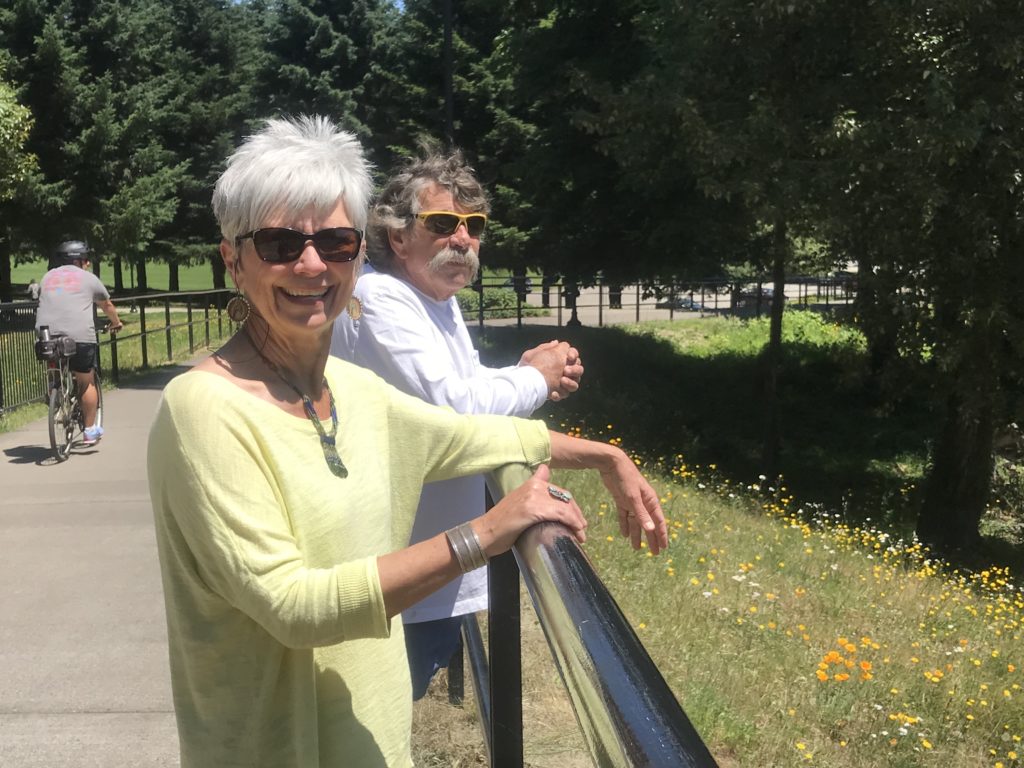 It's a short drive to Portland, back on I-5. I usually have great travel karma, but we encounter yet another accident/slowdown out on the Interstate. I am going to be happy to be back to roads less travelled in the upcoming week.
Google maps takes us right to the Hampton Inn, in the middle of the Pearl District of Portland. We arrive as the Gay Pride Parade is just finishing up. Lots of people still milling around, but our timing worked to be able to get to the front entrance of the hotel.
This Hampton Inn is 8 stories high and nothing like I've ever seen. It got an award for the best Hampton Inn in the country. Because of my Hilton Honor's status and the fact they were almost sold out, we get upgraded to a beautiful, big room with a kingsized bed, sitting area and large windows up on the 7th floor, overlooking the park.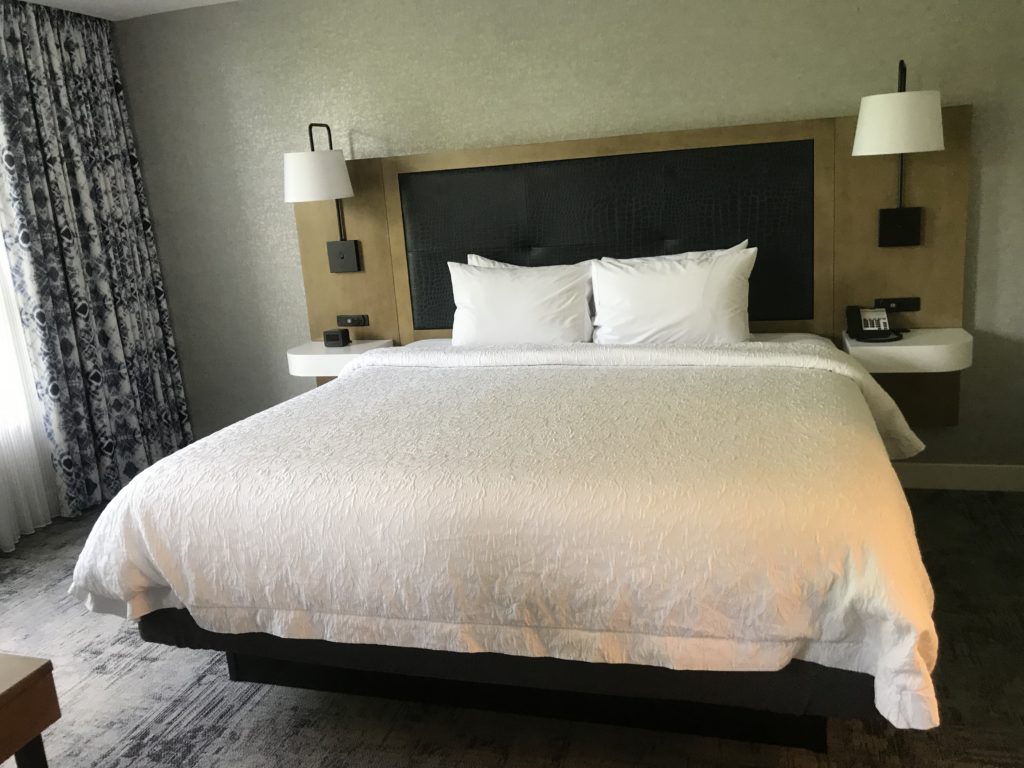 Portland was one of the most important destinations on Bub's wishlist for our itinerary. He's been wanting to re-visit Jakes since we came here 10 years ago. Celebrated as one of the top 10 Seafood Restaurants in the country, it's been here for 110 years. Only a 10 minute walk away, we decide an early dinner is a good idea, since we've had no lunch and it is Father's Day. It's a good thing, too—we did get a table, with the proviso that we must be done by 6.
Our wonderful waiter, John, shares stories about the restaurant and the wine and food. We default to Shiraz or Syrah wine, but we learn in Oregon, the Pinot Noir is the best. It didn't take much arm twisting to succumb. We also learn some history of when the bar was men only and there was a trough so they didn't have to leave their seats! Oh, my!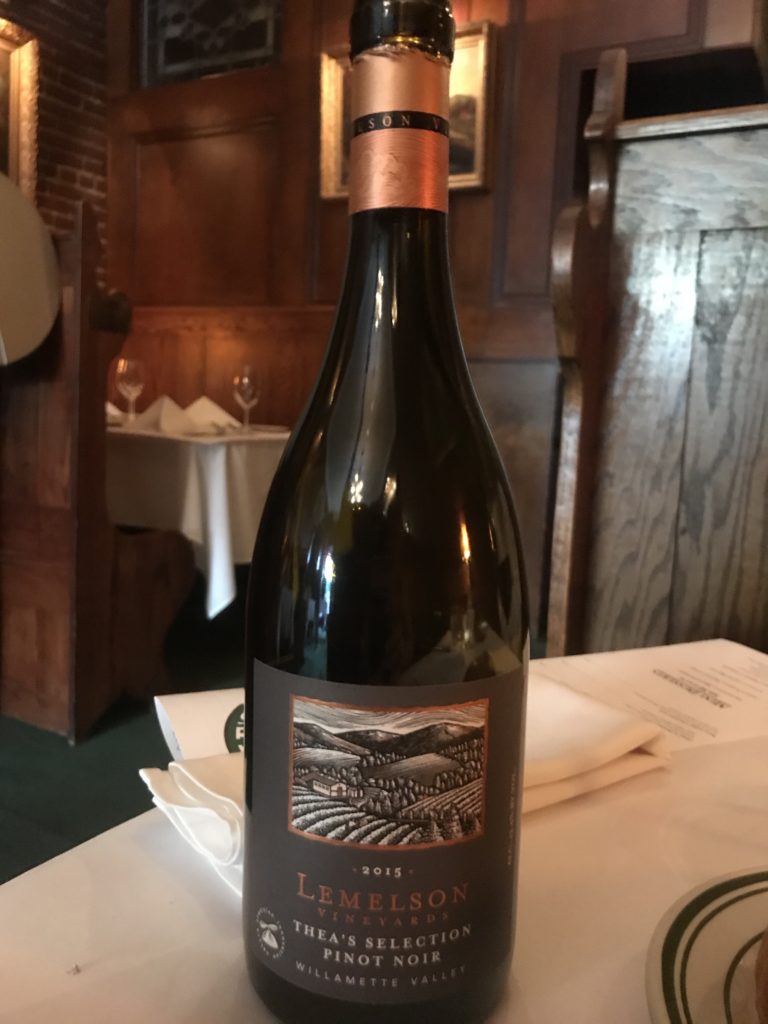 The choices in oysters were many and John helped suggest two different kinds. What fun…and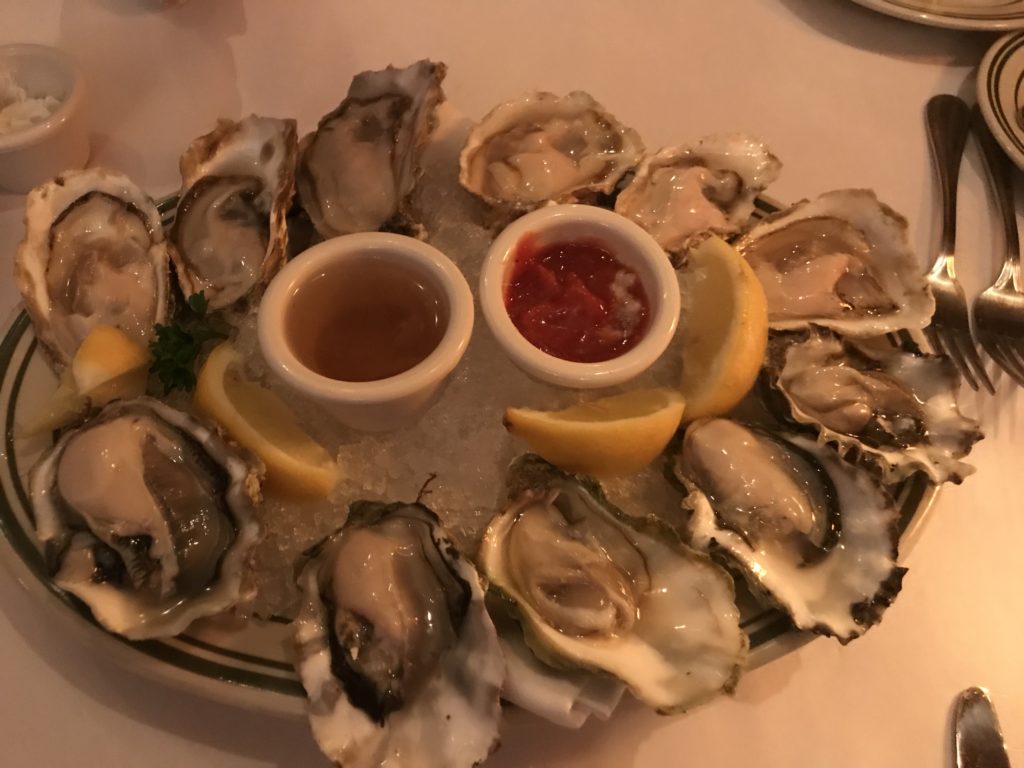 YUMMY YUMMY YUMMY. These oysters were so fresh and tasted nothing like the taste of oysters elsewhere. I just kept saying "Ummmmm…." This is what we have come for.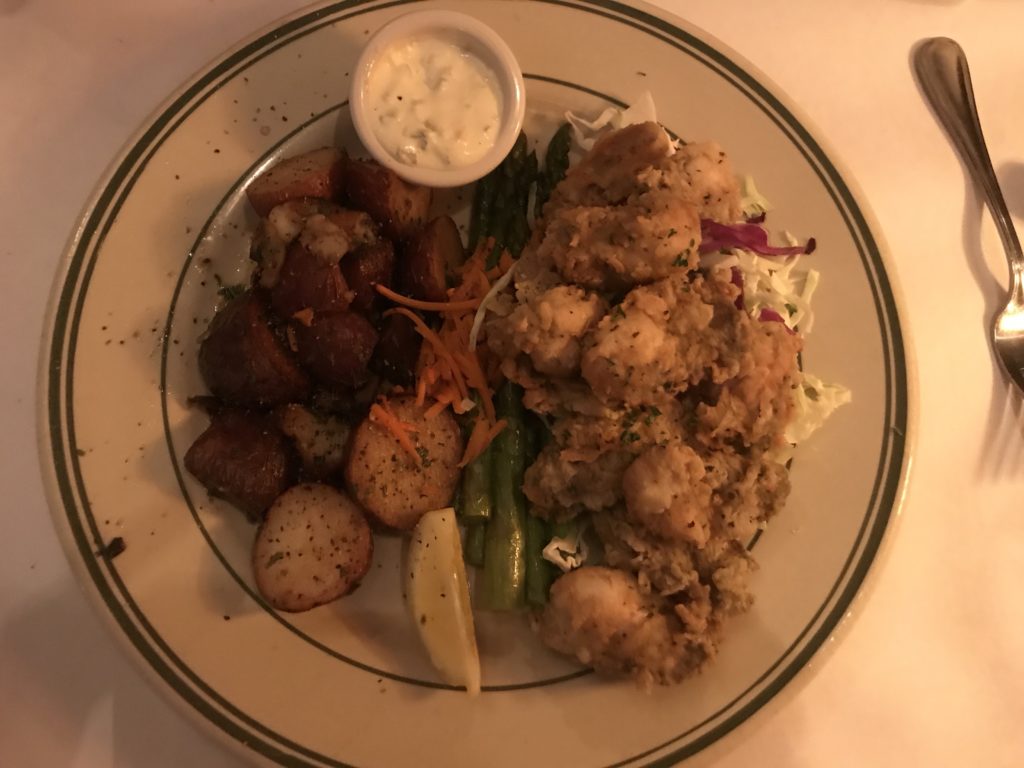 For Dinner, Bub got PFO (Pan Fried Oysters) and I got Halibut stuffed with shrimp and crab.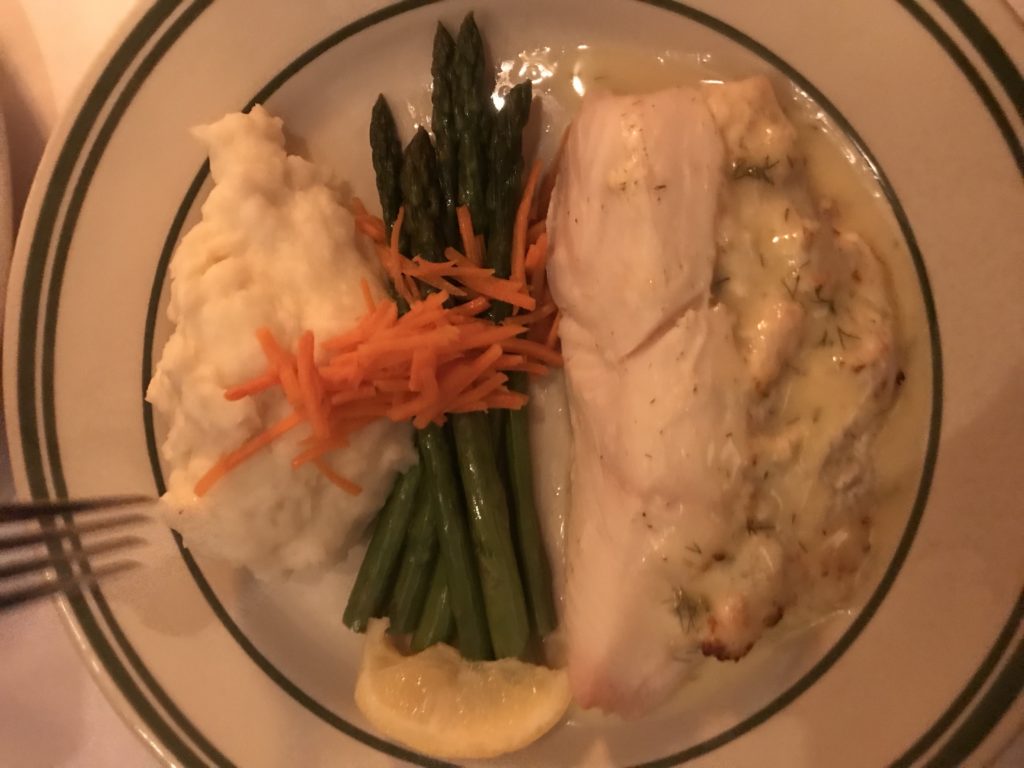 We even indulged with the triple dessert. A Chocolate Flourless Cake with raspberry and whipped cream, a Creme Brulee and Strawberry tart with ice cream.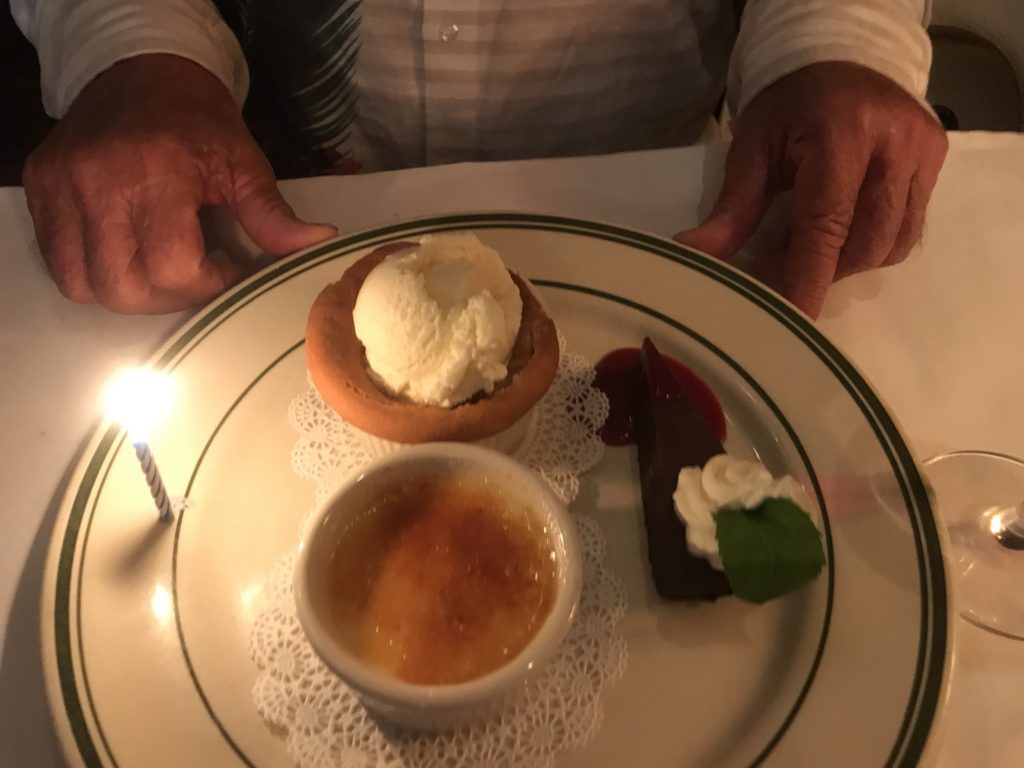 Happy Birthday, Bub!
One of the best dinners ever!
Back at the hotel, Bub watches the finale of the US Open Golf. We have no TV or cable at home, so the road often gives him a chance to see some sports.
Life is good.