November 9, 2019. From Zuni Pueblo To Albuquerque
Roads Traveled NM 53 to Grants I-40 To Old Town Albuquerque
Slept at Hotel Chaco in Old Town, Albuquerque, New Mexico
We came for the blue corn pancakes and weren't disappointed. Breakfast started with strong coffee and juices. Fresh strawberries were just one of the fruit options.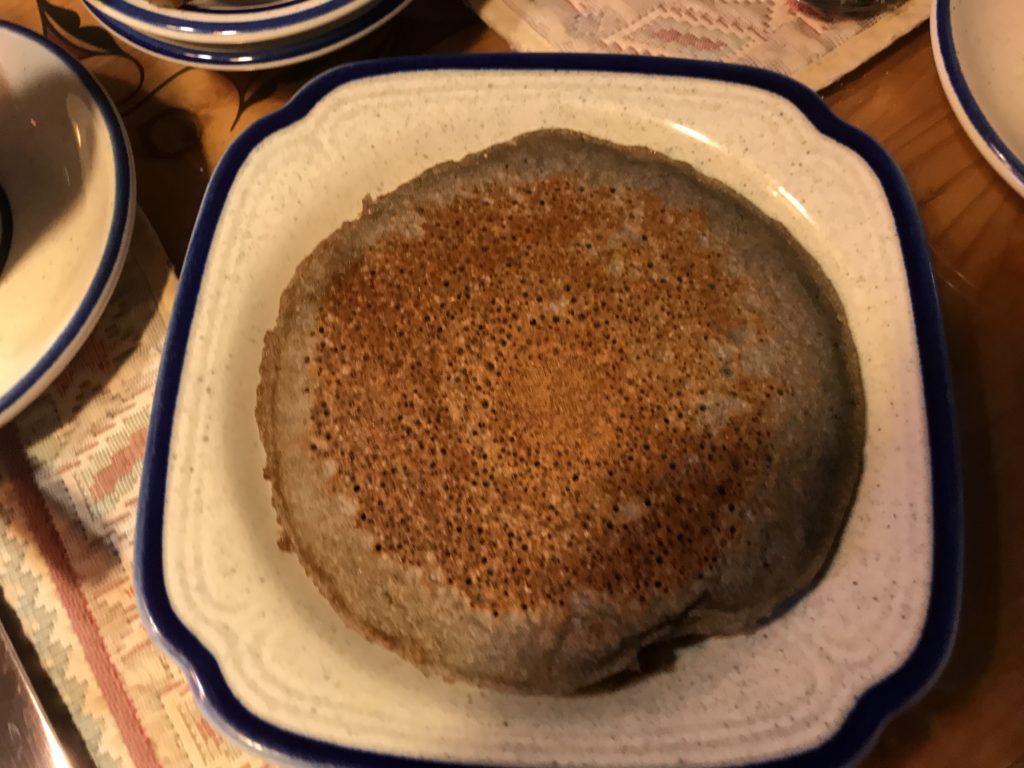 Bub enjoyed the huevos rancheros served on a tortilla with sausage, papas, cheese and red sauce.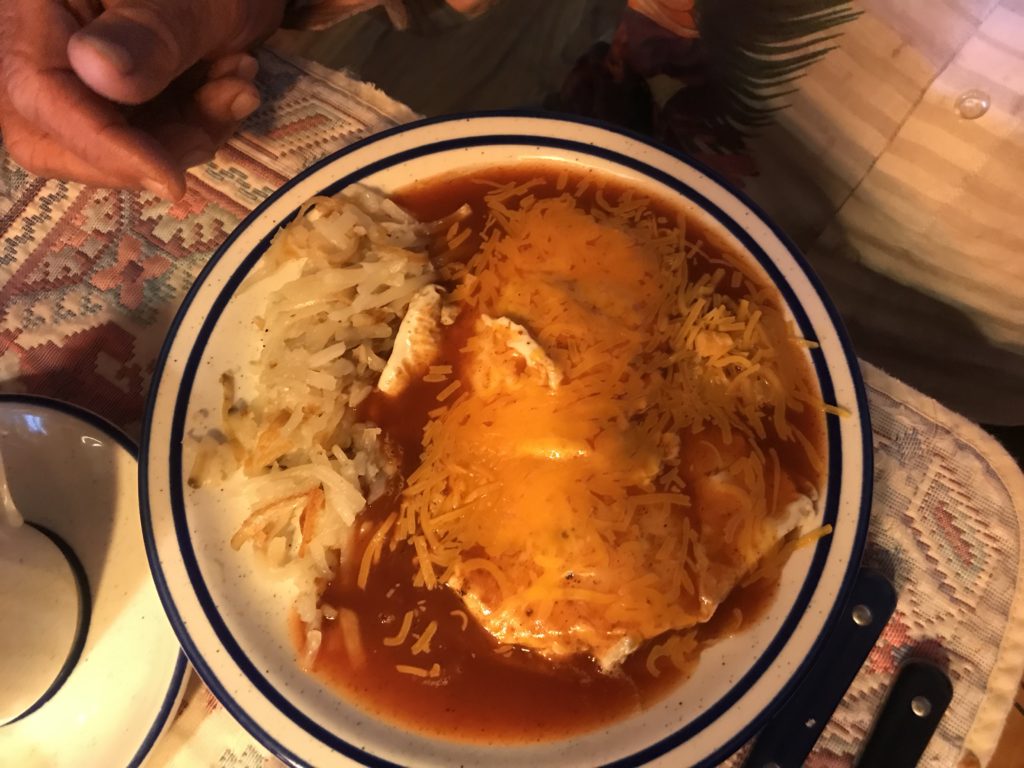 My breakfast was an omelet with ham and cheese, hash browns and bacon. Fresh, local herb bread with jam provided more than we needed. With all the food, our nightly rate of $85 was a high-value expenditure.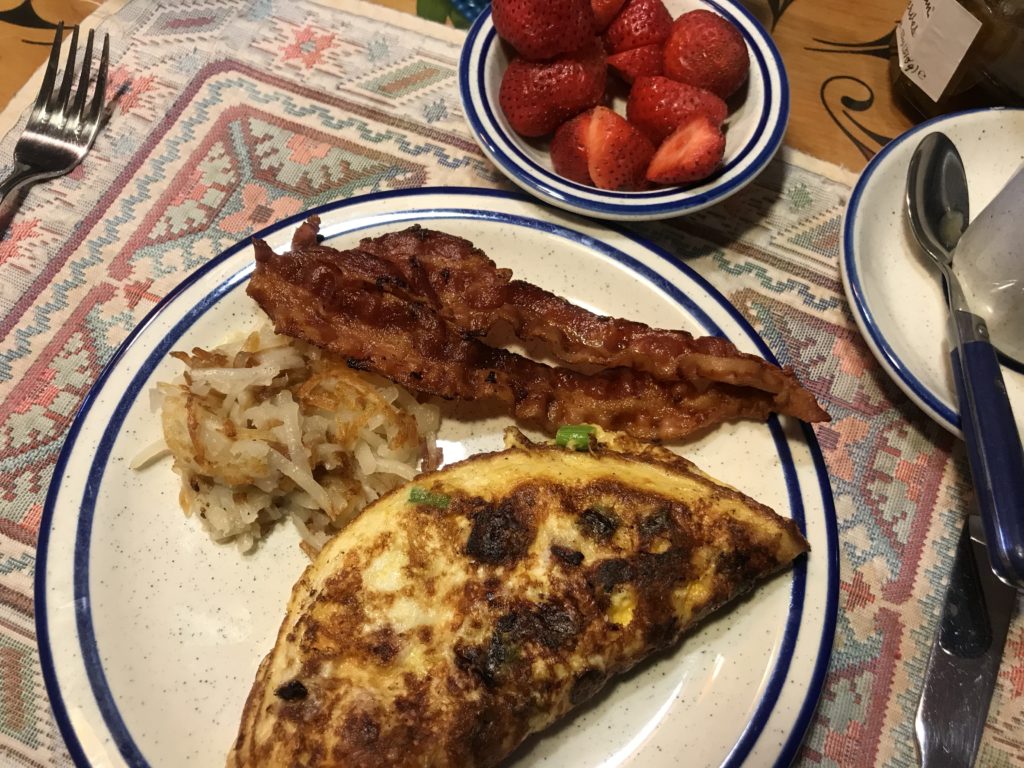 Overnight, there was a hard freeze. The Inn's proprietor, Roger Thomas, said he had ice on his windshield for the first time this fall, but once the sun came up, it warmed quickly.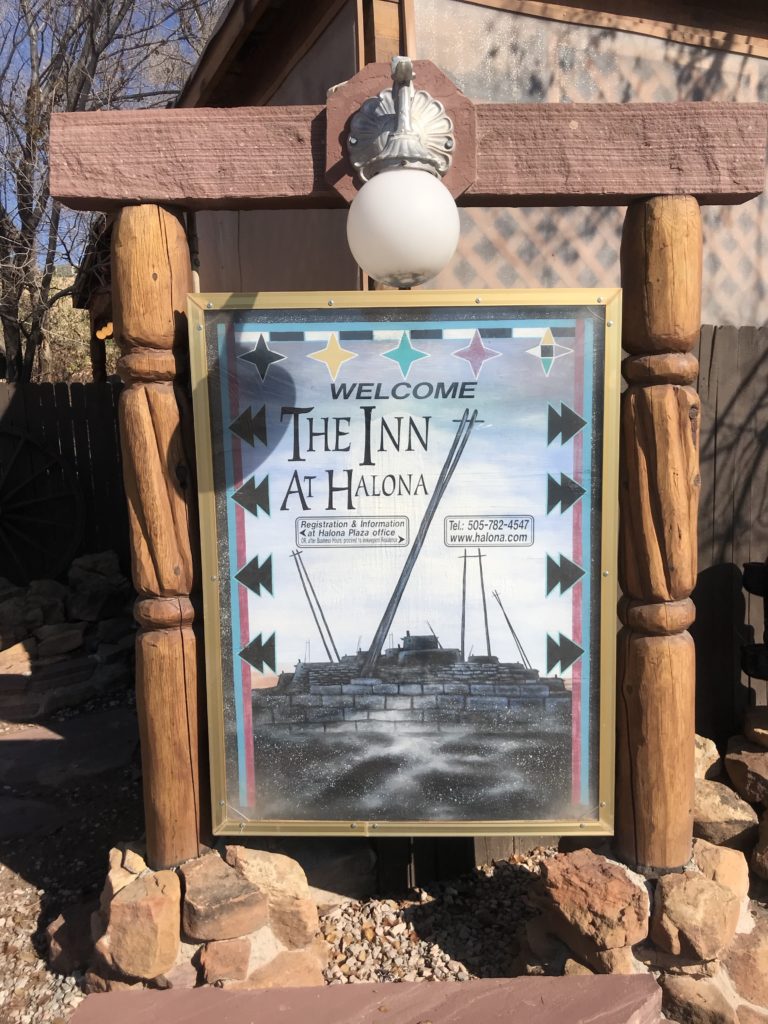 The Inn at Halona is a two building, 8 room, Bed and Breakfast tucked in behind the Halona Plaza. It is a favorite place to stop that we have visited several times. In the middle of the Zuni Pueblo, The Inn has been owned by the Vander Wagen family since 1897.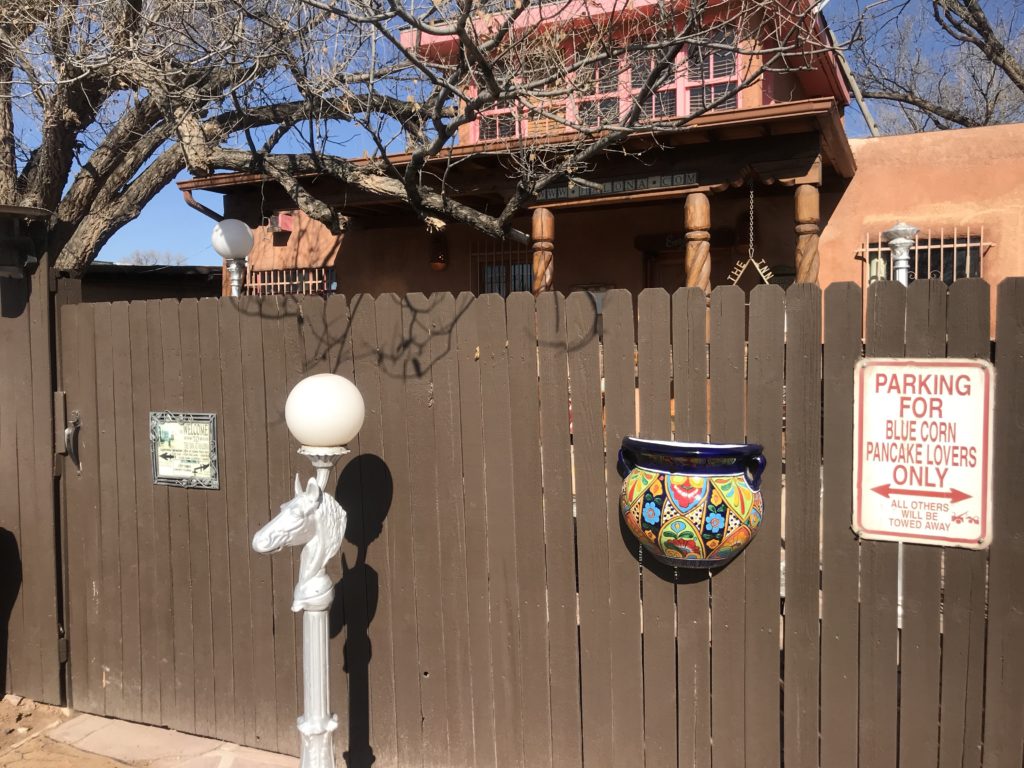 ON THE ROAD AGAIN…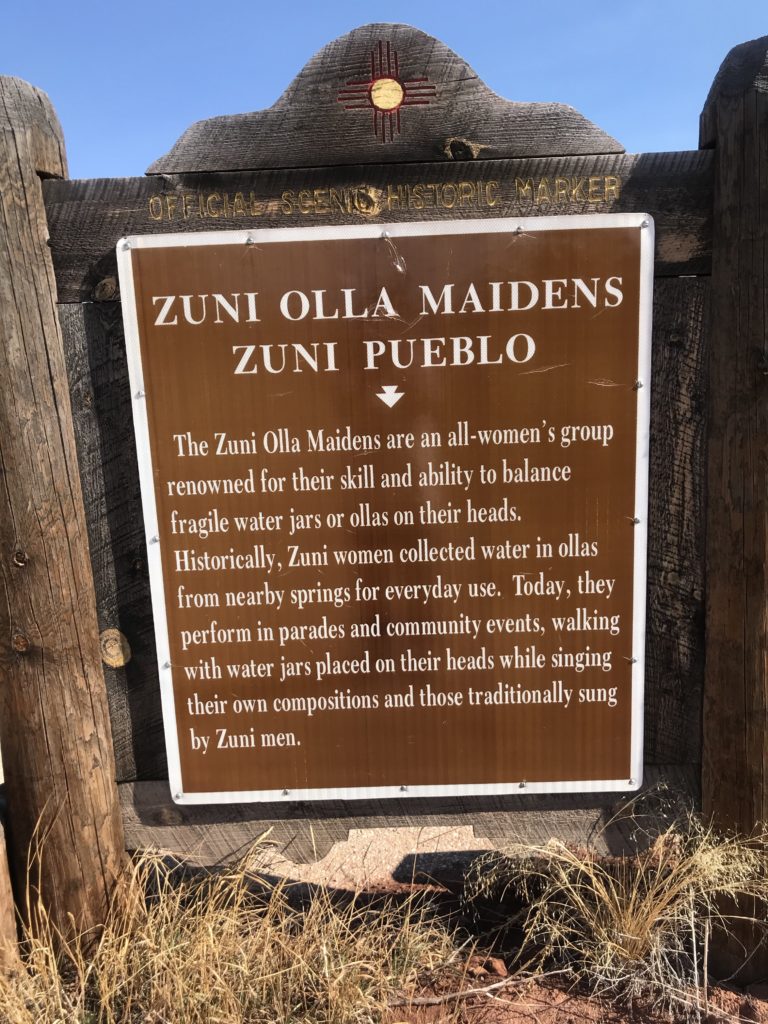 A quick hour-long ride on scenic two-lane back roads from Zuni to Grants took us to fast driving on I-40 to Albuquerque.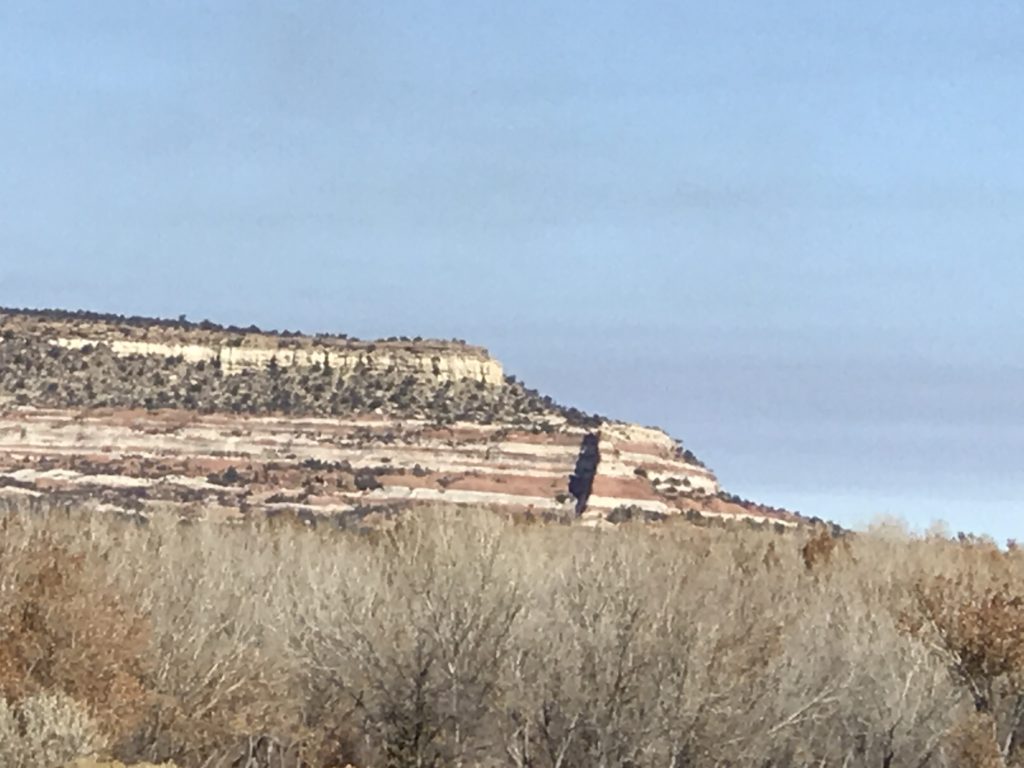 Mt Taylor, the highest mountain in New Mexico, loomed in front of us and then we saw lots of black lava from the old volcanic activity. It's an interesting part of New Mexico.
After a stop at Total Wine for some Gruet Champagne (It was cheaper here than at their Albuquerque tasting room), we headed to Old Town Albuquerque to check into Hotel Chaco.
Wow! What a beautiful hotel.
Recognized as a Top 10 Best New Hotel of 2017 by USA TODAY 10Best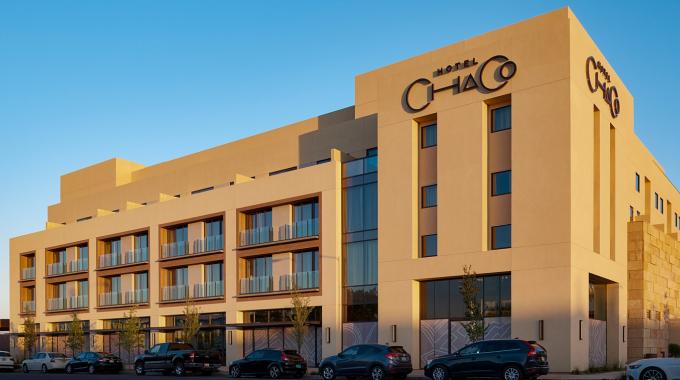 Situated in the heart of Albuquerque in the Historic Old Town and new urban Sawmill districts, Hotel Chaco is a boutique hotel in Albuquerque that beckons to luxury travelers seeking authentic original experiences. Our Old Town Albuquerque hotel is the most distinct hotel in all of New Mexico. The unique room layouts and Albuquerque suites are designed by world-famous architecture firm Gensler, and feature authentic interior design with the best collection of contemporary Native American New Mexican artists on display.
These next two days in Albuquerque are a press trip, sponsored by VisitABQ. I am going to have 2 full days of experiencing the BEST of Albuquerque, while Bub explores Old Town! I'm very excited.
But, tonight, a dinner at CAMPO with dear friend Bobbi Rivera is the highlight. What a wonderful treat to spend a few hours with someone with whom you've had 30 years of history. She was the local manager in the '80's and 90's when I was the Assistant Publisher of Homes Illustrated magazine.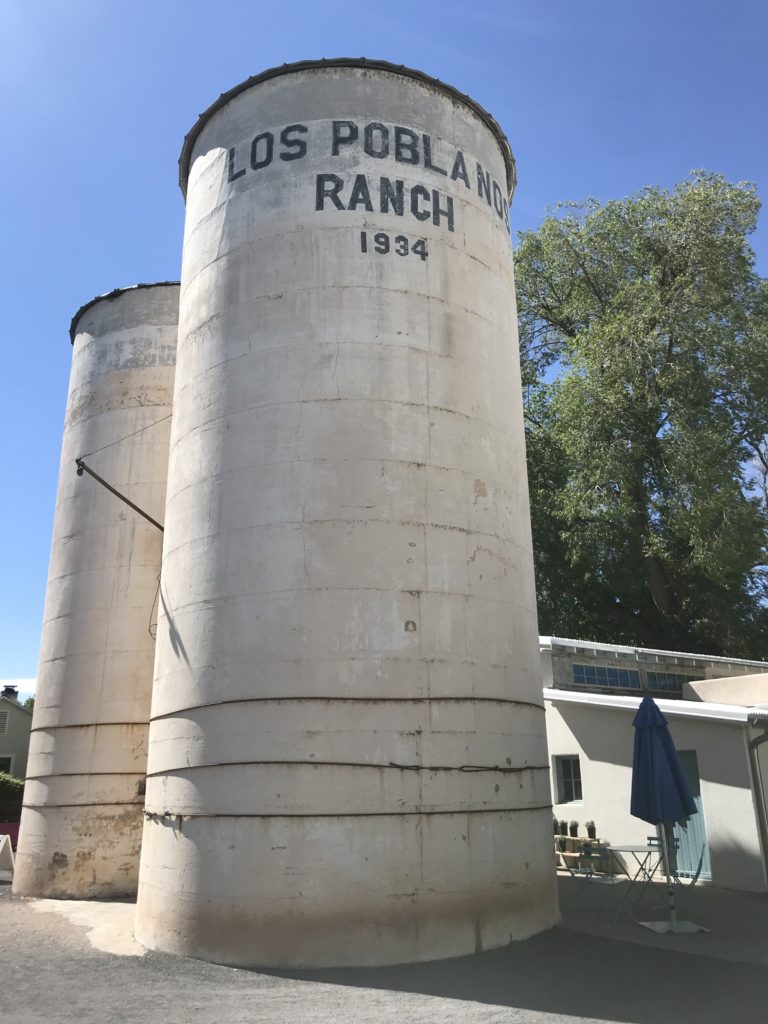 A stay during last summer's road trip at Los Poblanos left us wanting to try a dinner at CAMPO. Located on a historic organic Farm with two acres of lavender fields, near the Rio Grande River, the restaurant offers gourmet field to table foods.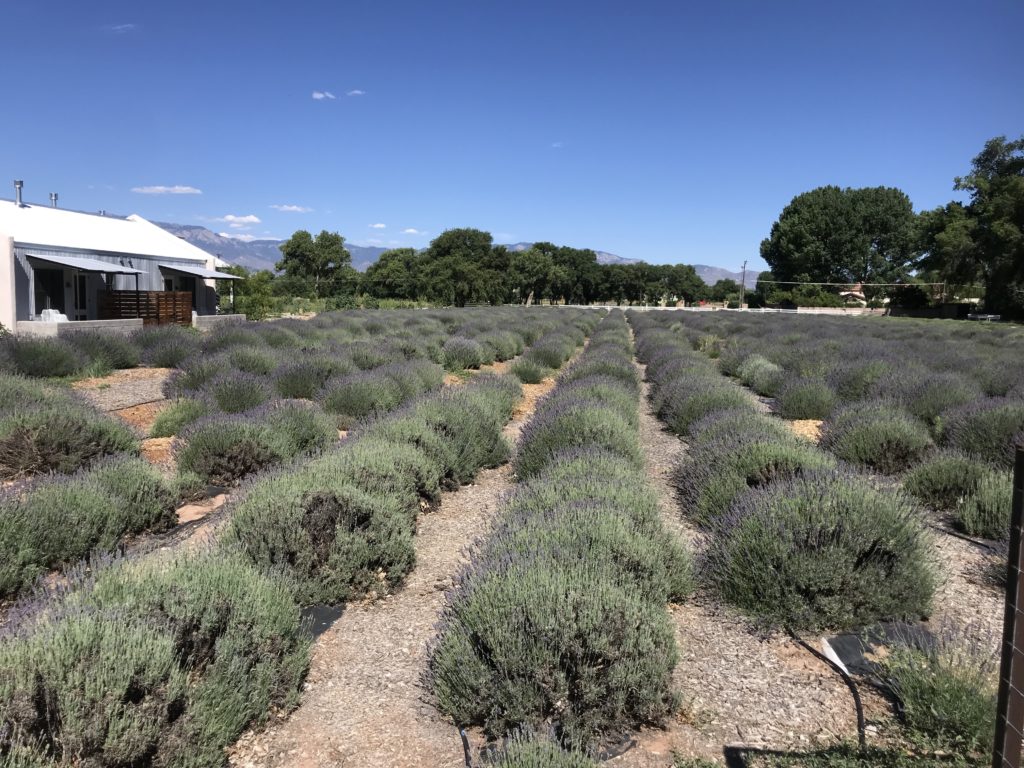 The food at CAMPO is sourced from organic New Mexico farms and ranches.
It's crowded and the dining room, which opens into a full view of the kitchen, is loud. Our waiter is effusive about his love for the food at CAMPO.
The dinner started a spoon with salted caramel topped with an apple ball.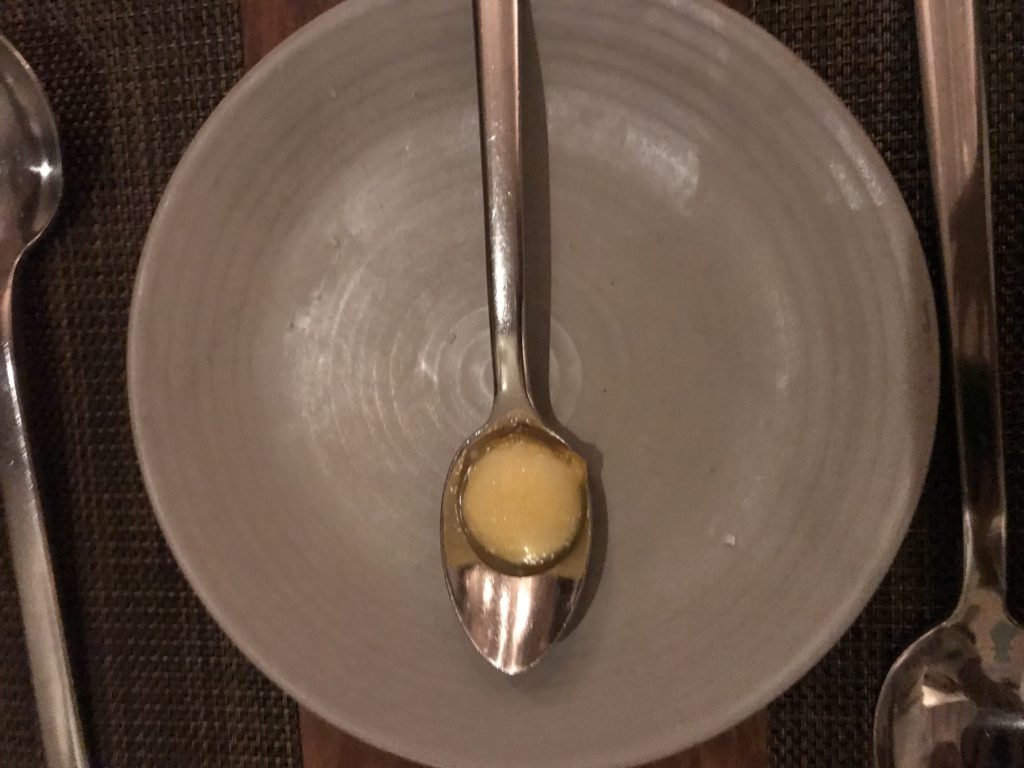 We got the Los Poblanos Charcuterie board overflowing with tastes of pate, fermented carrots, cheese, trout, radishes, mustard and a piquant fruit sauce. So tasty!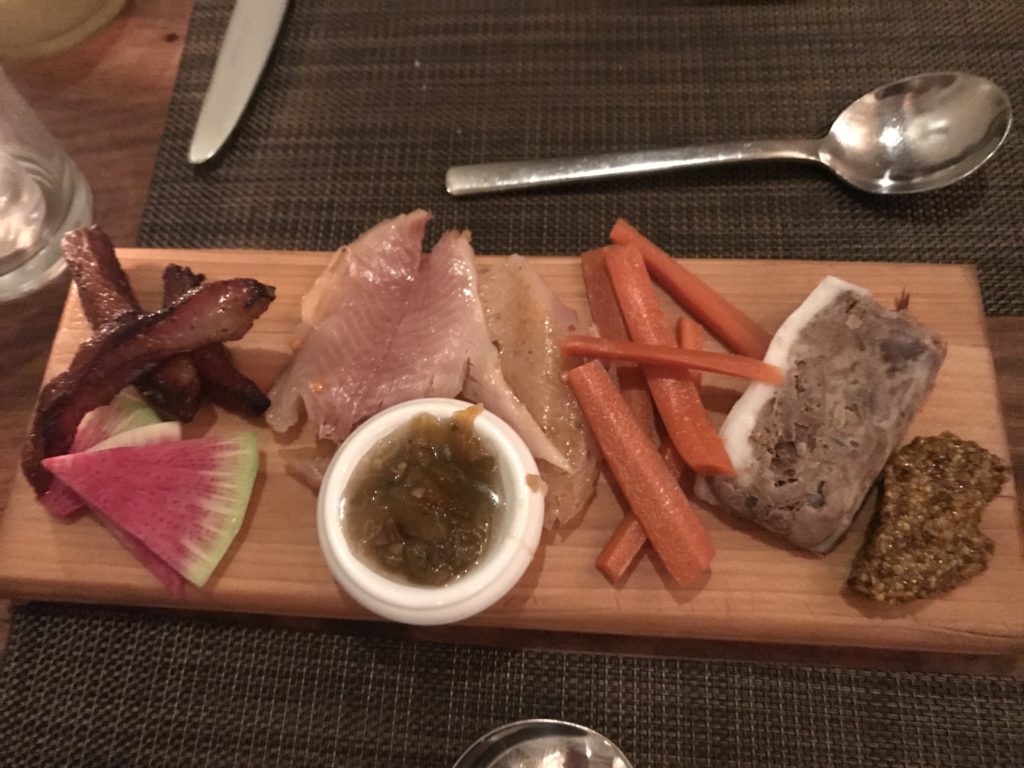 The locally sourced, Shepards Lamb is grass fed on native grasses. Bub orders the Shepherd's Lamb Mole Rojo which has both sliced leg of lamb and a lamb neck tamale with fresh vegetables.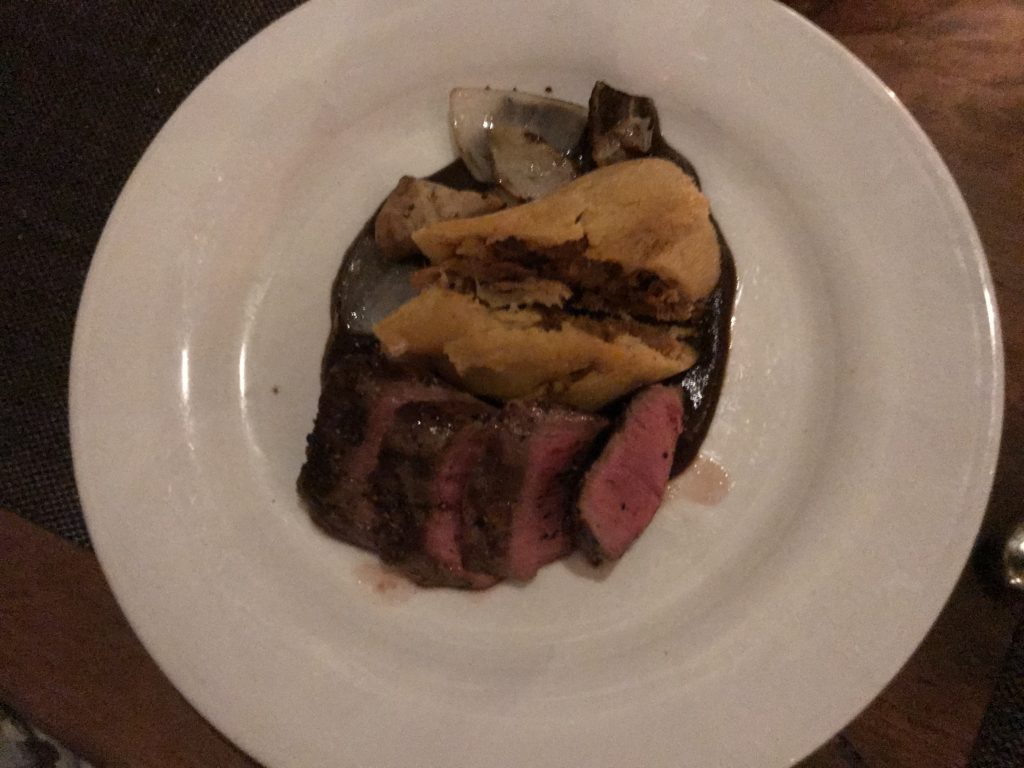 The waiter says we can split entrees or have entrees divided up and served tapas style. Bobbi and I decide to do that. We have the Seafood Chowder with clams, roe, green chile, potatoes, and sweet corn.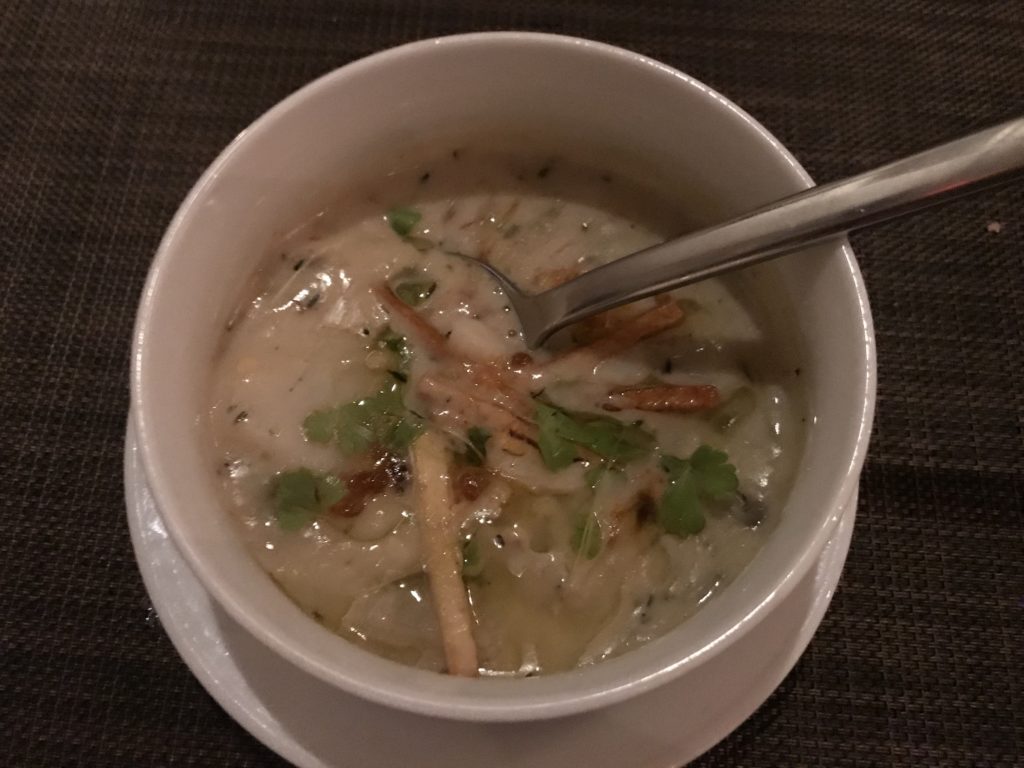 And the Lamb Pibil Pappardelle chunks of lamb in a wonderful sauce over wide noodles.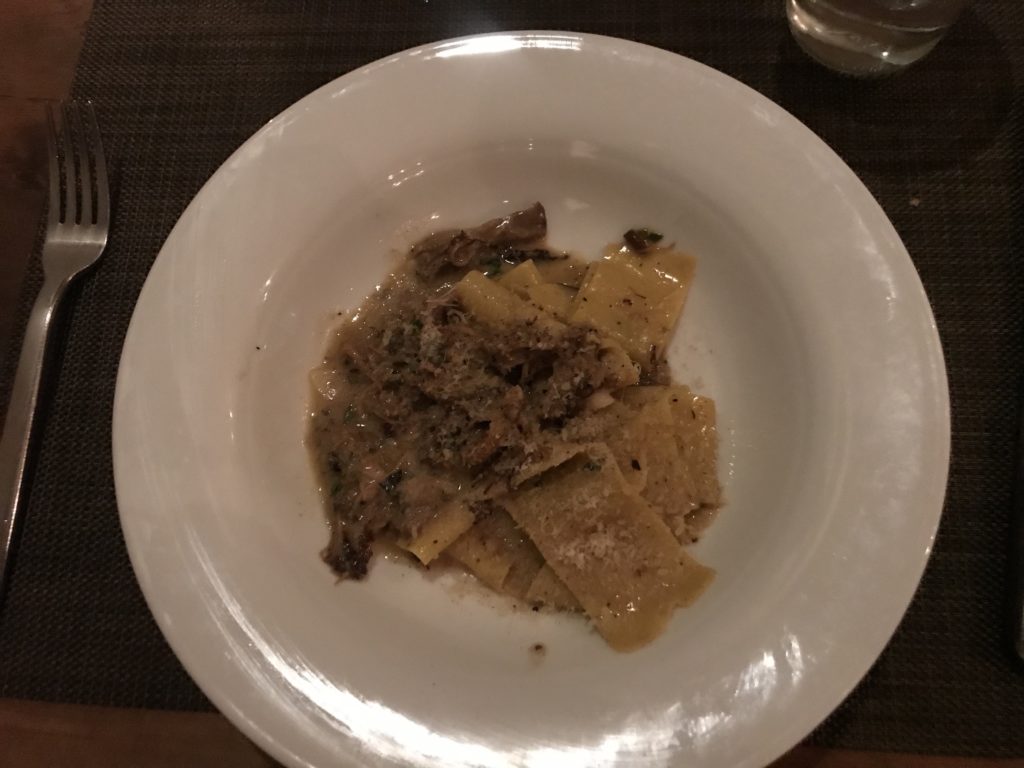 For dessert, we split a lime pistachio pie that came with a serving of sorbet over crushed pistachios. Yummmmmm.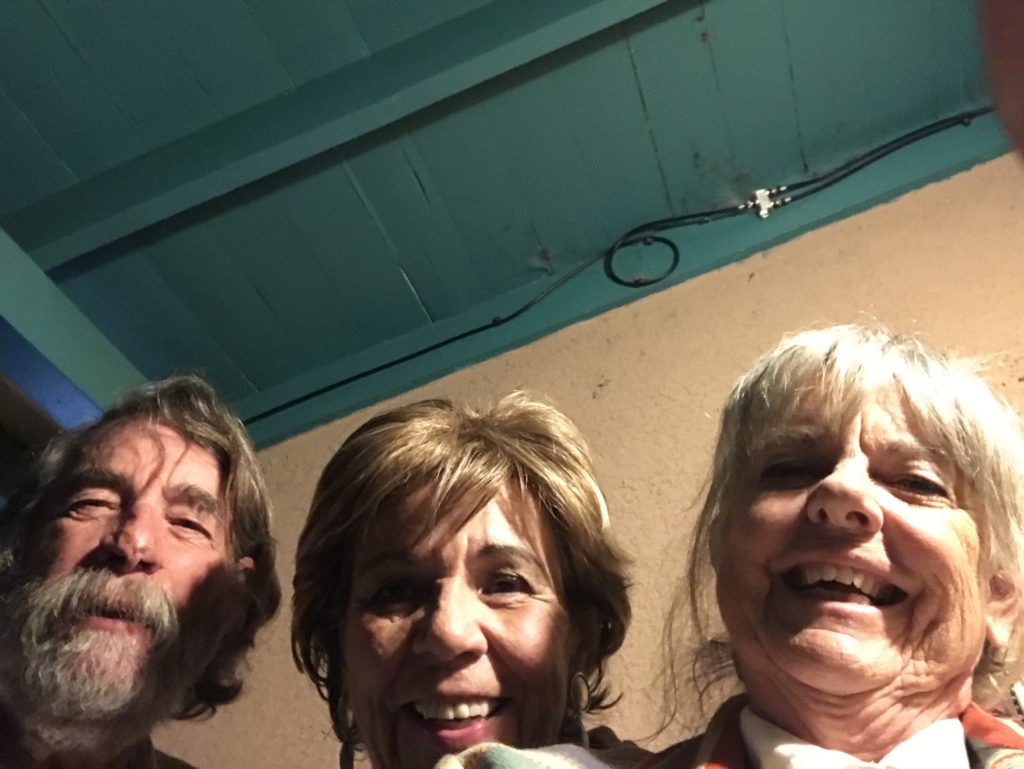 What a wonderful day…sweet dreams were next.